As students left the Indianapolis Jewish Community Center on what staff members were calling an "adventure" to undisclosed locations nearby, a bomb unit rushed in through another door. Similar evacuations took place across America that day, February 27, as 31 bomb threats were leveled against JCCs and Jewish day schools in 16 states.
In Indiana, the disturbing incident coincided with what many in the Jewish community experienced as another blow: A bill intended to establish harsher sentencing for bias-motivated crimes died on the floor of the state senate.
The Hoosier State is one of only five in America without a hate crime law. The bill proposed in Indiana would have allowed bias against a person's race, religion, color, sex, gender identity, disability, national origin, ancestry, or sexual orientation to be considered as an "aggravating circumstance" that could merit tougher sentencing, as is the case with federal hate crime laws. While the FBI can help investigate and prosecute hate crimes across the country, it rarely takes them on because most cases fall under the purview of state law.
As you might expect, Indiana has one of the worst track records of passing hate crime information on to federal agencies. A 2016 Associated Press investigation found that more than half of the state's police agencies neglected to report hate crimes to the FBI between 2009 and 2014. The following year, hate crimes spiked nationally. And while there's no official tally yet, anecdotal evidence suggests a fresh wave of bias-motivated crimes in recent months. From swastika graffiti along a hiking trail to white supremacist fliers on a college campus, Indiana saw at least ten hateful incidents in the week after the election alone, according to the Southern Poverty Law Center.
Then came the bomb threats, with at least two targeting the Indianapolis JCC in the last month alone.
Jamie Rich, whose three-year-old son is a preschool student at the JCC, says she can barely allow herself to consider the possibility that the next threat might more than a scare tactic. "I can't think of anything worse," she told me in an empty meeting room before picking up her son from down the hall. "There's a reason why this is happening, and I do believe that there should be a stronger punishment and the ability to enforce that if someone is carrying out a premeditated attack in order to discriminate [against] and alienate a group of people of any kind."
In cooperation with the FBI, local law enforcement arrested an 18-year-old in Israel on Thursday, accusing him of being responsible for many of the recent threats against JCCs both in the US and abroad. Another suspect in some of the prank calls, a disgraced former journalist, was arrested in Missouri early this month.
State representative Gregory Porter is among the leading advocates of a hate crime law in Indianapolis. A hate crime doesn't just impact the individual targeted, the longtime Democratic lawmaker said as he settled into a bench outside the state house's legislative chambers earlier this week. "It's a hit to the whole community," he explained. "People don't understand that."
Porter has been trying to get the message across—and to pass some version of a hate crime law—for the last 15 years.
What's standing in the way? Porter hedged when asked directly if a legacy of racism is at play, adjusting his tie so minutely that the change was almost indiscernible. A hundred years ago, after all, the Ku Klux Klan's local grand dragon held tremendous sway over Indiana cops and lawmakers.
"Indiana," Porter said finally, "is a very conservative state, and you have people in key positions who can continue to suppress and oppress individuals." It's a powerful minority, he added, who have been instrumental in keeping bills on hate crimes from getting a vote, which Porter believes would add up in favor of the legislation.
Vice President Mike Pence was among the most vocal opponents of hate crime legislation during his time as Indiana governor and congressman. In 2009, he railed against the Matthew Shepard and James Byrd Jr. Hate Crimes Prevention Act, which expanded hate crime legislation to include those targeted because of gender, sexual orientation, gender identity, and disability by (falsely) claiming that such laws "quell religious expression."
"Individual pastors who may wish to preach… about what the Bible teaches about homosexual behavior," Pence said, "could be charged or subject to intimidation for simply expressing a biblical moral view on the issue of homosexual behavior."
These days, Indiana legislators opposed to a hate crime law use a different tack. Some claim such laws are unnecessary since Indiana's criminal code provides a list of "aggravating circumstances" (things like the victim's age and mental fitness) that could merit harsher sentencing. The code includes a sort of "catch-all clause" which states that the criteria listed "do not limit the matters that the court may consider in determining the sentence."
"With such a broad sentencing law and precedent, narrowing the law to reflect only a few characteristics seems unnecessary," Republican state representative Thomas Washburne said in an email. "There is a risk, though hard to quantify, that by limiting Indiana's currently broad law it may well be viewed by the courts as an intent by the legislature to only include the characteristics that would then be listed to the exclusion of others."
He has previously elaborated on this point.
"To me, it's very difficult to say something is more or less a crime based on somebody's motivation," Washburne told the Indy Star last year. "So when you separate it and you try to create a special crime for it, what you're saying is that if somebody's on a street corner and they get beat up because somebody hates tall people and they happen to not be in any protected status, that's less of a crime than if they beat you up because of your national origin."
Check out the new Motherboard documentary on smart guns technology and the fight for gun control.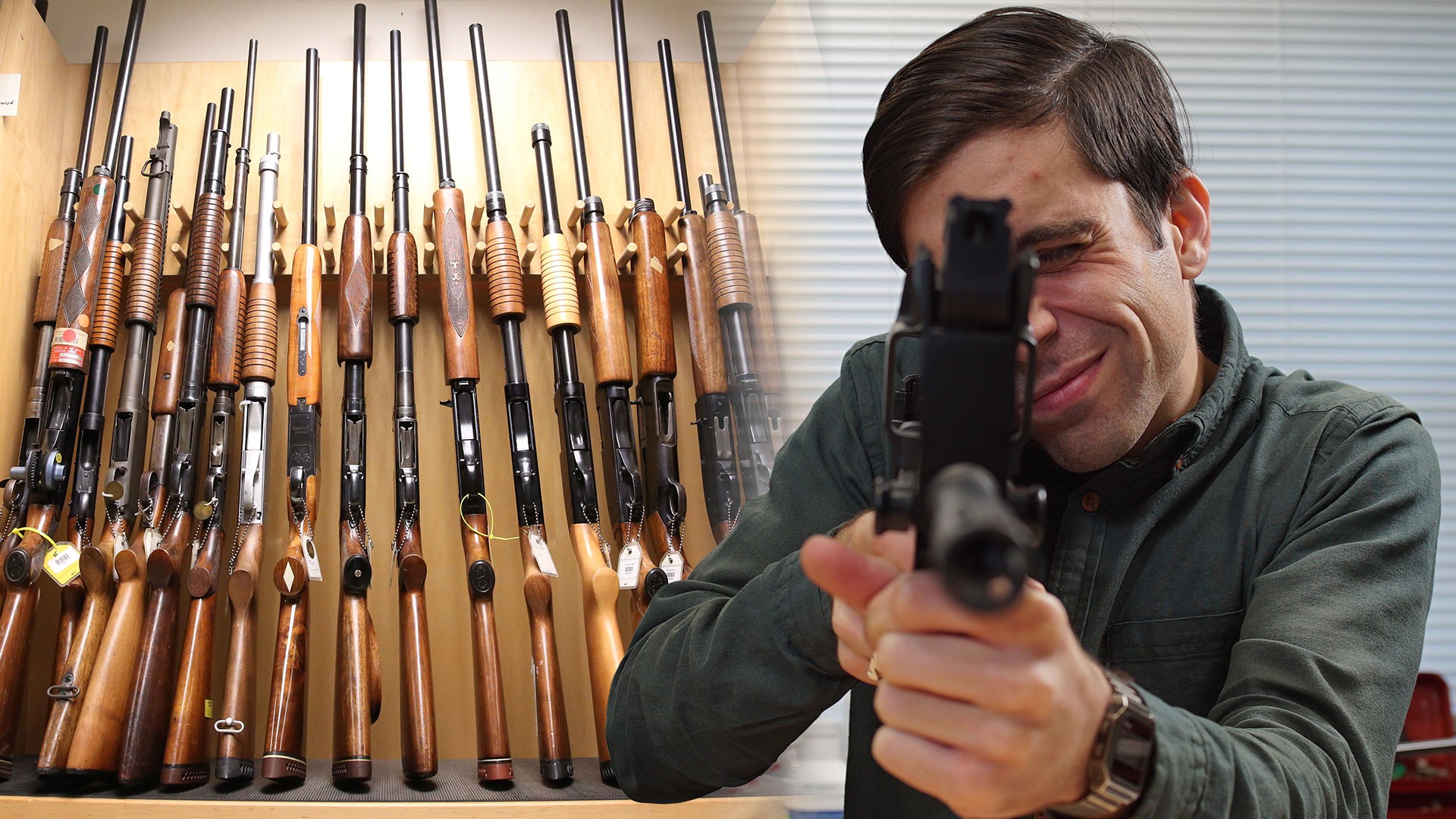 Proponents of hate crime legislation say the specter of hate crimes motivated by characteristics like height is, well, absurd.
"If we're more worried about making this bill work for the tall guy than we are in protecting people who have long, demonstrated histories of violence and discrimination against them, [then those people won't] feel welcome at the table," said Jamie Rich, the mother of a preschooler at the Indianapolis JCC.
Rich is also a board member of the Jewish Community Relations Council, an Indianapolis-based advocacy group. Its director of government affairs, David Sklar, has spearheaded a coalition of more than 40 organizations advocating for hate crimes legislation. Sklar thinks the measure is more important than ever amid a possible surge in hate crimes—and the possibility that federal dollars to investigate them could be reallocated.
"It's certainly easy to think that the attention of the Department of Justice and the FBI may be focused on other things," under President Trump, he said. "It's important for states to have their own hate crime statutes, so they can address local level crimes on their own and not have to rely on that very limited capacity of federal agencies."
The FBI did launch an investigation after a trio of vandals spray-painted slurs on the Islamic Society of North America (ISNA) headquarters in Plainfield, Indiana, last February. Blurry surveillance footage offered no clear leads.
But the incident rattled Faryal Khatri, who works in ISNA's communications department. These days, fearful that attackers might be hiding amid the cornfields that flank the building, she parks in a different lot than most all of her colleagues and double-checks who's at the doors—which were left unlocked prior to the vandalism—before answering them.
"I think about hate crime legislation all the time," she said before showing me the residue of white paint on the building's brick walls. "What if someone comes here and shoots me? There's no law [in Indiana] to say that was a hate crime, and that's very disturbing."
Follow Beenish Ahmed on Twitter.