(Photo via Alastair Grant/AP/Press Association Images)
(Top photo: Alastair Grant/AP/Press Association Images)
Yesterday, two things happened within around 20 minutes of each other: First Minister of Scotland Nicola Sturgeon announced she would seek permission for a second Scottish independence referendum, to be held some time between autumn of this year and spring 2019; and then loads of people from London who are still annoyed about the Brexit outcome tweeted basically pretty much exactly this:
We do have a laugh, don't we, when a referendum comes around. So many referendums, so little time. Will we leave this? Will we declare independence there? Will we slice this island territory up along hard and firm leylines? Will we erect walls and go to war? Only referendums can tell us. Let's have a hundred more of them. A thousand more.
Anyway, after Brexit last year, it's safe to predict exactly how agonisingly this is going to unfold over the next six-to-24 months. Here's what you can expect from the Scottish independence referendum trail:
NO FUCKER WILL KNOW WHAT TO CALL IT FOR AT LEAST SIX WEEKS
"Scottish referendum", though accurate, isn't exactly catchy. Same goes for "#indyref2", a sequel to the wildly popular "#indyref" of 2014. McBrexit is my preference. It's hard to remember, now we are all so used to the word, but "Brexit" is a portmanteau of the very ugliest and most nightmarish order, and should be forbidden entirely from our language on aesthetic terms alone. Adding the "Mc-" prefix on there literally makes a word so ugly it should be in prison for it So this works as a sort of linguistic metaphor for the chaos of the entire process. If "Scexit" happens – "Scexit", like "Penge" and "mulch", sounds somehow like five or six extremely vile terms for fucking at once – then dynamite the border and float Scotland off into the sea, honestly.
ENGLISH PEOPLE REALLY LOUDLY SUPPORTING SCOTTISH LEAVE ON FACEBOOK
I'm telling you now that if you're Facebook friends with anyone who comes from Oxford but went to St Andrews – and we all are; every one of us is – then you are going to want to unfriend or mute them immediately, because they are going to be really fucking insufferable with that "Solidarity to my Saltire brothers and sisters!" shit between now and 2019.
THE 'HOW MUCH IS A FLAT IN DUNDEE THEN' CROWD WILL COME OUT IN FORCE
Listen, I like the "how much is a flat in Dundee then" crowd, you know. I wish I could wear my life so lightly that it would always be practical for me to up and move sticks to a city where I know no one and is 360 miles from my workplace just because that they-tell-you-from-the-top aspirational goal of owning property is that bit easier to achieve in Scotland. I like to imagine me, in Dundee, marvelling at how Dundee-y everything is: what funny street names they have in Dundee! What a strange and irregular bus and public transport system they have! "I just love the air here!" I will say, to the Dundee people, honking great big lungfuls of it into my body. "So fresh! Do you guys have Oyster cards yet?" Me, in Dundee: "I love Dundee cake!"
Soon, the Dundee people will turn against me. They will hold evening meetings at community centres to air their grievances about me. "He keeps trying to talk to me about Paul Gascoigne!" says one man. Another, a Scottish woman, is tired: "He keeps attempting to say Scottish words and he keeps doing them wrong. He thinks 'hoots, jings' means 'hello'." The Dundee people mobilise, forks in hands; they render me from my affordable two-bed and drag me to the streets. "Och!" I say, Englishly. "Dinnae kill me!" And they do: they put me on a pile of logs and burn me to death, boil me alive in my skin. And no court in the land will convict them, because Scottish law is out of control. The end.
PEOPLE TRYING TO MARRY SCOTTISH PEOPLE BY SAYING THEY LIKE SHORTBREAD AND GETTING DRUNK, BECAUSE THAT'S WHAT EVERY SCOTTISH PERSON WANTS ISN'T IT, TO BE BETROTHED TO AN ENGLISH DULLARD
Hello, Scotland. If you vote out of the UK and into the EU, somehow, via some sort of impossible political John Virgo trick-shot, I am willing to marry 1 x of your lusty orange women in exchange for a Scottish passport, signed an Englishman
SCOTTISH PEOPLE REALLY BANGING ON ABOUT HOW GREAT SCOTLAND IS FOR A BIT
Really looking forward to the semi-viral "Choose Life" rip-off that talks up that one street in Edinburgh that is a bit trendy now and makes some impenetrable references to "the slam tent that is pencilled in" to be all over Facebook some time around autumn, 2018.
TV WILL JUST DESCEND INTO LARGE RED-FACED SCOTTISH MEN QUIETLY DISAGREEING WITH EACH OTHER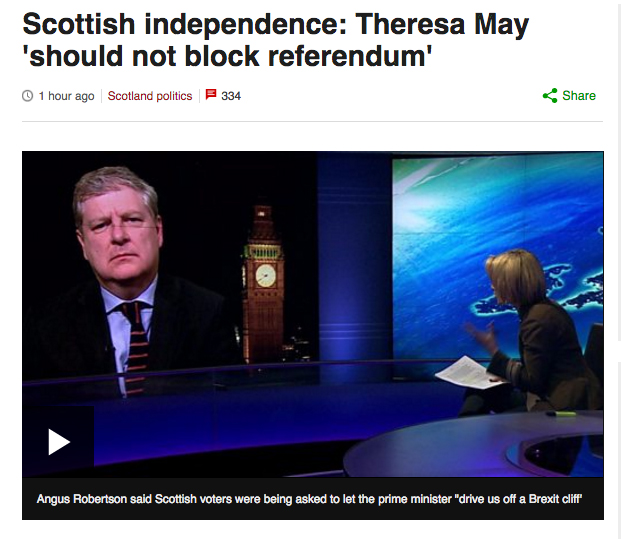 Look, from yesterday, a vision of the future: huge lads called "Angus" looming all over BBC News.
HIGH-MINDED ENGLISH NEWSPAPERS DISCOVER SUDDENLY THAT SCOTLAND EXISTS
You don't know Scotland until you've seen it through the eyes of an English journalist on an expenses jolly who spent cumulatively eight hours there, four of them desperately searching for 4G signal so they could check up on Twitter, after rampaging up on the night train and finding a destitute street in Aberdeen and doing a 4,000-word write-up about how bleak it is based on talking to four entire actual Scottish people, two of whom were children. And I should know because I intend on writing all of them. Hope you're ready for me, Dundee! Or other places! I don't know the names yet!
THERE WILL BE E-PETITIONS
Can you feel the ground rumbling beneath you? Do you see your laptop and your coffee mug jiggling and crossing your desk? Take to the window and watch as the horizon flexes and jolts: is this an earthquake? Is the land you stand on breaking itself in two? No, look closer: e-petitions, a cascade of them, e-petitions from every angle, contorting reality at the very seams. "STAY SCOTLAND IN THE UK PLEASE!!", 160,352 signatures. "RENAME SCOTLAND McEUROPE", four signatures. "SLAUGHTER THE QUEEN IN THE NAME OF THE SCOTTISH SUN!!!!!", 100 million signatures. E-petitions are the modern way people have of acknowledging they have a basic grasp on contemporary politics but are also fundamentally still an idiot. As referendum time approaches, we soon will not be able to move beneath the weight of them.
SCOTLAND'S ENTIRE CULTURE WILL BE DILUTED DOWN TO THE STRENGTH OF A 'BEANO' CARTOON
Alright, things we know about Scotland, really quick: kilts, thistles, the word "sporran", haggises, deep fried things, deep fried Mars bars, Celtic and Rangers and literally nobody else, oil, shortbread, the phrase "a wee dram", the word "och", whisky, scotch, oats, standing on a table and yelling "RABBY BURNS!", Trainspotting, McCowan's Highland Toffee, "tossing the caber!", highland flings, BARAMBA!, BARAMBA!, BARRA-BAM BARRA-BALLA-LA-LA-LA!, Sean Connery, Irn Bru, Hadrian's wall, "Mc". That's it. That's the entire depth of the Scottish cultural references well. And lo, the Metro front page today:
Going to be a very long two years of this, lads.
SOMEONE IS GOING TO TWEET THE FOLLOWING, WORD FOR WORD:
"I hope we don't Brexit from Scottish twitter!x"
INCIDENTAL BAGPIPE MUSIC WILL SUDDENLY BECOME VERY POPULAR ON TV
BBC News segment about the Scottish referendum? Listen closely, to those soft terrible sounds. ITV News reporting on the major Scotland-England shots-fired breakthrough? Lingering shot of a bagpiper hooting away with his back to camera on a lush green hill. Soon the sounds grow louder, more groaning: bagpipes; bagpipes everywhere. There is no worse sound than bagpipes. I would rather listen to an audio tape of a load of murders than listen to a bagpipe for even one second.
THE DEPRESSING SIGHT OF LOTS OF WELL-MEANING YOUNG PEOPLE POURING THEIR HEARTS INTO A CAMPAIGN FOR PETTY NATIONALISM THAT WOULD LEAD TO A ONE PARTY STATE AND THEIR POSSIBLE RUINATION AS A RESULT RATHER THAN ANYTHING THAT WOULD ACTUALLY FORWARD THEIR INTERESTS
Which I suppose is the ultimate lol of all this, isn't it: in 2014, after the result of the last Indy vote, we saw young people rendered tearful and hopeless in the face of the winning "No" vote, and now – with SNP checkmating Labour and grassroots pro-Indy groups stronger than ever – looking at it from Day One of a potential referendum campaign, "Yes" seems a more likely outcome than before. But taking a clear-eyed view – always difficult with campaigns that thread themselves with nationalism – it's fair to ask the question: "But will this really fix anything?"
This is the boom-and-bust cycle of every referendum: present people who feel unhappy with their lot – in areas with no jobs and no money and prospects generally lower than they could be – and fill them with air about change, and how a totally new and untested system will do them good, and they will vote for that system because it's seen as the only viable escape route. We literally saw it with Brexit. Will a new set of rules really change all that much? A new government, a new way of doing things? Basically: will independence necessarily solve any problems, or, due to the base nature of the machinations of power, will everything remain more or less the same, just with a bit more of a Scottish accent about it? Guess we've got 24 months or so to find out. Until then: hoots, man! Munchie box!
More about the Scottish Referendum 2: Electric McBoogaloo
I Voted No in the Last Scottish Referendum – Here's Why I Wouldn't Do the Same Today