This article originally appeared on Noisey UK. 
A decade ago, this thing called The Year 2007 happened. It landed upon us like an anvil on a cartoon villain, crushing and rebirthing us all under the weight of celebrity meltdowns, nu rave and the most atrocious vest and leggings combinations since 80s workout videos. It was also the year of global financial crisis which meant that, for young people especially, nothing mattered anymore. Setting aside the now useless degree in humanities you spent six years of high school preparing for, you got a job working 72 hours a week in a pub, and your mum considered it an achievement that you were making enough to pay rent, subsist on ramen, and not have to move home. Expectations had never been lower, which may account for the fact that international thirst monster Calvin Harris was allowed to happen, Mika's Life in Cartoon Motion ended up being the fifth best-selling album in the world, and Katy Perry made her major label debut in the form of "Ur So Gay," which somehow did not result in a Robin Thicke-style descent into obscurity.
Previously on Noisey, we have reflected on Kesha's Myspace page and how it was more inspirational than any time DJ Khaled ever Snapchatted himself getting lost at sea, and we have mined the introspective cave of mirror selfies in which From First To Last's Sonny Moore (more commonly known today as "Skrillex") cut his teeth. Now, it's time to inspect the world of Katy Perry circa 2007. The year of scandal. The year of trash. The year—after pursuing a career as a teenage gospel singer, releasing a commercially unsuccessful album under the name Katy Hudson and moving to LA—Katy Perry finally became famous.
For context, this page was archived on December 12, 2007, so if you're still recovering from recent festivities then brace yourself to be triggered by the following onslaught of Katy Perry CHRISTMAS CONTENT!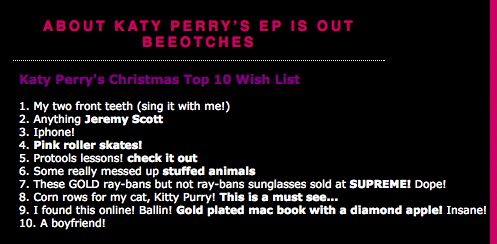 Katy Perry's full About Me section is longer than War and Peace so let's begin at the top with this bit of brazen advertorial thinly veiled as an Amazon wishlist. My favorite aspect of Katy Perry's MySpace page overall is its marriage of personal and professional; Katy chatting shit online with lots! of! exclamation marks! while someone from management insists that she play the game as well. Nowhere is this union more obvious than in this particular section, which manages to plug seven different brands and a meme between two jokes that riff on her appeal as the boy-crazy nerd with braces (which is fine because she's also very conventionally attractive) from the "Last Friday Night" video. Totes young people words like "dope" "insane" and "ballin" are shamelessly mixed in with PR lines like "check it out," "this is a must see" and hyper-specific product descriptions that she has been contractually obligated to use. The best part, though, is that she almost certainly had all of these things. What is Katy Perry if not a designer brand-wearing roller skater taking pictures of her cat in corn rows on the world's first iPhone so she can text it to a boy?
I see your hustle, Katy Perry. I see your hustle and I respect the hell out of it.
THIS CHRISTMAS MEMORY THAT HAS BEEN INCLUDED FOR REASONS UNKNOWN - MAYBE EVERYONE ON MYSPACE WAS DOING IT AT THE TIME? WAS THIS A TREND? DOES ANYONE ELSE REMEMBER 2007, PLEASE I WAS SO DRUNK.

Lack of context aside, this is a very nice story. The more I read it, the more I well up. I well up at the thought of baby Perry not being able to sleep due to excitement and waking her parents up at 4am just like I did because all children are selfish egomaniacs. I well up at the thought that we are currently as far away from Christmas as it is possible to get. And I full-on weep for 2007, arguably the last year we would ever witness a celebrity stream-of-consciousness blogging on a website they run themselves, using loads of ellipsis and brackets and quotation marks that absolutely don't need to be there but nevertheless reveal just a little bit of personality. The closest you'll get to this now is watching a beef unfold in Instagram captions.
FINALLY, SOME ACTUAL INFORMATION ABOUT KATY PERRY
This is how pop stars courted the public 10 years ago. Not by being silent and elusive like Harry Styles, being so god-like talented in every way that the idea of approaching them feels tantamount to scaling Mount Everest on a micro scooter, or having the same carefully curated paragraph of information fed to you in press emails and interviews—no, by neatly advertising your personality as a series of niche bullet pointed interests, hoping to connect with people who also enjoy waking up at 7am to go to a garage sale. And, to be honest, it's working. I enjoy Katy Perry as much as the next person but I've never thought about what a day out with her would be like, because I wouldn't have known where to begin imagining. But after finding all this out apropos of nothing I can absolutely picture us playing miniature golf together before she gives me a swing dance lesson and I try to ignore her saying "Japanese-y".
Footnote acknowledging the passing of some 2007 vernacular: RIP "hee hee". You are not missed.
THE BIT HER MANAGEMENT PUT IN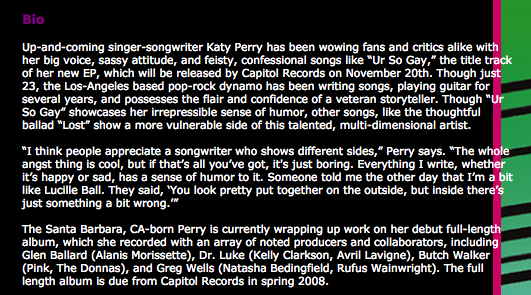 In which Capital Records pitch "Ur So Gay" as a "feisty, confessional song" and Katy Perry accurately predicts the death of the appeal of angst.

First Kesha, now Katy Perry. What is it with budding mid-00s pop stars and "your mom" jokes on Myspace? Incidentally, here's one of my own: Katy Perry here, aged 23, with her influences looking like the contents of your cool mom's CD changer. Ha ha! Burn.
Footnote acknowledging the passing of some 2007 vernacular: RIP "HAWT." Every day, you are missed.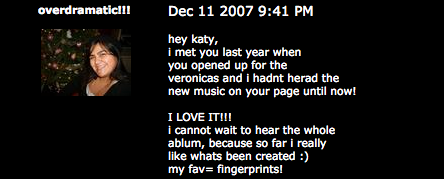 Fact: before the problematic Kate Nash impression that was "Ur So Gay," Katy Perry opened for The Veronicas and spent time milling around the venue chatting to fans, giving us a glimpse of an alternate timeline in which she doesn't quite make it and ends up funding art projects on Kickstarter like a former Dalston celebrity.
It may be delivered in backhanded compliments but in 2007 even men in hot dog costumes gave commercial ("fufu") pop a chance before writing it off as trash. A note to present-day Twitter users with a quote about liberty in their bio coming through with memes about The Left every time Ariana Grande tweets about sexism: this is how you engage with things you dislike online.

This is either a passive aggressive dig at "Ur So Gay" or Katy Perry had a fanbase intent on repurposing the word with positive connotations. Since we just spent the last 10 minutes looking a decade into the past, quietly missing Myspace even though all it really did was allow us to do was meet up with strangers in Starbucks and avoid eye contact in total silence, let's go for the rose-tinted option. Damn Katy Perry's OG fans were so woke!

This, possibly, is me.
THIS INCREDIBLE POSTER FOR AN EVENT WHERE KATY PERRY WAS BILLED BENEATH A SIDE-PROJECT FROM MEMBERS OF AFI AND LOOKS LIKE EVERY INDIE DISCO YOUR STUDENT UNION HOSTED BETWEEN 2007 AND 2009 WHERE SOMEONE FROM HOLLYOAKS CAME AND DJ'D FOR TWENTY FIVE MINUTES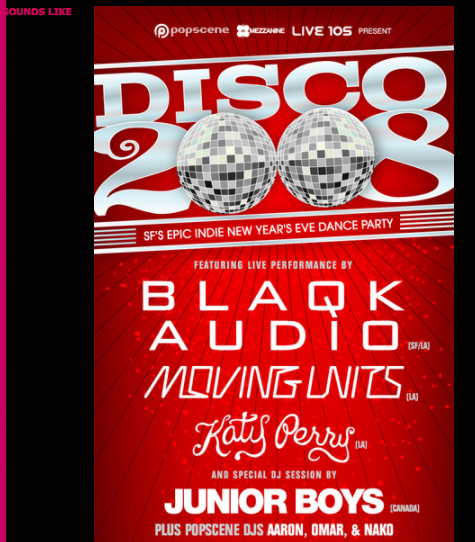 In conclusion, that was everything about 2007 combined into one social media profile. Now let's listen to "Ur So Gay"—a true Myspace anthem to end all Myspace anthems, from the way "you're" is spelled to urging someone to hang themselves with a scarf from H&M. A diss track that saw Katy Perry ripping into the rise of the "metrosexual"—a straight guy who likes GIRL STUFF such as BEING THIN and READING and SOY MILK—three years before marrying… Russell Brand.
Follow Emma on Twitter.