All images panel selections from Eyes Too Dry by Alice Chipkin and Jessica Tavassoli, courtesy of the artists.
Depression can be inexplicably difficult to deal with in more ways than one—that's no big secret. But one of the hardest things about it is trying to describe what it feels like to be depressed. In the new indie graphic memoir, Eyes Too Dry, best friends and co-creators Alice Chipkin and Jessica "Tava" Tavassoli attempt to "correspond" through comics and trace the effects of Tavassoli's depression on both of them. The book, as they describe it, is "about heavy feelings, queer friendship and the therapeutic possibilities of making comics." Featuring images used to symbolize the passing back and forth of narrative (Chipkin and Tavassoli each write and draw their own sections of the comic), Eyes Too Dry is a time-capsule, an intimate portrait of two friends, and a vitally powerful conversation about what it's like to have "heavy feelings."
"Alice had the idea to create a comic by correspondence," Tavassoli explains to Creators. "We knew we wanted the comic to be about everything that had happened/was happening so we each started working on things from our own perspective without really talking it through with each other." After initially passing work back and forth, they decided to turn this into a serious endeavor, and went away to a small farming residence on Salt Spring Island in Canada. "When we got to the farm," says Tavassoli, "we surrounded ourselves with comics and just started drawing, side by side but separately, not showing each other our work until two weeks in."
"It wasn't always clear if we could make our respective visual voices speak to each other on the page," Chipkin tells Creators. "We had no story board or clear narrative path ahead of us when we set out. We were trying to recall the important events and emotions of 2015, and wanted an opportunity to write and draw whatever needed to come out." Once they had a large amount of work between them, they hired a room in a local library and laid all the pages out. "It was in that structural editing phase that we began thinking of the story as a whole, and made conscious changes to bridge the distances between our tellings."
Now that it's all out and put together, how do they feel about releasing something so personal into the world? "It's hard releasing a work of memoir that is obviously only a snapshot of everything that was going on," says Tavassoli. "I worry that people will forget that and formulate this static idea of who I am. There's just no way that I could capture all the subtleties/intricacies of what that period was like and how I relate to it. So yeah it's scary releasing something that is a work with your name on it that claims to be about you that you know your friends and family are going to read."
In the end, Eyes Too Dry is an extraordinary work about dealing with depression, helping people who suffer it, and the effects it can have on everyone. But it's also a celebration of friendship and a testament to the therapeutic power of art and creativity.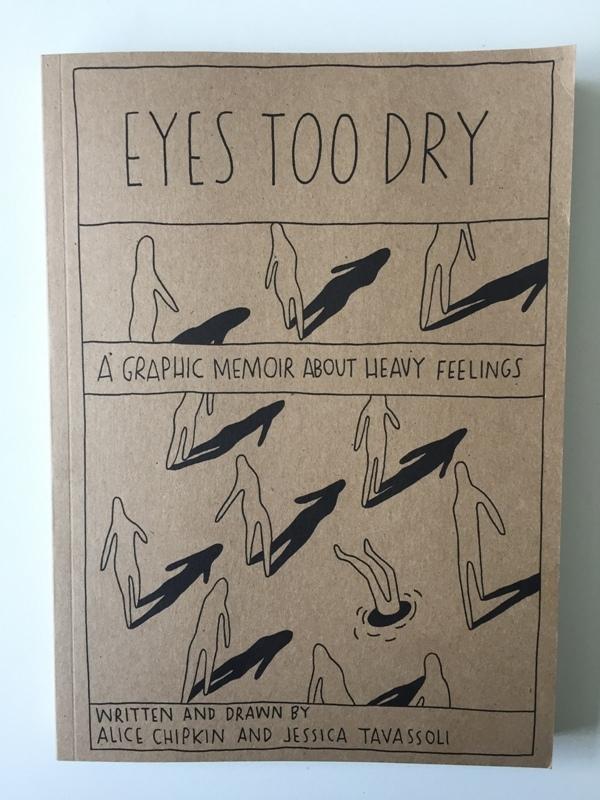 Pick up a copy of Eyes Too Dry in person in shops across Australia, or globally via Readings.
Related:
Thai Illustrator Tuna Dunn's Cute Comics Are Surprisingly Dark
Finally: A Comedy Show About Depression That You Can Actually Laugh At
Drippy Watercolor Paintings Take on Depression and the Human Mind