On Sunday morning, SpaceX successfully launched and landed a Falcon 9 rocket carrying a Dragon spacecraft loaded with over 5000 pounds of supplies and experiments bound for the International Space Station.
Cargo Resupply mission 10 (CRS-10) was a historic one for a number of reasons. Primarily because it marked Kennedy Space Center's return to being an active spaceport after nearly six years of no launches following the end of space shuttle program in 2011, but also because it marked SpaceX's first return to the ISS after it had a Falcon 9 explode on the launch pad during a pre-launch test last September.
As part of a 12-launch contract between SpaceX and NASA, CRS-10 was originally slated to fly in November, but following the explosion was pushed back until today. It follows on the heels of SpaceX's first launch since the explosion, which flew from Vandenberg Air Force Base in California last month carrying 10 communications satellites into orbit. Unlike last month's launch, however, SpaceX recovered the first stage of the Falcon 9 rocket today, which touched down at Landing Zone 1 at Cape Canaveral Air Force Station, just down the coast from Kennedy.
In the two days leading up to the launch, the mood at Kennedy was one of cautious optimism, marked by a noticeable excitement about the grand re-opening of launch complex 39A.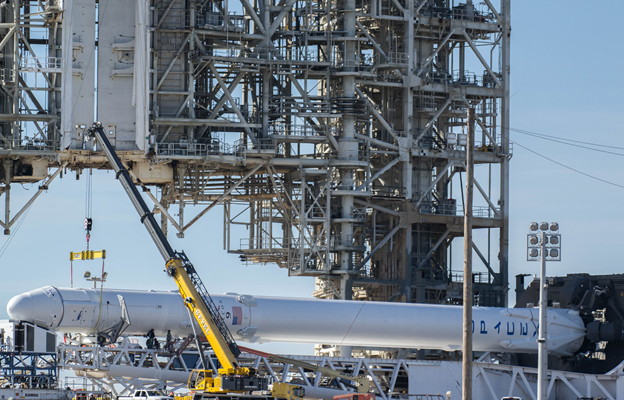 Built in 1965 for the Apollo program, Launchpad 39A has hosted all but one of the crewed missions to moon, as well as the bulk of the space shuttle launches. The last launch from the pad was STS-135 on July 8, 2011 carrying the Atlantis craft on the final mission of space shuttle program. Following this launch, the pad has lied fallow, with SpaceX's Florida launches being conducted down the road at the Cape Canaveral Air Force Base.
Although NASA has begun modifying Launchpad 39B to accommodate its massive, Mars bound Space Launch System, 39A had no plans until SpaceX negotiated a 20-year contract for exclusive use of the pad in early 2014. In the intervening time, SpaceX has spent close to $100 million updating the pad so that it can accommodate its Falcon Heavy rockets, which is basically three Falcon 9 rockets strapped together and will be used for SpaceX's missions to the ISS and beyond.
This enthusiasm for the return of 39A was tempered somewhat by a justified concern about the success of the flight, after SpaceX confirmed Friday afternoon that it had discovered a problem with steering mechanism in the rocket's second stage. Still, CRS-10 was considered a go up until 13 seconds before the scheduled launch on Saturday morning, when Elon scrubbed the mission to figure out the problem.
Although Musk had said that the rocket was "99 percent likely to be fine," his unwillingness to "roll the dice" on that 1 percent chance makes sense. SpaceX has suffered two high profile rocket explosions in as many years, losing payloads worth hundreds of millions of dollars and raising concerns that the Musk's rockets were too much of a risk for potential customers. In other words, another accident for SpaceX would've been disastrous for the company, and also for NASA, who is counting on SpaceX to decrease the agency's dependency on Russian rockets.
Fortunately for Musk, Sunday's launch went off without a hitch. The first stage booster stuck a successful landing roughly 10 minutes after launch, around the same time that the Dragon spacecraft was deposited in orbit. The Dragon was loaded with a number of science experiments for the ISS, including the SAGE III used for monitoring ozone activity, a lightning imaging sensor for studying the amount and energy of lightning on Earth, and some 40 mice which will be studied to learn about how wounds heal in microgravity.
This launch marks the beginning of a busy period for the company. SpaceX president Gwynne Shotwell addressed a throng of reporters at Kennedy on Friday afternoon, and said SpaceX plans to begin launching about once every two and a half weeks to make up for delays caused by September's explosion. This will include launching the Falcon 9 booster used during the 2014 CRS-4 mission in March—the first time in history a recovered rocket will return to flight—as well as the launch of the Falcon 9 heavy this summer, which will be used for crewed missions beginning in 2018.