Former US President Donald Trump speaks at a rally on September 25, 2021 in Perry, Georgia.(Photo by Sean Rayford/Getty Images)
Want the best of VICE News straight to your inbox? Sign up here.
The report of the sham Arizona election 2020 audit was published Friday showing that the hand recount of 2.1 million ballots in Maricopa County confirmed one thing: President Joe Biden won.
But if you'd listened to former President Donald Trump over the weekend, you might have come to a different conclusion. 
"We won at the Arizona forensic audit yesterday at a level that you wouldn't believe," Trump told a rally in Georgia, adding: "They had headlines that Biden wins in Arizona, when they know it's not true. He didn't win in Arizona. He lost in Arizona based on the forensic audit."
Trump reinforced his speech in Georgia with a blizzard of statements and emails to supporters referencing the audit findings and claiming that the report showed there were "enough fraudulent votes, mystery votes, and fake votes to change the outcome of the election 4 or 5 times over."
This is entirely inaccurate. The partisan recount found that Trump lost Maricopa County to Joe Biden by 45,469 votes, a margin of victory that is 360 votes wider than the official certified results. 
"Truth is truth, numbers are numbers," Arizona Senate President Karen Fann, the Republican who instigated the recount, said at a Senate hearing Friday.
But for the former president, the truth clearly doesn't matter anymore. Trump continued his weekend push to undermine democracy in a wildly unhinged interview on the right-wing outlet One America News Network. As well as baselessly claiming that even Fox News was part of a conspiracy to steal the election from him, Trump grimly warned that unless new voter restriction laws are passed, the country "would not survive this."
Throughout the weekend on social media, Trump's biggest supporters continued to make calls for the election in Arizona to be decertified—even though there's no legal course for that to happen—while others pushed for even more audits.
"Now that the audit of Maricopa is wrapping up, we need to Audit Pima County—the 2nd largest county in AZ," Mark Finchem wrote on Twitter. Finchem is currently running to become Arizona's secretary of state, meaning he would be in charge of the state's elections if he won.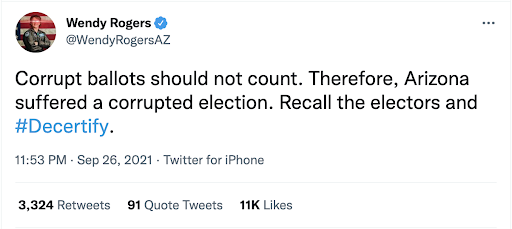 State Sen. Wendy Rogers, one of the biggest supporters of the audit and its associated conspiracy theories, posted a non-stop barrage of messages falsely claiming Trump won, criticizing the media for covering the findings of the report, and once again calling for the election to be decertified.   
She also posted a letter signed by 41 lawmakers from multiple states calling for "a 50-state audit, decertification where appropriate, and possible convening of the U.S. House of Representatives." Trump referenced the letter in his speech on Saturday night.
Peter Navarro, Trump's former trade ambassador, who is now promoting right-wing social media outfit Gettr, baselessly claimed that the audit found almost 50,000 possibly illegal votes in Maricopa County. It's unclear where Navarro got that figure, but he's referring to issues Cyber Ninjas raised over discrepancies in how ballots were marked and processed. However, numerous experts have already widely debunked Cyber Ninjas' methods for checking those ballots, including their efforts to check ballot papers for bamboo fibers based on a conspiracy theory spread by QAnon supporters that said boxes stuffed with ballots were flown into Phoenix on the night of the election. Florida-based Cyber Ninjas had no prior experience doing such an audit.
Navarro also used the baseless claim as an opportunity to push his new book:
Trump spokeswoman Liz Harrington claimed the audit had found "23,000+ Phantom Voters." Again this was inaccurate, as Harrington was referring to mail-in ballots that came from voters listed under prior addresses. Maricopa County elections board pointed out: "This is legal under federal election law."
 The Arizona audit was originally pushed by QAnon conspiracy theorists and Trump allies for months before Karen Fann sanctioned the recount and appointed Doug Logan and Cyber Ninjas to conduct the audit.
By simply taking that step, Fann and her fellow GOP lawmakers in the Senate gave Trump's allies exactly what they wanted: something to point to when making wild allegations of widespread vote-rigging in the 2020 election. 
Why else would Arizona be conducting a forensic recount if there wasn't something suspicious going on?
For months GOP lawmakers trooped through the recount center in the Veteran's Collesium in Pheonix, speaking to Logan and GOP state senators like Wendy Rogers who helped boost some of the wildest conspiracies about vote-rigging.
As a result, forensic audits are now taking place in multiple other states across the country, with Texas announcing its plan on Thursday night.
And just like the outcome of the Arizona audit, the result of the audits in Michigan, Pennsylvania, Wisconsin, and Texas won't matter either.
For Trump and his allies, they're already looking at the next step.
"There is fraud and cheating in Arizona, and it must be criminally investigated," Trump said in one of his many statements about the audit.
On Friday, Attorney General Mark Brnovich said he "will take all necessary actions that are supported by the evidence and where I have legal authority. Arizonans deserve to have their votes accurately counted and protected."
Brnovich,  a Republican candidate for U.S. Senate in 2022, is facing pressure from Trump, GOP lawmakers, and Trump's fans to bring criminal charges. He's also under pressure from Peter Thiel, the billionaire Trump supporter who has pledged $10 million to get his candidate Black Masters elected to the Senate seat, who's claiming that Brnovich doesn't support Trump strongly enough.
And so, the circus rolls on. After six months of wild conspiracies and baseless allegations surrounding the audit, the focus now will move to whether criminal investigations are opened.
But when that doesn't happen, Trump and his supporters will find something else to focus on. Meanwhile, in states across the country, Trump is helping push through voter suppression legislation and install election officials sympathetic to his vote-rigging claims in time for the 2022 midterms and the 2024 presidential election—when he is the overwhelming favorite to once again be the Republican candidate.