"Sometimes I still wonder how I got into a so-called boring game like chess," said 16-year-old Ratik Agrawal from Bhilai, a city in the central Indian state of Chhattisgarh. 
Last year, the high schooler started following Indian comedian-turned-chess streamer Samay Raina's YouTube channel, where he streams chess matches to his 720,000 subscribers.
Chess streamers usually stream themselves playing matches on the website chess.com, or do live commentary on ongoing matches. 
Through Raina, Agrawal was introduced to the growing world of Indian chess streamers, some of whom are professional players. "These streamers are like coaches to me," says Agrawal, who now dedicates an hour to chess daily and hopes to play at a professional international tournament in the future. "I get emotional if they lose a game; they are a part of my life now."

Raina, 23, is leading India's digital chess boom on YouTube. The stand-up comedian successfully fuses comedy and chess in his livestreams that are followed by scores of young people. In roughly a year and half, his channel has grown from 6,000 subscribers to 720,000. 
"I never did it for the views," Raina told VICE over WhatsApp. "I streamed chess because I love chess and I knew that if I love it, there definitely must be more people who do."
It all started in March last year, when India first went into lockdown following a surge in COVID cases. Raina started streaming PUBG and chess matches with his friends. Soon, his popular comedian friends like Tanmay Bhat, Abhishek Upmanyu and Biswa Kalyan Rath joined him in the streams. 
"I've always loved chess. I used to play chess with my grandfather and then started playing for my school but stopped in between and picked it up again as an adult," Raina said. 
So how did a 1,500-year-old game become cool online? 
The answer might lie in Raina's approach. 
Raina's streams are not of serious faces staring at the chessboard for hours while deep in thought, but of groups of friends cracking jokes while playing the abstract strategy game. With an astounding 169 million views on his channel, it's pretty clear that his audience loves it.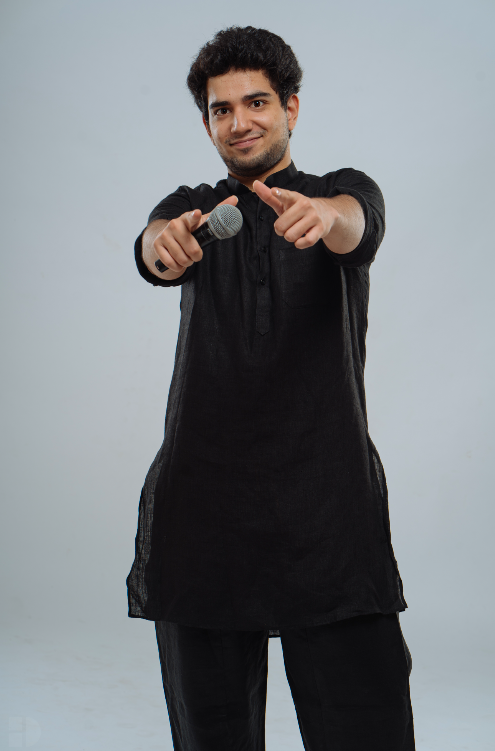 His streams with famous chess players like Magnus Carlsen, Anish Giri, Viswanathan Anand and Teimour Radjabov have revealed a fun side to them that the world doesn't usually see. 
"People might think of chess players as boring and emotionless human beings since the sport involves a lot of thinking and sitting in one place for hours," Raina explained. "But when these big chess personalities come on livestreams and crack jokes, and have fun like normal people, people get attracted to the sport. What first seemed like a dull, boring sport might seem fun to watch, almost like a party."
The previous year has been great for chess. The Netflix series The Queen's Gambit starring Anya Taylor-Joy drew more attention to the game. Sales of chess sets and chess books soared in the United States while more than three million people joined chess.com within a month of the show's debut. Last year, chess grandmaster Hikaru Nakamura became the face behind livestreaming platform Twitch's chess obsession. On a platform filled with video game streamers, Nakamuru stood out. 
Shah himself is an International Master (IM) with a rating of 2407 per FIDE (International Chess Federation). He runs ChessBase India with his wife Amruta Mokal, who is also an international master. Shah is also Samay Raina's trainer and is frequently seen on his streams. 
"I recently received a message from a parent who told me their three-year-old toddler loves chess, and I felt really proud. Access to chess resources and the infusion of entertainment and comedy is helping spread chess to a wider audience, especially young people," Shah said. 
Shah and Raina's streams have also made the game less daunting to the public. Traditional chess tournaments might have been seen as boring, but streams hosted by Shah and Raina are not only fun because of the jokes, they also help the audience learn the game as they go. 
Shah has hosted multiple streams where he coached Indian comedians on chess. Raina hosts a tournament called "Comedians On Board," where Indian comedians play against one another. A majority of their streams are in Hindi, making it more accessible to Indians.
The community is replete with inside jokes. Raina is jokingly called "Blunder Master" for losing often; Shah has a character called "Future Shah" which is just Shah with a fake beard and, well, from the future. 
In chess, the knight (the piece that looks like a horse) is the only piece that does not move in a straight direction, which led to previous guests on streams calling it a "fucked up piece." Raina later coined the code phrase, "Ghoda [Hindi for horse] is a respectable animal," which basically is code for the viewers and guests to not swear or use vulgar language while on the stream. 
Raina's fandom has a meme account, a subreddit, and a Discord server where his followers often get to interact with him. "I think my audience finds me relatable since most of them are around my age or younger. Streams with other prominent players give people the chance to learn, but in a chill way," he said.
Raina's streaming has also led to other chess players starting their own YouTube channels, where they create and stream chess-related content. 
Vidit Gujrathi, India's third-highest rated player, is one of them. Tania Sachdev, a Woman Grandmaster (a special title for women chess players) also set up her own channel this year. 
"When the pandemic started, the world of chess moved online," said Sachdev, who started streaming in November last year. "But online chess is a whole different animal to over the board (OTB) chess. It can evolve into its own world as an e-sport in the future, with its own rating and ranking system. Professional players and major events will stick to OTB, though."
Beyond the game's competitive and fun elements, Sachdev acknowledges chess for its other benefits, too. "Chess also helps with your mind," she said. "It has also been therapeutic for so many in the last year." 
Aarav Kumar, a chess fan who regularly follows Raina, Sachdeva, and Shah's content, agrees. As a university student in New Zealand, he struggled with his mental health and loneliness as the pandemic raged on. 
"I would wake up at five in the morning to watch the streams," Kumar told VICE. "The pandemic left me feeling very isolated, and Samay's streams were the only times I didn't feel like shit." The 21-year-old now uses his skills to train his five-year-old cousin who also loves chess.
Inspired by Raina, other creators have started chess streaming on their own. Neetish Thakur is one of them.
The 21-year-old from Navi Mumbai originally planned to upload a self-shot web series on his channel until shooting came to a halt due to the pandemic. After stumbling upon Raina's streams, he grew a keen interest in chess.
"At the start, only a handful of people would attend [my matches on YouTube]," Thakur said. "One of them was Samay himself. He later told me on his Discord that he watches my streams while working. I nearly lost my mind."
Thakur continues to stream chess and his channel is currently at 5,000 subscribers.
For Prashant Singh who is based in the eastern Indian city of Bokaro, chess streaming came as an unexpected but happy surprise. "My first videos had education-related content and exam prep tips," the 27-year-old software engineer said. "Samay asked me to give chess-streaming a go and it worked out incredibly." Singh's channel is now at nearly 37,000 subscribers.

Raina and ChessBase have also hosted several chess streams and events for charity. As per ChessBase India's report, they've raised Rs 3.2 million (approx $43,000) for charity through their streams, some of which have sparked controversy. 
In June this year, in a fundraiser stream hosted by the website Chess.com, a billionaire entrepreneur was found cheating during a game with Viswanathan Anand.
But controversy aside, Raina looks forward to hosting more charity-themed events in the future. "If I can sit in my chair from the comfort of my home and do a stream which helps someone out there save a life, I don't see a reason why I shouldn't do it frequently," he said.

The chess community, on the other hand, is elated to finally get some recognition. "Four years ago, chess-related videos barely had a couple of hundred views but now, they have at least more than 70,000 views," said Singh. "Chess is going mainstream and it's here to stay."

Follow Jaishree on Twitter and Instagram.