Image composed by Noel Ransome
A record number of women are running in the Ontario election — female candidates make up 56 percent of the NDP slate, 52 percent of Greens, 45 percent of Liberals, and 32 percent of PCs. But women candidates across party lines tell VICE News they are experiencing harassment, online and in person, as they hit the campaign trail.
One said a supporter groped her breast while she posed for a photo with him. Another reported a deluge of harsh tweets, including people calling her "Jabba the Hutt" and threatening to throw water on her if she came to their door. Another received online comments telling her to "go back to China." Yet another said she was canvassing when a man came to the door in nothing but his briefs.
Candidates who spoke to VICE News reported feeling emboldened to speak about their experiences after the #MeToo movement hit Canadian politics early this year, calling the behaviour of both male and female politicians into question. Some said harassment creates subtle barriers to campaigning that male candidates do not face — one woman had to delete her Facebook to quash the negative comments, while another can't canvas the building where she was sexually assaulted.
Candidates also expressed concern for the safety of their volunteers, who are sometimes teenage girls. But as for themselves, they felt excited to run, and said negative experiences on the campaign trail made them that much more determined to prove themselves.
"If someone wants to spend time on the internet calling me names, that's fine. I spend my time knocking on doors," said Liberal candidate for Aurora-Oak Ridges-Richmond Hill, Naheed Yaqubian.
'Grin and bear it'
NDP candidate for Toronto Centre Suze Morrison says going door to door and meeting with hundreds of strangers every day "creates an opportunity for higher volumes of harassment."
In one recent case, she was in an apartment building when a supporter recognized her and asked to take a photo with her.
"He put his arm around my shoulder and grazed his hand down my chest, and was basically grabbing my breast while we were taking this photo," she said.
Morrison and a female volunteer were alone in a narrow hallway with the man. "There was no good way for us to safely stop that interaction," Morrison said. "We just had to grin and bear it until he got his photo and left."
On another occasion, she says someone came into the campaign office and asked "whether I really had the stamina to do the campaign schedule that I was keeping up with because I'm so heavy."
"Statistically speaking, one in four of the women candidates on the campaign trail right now are likely survivors."
Morrison's experience as a survivor of sexual violence also comes into play. In the past, she was sexually assaulted in a building that's in her riding. Now, she can't canvas there because it would be "a very triggering experience."
"These are the things male candidates don't have to think about," she says. "It creates these subtle barriers that slowly add up to make the campaign process even more difficult when we're already facing an uphill battle to be taken as seriously."
"One in four women has experienced sexual assault in their lives," she points out. "Which means statistically speaking, one in four of the women candidates on the campaign trail right now are likely survivors."
Saman Tabasinejad, NDP candidate for Willowdale, says she has found it "quite normalized that people will open their door without wearing clothes."
In one recent case, she had a "very strange interaction" with a male constituent who came to the door in nothing but his boxer briefs. She was with her campaign manager, who is male. It made them both feel uncomfortable.
The constituent made it clear he was not an NDP voter. "The political hostility combined with the fact that he was in his underwear …kind of feels like a power move," she said.
'Online is a different story'
Liberal candidate Naheed Yaqubian, a Muslim woman, has knocked on thousands of doors since she clinched the nomination for her riding in October.
"I don't wear hjiab, and I may not be visibly Muslim to some people, and I recognize that there's privilege that comes along with that," she says.
"There are times when I go to the door … and someone starts ranting about immigration or Muslims, and I say, 'Hi, I'm Naheed Yaqubian, nice to meet you.' …At that point they realize they had a different audience than they thought they did."
On other occasions, she said she was followed.
"We had a car sit in front of our office for two hours, shining the high beams into our office, and I have been followed while canvassing, I don't know by who, but once you see the same person in the car a few times, yeah, it becomes pretty evident," she said.
"I have been followed while canvassing."
"I believe members of my team have either filed a police report or are in the process of filing a police report. It's more my volunteers. …I would never want one of my volunteers to feel followed or threatened."
However, she says harassment IRL doesn't happen very often at all.
"Online is a different story."
When she announced her candidacy on Twitter, the first comment she received was, "Don't Canadians run for office anymore?"
"I was born and raised here, but even if I wasn't born and raised here, there are still lots of Canadians who aren't born and raised here," she said. "That set the tone for what would be a deluge of online harassment."
She has kept a collection of the tweets. Many of them are from Doug Ford supporters, and she believes the level of vitriol directed at her online has increased since he became leader of the Progressive Conservatives.
One user who identified themselves as a conservative said, "You will regret knocking on my door."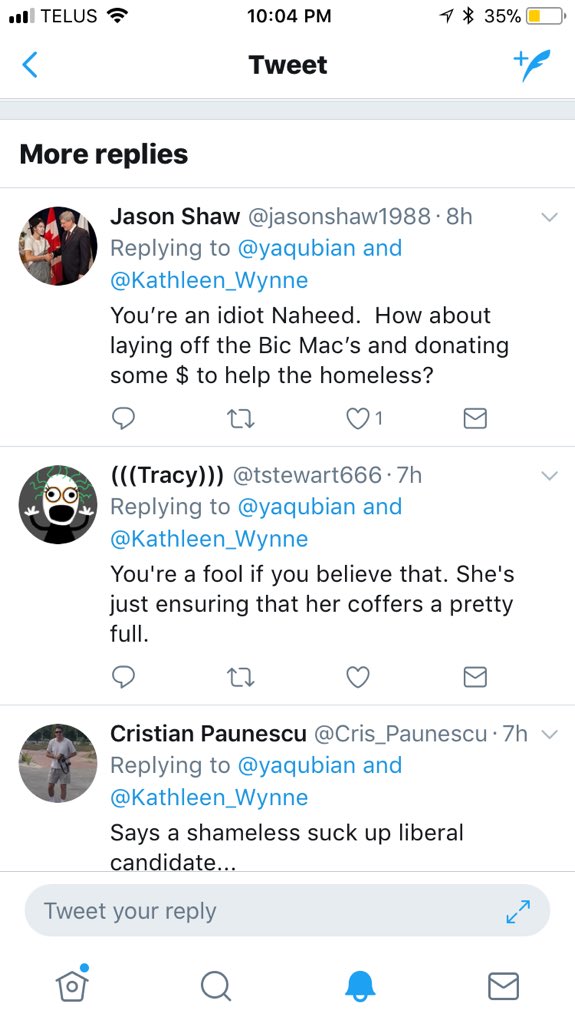 Another user tweeted, "You're an idiot Naheed. How about laying off the Big Mac's and donating some [money] to help the homeless?"
Another user was particularly active, calling her "Jabba the Hutt" and a "fat kid on smarties" until the candidate blocked him. In another tweet, he said, "Send your team to my door [and] they will get water thrown at them! Nothing like making Liberals turn into ice." The tweet was accompanied by the image of a frozen Squidward from Spongebob Squarepants.
She said the Jabba the Hutt comment was "hilarious."
"You either laugh or you cry, right?"
She doesn't engage with it, saying her team's energy is better spent spreading their message.
VICE News reached out to nine female Progressive Conservative candidates, but most either declined to comment for this story, or did not reply.
PC candidate for Etobicoke-Lakeshore Christine Hogarth said she had no negative experiences to report.
"I don't feel harassed at all," she said. "I've been in politics for a very long time, maybe I have a thick skin."
"I'm sorry that others have [experienced harassment]," she added.
Racist, transphobic comments
Racialized women candidates report experiencing online harassment that was both sexist and racist.
Makini Smith, Liberal candidate for Oshawa, said she hadn't experienced any in-person harassment, and that generally people had been polite when she knocked on their doors. But she said people have said "all sorts of hateful, negative things" to her online, a sample of which are contained in screenshots below.
For example, she says when she first announced her nomination, someone tweeted, "Oh really, a black woman running in Oshawa?"
Smith said she is new to the negativity of politics. "Maybe I lived in a bubble of positivity for so long, but as soon as I got into politics, even reading some of the [online comments directed at premier Kathleen Wynne], it made me view the world completely differently," she said.
Cherie Wong, Green party candidate for Ottawa-Centre, reported receiving emails saying "You're not going to win, you loser, go back to China."
In another case, a reporter said to her, "Oh you're Chinese, ni hao," which means "hello" in Mandarin. He then asked if she was married, to which she said no. "You'll be a missus in no time," he told her.
"What made you assume you can do that?" she said to VICE News.
It's a continuation of harassment she has experienced before in politics. At a Green Party convention in Ottawa in 2016, she said someone touched her dyed blonde hair without her permission. "Someone was just petting it and running their hands through my hair, asking if it was real. I did not give my consent."
The same night, another person traced their hand over the tattoo on her shoulder blade, again without her permission.
"I can't take that shit anymore, I can't," she said. "[Now,] I call it out."
Karen Kejick, Liberal candidate in Kenora from Iskatewizaagegan, or Shoal Lake 39 First Nation, said she recently received an online comment that said, "we need an alcohol and drug free government," reacting to the news that she had secured the nomination.
She found the comment "very offensive."
"I expected to get this sort of thing, but so overtly and in public and to my face was something that shocked me."
"In my personal opinion, it could be racially motivated," she said. "[Because it was directed toward] an Indigenous woman running as a candidate in the Ontario election."
NDP candidate for Ottawa-Vanier Lyra Evans received media attention for being the first openly trans candidate for a major political party, but said the publicity was a double-edged sword. With the increased visibility came transphobic harassment online, which she says her mostly-female campaign team diligently cleans up so she doesn't have to see it. "I don't want my campaign team to be subjected to this [either]" she said.
In one case, someone called her a "classic feminist cunt." She deleted her Facebook to curb the online vitriol.
She has also faced harassment in person, including someone saying they recognized her. "I was like, 'the bright hair makes me pretty easy to pick out in a crowd.'" He responded, "That and a pretty face."
"I expected to get this sort of thing, but so overtly and in public and to my face was something that shocked me, because I didn't expect to get those sorts of comments."
What can be done?
Candidates are reacting to the harassment in different ways.
Morrison said her campaign makes sure to send people in pairs or groups when they canvas. Several candidates said they are not engaging with online harassment and are instead blocking accounts, or deleting comments they deem offensive. Some campaigns are also using a new anti-sexual violence toolkit developed for the Ontario election.
But ultimately, candidates say it is a societal problem and attitudes need to change before harassment will end.
"It's really important that we call out harassment and that we recognize that it exists, and that it exists in particular for women and people of different marginalized groups," Evans said.
"Women and in particular young women of all political stripes are changing political discourse just by being visible, and I think our visibility makes some people uncomfortable," Yaqubian said. "And whether that's women, racialized women, Indigenous women, I think that some might see our visibility as a threat, but I've gotten to the point where I use it to motivate me."