Left photo by Win McNamee/Getty Images. Right photo by David McNew/Getty Images
Six months ago, Antonio Jauregui, a college junior in Fresno, California, who'd lived in the United States since he was five, heard news that turned his world upside down. President Donald Trump was ending DACA, the Obama-era program temporarily shielding Jauregui and roughly 800,000 other young immigrants—often called DREAMers—from deportation. Jauregui, who said he relied on DACA for a permit to work the job that paid for his education and supported his family, scrambled to raise the $495 he needed to renew his two-year status before it was too late.
"This is where I belong," Jauregui, who said he'd been appointed to serve on his city's public safety board but lost the opportunity with the rescission of DACA, told me. "It was a huge loss, because I've worked so hard for my community, the community that raised me."
---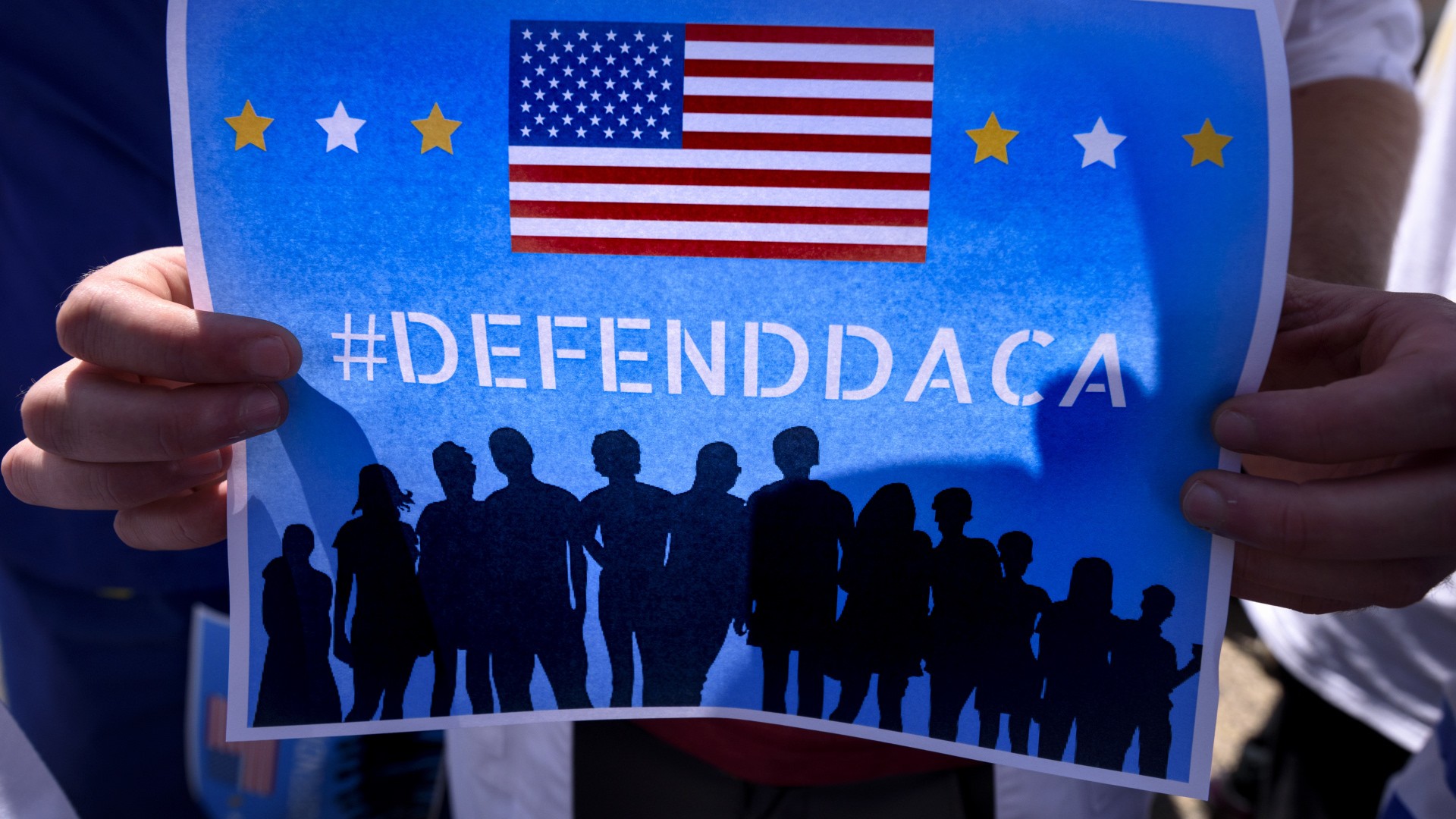 ---
Trump, who launched his campaign by spouting racist falsehoods about Hispanic immigrants, said last fall that he was giving the program a six-month expiration date in order to push Congress to pass a permanent solution for the DREAMers. But on Tuesday, that deadline came and went, and Congress had failed to even approach serious action. A court order has allowed DACA recipients to continue renewing their two-year visas for now, but the ruling is only temporary, and many DREAMers fear lawmakers have lost their urgency to act. Meanwhile, those still trying to snake their way through a convoluted and increasingly hostile immigration system—and gain some measure of security—described a bureaucracy rife with inconsistency.
"There are still immigrant youths being detained, being deported, and we're even seeing DACA recipients being detained by ICE," said Jauregui, referring to various incidents in which immigration agents have picked up DREAMers. "People are still losing their DACA protection."
To remind Congress about its failure, DREAMers and supportive activists demonstrated on Capitol Hill Tuesday, chaining themselves together on the street and trying to enter the office of House Speaker Paul Ryan. Capitol police arrested at least 87 people.
"We've had marches, school walkouts, and lobby visits. We've taken over the halls of Congress and the streets of DC," said Bruna Bouhid, a 26-year-old DACA recipient who now runs communications for the DREAMer-led organization United We DREAM. "We were asking for a simple bill that fixes things for immigrant young people."
But lawmakers have found the seemingly straightforward task impossible. Republicans, following Trump's lead, have refused to approve legal status for DREAMers unless it comes hand-in-hand with border wall funding, drastic cuts to legal immigration, and stepped up immigration enforcement, which Democrats generally oppose. The government temporarily shut down back in January when the opposition refused to approve the budget without a DREAM Act, but Democrats soon relented, agreeing to reopen while Congress tussled over immigration.
That tussle has not materialized. Instead, DACA talks have fallen to the background, in part because two different federal judges decided DREAMers can continue renewing their two-year legal status and work permits while a legal challenge to the program's end goes ahead. The judges did not rule on the merits of the case, but agreed DACA recipients would suffer "irreparable harm" if their statuses were revoked during the lawsuit.
"If we can renew, we will, but this is a band-aid on a larger issue," Bouhid, a Brazilian native who moved to the US at seven, said of the rulings. "I don't think any of us feel like, We're good and will be good for a little while. We know we won't be really protected until we have a DREAM Act."
And even as DREAMers continue to apply for renewals, some are facing burdensome delays in approvals from US Citizenship and Immigration Services (USCIS), the agency processing applications, immigration lawyers said. Mo Goldman, a Tucson-based attorney who has practiced immigration law the past 17 years, recalled some of his clients having recently lost their jobs because their DACA and work permits expired while they were waiting on a response from USCIS.
"What we're seeing now is a systemic USCIS problem, which is that processing times are taking extraordinarily long," Goldman said. "The guidelines say you're supposed to file 120-150 days before your status expires, but I've seen it take more than six months for many renewals to be approved."
"People's jobs are at stake, and even their abilities to get renewals for drivers licenses," he added.
North Carolina-based immigration attorney Jeremy McKinney likewise suggested the USCIS approval time had become so unpredictable that he was "encouraging people to renew regardless of when their status expires."
"The most troubling part we're seeing is the incredible disparity in adjudication times," he said, noting he had a few clients who received responses in less than 30 days, while others had been without status for months. "We still have renewals pending before the rescission [of DACA] was announced in September."
Even delays in the postal service have led dozens of DREAMers to fall out of status. One such young immigrant was Jauregui, now 21, who recalled overnighting his renewal application to arrive by October 5—the last day Trump said USCIS would receive applications. But the application arrived one day late and got rejected, he said.
"I was very lost and not sure what to do," Jauregui told me. Since then, he has been able to resubmit the application, but has not yet been approved. Meanwhile, he's heard stories of other DREAMers, such as Philadelphia resident Osman Enriquez, being detained after falling out of status.
"That could have been me and I don't know what I would do," Jauregui said.
First-time DACA applicants who submitted forms to USCIS even before Trump's September rescission of the program have also been caught in a backlog: Over 20,000 individuals who applied for first-time status still have pending requests, USCIS data showed.
Spokespeople for USCIS and ICE did not return requests for comment, but USCIS issued a notice February 14 that it would continue to accept DACA renewals because of the court orders.
But as young immigrants age into the program, they will be barred from receiving DACA status unless Congress passes legislation allowing new applicants, noted Philip Wolgin, managing director of immigration policy for the progressive think tank Center for American Progress. USCIS guidelines require DACA recipients to be at least 15 years old, and to have lived in the US continuously since 2007.
For his part, Mark Krikorian, executive director of the conservative think tank the Center for Immigration Studies, said Congress may feel the pressure of a DACA deadline again once the courts makes a definitive ruling about the program.
"Congress is not going to do anything about DACA without a deadline, and the original March 5 deadline no longer exists because of the ridiculous court rulings which nonetheless the administration has to comply with," Krikorian, who does not believe DACA recipients should continue being allowed to renew their status, told me earlier this week.
But even if the Supreme Court takes up the case and ultimately allows the administration to end DACA, passing any kind of fix legislation will continue to be a challenge in an era of emboldened white nationalism and full Republican control of the government.
As Sarah Pierce, an analyst with the Migration Policy Institute, told me, "We haven't had major immigration legislation in nearly three decades, and it's an increasingly polarizing population, even if it's a sympathetic one."
Follow Meredith Hoffman on Twitter.