Pitchers and catchers report soon. Blue Jays fans are already talking about Opening Day. And yet so much offseason business remains unfinished.
It's been a long, strange winter in the baseball world, and even with spring upon us, we're still talking trades, free agents, depth, prospects, and all that good stuff. But at least, unlike six weeks ago, there are things actually worth talking about these days! And that's what we aim to do right now, in this week's edition of our Blue Jays mailbag.
And remember, if you have a Blue Jays question you'd like me to tackle for the next mailbag, be sure to send it to stoeten@gmail.com. As always, I have not read any of Griff's answers.
Does MLB have a policy against selling jerseys for retired players? Would be great to be able to pick up a baby blue Halladay #32 jersey for opening day.
Dana
As far as I know they don't have a policy against that, and you can definitely get them online somewhere, but I'm seeing online that they may not do so at the Jays Shop—which is, indeed, a shame.
For those of you who haven't heard the news, on Monday morning the Blue Jays announced that they would be retiring the late Roy Halladay's No. 32, which will be part of the Opening Day ceremony in his honour on March 29. The team will also wear a commemorative patch throughout the season, they announced.
It's going to be a really emotional night, with so many Jays fans collected in one place, and all watching on TV, reliving the horrible feelings we felt back in November, and all the incredible moments that Doc gave to us. And, though viewing this through the prism of PR has always been ugly, I must say that the Jays have really hit the right note on this—which is something they were certainly criticized for not doing at the time.
It would be cool if the fans who wanted to grab one of those sweet baby blues from the mid-2000s could do so at the game, but I won't exactly cry if the Jays don't exploit people's emotions by trying to hawk a bunch of overpriced jerseys. I might cry for the ceremony, though! (And probably for what the Yankees' new-look lineup is going to do to the poor Jays starting pitcher, too.)
---
If one of Alford/Hernandez/Pompey is showing themselves too good for AAA is the easiest path to them starting for the Jays to trade Pillar (since all three and Randal can CF) or to waive Kendrys (if not hitting) and make Grandy/Pearce the DH?
Adrian
Well, obviously it depends on who's performing and who isn't—and also, who's hurt. There's also the possibility of moving Pearce, which would allow Granderson to split time in the outfield with the call-up, or maybe steal some at-bats against right-handed pitchers from Morales (who was terrible against righties in 2017, but lethal against lefties). Pillar, though, is probably the one I'd look to move. In fact, I'd be looking to move him right now.
I've written about this for Blue Jays Nation, but I think free agent Jarrod Dyson would be a much better fit for the Blue Jays' outfield in 2017 than Pillar. Dyson is a very good defender, should come cheap, offers more speed than Pillar, but what really draws me to him is that he's a left-handed hitter.
The Jays struggled badly against right-handed pitching in 2017. The switch-hitting Morales was supposed to help add a little balance to the lineup in that regard, but was awful vs. RHP (77 wRC+). Pillar was even worse (68 wRC+). Add in an 83 wRC+ from Jose Bautista, and the Jays had three everyday players who were simply awful in that split. Adding Granderson and Grichuk (who has hit right-handers well despite batting from the right side himself) for 2018 should help, but Dyson instead of Pillar would be even better. And though losing Pillar's bat against left-handers would be an issue, the fact that Grichuk could slide to centre against lefties—playing alongside a lefty-masher in Steve Pearce, and then potentially Teoscar Hernandez, the switch-hitting Yangervis Solarte, or maybe even Devon Travis—alleviates much of that problem. As does the fact that it's very likely just a temporary solution.
Let's be honest: as long as he can stay healthy, the Blue Jays' starting centre field job is Anthony Alford's for the taking. It's going to be his soon. And when that time comes, having a left-handed hitter to provide cover for him makes a lot more sense than having another right-handed batter in Pillar. If Alford struggles to hit, it's more likely to be against right-handed pitching than left, meaning that Dyson could shield him from especially tough right-handers, and would also be a pinch-hitting option, too. (The same works for Hernandez, too; Pompey is a switch hitter).
Mind you, I don't say this as an endorsement of Pearce and Morales over Pillar. I just think the roster pieces work a bit better this way—plus, I'd like to believe you can get Dyson for something similar to what you'd pay Pillar, and that Pillar might be able to bring back something intriguing, too. Maybe not something especially good, but something intriguing.
---
What are the opportunities for Dalton Pompey in the organization with what's become a fairly crowded outfield situation?
BlueJaysTwit
It's a great question, with an answer that I'd imagine a lot of Jays fans aren't going to like. Assuming that Pompey ends up in the minors to start the season (and is down for more than 20 days), next spring he'll be "out of options." What that means is that the Jays will not be able to send him to the minors without putting him on waivers first, and before they find themselves in such a position (i.e. where they might potentially lose him for nothing), they're probably going to have to make a difficult decision about where Pompey fits into their future plans.
The good news is that Pompey has a full year to show that he's healthy and to rebuild some of the status that made him such an exciting prospect when he won the club's starting centre field job coming out of spring training in 2015. As a 21-year-old, Pompey blasted through three levels in 2014, finally delivering on all the promise of his impressive skill set. At every level he displayed his speed, he walked a bunch, he kept his strikeout rate reasonable, and showed a small touch of power. His final stop, in Buffalo, was the best of the bunch, as he slashed .358/.393/.453 in 12 games—a small sample, but numbers in line with what he'd done in High-A and Double-A.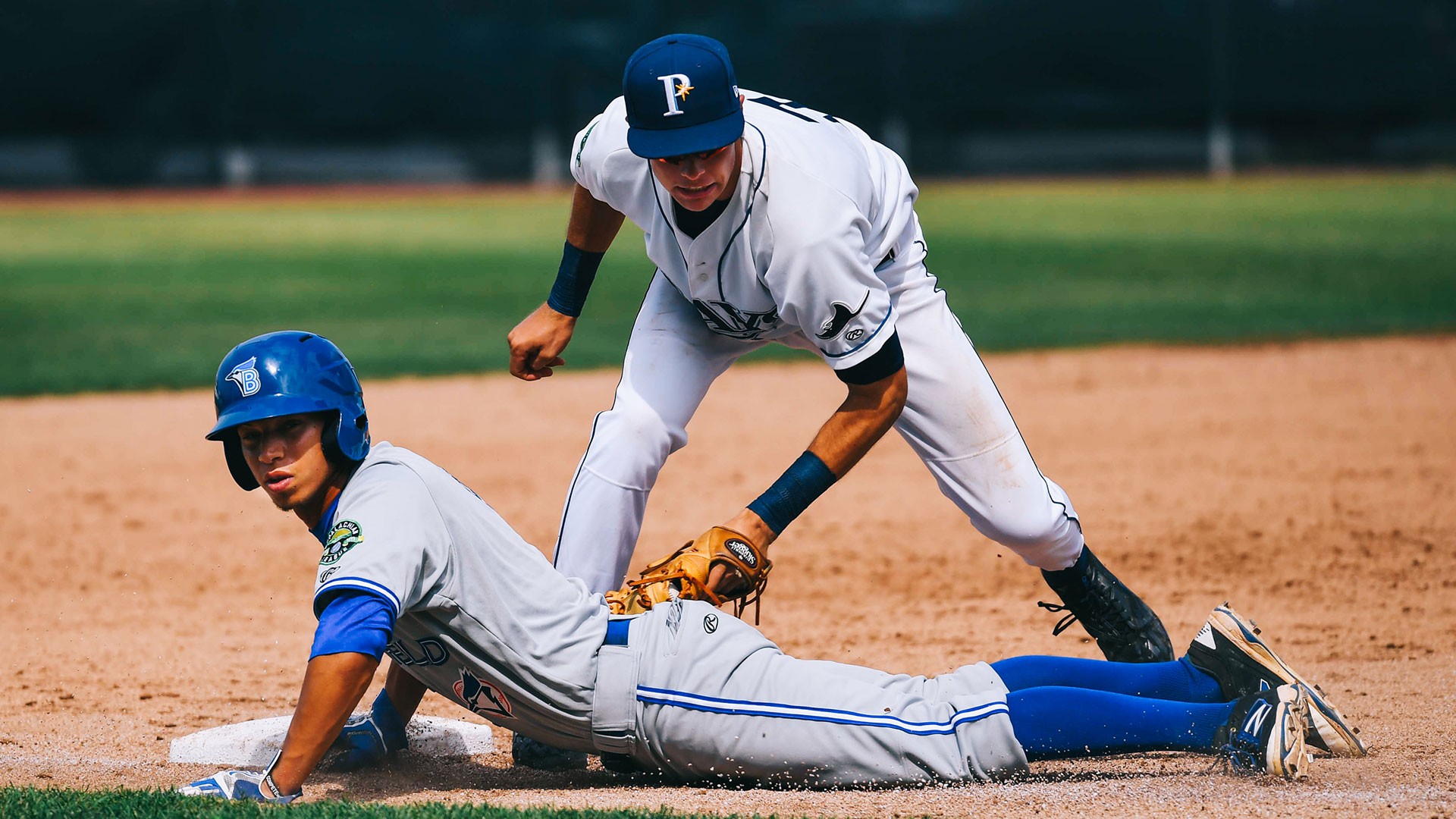 There was reason to be excited! But since then it's felt like he's been moving sideways. He was on the Opening Day roster in 2015 but fizzled, losing his job to Kevin Pillar, then getting demoted first to Buffalo, then eventually to New Hampshire, just to get himself sorted out. His 2016 season was an underwhelming one in the minor leagues (marred by a concussion picked up in June), and another concussion, as well as a knee injury, limited him to just 49 plate appearances in 2017.
The talent that propelled him to the big leagues after his tremendous 2014 ought to still be there, and Blue Jays fans—and Canadian baseball fans (Pompey, of course, is from Mississauga, Ontario)—would love to see him get back on track. Maybe he forces his way back into the picture (hopefully that's what happens) and with Steve Pearce and Curtis Granderson set for free agency next winter, and Ezequiel Carrera and Kevin Pilllar being Ezequiel Carrera and Kevin Pillar, it's not impossible. But it almost feels like a strong season from Pompey might only serve to increase his trade value.
Maybe I'm wrong, but whatever the case, 2018 is going to be a very important year in the career of the now 25-year-old Pompey.
---
Is there a world where Josh Donaldson signs a one year extension for 2019 in order to avoid the FA market at the same time as Machado and Harper?
David
No, there is not. Not at all. Not remotely.
I appreciate the question, but honestly don't get this. Harper, an outfielder, doesn't really have anything to do with the market for Donaldson, and the fact that Machado is adamant about playing shortstop means that he basically doesn't, either (and probably helps him).
Sure, a couple of teams with a whole lot of money will sign those guys and likely not have anything left for Donaldson, but teams will certainly be out there that do. Even if we expected that those guys will have some kind of dramatic impact on Donaldson's market, in no way would it be bigger than the difference between his hitting free agency as a soon-to-be 33-year-old or hitting it as a soon-to-be 34-year old, y'know? He's not getting a bigger payday, even including hypothetical 2019 extension money, even if he's healthy and continues to play at an MVP-like level, if he puts free agency off by a year. His best chance to cash in will be next winter—or maybe it's even right now. (Bautista had his best chance to cash in during the spring of 2016, but he wasn't willing to come near what the Jays were willing to offer. It would be a shame if that happened to Donaldson, too, but it's a risk he's taking if he chooses to play out 2018 without an extension.)
---
Why are the Blue Jays so damn cheap??? I mean even a Jake Odorizzi or an Alex Cobb would fit in nice or even Cashner… But no… Nothing. What are they waiting for?? Hell to freeze over??
Robert
You've… uh… you've noticed that there are still a whole lot of free agents out there waiting to be signed, right? Just because the Jays haven't signed anybody yet doesn't mean that they won't, especially since few other teams have. Maybe try a little patience and then get mad at them for being "cheap" (well, get mad at Rogers for being cheap; the front office doesn't set the budget) when it's actually clear that they're being cheap.
The thing is, there are so many options still remaining unsigned, and enough teams that are unwilling to spend (either because they don't want to cross the Competitive Balance Tax threshold or because they're intentionally trying to be bad) that it's still a buyer's market. At least on the low end—Cobb or Lance Lynn will be too pricey, I assume (though after seeing Yu Darvish get 2007 Vernon Wells money, maybe they'll end up having to take a lot less than they should). In any event, feel free to relax.
---
Should the Jays package up some prospects to try and get Archer? Alford, Gurriel, and Reid-Foley get it done? Maybe a catcher. Stroman and Archer would be an entertaining duo! Maybe the Rays would not deal with the Blue Jays?
Jay
Chris Archer is incredible, and I think anybody would love to see him pitch for the Blue Jays, but… uh… a 29-year-old legit ace with two years and $15.75 million owed to him, plus club options that could make it a four-year, $33.75-million contract??? No, that's not anywhere near close to getting it done.
Chris Sale was owed $38 million over three years (including two club options) when the Red Sox traded for him. The Red Sox gave up Yoan Moncada (the No. 2 prospect in baseball per Baseball America and MLB Pipeline; number five per Baseball Prospectus), Michael Kopech (then No. 10 for MLB, 32 for BA, and 36 for BP), plus two more prospects!
Do we really need to continue this discussion? It ain't happening.
---
Hey Stoeten,
I am not as pessimistic as many fellow Jays fans, but I do think a lot of things have to break right for them this season where they didn't last. One of those is Russell Martin, and more particularly, having a solid caddy for him so he can get some rest. The FA market is brutal, but I was hoping to get your thoughts on two guys who may be or may become available via trade:
1) Yasmani Grandal – the Dodgers have been reported to want to sign a FA pitcher, but they need to jettison salary. Grandal is one of the possible guys they might want to move in order to make room under the luxury tax. Is this the kind of guy the Jays could maybe pull a "Liriano" with? They can take on the salary, ask for a minor leaguer to go with him, and help LAD make room?
2) Evan Gattis – the Astros are apparently trying to get even better by looking to steal JT Realmuto from Miami. If they do, they will have a surplus of MLB catchers. Gattis isn't a great defensive catcher, but he is a huge offensive upgrade. He would probably cost something, but I can't imagine he would require too large a return, would he?
Both these guys are FA after next year, so they aren't going to block Jansen or McGuire, and one would think there could be a small market for them at the deadline if the Jays are out of it.
So, have I solved the Blue Jays' catching woes?
Andrew
Well, I don't think Gattis is a fit at all, mostly because, as you point out, he's just not a very good defensive catcher. I especially think that because of an answer Ross Atkins gave during a recent Pitch Talks event (which you can see via Periscope) about areas where he's evolved in recent years compared to what he used to think. "I won't say the player's name, the impact of solid defensive play at the catching position can never be discounted," he said, clearly referring to Jarrod Saltalamacchia. "I feel that that's something in the last couple years that I've probably overlooked a bit."
Grandal, though, is an idea that I could definitely get behind. He can hit a little bit, is a strong defensive catcher, and you're absolutely right that the Dodgers might look to trade him to free up some money (and to free up their starting catcher spot for Austin Barnes, who was outstanding in limited playing time last year and was Dave Roberts' go-to catcher all through the playoffs). I'm not sure it's a great situation to bring in someone to play behind Russell Martin who thinks he ought to be a starter somewhere, but it's really not a bad situation for Grandal, and would give the Jays a whole lot of comfort in giving Martin the days off that he needs.
I doubt they could "Liriano" a prospect away from the Dodgers—at $9.7 million, Grandal shouldn't exactly be a burden for them to rid themselves of—but he would absolutely raise the floor there for the Jays. And if they think they can squeeze in the kind of pitching reinforcements they want with what would be left in their budget after that (which I assume they probably can't!) that would definitely be an avenue I'd like to see them explore.
On the other hand, $10 million is far too much to pay for a backup catcher, so… yeah… probably not very likely to actually happen.
---
Hello, Mr. Stoeten,
With the increased attention to the lack of movement on the free agency front this year, and with some players signing for less than what they might have received in a different off-season, is there any advantage to try to lock up arbitration-eligible players to contracts within the next year or two - essentially, dangle the carrot of guaranteed money for a long stretch? I'm thinking of players like Roberto Osuna, Marcus Stroman and Aaron Sanchez specifically (though Sanchez may be a bit of a wild card based on the blister issues).
Thanks!
Julius, Hamilton
If it worked and those guys wanted to sign at figures that the Blue Jays were comfortable with, I'd be all for it. It would be great to see them locked up for a long time. But the flip side of this coin is that there's incentive for these guys to wait and see what next year's market brings. I don't think it's at all set in stone that the way the market has behaved this year is the way it's going to behave in perpetuity. It might—or it at least might be like this for quite some time (save for mega-contracts going to the Machados and Harpers of the world next winter)—but I'm not sure it's enough to scare them into anything.
You can send Andrew Stoeten questions for VICE Sports' Blue Jays Mailbag at stoeten@gmail.com, and follow him on Twitter.