By 1997, the shine of grunge was wearing off and a new crop of bands was taking music in a more emotionally honest direction. Whether or not their members realized it, they were building the foundation for what would come to be labeled as emo.
1997: The Year Emo Broke
explores the albums that drove this burgeoning genre that year.
At The Drive-In's 1997 EP El Gran Orgo is, unquestionably, the most tossed-aside release in the band's catalog. The record came at a turbulent and crucial time for the band, which could have easily resulted in them trading in their beat-up tour van, a 1981 Ford Econoline, for college textbooks. Personal loss, combative band relationships, and a brutal falling-out with their label mired the release. Still, they managed to pull themselves out of the muck, and released an EP that captured a snapshot of a band that was outgrowing the limitations of its youthful punk attitude. This was the stumble ATDI needed before coming back as a genre-defining powerhouse.
In December 1996, El Paso venue The Rugburn, was a punk's dream—a dusty mechanic garage covered in flyers and graffiti. It attracted the most important underground bands of the day, and the communal ethos created an intimate punk scene in El Paso's forgotten industrial district. But At The Drive-In faced lukewarm support at home, presumably due to the familiarity of the tightly knit scene. While buzz for the band was growing across the country, they took the stage at the converted garage to a scattered crowd of punks casually sipping 40s of malt liquor while waiting for the headliners, Braid. Everyone knew At The Drive-In—except this was a new At the Drive-In. To some in the crowd, newly added bassist and metal scene veteran Paul Hinojos was an unfamiliar face. Most knew drummer Tony Hajjar and guitarist Ben Rodriguez from their previous band, Tu Edge. But as green as this lineup was, with vocalist Cedric Bixler-Zavala as the only remaining founding member, their talent was palpable. It may have even seemed as though the hard-working band had finally figured things out. Winning over apathetic hometown crowds aside, ATDI faced many challenges that would have sent a lesser band crawling home.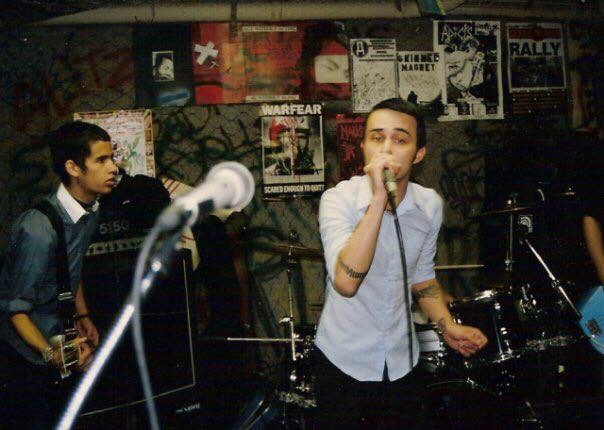 Eager to recover from what they viewed as the failure of their debut, Acrobatic Tenement, ATDI wanted to get it right this time around. As an exuberant, young band, their drug and alcohol abuse had hindered their first album to the point where founding guitarist Jim Ward thought he was recording scratch tracks when in reality, those parts wound up on the album, explaining its lack of distortion. El Gran Orgo was their chance to take recording and being a band seriously. But before they could continue, the band needed to address the growing hostility between Ward and Hajjar. After a meeting at a local Village Inn, Ward walked away.
The revamped band went in the studio to record as part of their newly signed two-album deal with local label Offtime Records, then embarked on the ambitious "100 Days Tour." But the wheels began to fall off just two weeks into the tour when a mysterious event involving newly added guitarist Ben Rodriguez caused the band to send him home. To this day, the fallout remains a secret. Hajjar has said of this event that it is so personal and severe, he'll never talk about it. Re-working the songs to fit a four-piece, ATDI trudged along.
Then in March, personal loss struck. Close friends of the band, and former bandmates of Bixler's, Laura Beard and Sarah Reiser died in a car accident while on vacation. The two 17-year-old girls had released Fall On Deaf Ears' self-titled EP with Bixler on drums and had sung backup vocals at early ATDI shows. The pain of their loss affected many in the El Paso scene. There were various tributes to them, including local bands Egon and Ex-Impetus' split seven-inch called We Love You, We Miss You and the well-known ATDI song "Napoleon Solo."
When El Gran Orgo was released in September, it didn't do much for ATDI's career. In fact, the band toured without it due to label delays, and never even had an official release party. But this EP remains a portrait of a band in a transitional phase, musically and personally. This is where Omar Rodriguez-Lopez switched from bass to guitar—at Hajjar's suggestion—and where their unique sound first began to take shape.
The EP kicks off with the almost standard punk sounds of "Give It a Name" and "Honest to a Fault," songs that feel in place with other El Paso bands of the time like Sicteens, VBF, and Chinese Love Beads. It's not until the fifth track, that overt elements of At The Drive-In's future sound take over. On "Faranheit," grating guitars and structure hauntingly foreshadow later work like Relationship Of Command's "Rolodex Propaganda." The coarse distemper on the second half of the EP makes up for any lack of production or musicianship, and foreshadows who ATDI would become. On "Picket Fence Cartel" Bixler turns the lyrics "daddy taught well at the end of his belt" into a catchy sing-along before shattering in a fit of rage. However under-developed, there are flashes of peak-ATDI on this record, and it's a fascinating peek at how fast the band grew from its inception. But lack of musicality and band-member disagreements weren't the only clouds looming over El Gran Orgo.
As ATDI's fan base and needs as a band grew, their local label Offtime Records had trouble keeping up. Money from the record wasn't coming in, due to a delayed release and slow-paying distributors. Complaints from the band about lack of availability in stores didn't help, while Jones asserts that he couldn't "give the record away." At The Drive-In wanted a new label, and their manager Blaze James was on the task. For Jones, who wanted to build Offtime into a family, it was a kick in the stomach when he got a call from his friend Louis Posen at Hopeless Records telling him he was considering signing a band called At The Drive-In. Shocked, Jones offered to take a buyout, but Posen refused to get between a band and their label, and the deal fell apart for ATDI. Ultimately, Jones offered to let them go for the cost of the studio time. The band accepted and parted ways, opening ATDI up to sign to Fearless Records, where, in 1998, they released In/Casino/Out and changed music history. At The Drive-In would go on to unsuccessfully sue Jones for rights to the masters, and urge fans to never pay for the record, as they have always felt bilked by the label.
But Jones says over the phone that a band-approved reissue is not completely out of the question. "I've had labels reach out to me about getting the rights especially now that they've reformed… Honestly if Cedric or Omar wanted to call me or chat and talk about that album, I'd probably just fucking give it to them." And though this peace-treaty and subsequent reissue may never come, it's readily available on YouTube, and worth the 17-minute ATDI history lesson. At worst, it's a testament to the brutal year that At The Drive-In managed to survive, one they emerged from stronger and reunited with their co-founder Jim Ward, and ready to take their rightful place as emo's volatile saviors.
Eddie Cepeda is the founder of Mother of Pearl Vinyl and a writer in New York City. Follow him on Twitter.