Images by Lia Kantrowitz/Composite by Anna Iovine
The third time's a charm.
On Monday, New York governor Andrew Cuomo stood in front of some flags and, in his familiar Queens drawl, laid out a blueprint for the first 100 days of his third term. It was a 20-point agenda, one he dubbed "New York's Declaration of Independence" from the sins of the Trump administration.
So, what exactly was he planning to do? Legalize weed, among other things.
In a nearly hourlong speech, during which he evoked his second-favorite New York governor, Franklin Roosevelt (his father, Mario, got the highest honor), Cuomo made sweeping liberal pronouncements: He would end cash bail once and for all, codify Roe v. Wade into state law, pass New York's own Dream Act. But he also revealed a firm intention for the State of New York to legalize marijuana. Cuomo would do this in early 2019, he vowed.
This is what got people really excited.
---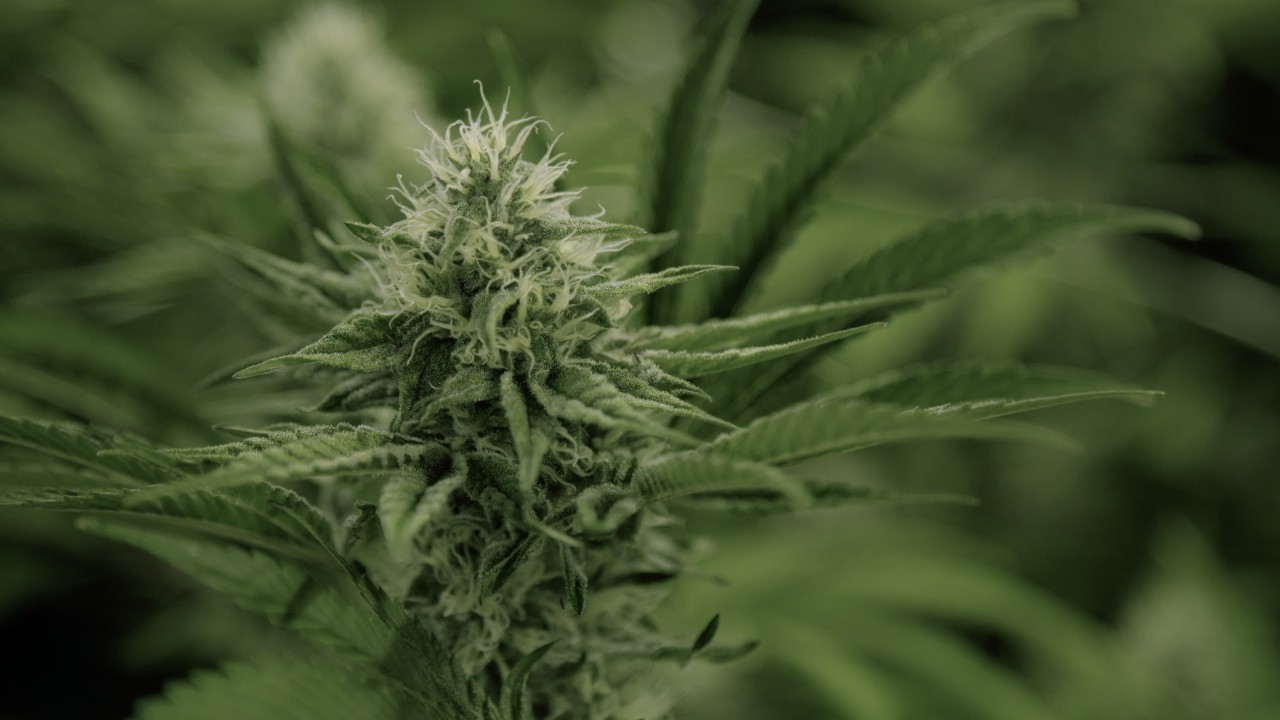 ---
"The fact is we have had two criminal justice systems: one for the wealthy and the well off, and one for everyone else—and that's going to end," Cuomo said, before launching into a declaration that would receive a loud, continued round of applause. "We must also end the needless and unjust criminal convictions and the debilitating criminal stigma, and let's legalize the adult use of recreational marijuana."
The stance represented a real move for Cuomo, a notorious centrist who's been inching slowly to the left in recent months. Some credit progressive Cynthia Nixon for pressuring him on issues like weed and the city's crumbling subway when she challenged him for the Democratic Party's nomination earlier this year. (She made that very case herself on Monday.) But while Cuomo's broader agenda may now be a more unabashedly left-leaning one, the pot stance represents his biggest U-turn. Just last year, after all, Cuomo called marijuana a "gateway drug."
Now, a Tri-State race to legalize weed seems to be in the cards—Connecticut's incoming governor, Ned Lamont, has said he wants to quickly legalize as well. This is a reflection of the changing politics of weed, for sure, but also the desire of business-friendly politicians to get in on the action before, well, it's just too late.
The stage was set for Cuomo to get onboard with his least favorite green substance this summer, when his state's Department of Health issued what amounted to a tacit endorsement of the idea of legalization. Basically, officials concluded that all the money generated from taxing the drug—and regulating its safe production—outweighed any potential health risks. The conclusion wasn't a shocking one, but it gave Cuomo some cover to change his mind, at least.
The governor's promise Monday was similar to one his counterpart across the Hudson, New Jersey's Phil Murphy, made while running last year: He insisted he would legalize marijuana within 100 days. Murphy's pledge, however, has gone unfulfilled: In the Garden State's case, lawmakers have yet to decide on specifics regarding some of mechanics of taxation and licensing, and this past Monday, around the time Cuomo announced his legalization wish, Jersey's State Senate held its last voting session of 2018. Nothing happened. (Like New York does after some seats flipped in November, Jersey has a Democratic majority, and, in theory, shouldn't have trouble eventually legalizing pot.) So with Murphy soon jetting off for an almost-two-week family vacation in Tanzania (but not, according to a spokesperson, to ascend Mount Kilimanjaro), any real progress will have to wait until after the New Year.
That might not be the worst thing ever, even if it's annoying—and, in some cases, tragic—it took politicians so long to agree to do the right thing.
"On some level, it's not even clear that doing this in 100 days is a noble goal," Jonathan Caulkins, a professor of operations research and public policy at Carnegie Mellon, told me over the phone. "I think that many states have discovered that legalization is way more complicated than they initially thought. For a long time, when it was just a hypothetical, it was discussed as this binary choice, legalize or not, but there are many different ways of doing it."
It's currently something of a classic hurry up and wait, with no set, or definitive, way forward—regarding how much tax revenue should be given to local municipalities, whether or not users should be able to grow plants in their homes, if it's chill to roast a blunt in a public park. But it's easier to claim you're going to right the wrongs of the past—and have a bunch of new cash to spend—than to hash out the fine details.
"You can say that you're going to legalize right away—that's fine," Sam Kamin, a professor of marijuana law and policy at the University of Denver, said. "But if you say you want there to be a legal way to produce and purchase marijuana, regulating that system takes a lot of care, and can't be rushed."
Let's not forget that it took about two years after people in Massachusetts voted to legalize pot in 2016, the first of the original 13 colonies to officially do so. Nevada, where voters also legalized it that year, was a little quicker, opening up its first dispensaries in the summer of 2017. As Vox noted, New York would be the second-most populous state (after only to California) to fully legalize marijuana, and the 11th in the country, should it beat Jersey to the punch. But some activists involved in the Garden State's lengthy legalization efforts don't think that's plausible. In fact, they seem kind of pissed that Cuomo is suggesting he might beat them out. "The idea that they're just going to walk into Albany and put it on legislators' desks and get it approved—that's just not going to happen," Bill Caruso, a member of the New Jersey Cannabis Industry Association, told NJ.com.
"I think one thing advocates in New Jersey would tell those in New York is for them to take their time and get it right," Micah Rasmussen, the director of Rider University's Rebovich Institute for New Jersey Politics, told me over the phone. He compared marijuana legalization to gay marriage, and said that public opinion was likely to (continue to) shift in a similar way, especially if it's argued as a social justice issue, as Cuomo—not exactly a weed guy—tends to do.
"There's a growing sense that it's virtually inevitable that marijuana is going to be legalized," Tom Angell, a longtime weed activist who founded the nonprofit Marijuana Majority and runs the cannabis news site Marijuana Moment, told me over the phone. "It is extremely practical, both from a policy perspective and from a political perspective."
So while it can be marketed to the public as righting social mores, or correcting the war on drugs, or generating enough taxes to somehow fix the dilapidated MTA, it's also something that's probably going to occur anyway. It's truly difficult to imagine anybody in the sure-to-be crowded Democratic primary for president next year who won't run on a platform that includes the legalization of recreational marijuana. My native state's US senator Cory Booker has been perhaps its most vocal proponent in DC lately. California US senator Kamala Harris backed the ex-Newark mayor's bill for its federal legalization, and even Elizabeth Warren has weighed in favorably (though she, along with Colorado Republican Cory Gardner, want to leave it up to the individual states).
In other words, Cuomo isn't being any less cautious than he has been in the past—he's just stuck around for a while.
"When one state legalizes it, it completely undermines the prohibition of its neighbors, at which point, even if the neighbors would have preferred prohibition for everybody, if it's flowing across state lines, they're both losing out on prohibition and not getting the money they would have otherwise gotten," Caulkins said.
This is still a plausible scenario for residents of New York, who might soon find themselves, say, crossing the river to New Jersey if and when it finally does settle on a recreational pot regime—at least until their state does the same.
Under federal law, of course, it's illegal to transport marijuana across state lines, but just a quick Google search will show you how common this has become. And though this effect definitely exists elsewhere—when Michigan officially legalized marijuana this month, Illinois wondered how it might beat its neighbor to the market—it's hard not to suspect we'll see even more of this in the Northeast, where the states are smaller, more densely populated, and much easier to swiftly travel between. Take Northampton, Massachusetts, for example, home to the state's first marijuana dispensaries—no more than an hour or two from New York, Connecticut, and Rhode Island. (The latter is entertaining the idea of legalization, by the way.)
The dominos, then, are falling. But one thing is clear: All the cool kids—and even now some of those not-so-cool dads living in governor's mansions—are doing it. And nobody, you know, wants to be picked last for the team.
Sign up for our newsletter to get the best of VICE delivered to your inbox daily.
Follow Alex Norcia on Twitter.