Art by Nicole Teitel
Janice Rivers found her dream home on Souder Street in northeast Philly. The 52-year-old teacher's assistant for the Philadelphia School District bought the two-floor condominium in the winter of 2001 for $66,000. It had everything she was looking for: two spacious bathrooms, a deck for barbecuing, and a finished basement large enough to act as a workspace. This house is where she had planned to spend her golden years. But despite the memories she's made here over the past 16 years and all the hopes she had for it, Rivers is now on the verge of losing her beloved house.
Rivers is one of the numerous black and Latino homeowners in Philadelphia who believe Wells Fargo has ripped them off. She's been on the brink of homeownership disaster for the past two years, and she says it is due to the runaround Wells Fargo has given her on a loan modification that would have cut her monthly payments almost in half. Now, facing monthly mortgage payments of about $1,000, Rivers doesn't see a realistic scenario in which she can consistently pay off the loans.
To make ends meet, she's tried to turn every room in the house into a revenue generator. In the basement, she runs a daycare business. Upstairs, she makes gift baskets and party decorations. But despite her efforts, the financial burden has become unbearable.
"I've had a lot of sleepless nights wondering what would be the outcome of my home," she says. "I didn't want to spend money. I didn't want to do a vacation or work on my home. I didn't know how much I would need to save my home, and if I would need to save it… Every penny mattered."
---
WATCH: Police departments around the country are able to seize a person's cash and property without charging them with a crime.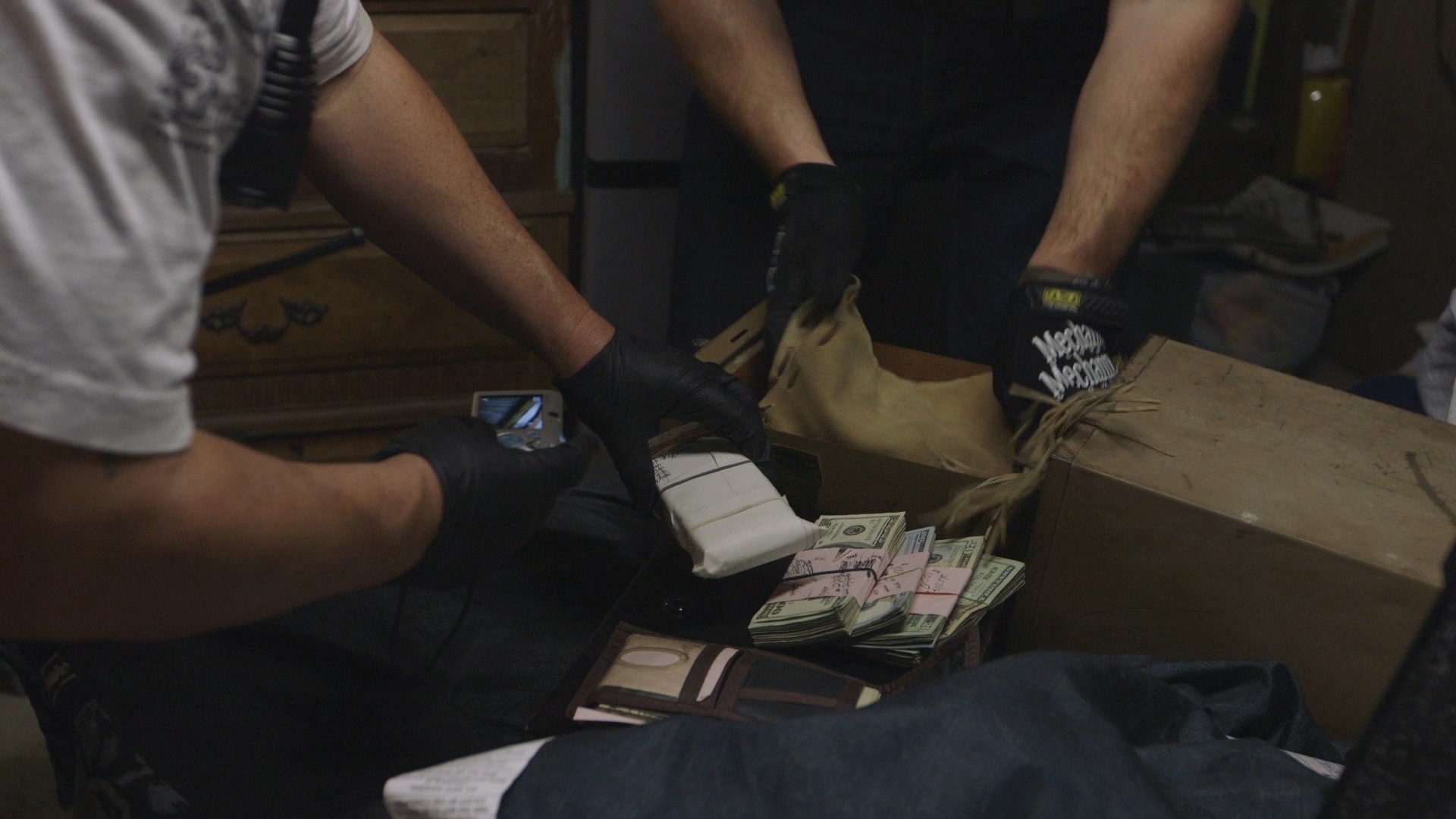 ---
Predicaments like Rivers's are so prevalent in Philly, the city filed a federal lawsuit against Wells Fargo in May, accusing the bank of discriminatory lending against black and Latino home loan borrowers since 2004. It's a big deal because for the past 140 years the bank has had a close relationship with Philadelphia, acting as the city's payroll handler, including the last fiscal year's $2 billion account.
At the heart of the lawsuit is a claim that the bank had "a widespread pattern or practice of discrimination," directing minority borrowers toward more expensive or riskier loans, even if they were eligible for more affordable, safer options. By doing this, the plaintiffs say Wells Fargo repeatedly targeted minority customers at a disproportionate rate. According to the plaintiffs in the lawsuit, these actions were not taken to increase profit. Instead, they were done just to be shitty toward people of color. If proven in court, the bank will have violated the Fair Housing Act, a nearly 50-year-old federal law implemented to prevent housing discrimination.
"We had to do something about it," says Marcel Pratt, the chair of litigation for Philadelphia's law department, which helped oversee the city's investigation against Wells Fargo. "We couldn't sit back and be idle. We saw that we had to stop the unlawful acts of Wells Fargo from happening because they were hurting our residents."
According to the city's lawsuit, the data collected on Wells Fargo loans in Philadelphia, which is based on publicly available information and the city's expert economic analysis, found a loan in a predominantly minority neighborhood is 4.7 times more likely to result in a foreclosure compared to a loan in a predominantly white neighborhood. Black borrowers with Wells Fargo were 2.1 times more likely to receive a high-cost or high-risk loan than a white borrower. Latino borrowers were almost 1.7 times more likely. And black borrowers with FICO scores higher than 660 were still almost 2.6 times more likely to receive a high-cost or high-risk loan than a white borrower. Latino borrowers were 2.1 times more likely. These stats have left residents and leaders demanding answers.
"Wells Fargo owes us," city councilwoman Cindy Bass says. "We don't owe them."
While Rivers is not one of the clients included in the city's lawsuit, her experience with the bank, and the emotional and financial distress she's been under, showcases the rift between Wells Fargo and its customers of color in Philadelphia.
Rivers says she fell behind on her mortgage in 2015 when her daycare business started to decline and a family member stole money from her bank account. After applying for a loan modification from Wells Fargo in early 2016, she says she was approved for a Home Affordable Modification Trial Period Plan (TPP), which would have made her monthly payments $577.47.
But when she tried to make her first payment in June 2016 with her daughter's account number, she says Wells Fargo told her the payment had not cleared. Rivers thought the matter was taken care of after her daughter spoke to the bank to verify the account and authorize the payment.
Then, in July 2016, Rivers says Wells Fargo informed her that her TPP had been canceled due to the bank not receiving the required payments, citing "insufficient funds." The bank would later say that the payment was unsuccessful due to an incorrect account number. When Rivers reapplied for a loan modification, she says the bank denied her request, telling her she was ineligible for the federal government's Home Affordable Modification Program.
"I feel like I suffered with them," Rivers says, who adds that the bank treated her like "an idiot" during the course of the process. "I felt like I was dealing with robots and not dealing with people who have a heart."
And before Wells Fargo could complete its investigation into the circumstances regarding the failed TPP—one that Rivers requested—the bank transferred the servicing of her mortgage loan to Fay Servicing in November 2016. This is a practice exercised by many banks in dragged-out residential mortgage cases like Rivers. Despite not finishing an investigation into the status of her loan account and determining whether she actually breached the TPP agreement, Wells Fargo all but ended its relationship with Rivers, effectively wiping their hands clean of any responsibility they had to her.
"It was pretty much 'goodbye and good riddance,'" she says. "Someone needs to be held accountable. I should not be made to feel like the victim."
Wells Fargo's issues with people of color are not exclusive to Philadelphia. It's been five years since Wells Fargo agreed to pay Memphis $432 million to settle a discriminatory practices lawsuit in 2012. During that time, the lawsuits have popped up in cities from coast to coast, spanning from [Los Angeles](http://Despite the allegations in Philadelphia, the bank isn't backing down. Last month, Wells Fargo filed a motion to dismiss the lawsuit, arguing that Philadelphia basically copied the claims of other cities' lawsuits and that the basis of the complaint was already adjudicated in the state in 2012) to Baltimore. The case in Miami even made its way to the Supreme Court, which ruled in May that US cities can sue Wells Fargo or any other big bank regarding discriminatory practices.
For Philadelphia to be successful in its efforts through the Supreme Court's standard, the city's lawmakers will need to prove that there's a real connection between the bank's practices and the alleged loss in revenue for the city.
The fallout from the lawsuit forced a city council vote that discontinued Wells Fargo's responsibilities as Philadelphia's payroll handler, replacing it with Citizens Bank. Bass has been perhaps the most vocal critic of the bank's alleged mishandling of minorities in Philadelphia, calling Wells Fargo the "antithesis of corporate social responsibility" at the time of the vote. She says that Wells Fargo should be considered the "poster child" for other corporate entities in Philadelphia that "take so much from its residents."
"I don't think there's any other corporate citizen or entity that has destroyed more neighborhoods, destroyed more people financially, or destroyed more mom-and-pop businesses," says Bass of Wells Fargo. "They have just been a terrible citizen here in the city of Philadelphia, and we can do without them."
Despite the allegations in Philadelphia, the bank isn't backing down. Last month, Wells Fargo filed a motion to dismiss the lawsuit, arguing that Philadelphia basically copied the claims of other cities' lawsuits and that the basis of the complaint was already adjudicated in the state in 2012. Tom Goyda, a Wells Fargo spokesman, says that the bank was the number one mortgage originator in "lending to ethnic minority borrowers in the Philadelphia area," citing comparative Home Mortgage Disclosure Act data from 2015. He says that despite the Philadelphia allegations, the bank continues to value its relationship with the city.
"The city's accusations against Wells Fargo don't reflect how we operate in Philadelphia or any of the communities we serve," Goyda says. "We're prepared to defend our long track record as a fair and responsible lender."
Back in northeast Philadelphia, Rivers looks to the fight ahead and is considering filing a lawsuit if Wells Fargo moves forward with foreclosing her home. For now, to make sure she stays on track, her daughter is moving back home to help her pay. She wants to try to save as much money as she can, refinance the house, and bring down the $1,000 monthly mortgage payment.
"I've tried to do everything I could do to keep my home," she tells me, fighting tears on her couch. "I keep thinking, God didn't bless you with this house to lose it like this. Those are the words I keep telling myself."
Follow Timothy Bella on Twitter.
Editor's Note: An earlier edition of this article incorrectly stated that Janice Rivers had already sued Wells Fargo independently. Rivers is not part of the city of Philadelphia's lawsuit against Wells Fargo because her issue is with the servicing of her loan, while the city's lawsuit focuses on discriminatory lending practices.