Aaron Mahnke, whose podcast Lore is currently being developed into an Amazon Original series, delivering his keynote speech at Podcast Movement. Photo courtesy of Podcast Movement
Aaron Mahnke was at the end of his rope.
A married father of two no longer keeping his head above water as a freelance graphic designer, he was also three self-published supernatural thrillers into a fiction writing career that had consumed endless hours over the last decade, with nothing to show for it financially beyond maybe a few hundred dollars in total book sales. So what next? The two most dreaded words in an artist's vocabulary: day job. Except a funny thing happened on the way to the want ads. Mahnke started podcasting—almost as a lark, or perhaps an act of quiet desperation. He certainly didn't think that in the first two years it would win him millions of fiercely loyal fans, land him a book deal with a major publisher, and get Lore—his podcast "about the frightening history behind common folklore"—developed into an Amazon Original Series from the producers of The Walking Dead. "I pushed the publish button on my first podcast in March 2015," Mahnke tells me in the lobby of the Anaheim Marriott, where we've both come to experience Podcast Movement, one of the industry's oldest and best-attended business conferences. "Within a month, things started to take off. And I didn't do anything to make them take off. I didn't buy any marketing. I didn't go into a bunch of Facebook groups and spam people." What he did do is create Lore from scratch almost entirely by himself, including writing the scripts; voicing, mixing, and editing the recordings; publishing it as a podcast; and running every aspect of the business. His earliest, eagerest listeners then spread the word—so far and so wide it soon reached Hollywood. First came the producers, with their impeccable credentials. Next came Conrad Riggs, head of unscripted at Amazon Studios. Riggs tells me he sees podcasting as a great place to find inspiration for new series. And you don't have to pile up hundreds of millions of downloads to get his attention. "A growing audience is actually more important than a large audience. Because that's the best indicator that you're on to something that's resonating with people right now," he explains. "You need a passionate voice saying something interesting and new." Case in point, 2 Dope Queens—a comedy podcast hosted by Phoebe Robinson (Broad City) and Jessica Williams (The Daily Show). Last month, after their rapid rise to prominence, HBO announced they were developing the podcast into a TV show. "Honestly, it's hard to predict a hit, but with 2 Dope Queens we never had a doubt," Paula Szuchman, vice president of on-demand content at WNYC Studios, tells me. "Podcasting is an intimate medium. Phoebe and Jessica capture that through personal stories, spontaneous moments, and their very real friendship." 2 Dope Queens may be new on the scene, but the hosts didn't come out of nowhere like Aaron Mahnke. And public radio has long been a major player in podcasting, with many at the conference pointing to the 2014 debut of Serial as the start of the medium's "gold rush" era. Still, 2 Dope Queen's meteoric success is turning heads in an industry that's starting to get whiplash.
---
Watch: The fire chief who quit his job to investigate the murder case from Serial full time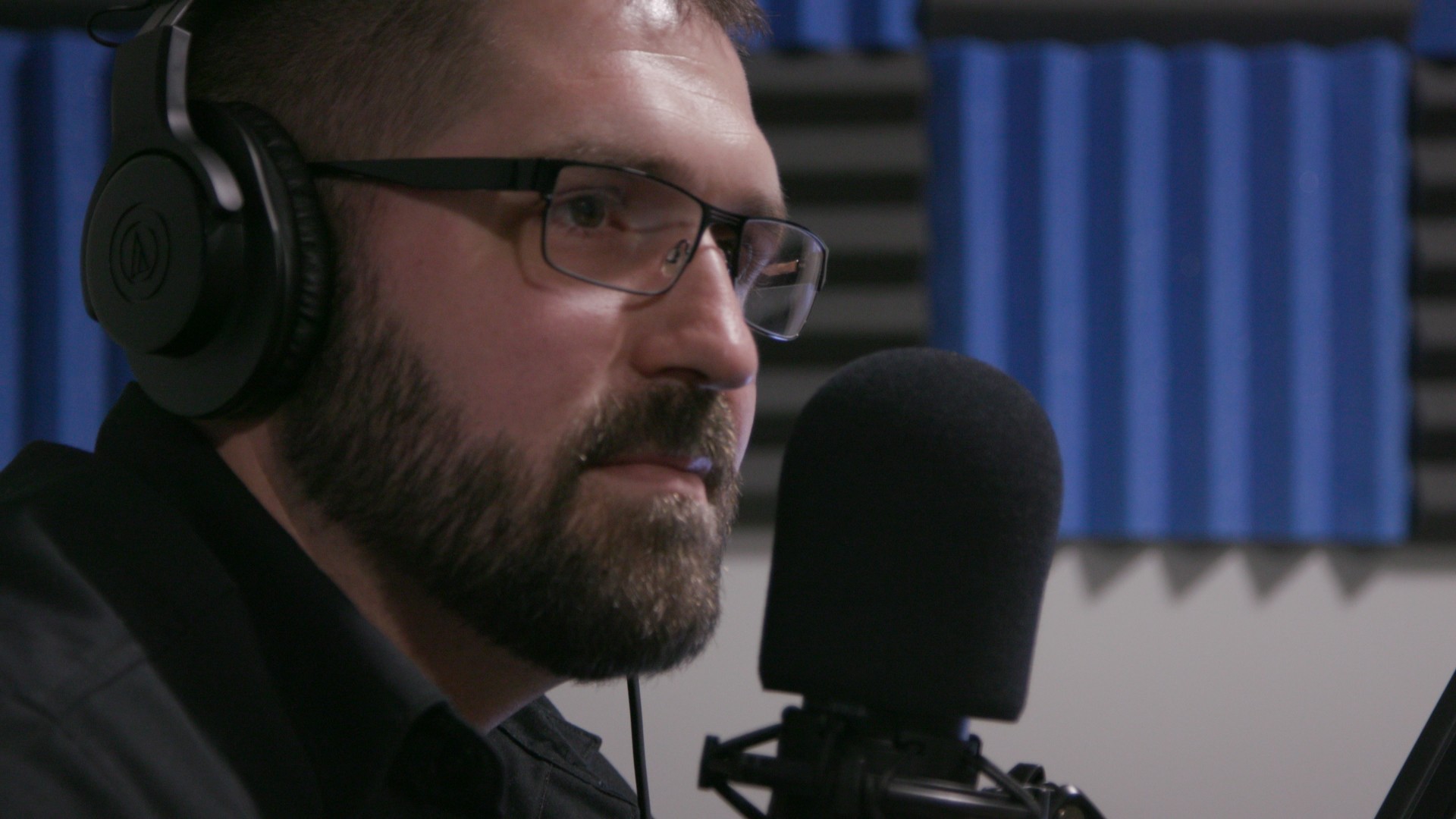 One observation I kept hearing over and over at Podcast Movement was that there's far, far more people fully employed through podcasting today than even a year earlier. Like Chris Giliberti, who left his career as a management consultant behind to work for podcast network Gimlet Media. This August, Gimlet closed a $15 million round of investment. StartUp, the company's first podcast, now gets "two or three million downloads per month." ABC is in production on a comedy adaptation for network television, with Scrubs star Zach Braff. Another Gimlet series, Homecoming—its first fictional podcast—will soon be an Amazon Original Series starring Julia Roberts. Richard Linklater and Robert Downey Jr. are currently adapting an episode of the network's Reply All podcast into a feature film. So how does Gilberti feel as the guy at Gimlet in charge of selling their shows to Hollywood? Like he just paddled out in front of a monster wave. "There's a very real business here that people haven't been paying attention to," he tells me. "Studios, directors and producers—really the whole TV and film community—is coming to see podcasting as a treasure trove of great stories and storytellers." Just look at Aaron Mahnke and Lore, as many, many people advised me at the conference. The oft-repeated observation that "the cream always rises to the top" functioning like a kind of mantra at Podcast Movement, an expression of the scene's unshakable belief that any show that's good enough—even if produced on a shoestring by a total unknown—will find its audience. Nobody in film, television, music, or book publishing would ever make such a claim without their fingers firmly crossed, but Rob Walch, a living legend of podcasting and a man of hard data, certainly makes a compelling case that, despite the arrival of venture capital, legacy media, branded content, and big-name talent, podcasting remains—if not a "level playing field" for out-of-left-field creators—then certainly the squarest game in town. "Talent always rises," Walch tells me, shortly after giving a standing-room-only presentation. "Podcasting is totally democratizing. For me, it was just going to be a hobby. Then it quickly became a passion. And then a job." In 2004, Walch worked in the quartz crystal oscillator field. Traveling the globe five out of every six weeks for business, he discovered podcasts as an engaging time-passer.
Burdened with endless hours on the road, Walch devoured a huge volume of what was then a relatively thin stream of podcast output, most of which were about tech. Inspired by Adam Curry's seminal Daily Source Code, he eventually decided to quit his day job and make a run of it as a podcast pioneer. And when he subsequently realized no practical guides existed on how exactly to do that, Podcast411 was born. A dozen years later, Walch marvels that he's interviewed every single inductee into the Podcaster Hall of Fame on the show, many back in those heady early days, when almost nobody was paying attention. Now he's vice president of podcaster relations for Libsyn, which launched the first system to publish podcasts, and remains the world's leading podcast hosting network, home to more than 35,000 shows with 62 million monthly audience members. It's a privileged perch from which Walch sees endless analytical data on podcasts of all sizes and covering any conceivable subject. "Now's still a great time to start a show," he says. "Like I said before, talent will always rise. But then again, most people don't have talent—or at least not enough. In the film business, you move to Hollywood to make it and end up bussing tables. The beauty of podcasting is that you don't need to relocate to Los Angeles or New York to follow your dream. You can stay right where you are, and if your show's good enough, the audience will find you." Moments later, walking through Podcast Movement's expo floor, stopping to chat at booths pushing podcast microphones, podcast hosting, podcast marketing, and podcast consultants, I realize that this absolute faith in the audience to discover what's good and support it is the foundational belief underpinning this entire fragile little ecosystem. So does that belief still hold water? "Yes, the opportunity still exists for the independent producer to make a great show and build an audience large enough to make a living—with some luck," Mignon Fogarty (a.k.a. "Grammar Girl") tells me as we wait for Aaron Mahnke's keynote address to begin. "But it's much harder now, because there's more and more big companies getting into podcasting, and they bring with them a megaphone. So the highest hurdle remains getting discovered by listeners." Over the past ten years, Fogerty has built a small media empire—a popular podcast network, best-selling books, merchandise, public appearances—by speaking to those passionately interested in grammar. So nowadays she's got a huge platform, but at the beginning, podcasting was the only place she could even gain a foothold.
"Eats, Shoots, and Leaves sold 1.2 million copies in 2003, years before I ever recorded a podcast," Mignon tells me. "People knew back then that grammar was potentially popular. But when I approached book publishers, I was still treated like a nobody. Because I was a nobody until I started my podcast."
The key difference between podcasting and all those other ways to get your message out, according to Dan Carlin, host of breakaway hit podcast Hardcore History, and another presenter at the conference, is that podcasting has no "gatekeepers"—a word he pronounces with only the thinnest veil overlaying his contempt. Carlin walked away from talk radio when the industry went corporate and began rapidly consolidating—or, as he puts it, "when it stopped being fun." He started podcasting in 2005, and now counts downloads in the hundreds of millions on a one-man show that comes out rarely, covers topics like "The Punic Wars of Rome and Carthage," and can run up to six hours per episode. "The worst part about gatekeepers isn't just that they limit what the audience can experience, it's that the limitations are totally arbitrary," he says, pointing to his own success with a format no commercial radio exec would even stop to consider. "Podcasting is different. Nobody can stop you from starting a podcast, and you can't get cancelled once you start."
Carlin chafes at the idea that podcasting will soon become a mere stepping stone to greater glory. Despite fielding "two or three inquiries per week" from television producers eager to adapt Hardcore History for the small screen, he remains wary of relinquishing the total creative freedom that podcasting affords him. If the right situation comes along, certainly, but so far the stars haven't aligned.
"I'm not signing a TV deal if you're going to dumb down my show, force more chefs into my creative stew, perhaps threaten my intellectual property or alienate my existing audience, and all for not that much pay compared to what I'm already doing—which I happen to love more than anything else I've ever done. When you have 30 five people involved in a creative endeavor like making television, at best it's going to come out like blended whisky. And podcasters sell single malt. It might not be as smooth, but it's pure and its very specifically something."
Follow David Bienenstock on Twitter.