Associated Press
After days of White House threats, the United States, along with France and Britain, launched a military response Saturday to the suspected chemical attack in Douma carried out by the Syrian regime.
At about 4 a.m. Saturday local time (9 p.m. Friday ET), some 105 missiles were fired into Syria, destroying three targets near Damascus and Homs "specifically associated with the Syrian regime's chemical weapons programme," according to General Joseph Dunford, chairman of the U.S. Joint Chiefs of Staff.
The Western allies said the action was limited in its intent to target Syria's chemical weapons infrastructure — and was not aimed at removing Assad or intervening in the country's seven-year civil war.
Here's what you need to know about the weekend's events:
There was broad support for the attack. In Europe, Jean-Claude Juncker, president of the European Commission, said there was an obligation to hold those responsible for chemical attacks accountable, while German Chancellor Angela Merkel called the strikes "necessary and appropriate."
NATO Secretary-General Jens Stoltenberg said the strikes should be supported because they diminished Syria's ability to carry out further chemical attacks.
Canada, Turkey, Australia and Israel also supported the action, with Australian Prime Minister Malcolm Turnbull not ruling out joining further strikes if called upon.
How have Syria and its backers, Russia and Iran, responded?
Syrian President Bashar Assad was defiant, telling visiting Russian lawmakers the strikes were an act of aggression, and saying they only increased his resolve to continue "fighting and crushing" rebels. He vowed not to change his course in confronting "terrorists in every inch of the nation," Reuters reported.
Hundreds of Syrians gathered in a square in Damascus Monday in a show of support for their military, which they saw as having successfully confronted the Western powers.
Both of Assad's key backers in the conflict denounced the strikes as illegal. Russian President Vladimir Putin said in a statement Sunday that the strikes were an "illegal action" that "seriously damages the prospects for a political settlement in Syria."
The statement said Moscow was calling an emergency meeting of the United Nations Security Council over the strikes, warning that if such actions continued they would "inevitably lead to chaos in international relations."
The comments came after Putin spoke on the phone with Iranian President Hassan Rouhani Sunday. A day earlier, Iran's supreme leader, Ayatollah Ali Khamenei, had called the strikes a "military crime."
"The American president, the French president and the British prime minister are criminals, they will gain nothing from it," he said on his Telegram channel.
While the missiles have stopped for now, the Trump administration has warned that it is determined to sustain pressure on Syria to prevent further chemical atrocities.
"We are prepared to sustain this pressure, if the Syrian regime is foolish enough to test our will," Nikki Haley, the U.S. ambassador to the U.N., told the Security Council Sunday. "The United States is locked and loaded."
She warned that further sanctions against Russia are imminent, to punish Moscow for its support of the Assad regime's use of chemical weapons. Haley said the sanctions would be announced Monday and would target companies dealing with Assad and chemical weapons use.
Russia signalled Monday it would respond to fresh sanctions with retaliatory measures of its own. Deputy Foreign Minister Sergei Ryabkov said that Moscow "will not delay in adopting legislation against U.S. sanctions," accusing Washington of "open economic aggression."
But there were mixed signals as to how the latest action would change the broader U.S. approach to the war, if at all.
Macron told French television Sunday night that he had managed to persuade Trump to keep a ground force in Syria in the long term, contrary to the president's public statements earlier this month that he wanted to bring the troops home.
"We convinced him it was necessary to stay," Macron said. "I assure you, we have convinced him that it is necessary to stay for the long term."
However the White House swiftly refuted this, saying Macron had misunderstood. While Trump had said on April 3 that he wanted to pull out the 2,000 U.S. troops who are in Syria to fight ISIS, his advisers had urged him against this, and he had decided to give them another five or six months to continue the mission, U.S. officials told the New York Times.
"The U.S. mission has not changed — the president has been clear that he wants U.S. forces to come home as quickly as possible," Sarah Huckabee Sanders, the White House press secretary, said in a statement.
"We are determined to completely crush ISIS and create the conditions that will prevent its return. In addition, we expect our regional allies and partners to take greater responsibility both militarily and financially for securing the region."
Both May and Macron were expected to face scrutiny at home Monday from opponents who accuse them of participating in the strikes with proper approval. Britain's opposition Labour Party has said it has advice suggesting the strikes were not legal.
It comes as British media reported warnings that Moscow could be planning a cyber campaign in response to the strikes. Russian disinformation online has exploded since the attacks, the Telegraph reported, citing British government officials and a Pentagon analysis.
British Foreign Secretary Boris Johnson said Monday that Britain needed to take "every possible precaution" to protect itself from Russian retaliation, given Moscow's track record of interference in other countries' domestic affairs and cyberattacks on critical infrastructure.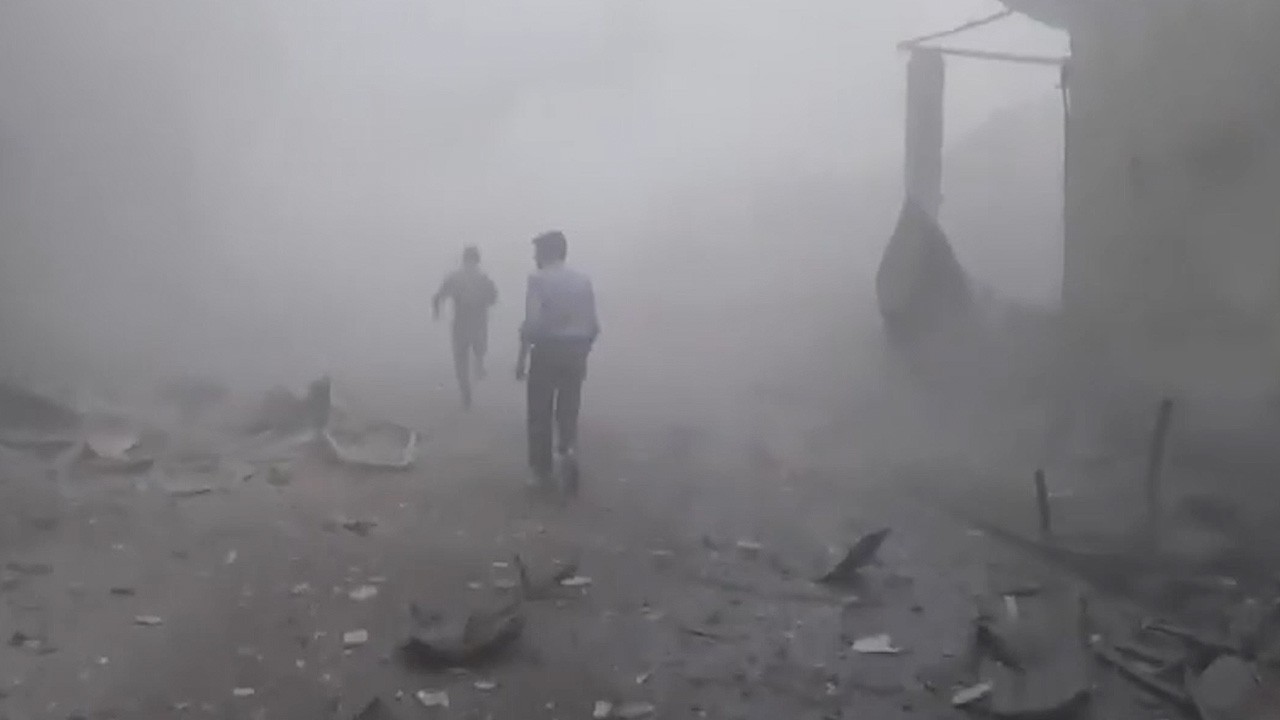 Cover image: Smoke rises from a scientific research facility in Barzeh, a suburb of Damascus, on April 14, 2018, following U.S.-led strikes against Syrian President Bashar al-Assad's government. (Kyodo via AP Images)