While most people go to music festivals for the entertainment, Guy Fieri is going for barbecue. This April, the multitalented chef slash restaurateur slash New York Times bestselling author,slash Emmy Award-winning TV host slash Mayor of Flavortown is curating the BBQ lineup at Stagecoach, a country music festival going down this weekend in Indio, California. We touched base with the Diners, Drive Ins, and Dives star to talk food, country music, and how to tackle the job of feeding festivalgoers the best barbecue in the country.
MUNCHIES: What are America's most underrated barbecue cities?
Fieri: Good question. Good question. Wow. I'll put it to you this way—that's a really good question because I don't think about it that way anymore. I think we all used to go, "you can only get real deal barbecue in Texas. You can only get it in Nashville and in Memphis and Charlotte." Here's the thing. We have so many people transplanting into so many different areas, that's what Triple D is all about—finding them, seeking them out. I'll tell you, one of my favorite barbecue joints is in Chicago, a place called Smoke. Chicago is also one of my favorite food towns in general because it's a big little city and you have so many different types of people there. I think that when you show me an area that really loves food, you're going to find good barbecue, because good barbecue is not for everybody. There's a lot of misinterpretations. People still say, hey, come over, we're going to have a barbecue on Sunday. You don't have a barbecue, you eat barbecue! It's a weird thing.
It's what I say every time—slow down, get off the beaten path, don't go to Yelp. Go look around, go ask some folks. You'll find great barbecue. They're small and they don't serve much. You have pork, you have brisket, you have chicken and some simple sides, but legit barbecue places are coming about. They're alive and well in our country and I'm seeking them out all the time.
M: So how do you narrow down your barbecue lineup?
F: I will tell you this, there were some hurt feelings. Can't bring everybody. But what we did, we really tried to look at a nice mix. Most of these guys, a lot of them are Triple D joints, so we know them pretty well. We wanted everybody to have something different. We wanted to see a little different style. We have whole hog coming from Tennessee. We have crazy barbecue coming from Baby Blues BBQ in Hollywood and Venice. We've got Pecan Lodge—you know that's just a few of them. What it was really about was trying to make sure that, since the lineup was so diverse and unique, we brought barbecue along that has a similar flair and profile and creativity.
M: Are there certain styles of American barbecue that you would call your favorite?
F: That's like trying to pick your favorite kid, almost impossible. Each one of them has something that you really like about them. You go down to Texas and get those beautiful briskets and you get them done with their black pepper and salt and that's about it. You hit them with a little Texas heat, a little hot vinegar. Then you go to the Midwest, you go to Kansas City and you get down there and get your burnt ends and that nice sweet sticky sauce. Then you go out to the Carolinas and get into all that great pork. I can't say it's one over the other. It is kind of depending what day, depending on how you're feeling, what you're doing. That's the nice thing about what's going to happen, we're going to give everybody a really big profile of all of the creativity that's out there. It's just great to see that the Stagecoach team is putting such priority on this and really delivering that to all of the attendees.
M: Yeah, Nic Adler is really great about putting a focus on food.
F: Nic's the man! That dude—I wouldn't be surprised if they told me one day Nic has a concert on the moon.
---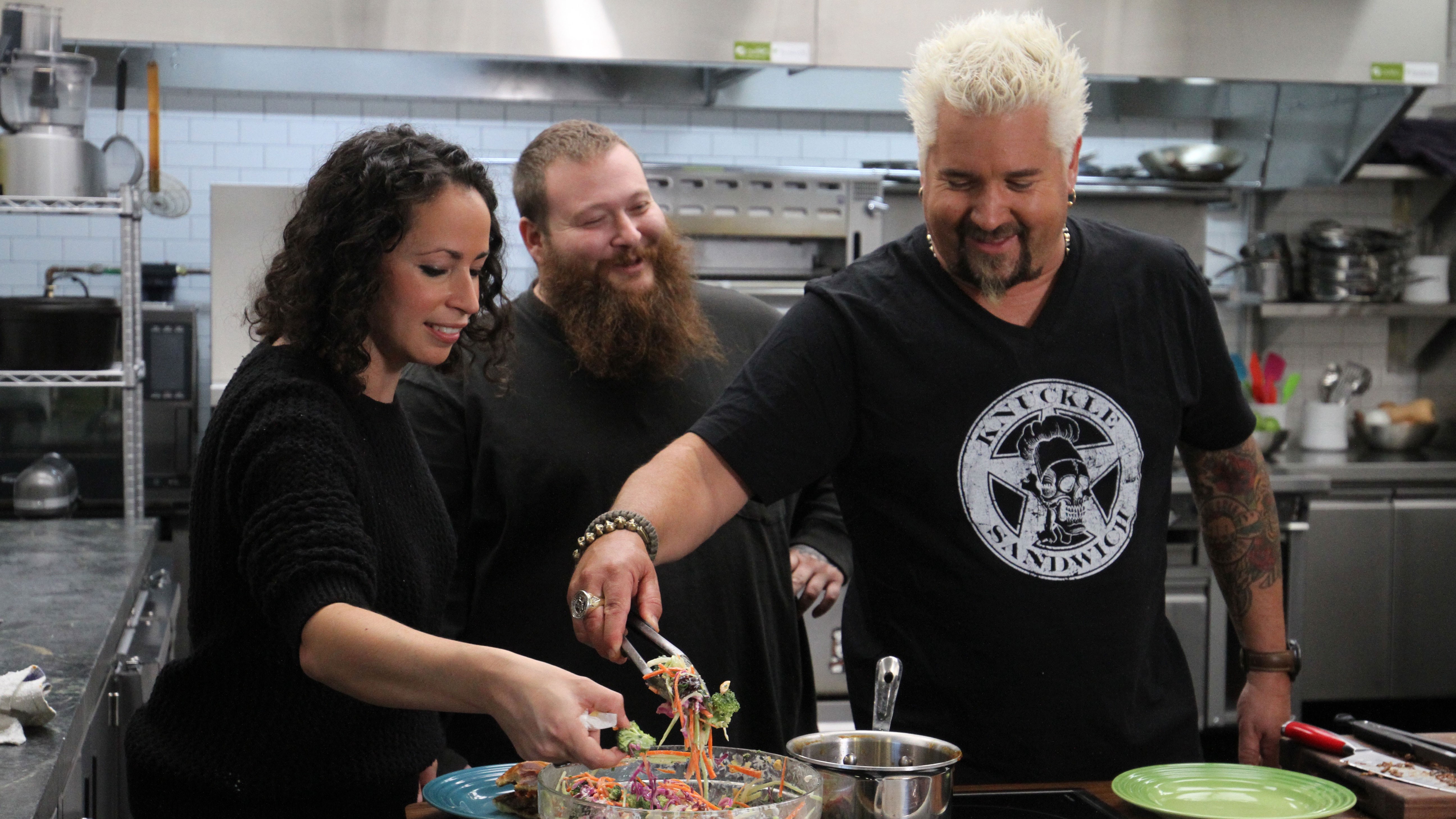 ---
M: Is planning food for Stagecoach different than planning another event like South Beach Food and Wine Festival?
F: Yeah, for one I haven't done an event of this magnitude. This barbecue thing is huge. It absolutely is. You've got thousands and thousands of people coming and you've got a really contained environment. There are not a lot of other venues. It's not like you're leaving. When you go to South Beach you can walk over to a restaurant at any time you want. We've got to make sure that we're ready there to take care of these folks. We're bringing it all. We're loading it to the top. I'm even bringing down my personal smoker. I know there's going to be some situation when someone's going to walk up and say, " Chef! Dude come on! Make me something!"
M: Tell me more about this personal smoker you have.
F: So this trailer, my dad and I built it years ago. It's got a big wood smoker, it's got a big grill on it. If you're going to be a chef and be in the barbecue hall of fame—if you're going to throw down, you better have the equipment to do so. There have been enough times that I've been invited to someone's birthday or someone's party or festival, whatever's going on, I can't go and rely on some little gas barbecue to get me through it.
We just had terrible fires up here in Northern California—no food. I was on my way to Mexico and I turned around and came home. We took my smoking trailer and another buddy's trailer and we set up camp in a parking lot and cooked food for the community. We did over 36,000 meals in five days. There's a really great guy called Operation BBQ Relief, I think they're going to be our surprise guest. I don't know if we're telling anybody that yet, but you can leak it. Operation Barbecue are the neatest dudes in the world. These guys get volunteers from all over the country. They fed 50,000 people in down Houston when the floods happened. They're warriors, just amazing guys and girls, a lot of volunteers. We partnered them up in Sonoma County when the fires happened. I don't have it confirmed yet but I do believe that they're going to be rolling into the Stagecoach Flavortown Barbecue Circle.
M: That's awesome, and a great way to showcase such a cool organization. You've got a lot of eyes there at Stagecoach.
F: That's the truth of it. That's one of the reasons this is so important to me. I'm so lucky to have the opportunity I have to do Triple D. So many of the fans who watch the show are the same fans who are coming to the show. That to me is a great time to get in contact. And I love to cook. I'm not a TV person, I'm a chef. The TV thing is just an awesome opportunity, but my favorite thing is to cook. Making people smile because you just cooked up some eighteen hour brisket, it don't get any better than that.
M: Do you have favorite country musicians? Are you a big country person?
F: I grew up in Northern California in a little area known as Humboldt County. You can ask anybody at VICELAND where Humboldt County is. Ask Action Bronson if he knows where Humboldt County is. My parents had a western clothing store and we made saddles and hats. I grew up riding horses and shoveling horses—you name it, I did it. I was a little redneck before I was anything else. So of course I love it all. I'm a country fan going back to the old school of Willy and Johnny and Conway Twitty. I love to see how diversified it is. Do I have a favorite? Yes. Do I want to tell you? No, because you know what you do when you do that? You get yourself in trouble. I will tell you what, this being my first Stagecoach—the lineup? Come on. The sad thing is I have to work! I gotta go over and do barbecue. How am I going to peel off? I'm bringing a couple of my guys down with me. I'm like, just so you know, don't plan on sleeping. There's going to be a lot going on.
M: Have you been to many music festivals before?
F: I did Coachella years ago and OMG. I love live music. Listen, I will see anything live. I can't get enough of it. But I went to Coachella and never understood the concept—we've all been to the concerts and festivals back in the day, there's good ones and bad ones. There are ones where you can't get any food, there's ones where there's no bathrooms, there's ones where it's a cluster. I thought the Coachella team did such a great job in getting people in and getting people out and giving enough space between venues, that actually that was really a big part of the genesis of the whole opportunity was because I had such a blast at Coachella. Like A-level blast. And I told everybody. That's how the whole thing got started. What I was really impressed about honestly, one of the biggest things, was the great food they had. They really set the bar higher. We're having a concert getting ready to see the greatest artists in the world perform and I can go over there and have a vegetarian ramen bowl? You've got to be kidding me. It's awesome. That's the attention to detail that these folks take. They take a lot of respect and a lot of detail to what the concert goer is getting to experience. I think that that's who you want to do business with. That's who you want to be surrounded by.
Swoop on Stagecoach music festival tickets at stagecoachfestival.com.