Leaned up against the crook of a Barclays Center hallway, a few steps to the right of a loud visiting locker room that boils with the confidence of an auspicious contender, Houston Rockets associate head coach Jeff Bzdelik is describing how unfamiliar he is with the concept of an off day. "There is no off day," he says, graciously. "Preparation breeds confidence." The platitudes mirror the man speaking them: honest, direct, and a significant reason why Houston is a sudden favorite to win the NBA championship.
It's early February, and the Rockets are a lawnmower. A few hours from now they'll slash through the Brooklyn Nets, then win 25 of their next 27 games. Nobody in the building knows how good they can be, but shades of the night still feel like a pitstop on their way to immortality.
Bzdelik's job is to interrupt the NBA's current era of unforgiving offensive dominance. With the advent of high-volume three-point shooting, super teams, and seven-footers who don't have discernible limitations anywhere on the floor, there's never been a more difficult time to succeed at what Bzdelik has been hired to do. Luckily for the Rockets, there isn't a single coach better prepared for the challenge.
In over a dozen interviews with coaches, players, and basketball executives who have worked with Bzdelik, the portrait of a hyper-driven, beloved, and tactically adept coach who has stockpiled inestimable reams of information over the course of an astounding career emerges.
"I can't think of a man in the NBA that has more experience, more knowledge, more wisdom about how to defend in the contemporary game today, than Jeff," Pat Riley tells me.
Wearing charcoal pants and a pillowy white button-down, Bzdelik speaks cautiously with a polite midwestern accent. A size 40, he still rotates through the same dozen suits that were supplied over 15 years ago by Homer Reed, a men's clothing store in Denver, back when he was head coach of the Nuggets. A neat gray crew cut sits over his pensive, angular face. (Bzdelik's sideline stoicism can make for an easy contrast with Rockets head coach Mike D'Antoni, whose two most prominent in-game emotions are relaxed and erupting.)
There's a familiar amiability when he introduces himself, almost like you're shaking hands with Mister Rogers. Bzdelik is not even six feet tall, with unassuming gravitas and a sincere dedication to making sure everything that comes out of his mouth is understood. Many sentences end with a simple question: "Does that make sense?"
Three months after that night in Brooklyn, the Rockets head into the playoffs with the league's best record. Their franchise player, James Harden, is a standalone MVP favorite; their 32-year-old point guard, Chris Paul, is widely accepted as the premier floor general of his generation; their head coach, D'Antoni, is responsible for an offensive philosophy that's arguably the most influential concept in recent NBA history; and the rest of their roster—P.J. Tucker, Trevor Ariza, Luc Richard Mbah a Moute, Clint Capela, Eric Gordon, and so on—was patched together by Daryl Morey, one of the most innovative general managers in professional sports.
All those factors are enough to think the Rockets can win it all for the first time in 23 years. But even after they're accounted for—victory indeed has a hundred fathers—it's the team's sudden willingness to accept how much effort and precision is required on defense that's been most critical to Houston's success.
"I can't think of a man in the NBA that has more experience, more knowledge, more wisdom about how to defend in the contemporary game today, than Jeff." - Pat Riley
This is thanks to Bzdelik, who was hired before the 2016-17 season to oversee said defense. The Rockets couldn't be what they are without him. At 65 years old, he still swims through basketball minutia, consuming at least four games' worth of film each night in order to unveil opposing player tendencies, strengths, and weaknesses. Special situations, such as what action an opponent likes to run with a low shot clock late in a close game, are carefully examined. "I try to be as detailed as possible," he says. "It's just the way I'm wired."
The Rockets jumped from 21st to 16th in defensive rating during Bzdelik's first season, but that's still not enough to survive four playoff rounds, regardless of how much talent and concentration is on the offensive side. This year, though, they finished sixth, and elevated into the top three after All-Star Weekend. Houston made an even more drastic jump on the glass: Before Bzdelik was hired, the Rockets were dead last in defensive rebound rate. Two years into his tenure, they landed in third. (Bzdelik believes Houston could be even better in just about every defensive category, if its overwhelming talent on the other end didn't always afford them such a massive cushion.)
Television cameras will sometimes catch Bzdelik on Houston's bench, chin in hand, elbow resting on the black Spalding notepad that lives on his lap, staring at the action as if he's anguished by a work of art. This is the most scrupulous person in his profession, a true believer that any particular, even in its most granular form, is the difference between poor and average, average and good, good and great. He isn't a psychotic perfectionist or someone who stows a sleeping bag in the corner of his office closet, but it'd be easier to teach a squirrel how to speak Italian than to catch Bzdelik cutting corners.
The basketball world is inhabited by thousands of people who dedicate their lives to a game that promises nothing but instability, stress, and heartbreak—and Bzdelik's resume looks particularly exhausting the first time you take it in. Since 1978, he's held six jobs as an assistant coach, five as a head coach, and spent over a decade as one of the NBA's most revered scouts.
He's worked in film rooms, edited tape, and enjoyed several priceless opportunities to learn from some of the sport's most lionized characters. He ripened under Riley, an iconic autocrat whose players turned every possession into a three-alarm fire. Before that, a pathological need to outwork everyone around him was the only advantage he had to get where he is.
Through it all Bzdelik has soaked up as much basketball, from as many vantage points, as anyone on the planet. This spring, it all culminates with him as the mastermind behind a distinct defensive scheme that could very well be enough to give the Rockets the one thing they so badly desire.
---
Bzdelik's path is as improbable as it is sinuous. At a young age, he thought life as a high-school coach who spent his days as a gym teacher would be plenty, but the clash between his humble persona and a disciplined drive for betterment helped intensify the varied level of ambition that lives in us all. People who dive as deep as Bzdelik don't do so to settle.
"I think his style is what I liked," Hall of Fame center Wes Unseld, who offered Bzdelik his first NBA job, tells me. "He's gonna outwork you. That's always worked with me. I think you can outwork people."
Bzdelik was born and raised in the suburbs of Chicago. His father was a graphic designer who served as a fighter pilot in World War II, while his mother stayed home to take care of their three sons. Jeff was the oldest, a typically restless baby boomer who scrambled outside in his free time with friends around the neighborhood. In the winter, they'd wait for packed snow and ice to cover the street so they could play hockey without any skates. When the sun shined they opted for three-on-three baseball, where hits to the opposite field didn't count.
But basketball was always his favorite. Bzdelik played at Prospect High School, and worked at Chicago Stadium as a ball boy for the Loyola Ramblers. While Bzdelik mopped floors and rebounded for players at halftime, he kept one eye glued to various legends who stalked the sideline. Adolph Rupp, John Wooden, Al McGuire. Everything about them intrigued him.
After high school, Bzdelik was drafted into the Army right when the United States started to pull troops out of Vietnam. He spent four months in Advanced Individual Training, was placed in the reserves, and served in the National Guard for the next six years. During that time, Bzdelik also received a tuition waiver to play basketball at the University of Illinois-Chicago, where he studied psychology and physical education. He met and married his wife, Nina, who was on a volleyball scholarship, in 1975.
Shortly after he graduated, Bzdelik placed a call to Duke University and asked if he could work their basketball camp. There he met Eddie Biedenbach, who offered him a job as an assistant coach at Davidson College. In his second year, Bzdelik helped recruit two top-20 players from Chicago's suburban league, which caught the attention of nearby Northwestern. "They called me up out of the clear blue sky," he says. After two seasons at Davidson, he was back in his home state.
He spent six years as an assistant with Northwestern, and when the school's assistant athletic director took a job at the University of Maryland, Baltimore County, overseeing an inferior basketball program that was about to jump from Division II to Division I, he asked Bzdelik to be his head coach. "They had only won 11 games in two years at the Division II level, and they were like 6-22, 5-23, something like that," Bzdelik remembers.
If there's any one pivotal moment throughout this journey that stands out above the rest, what happened next is it.
Every season, UMBC gave Baltimore children free tickets to watch the team. Connie Unseld, Wes's wife, owned a school in Southwest Baltimore and attended a game during Bzdelik's first year. She walked away impressed.
"She fancies herself as an aficionado of basketball," Unseld says. A year later, he went to see UMBC for himself, and left with the same opinion as his wife. Soon after, Unseld was asked to coach the Washington Bullets. He immediately called Bzdelik and offered a seat on the bench. Coaches who go 25-31 in two seasons at a relatively unknown college program don't pole vault into the NBA, but all Unseld saw was someone who could make his own life easier.
"[Some coaches] don't want to put in the hours to accomplish what we need to accomplish," he tells me. "And Jeff wasn't like that. He was willing to work."
The circumstances that led to Bzdelik's first NBA job make it feel like destiny: He was hired by a local legend who didn't worry about job security or perception. Had someone other than Unseld been in charge of the team, it's unlikely Bzdelik would've even been granted an interview, let alone the job. And once in Washington, Bzdelik found himself fulfilling duties that were fundamentally the same as Unseld's. He ran practices and had valued input on various decisions. The responsibility was enormous.
Even though Unseld never second-guessed hiring someone who had zero experience in the pros, he did wonder if professional players would treat Bzdelik like a substitute teacher. This wasn't a former NBA player or household name from a prestigious program. But any and all concern evaporated overnight.
"He didn't care if you were an NBA star. He would tell you what you needed to hear," Unseld says. "It was unusual for anybody. It was unusual for me, because sometimes you treat stars different than you treat everybody else. I don't think Jeff did that."
After Unseld resigned six seasons later, Bzdelik was hired in 1994 as a full-time advanced scout by the New York Knicks. It was Riley's final year with the organization. When the ten-time NBA champion left to coach the Miami Heat, he wasn't allowed to take any Knick employees with him. But Bzdelik was only on a one-year contract, so Riley brought him down to South Florida after it expired in August.
"I was just always impressed with his scouting reports," Riley says. "He was very detailed. Very neat. Things were logical and coherent. He had all the right calls. We knew what the other team was gonna run."
Bzdelik's primary function as an advanced scout was to compose game plans for every one of Miami's opponents. He worked closely with Stan Van Gundy, who, after having just been fired by the University of Wisconsin, broke into the league as Riley's assistant the same year Bzdelik moved down from New York.
"I knew nothing about the NBA," Van Gundy, now head coach of the Detroit Pistons, tells me. "You always got these statements, 'it's like what so and so used to run with some other team,' and I would be lost at that point. But Jeff had such great knowledge of the league and his attention to detail is as good as anyone I've ever been around. You knew what you were getting was exactly the way some teams ran their sets. The spacing was exact. He didn't just put a guy on the wing. Was he at the break in the arc or was he free-throw line extended? When you were getting stuff from him, you knew you were getting it probably even better than I was getting off the film myself, to be quite honest. He was that good."
In 1998, NBA general managers recognized Bzdelik as the NBA's very best advanced scout, an invaluable resource who was known and respected for not only outworking everyone else in his field, but doing so while staying supremely organized. In an interview with Sports Illustrated, he recalls watching 17 games in 17 cities in 17 nights. "Guys will say to me, 'Why are you here again?'" Bzdelik said. "But I almost always come away with a little something the 16th time I see a team. No matter how much film you watch, it's not the same as being there."
One hotel room bled into the other, but the experience allowed Bzdelik to exchange and learn different ideas and concepts with colleagues who worked for other teams, molding critical information that Riley and his staff depended on. His reports were rich yet digestible. No element was too trivial.
"He knew what I believed in defensively because he used to come into training camps and he used to watch all of our practices," Riley says. "He had our playbook and he'd memorize that. And when you're an advanced scout and you're out there, just bringing back the other team's offensive strengths is one thing. But being able to connect the dots between what it is you're doing, this is how we play on both ends of the court, and the suggestions that he would make based on our philosophy and how we could capitalize against the other team, that's what I valued the most."
In another universe, Bzdelik might still be in South Beach. But at the time, Riley's full-time coaching staff was moored. There wasn't any room for Bzdelik to climb the ladder and take a permanent seat on the bench. After six seasons in Miami, he aspired for more.
"There comes a point in time where you want to see if you can go out on your own and run with the big boys," Bzdelik says. "Could I have stayed in Miami for the rest of my career and continued to do what I was doing? Yes, probably. But at the same time I wanted to experience other challenges as a competitor."
In 2001, Bzdelik took a job as an Eastern Conference scout for the Nuggets. He went from one of basketball's most disciplined, competent environments to a field of rakes. Over the previous 12 years, Denver had the third-lowest winning percentage in the league, endured a player mutiny (you read that correctly), and eight changes at head coach—including two separate stints by Dan Issel, the second ending after he was filmed telling a fan to "go drink another beer, you Mexican piece of shit." That happened in December 2001, a few months after Bzdelik joined. A titanic rebuild was imminent.
Marc J. Spears, a reporter for ESPN's The Undefeated who covered the Nuggets for The Denver Post from 1999 to 2007, remembers seeing a poll that asked fans to vote for their favorite Nugget. The winner was Rocky, the team's mountain lion mascot. "They were a pretty laughable team," Spears tells me.
After the 2001-02 season, the Chicago Bulls nearly lured Bzdelik away by offering a spot on their bench, but Denver—still without a permanent head coach—promoted him to assistant coach and then presented an opportunity to lead their Summer League team. Bzdelik accepted, and the Nuggets went 6-0.
"He was really one of the hardest working guys I've ever met. A great teacher," says NBA executive vice-president of basketball operations Kiki Vandeweghe, who was Denver's general manager at the time. "So all those things came out as we were really focused in one direction, and he really opened our eyes. That was really the genesis of him becoming the head coach."
Vandeweghe had originally wanted to hire a known commodity for the Nuggets' open head coach spot—someone who could stabilize the situation. But Denver, understandably, wasn't viewed as a desirable destination by that type of candidate. So before the start of the 2002-03 season, the team turned to Bzdelik.
By that point, Bzdelik's name was still virtually unknown to a vast majority of NBA fans. He inherited a 27-win team that just lost two of its three leading scorers, and won 17 games in his first year. Denver selected Carmelo Anthony with the third overall pick in the 2003 draft, but expectations around the league remained exceptionally as Bzdelik's instinctive aim was still to instill beneficial habits in his young roster.
"He didn't care if you were an NBA star. He would tell you what you needed to hear."
Once again, his only option was to dig deeper than everybody else. The promise of another day on the job didn't exist; the same methodology from his time at UMBC and Miami was ramped up to another level. His cast-iron consistency left no room for impulsiveness or public frustration—there was too much work to do.
"He will break down a defensive drill like I've never seen before," Bzdelik's then assistant coach Scott Brooks tells me. "Where your left hand [goes], where your right hand, where your left foot, where your right foot, where your chest, what you're thinking of. He has it down to every minute detail and he's really great with technique and being able to explain. He's one of the best I've ever been around."
Bzdelik lapped up the constant grind of an 82-game season and behaved the same way, win or lose. It's a leadership style appreciated by those who worked for and with him, even if, at the time, it didn't afford the most accommodating lifestyle.
"We would get in at 2:30, 3 o'clock in the morning and he would say, 'OK guys, let's get some sleep,'" Brooks recalls. "'Let's sleep in and meet at 7:30, instead of 7:00.' The assistants would look at each other like 'Is this guy nuts? We get in at 2:30 and he's gonna give us an extra half-hour of sleep?'"
Now head coach of the Washington Wizards, Brooks laughs. "To start my career under him, it really gave me an incredible foundation. I always draw back to that year and a half, two years I was with him."
With a slight talent upgrade (most notably from Anthony, who led the team in scoring) and Bzdelik's principles starting to establish solid ground for everyone to walk on, Denver won 43 games and made the playoffs in his second year. As far as single-season turnarounds go, it was unbelievable. "For us to make the playoffs that first year with Carmelo, I think that was worthy of Coach of the Year," Brooks tells me. "Unfortunately he did not get it."
The Nuggets finished with a top-ten offense, spearheaded by the league's most effective transition attack and a defense that limited three-point attempts and forced a ton of turnovers, per CTG. In other words, they had a smart, reputable identity. "We played hard enough to play with anybody," Vandeweghe tells me.
Denver was officially an intriguing team with a budding superstar, and the 180 sparked by Bzdelik had the same coaches who weren't interested 12 months before circling like vultures. "I'm sure there were people campaigning behind the scenes to take the job or want the job," Spears says.
Bzdelik's mantra at the time: stay two steps ahead of the posse. It reminded him to double down on his principles, especially when the odds were stacked high enough to make his margin for error razor thin. "I asked myself, am I part of the transition or part of the future?'" he said at the time. "The flip side is when does a guy like me get a chance?"
Despite shepherding one of the most impressive reversals in league history, Bzdelik was fired 28 games into his third season. Denver was 13-15 at the time. One month later, they hired George Karl and, after failing to make the playoffs for seven straight seasons prior to Bzdelik's turnaround, went on to qualify for the postseason ten years in a row.
"I mean it to this day, and I've told [Nuggets owner] Mr. Kroenke this, and I told Kiki this, and I told the players that played under me," Bzdelik says. "I'm grateful for the opportunity and I'm very appreciative for the support and efforts people gave me. And I leave it at that, because bitterness and negativity does no one any good. You do the best you can and if one door closes just knock on other doors and most often another will open up for you."
Shortly after he lost that position, Bzdelik's daughter, Courtney, was diagnosed with a brain tumor that she's since fully recovered from. Uprooting his family wasn't an option, so he accepted a position as head coach at the United States Air Force Academy in Colorado Springs, where he spent the next two years. In his first season, they qualified for the NCAA tournament for the second time since 1963. The instant success led to several different offers, including one from the University of Colorado, where Bzdelik's son, Brett, had just enrolled as a freshman.
Bzdelik spent three seasons in Boulder. When his daughter enrolled at Wake Forest University, he received a call from their athletic director offering him a job, with a contract he couldn't refuse. Four years later, Bzdelik resigned, ready to get back into the NBA.
After the Memphis Grizzlies won 50 games in 2014, then head coach Dave Joerger picked up the phone when he saw Bzdelik was available. "We had a couple conversations and I was looking for someone to really specialize in on the defense for me," Joerger, who's now head coach of the Sacramento Kings, tells me. Despite his ten-year absence from the NBA, Bzdelik got the job.
Make no mistake, the league's stylistic trends and talent pool can transform dramatically in a decade. From Bzdelik's first season in Denver to his first in Memphis, the infusion of analytics into on-court decision-making turned NBA basketball into a faster, more perimeter-oriented game. According to Basketball-Reference, the league's average three-point rate jumped from 18.7 to 26.8. It's no coincidence that 2014-15 season was Steph Curry's first MVP campaign. Offense was wildfire and defense was an increasingly thorny chore.
But basketball is basketball and hard work is hard work. After Bzdelik accepted the position, Dallas Mavericks head coach Rick Carlisle told him to view that time away as a huge advantage. In a league that's getting younger and younger, Bzdelik spent ten years recruiting, communicating, and coaching players he otherwise might struggle to understand. "You've gotta be who you are but you also have to adjust to this new generation and respect them," he says. "Does that make sense?"
With his imprint on their defense, only two teams were more stout than the Grizzlies during Bzdelik's first season back. Only two teams allowed a lower percentage of shots at the rim, as well. "I love how focused he is," Joerger says. "Extremely hard worker." When Memphis fired Joerger after an injury-plagued 2015-16 season, he immediately tried to persuade Bzdelik to join him in Sacramento. "I chased him hard, and as close as we are it just didn't work out for one reason or another," he says.
A job with the Kings never materialized because D'Antoni was on the other line, offering an associate head coach position in which Bzdelik could oversee the entire defense of a team that already had their eyes on a title. For the first time in his career, Bzdelik was more than an anonymous workaholic who found himself in the right place at the right time. He was the leading candidate for one of the most coveted jobs in the league. The opportunity was too perfect to pass up.
---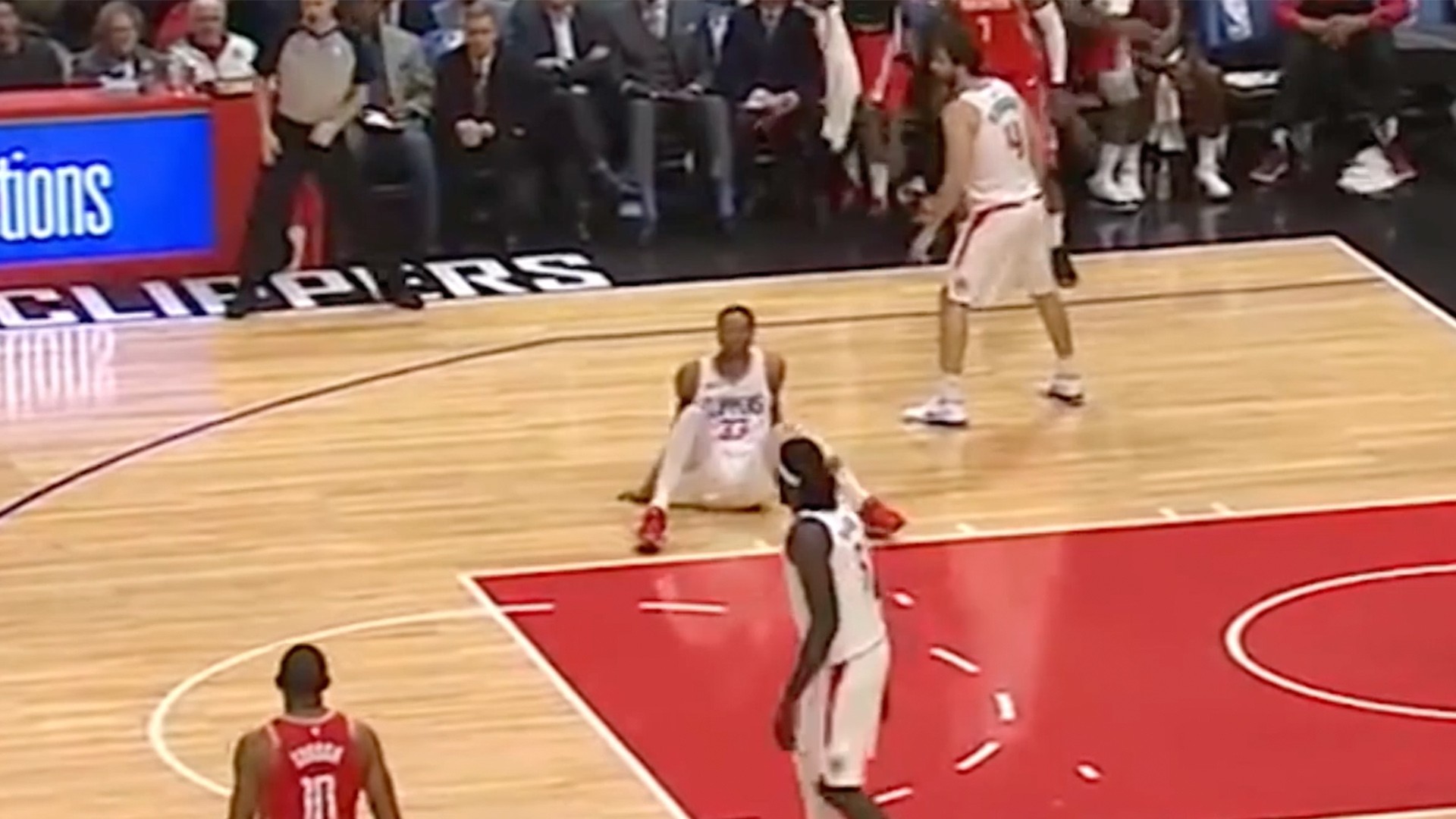 ---
Bzdelik was brought in to manage Houston's defense and, at the very least, position it on a path towards baseline competence. But installing effective principles that can be carried out overnight, every night, is almost impossible when players head into the season believing they were targeted for their work on the other end.
With D'Antoni's ingenuity and Harden's transcendent skill-set ultimately running the show, Houston's front office treated the offensive side of the ball as a priority. They inked players with defensive shortcomings (Ryan Anderson and Eric Gordon) to long-term deals while acquiring a bucket-getter (Lou Williams) at the trade deadline. It wasn't the wrong way to build a very good team, but legitimate championship aspirations would still be out of reach.
The Rockets survived November with the fourth-worst defense in the league, then came out of March ranking 20th in defensive rating. Not all was atrocious—Houston ultimately finished with the NBA's third-highest net rating, second-best offense, and won a playoff series!—but their defense was generally helter-skelter. Late in the season, Bzdelik realized how powerful a switch-everything strategy could be, especially against modern offenses. This wasn't a fresh idea, but in order to get where they wanted to go, it felt necessary.
After they were eliminated by the San Antonio Spurs in six games, Houston entered the offseason targeting superstar talent and defensive versatility. Both boxes were checked by trading for Paul, and then signing Tucker and Mbah a Moute—two quintessential two-way additions—balanced out a roster that felt complete. It took training camp and about the first 20 games of this year's regular season for Houston to realize just how audacious they wanted to get with the switch-everything strategy.
"We switch more than any team in the league," Bzdelik says. "We switch to deny, switch to force a turnover, switch to take away a three, switch off the ball." But, he adds, "it's important to note that players can't be bombarded with information to the point where there's paralysis by analysis."
Other defenses have popularized this strategy—most notably Houston's main adversary, the Golden State Warriors—and almost every team understands that, at the very least, it's an imperative "break in case of emergency" machination in today's league. But the Rockets have steered into the madness with unprecedented aggression. Switching is their DNA, and to do it as often as they do is bold even with an ideal workforce. But Bzdelik's rationale makes every other alternative sound foolish.
"In today's game you almost have to switch because teams are so intelligent with their ball movement. You have the court spaced with three-point shooters, a big rolling to the rim, and a handler like Westbrook or Lillard, for example, flying off a ball screen," he says. "There's too many moving parts."
Deploying this policy with any collection of like-sized players sounds obvious and easy because, relatively speaking, it would be. But Capela, Paul, Gordon, and Harden are not wings who can naturally guard all five positions, and even with a roster as fluid as Houston's there will always be offenses that go out of their way to attack weak spots and force mismatches. Complications typically occur away from the ball, but that's precisely where Houston turns the volume up to 11, proactively swapping assignments well before the opponent can benefit from an ostensible advantage.
The intention isn't solely to create one-on-one situations and force isolation basketball, but rather have all five defenders ask important questions on every possession. "Say there's a player who's really good going left. Can we shade him right? But then who are the guys that we can take another step off to help?" Bzdelik says. "How can we do so in a way that we shrink the court so we're forcing him into help as well? How do we play off the ball to make sure we have a low man, but the other weak-side defender is playing two off the ball? How does he position himself?"
Again, this isn't original, but the Rockets' aim is to have answers while players are constantly changing who their man is. In other words, everybody needs to know everything. The result, whenever they lock in, is a defense that feels like it has two extra bodies on the floor. Only four teams averaged more deflections per 48 minutes than the Rockets this season; they tied for 12th last season. According to Synergy Sports, the Rockets also jumped from 28th to sixth defending isolation plays, and 18th to second defending dribble handoffs.
"Men like Jeff, who spend the early part of their career in the NBA as either personnel scouts or advance scouts, they spend so much time watching basketball," Riley says. "Not only live but on tape and video, that they build up the greatest reservoir of knowledge about all kinds of offenses, all kinds of defenses, all kinds of concepts, and how to play. They just see so much. [Jeff] has developed some great ideas, and I think you're seeing that right now in Houston."
When Paul switches onto a big man, hugs him for two steps, then quickly fades towards the weak side as a more appropriate teammate—say, Tucker—tags in to assume Paul's responsibility, they look as flexible as anyone. "That's taking it to another level," Bzdelik says. Houston reorganizes on the fly in a way that feels like they're getting away with something. It's a transparent magic show.
Watch below as Paul switches onto Karl-Anthony Towns behind the three-point line, but then Tucker comes in before the Minnesota Timberwolves can weaponize their All-Star center in the post. Plenty of teams do this. None have as many players who treat it as second nature.
Adaptability across the board is important—sturdy guards who battle in the post, big men who can be nimble far away from the rim, wings who move their feet and keep their arms spread—but unlocking any group's collective strength can't be done without the right scheme. Bzdelik didn't identify that scheme, teach it in training camp, and then sit back and expect everybody to harness the concept for 82 games. Every day he harps on habits. Every day he cross-examines players to make sure they grasp their place in a game plan that's tailored to whoever's up next on the schedule.
"He's kind of the guy that, whether you like it or not, is gonna challenge you every day. He wants perfection from us," Anderson tells me. "Obviously we have so many different weapons who can score in so many different ways, but we need him here to really get on us about the part of our game that doesn't come easiest."
Sometimes their own offense can be the defense's worst enemy. Houston not only led the league in three-point rate (the percentage of their total field-goal attempts launched from beyond the arc), but the difference between them and the second-highest team was the same gap between the second-highest team and the 20th-highest team. The Rockets also attempted the deepest, quickest threes in the NBA; a league-high 9.8 percent of their shots came with between 22 and 18 seconds on the shot clock. This makes communication and effort when getting back in transition as integral as execution in a half-court setting.
"Our defense is challenged in a way that's unlike most teams," Bzdelik says. No transition defense was worse than Houston's the season before he was hired, and even though they've made strides over the past two years—going from 30th to 21st is not nothing—getting back is still an area that needs to improve.
And therein lies Bzdelik's worth. He's not just able to identify a flaw, but knows how to dig into it with a sheer relentlessness that can only be deployed by someone who understands and accepts that their work is never truly finished.
---
With several head coach positions opening up over the next few weeks, Bzdelik's name deserves to emerge as a worthy candidate. That's what happens to associate head coaches who've made notable contributions for a championship contenders. "Next time we work together it'd probably be me assisting him," Joerger says. "I'd take a bullet for that guy."
It's easy to look across the league and imagine how he can help promising teams that are painfully inconsistent on the defensive end. The Milwaukee Bucks are a perfect example, with a young, long, and athletic core that was essentially constructed to execute the same switch-everything formula enjoyed in Houston. Picture Giannis Antetokounmpo, Khris Middleton, and all the twitchy tentacles on that roster making the most of their nightly physical advantages.
"I think Jeff would be a success wherever he goes. I have to obviously be a little careful, being in the league office saying that, but I think he would be a success at whatever he did," Vandeweghe says. "I would imagine the offers will come."
But grass isn't always greener on the other side. "He's in a good situation right now where he's at," Riley says. Houston just won 65 regular-season games, eight more than any team in franchise history. They have the second-oldest roster in the league, but are young enough in key areas, with an attractive culture and one of the world's three best players under contract through his prime.
Their front office has proven over and over again how much they equate stagnancy with death, and with free agency questions looming over integral players like Paul, Mbah a Moute, Capela, and Trevor Ariza, Morey has more than earned the benefit of the doubt when it comes to finding sensical pieces.
As that relates to Bzdelik's next move, so much may hinge on whether the Rockets actually win a title. A rising tide lifts all boats, and the architect of a defense that just took home the the Larry O'Brien trophy is always and forever in demand. Staying put and trying to win two in a row is a challenge unto itself, but it's not the same as having final say over your own team.
When I ask him if he wants that opportunity again, Bzdelik grins for a moment, as if I want to know the capital of Colorado. "Yeah, obviously yes. But I don't think about it. I've been coaching 42 years, and I never got a job that I applied for. So if it happens, great. If it doesn't, I am in a great, great situation and I'm very blessed."
No matter where he works next year and in every season that follows, Bzdelik will be prepared, beyond competent, and, of course, happy to outwork everybody else. That's just who he is.