Rep. Waters in 2013. Photo by Alex Wong via Getty Images
In March, after Bill O'Reilly made a racist joke about her hair, Congresswoman Maxine Waters went on MSNBC's All In with Chris Hayes.
"Let me just say this. I'm a strong black woman and I cannot be intimidated. I cannot be undermined. I cannot be thought to be afraid of Bill O'Reilly or anybody," Waters said on air. "And I'd like to say to women out there everywhere: Don't allow these right-wing talking heads, these dishonorable people to intimidate you or scare you."
Few were surprised by the firmness of her response. Waters—who has affectionately been given the nickname "Auntie Maxine" by millennials—has become an internet sensation because of her consistent displays of candor and her refusal to be belittled, silenced, or condescended to. She has more than 400,000 Twitter followers, and her calls to impeach Trump and references to his "Kremlin Klan" have hundreds of thousands of retweets. Countless memes have been made using her likeness to express opposition to the current administration's policies, and to remind people to pay attention to the allegations of Trump's collusion with Russia.
Along with Senator Bernie Sanders and Senator Elizabeth Warren, Waters, who is 78, is part of a wave of older left-wing politicians who have recently achieved an iconic status among a younger generation of voters, many of whom are disillusioned with the traditional, more centrist core of the Democratic Party. But in terms of fervent opposition to Trump and his policies, Waters is in a league of her own.
"Perhaps they have not seen an elected official take this kind of stand and use this kind of boldness, particularly directed at one who is the president of the United States," Waters told Broadly of her popularity with millennials, adding that she finds it very easy to call out Trump and his administration because she truly believes he should be impeached. "I think that is what has attracted them to me and led to me being adopted as Auntie Maxine."
---
Watch: Senator Gillibrand Is an Unstoppable Advocate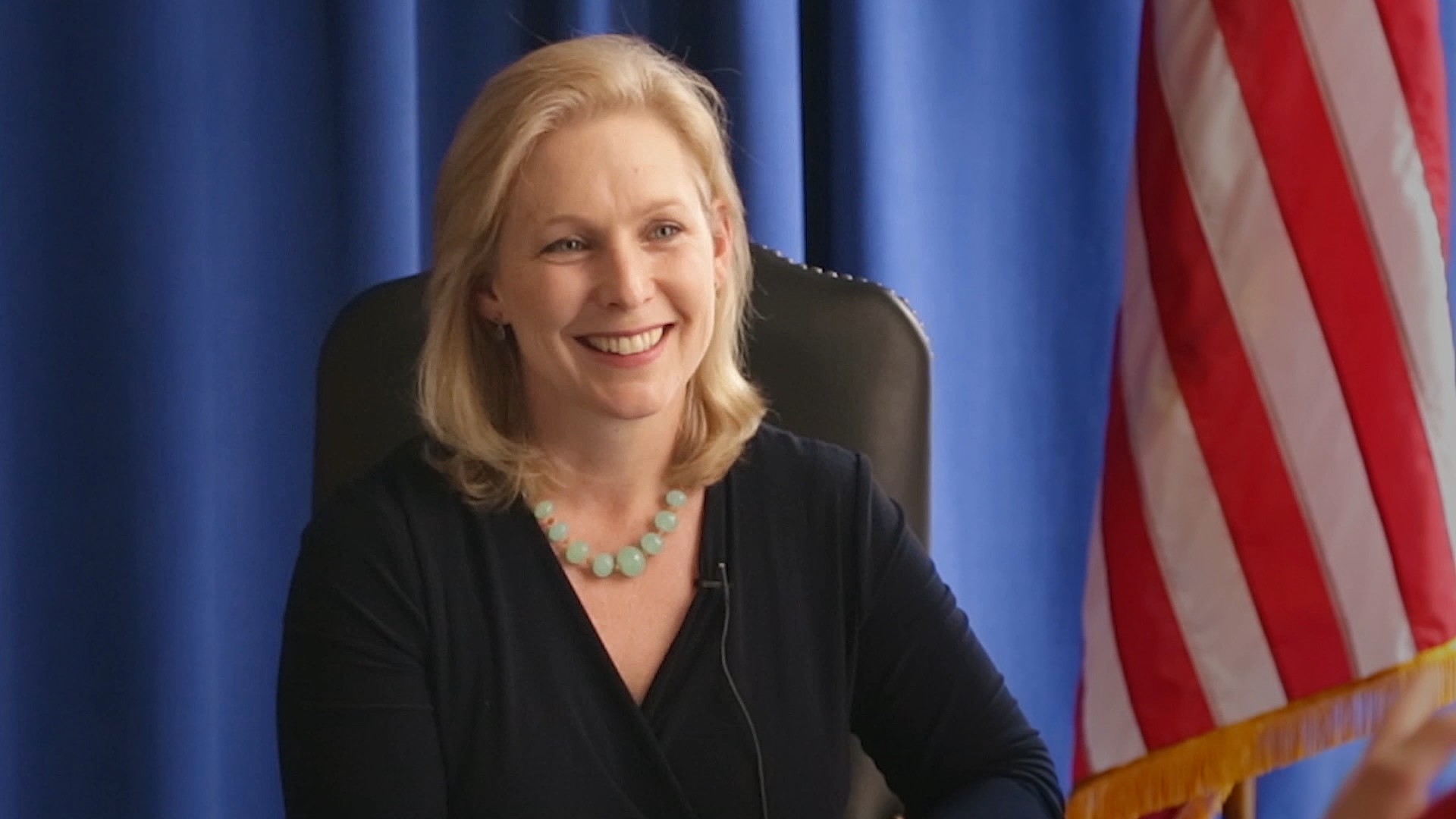 ---
Waters has been the representative for California's 43rd congressional district, which contains part of Los Angeles County, since 1990, and before that she served in the California State Assembly for 14 years. Over the course of her long career, Waters said she has always been intentionally vocal in speaking out on behalf of people of color, women, and the LGBTQ community.
But when she became the ranking member of the House Committee on Financial Services, she said, her work shifted to fighting against predatory lending and advocating for the Dodd–Frank Wall Street Reform and Consumer Protection Act. This work began to consume all her time, and required her to stay more behind the scenes. It wasn't until Trump emerged as a serious possibility that she felt she needed to take on such a public role again. "Trump's campaigning was something I had never experienced or seen before," she said.
Waters said she was particularly disturbed after she watched the debate between Trump and Hillary Clinton in St. Louis, where she felt he attempted to physically intimidate her.
"I decided he could not and should not be president, and I had no idea at the time that he could ever become the president of the United States," she said. "I was convinced that he had so defined himself and that he was a such a caricature that he could not be respected, and he certainly did not deserve to be president."
I did not honor him, I did not respect him, and I did not participate in any way in welcoming him into this position as president.
The more she learned more about Trump's past—specifically the allegations that he had practiced racial discrimination on his properties, cheated contractors and other employees who he'd hired to work on his projects, and committed fraud with Trump University—the more she came to vocalize her opposition to his campaign and political presence.
"He is everything that this country should not be about, and when the inauguration took place, I made it very public and very clear that I would not attend [it], or the following joint session of Congress that he addressed," she said. "I did not honor him, I did not respect him, and I did not participate in any way in welcoming him into this position as president."
Pointing to Trump's "tweeting" and "lying," Waters said he continues to prove he is not fit for the office.
"I believe that he and his allies colluded with Russia to undermine our election system and hack into our DNC," she said. "If not collusion, then he has at least committed obstruction of justice. All of our intelligence agencies have concluded that Russia did hack into the DNC and to other election systems around the country. All of that certainly makes him the last person who should be president."
Though the attention she's attracted for such frank criticism of the president has been unparalleled, Waters has spent her 38 years in office taking on the establishment and voicing strong opinions. After growing up in St. Louis as one of 13 children raised by a single mother and working at factories and restaurants from age 13, Waters developed a keen awareness of life in marginalized communities. Since the beginning of her public service, Waters has focused on issues like teenage pregnancy in low-income communities, HIV/AIDS, and police brutality. Pointing to the disproportionate rate at which HIV/AIDS impacts racial and ethnic minority communities in the US, she helped establish the Minority AIDS Initiative in 1998, and has since continued to fight for the program to receive adequate national funding. As a self-proclaimed member and beneficiary of the women's movement, she co-founded the Black Women's Forum in Los Angeles. In the 80s, she was a prominent figure in the fight to end Apartheid in South Africa, and as a Congresswoman she became known for leading "the fight supporting young people in the hip-hop and rap communities when there were those who wanted to censor [their music]," working with African American music executives when many feminists, black church leaders, and politicians were advocating for the censorship of hardcore gangsta rap. Although she acknowledged the roots of the controversy surrounding gangsta rap at the time, she consistently argued against censorship and, according to Russell Simmons, who was quoted in an LA Times article about Waters in 1994, understood "the conditions that trigger the rage in the music."
"I thought they were singing their truth," Waters told Broadly. "They were singing about the injustice and the poverty in their communities."
Waters said she has witnessed significant progress for people of color, women, and the LGBTQ community in the US, though she adds, "I must always say that we do have a long way to go in order to have equality and justice." The most exciting aspect of having become "Auntie Maxine" is that it demonstrates how young people are involved and invested in politics.
"I want to do anything that I can to support and encourage young people to get involved in the legislative and political processes," she said. "I am going to try to be an asset or enabler of sorts to the millennial generation."
When asked for advice from aspiring young politicians and activists, Waters said she encourages them to make politics the centerpiece of their lives. "Young people should do their own research about the politics of their communities and then put themselves in a position [to] get involved in supporting politicians through work or volunteering."
She added that young people should examine the reasons they want a specific office and determine how they could make positive changes in their community through that position. "You have to have the dedication to want to be part of the government so you can help make the country the way you want it to be."