Photo by Mark D. Smith-USA TODAY Sports
The not-so-well-hidden secret about the 2017 San Antonio Spurs is that they're actually a pretty standard one-superstar outfit. Unlike the egalitarian Spurs squads we've become accustomed to over the years, this year's team has leaned disproportionately on one player, Kawhi Leonard, to carry the offense.
In fact, we haven't seen a Spurs team rely this much on a single star since Tim Duncan in 2003-04. That's the only season since Gregg Popovich became the Spurs' full-time coach in 1996-97 to have a larger differential between the usage rates of the top two players on the team: Duncan used 29.7 percent of San Antonio's possessions when he was on the floor in 2003-04, compared to Malik Rose's 22.6; this year, Leonard had 31.1 percent, trailed by LaMarcus Aldridge's 24.5.
Read More: Kawhi Leonard Is the Playoffs MVP, and That's a Problem for San Antonio
There were times during the Spurs' first-round win over the Memphis Grizzlies where it became painfully obvious just how large a burden Leonard really shoulders. He essentially went mano a mano with Mike Conley down the stretch of Game 4, taking 12 of San Antonio's final 19 shots, and scoring 24 of their 28 points from the 3:54 mark of regulation until the end of overtime. He ended up using 39.7 percent of the Spurs' possessions in that game—something he was able to do because the opponent was a relatively lightweight offensive team. The Grizzlies lacked for secondary wing threats, so Leonard was able to cool his gears guarding the likes of Vince Carter or James Ennis, giving him an energy reservoir to tap into on the other side of the floor.
The Houston Rockets, to be blunt, are not the Grizzlies. Mike D'Antoni's latest band of merry bombers runs one of the most supercharged operations in NBA history. The Rockets shattered the all-time NBA records for three-pointers made (1,181, which is 104 more than last season's 73-9 Warriors) and attempted (3,306—527 more than this season's Cavaliers); per Basketball-Reference, they were the tenth most efficient scoring team in NBA history. There are no possessions off. There is no taking an easy matchup and saving your energy.
The Spurs do need Leonard to conserve his energy, though, because he's their single best shot at trying to keep up with the Rockets on offense. And to do that, as contradictory as it might sound, they're going to have to minimize the amount of time the two-time Defensive Player of the Year spends guarding James Harden, Houston's biggest threat.
Harden shredded the Spurs to the tune of 29.8 points, 9.0 rebounds, and 11.8 assists per game in four matchups during the regular season. Unless Pop throws a curve ball and makes him go 110 percent on both ends for all 48 minutes of every game this second round, we can expect to see Leonard spend a lot of time guarding Trevor Ariza or Ryan Anderson or, if he comes back from his fractured hand, Sam Dekker. (It seems unlikely Pop will put that added pressure on Leonard, given the things he's said about the burden true two-way stars have to shoulder.) If and when San Antonio goes small, we might even see him guard the primary screener on the floor, just so he can switch onto Harden in late-clock situations.
The legwork on the Harden matchup will fall to everyone else, likely starting with Danny Green. Pop waited until the second half of Game 1 to put Green on Conley last round, but something tells me he won't be waiting that long this time. It's much more difficult to contain this Houston offense if you can't shut down or at least disrupt the point of attack, and Pop knows that Green is his best on-ball defender not named Kawhi. Patrick Beverley and Lou Williams, meanwhile, provide convenient, or at least more convenient, hiding places for Tony Parker and Patty Mills. All that adds up to using the six-foot-six Green—whose six-foot-ten wingspan allows him to bother the dribble, shot, and passing lanes of point guards even while playing slightly farther off them to protect against the drive—on Harden right from the jump.
The primary action that needs defending is the pick-and-roll. It's tempting to switch, just so there's never any airspace for Harden to launch a three, but Harden consistently fries every big man in his path. Even Aldridge and Dewayne Dedmon, San Antonio's more mobile big-man duo, would be sitting ducks. Sliding under the screen is dangerous because it gives Harden an opening to shoot. Green has long arms, but Harden's trigger is too quick for him to get them up in time. Going over the pick and having the big man guarding the screener drop back presents chances for pull-up jumpers while at the same time giving Harden a runway to attack downhill toward the basket. There's barely anybody in the league quick enough to recover before Harden either gets a layup or sticks those arms out and forces you to foul him. Blitzing and putting two men on the ball invites either a wide-open jumper one or two passes down the line, or a four-on-three opportunity behind the play. That can work OK at times, but Clint Capela has gotten better at navigating those advantage opportunities, Nene has always been good at it, and Ryan Anderson will just let it fly as soon as he touches the ball. There are no good options here—only degrees of bad ones.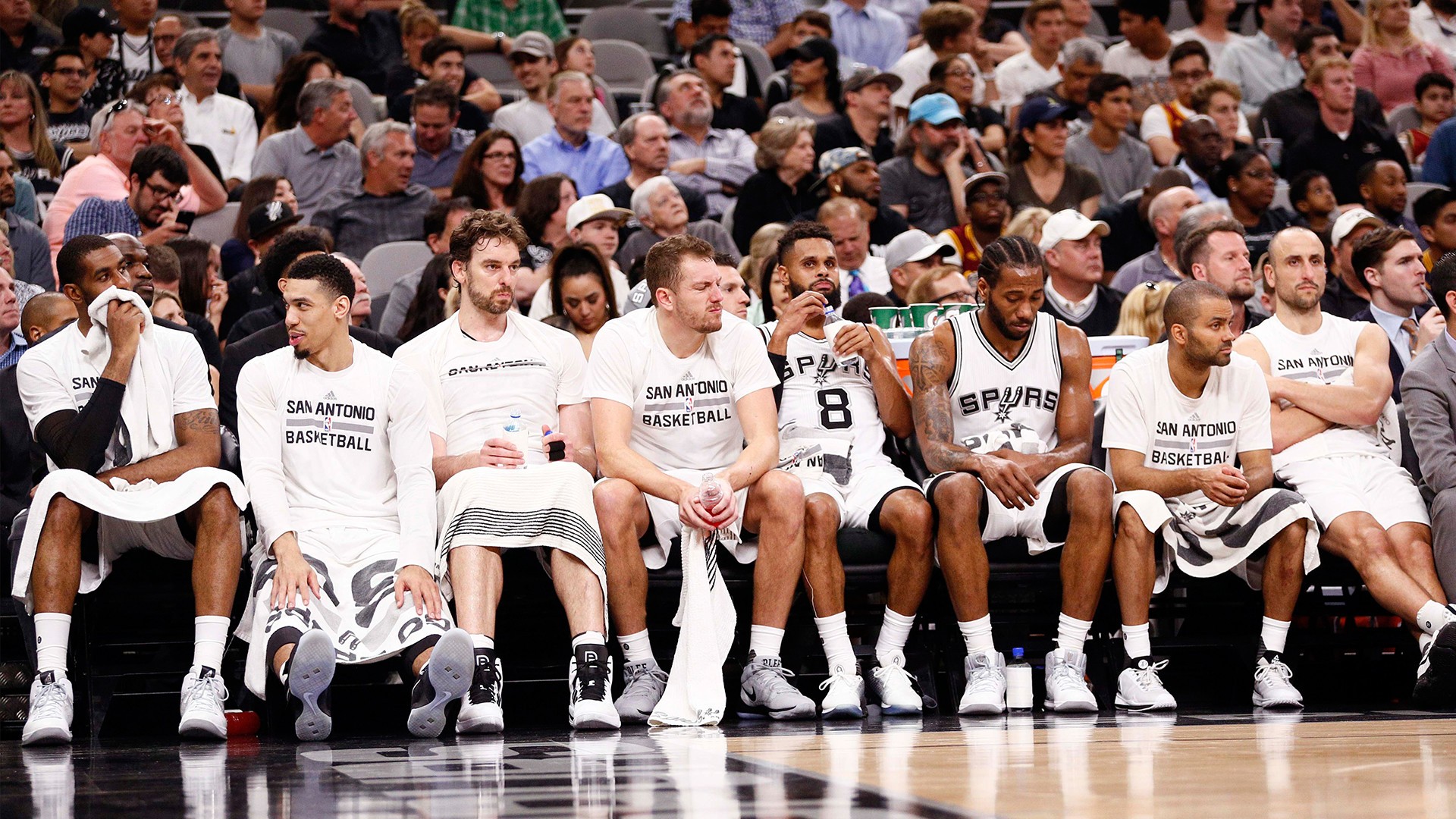 I'd say this might be a good time to break out the old Steve Nash strategy Popovich used against D'Antoni's Suns back in the day, but "take away the passing lanes and turn him into a scorer" seems like a dangerous proposition against a guy as ruthless and efficient as Harden. It worked against Nash because he was a reluctant shooter even at his most aggressive. There is nothing reluctant about Harden's game. Beg him to shoot and he will shoot and shoot and shoot and all of a sudden, you'll look up and he's got 50.
Sticking close to the shooters on the perimeter is imperative, though, because you don't want the Rockets to be able to launch their 45 or 50 threes a game. It might be best to adjust for each pick-and-roll depending on who the screener is. Blitz when Capela sets the screen and stay home on shooters for the most part so that the ball winds up in Capela's hands and he's the one that has to make the decision. Do everything you can to ensure that if Nene catches the ball he's as far away from the rim as possible. Either give Anderson stay-attached coverage when he slips to the three-point line or get the ball out of Harden's hands ASAP, send another man at Anderson on the catch, and hope that you can recover to the other shooters in time before they get the chance to fire away.
None of this is easy, and doing it while minimizing Leonard's direct involvement will be even more difficult. The only times it will make sense for Leonard to take the Harden matchup will be in close and late-game situations, where the time frame is condensed and the game is on the line. Anything more, let alone all 48 minutes, is just too much to ask. In order to stay free and fresh enough to carry the offense, Leonard is going to have to get a little defensive help from his friends.
Want to read more stories like this from VICE Sports? Subscribe to our daily newsletter.