Around 18 months ago, every day after lunch at the office I'd find myself falling into the same strange pattern. Procrastinating, I'd go online and automatically look up Stella Maxwell on Instagram and news sites. She was everywhere, making headlines worldwide as the 'it' model of the moment.
Stella and I went to school together, but lost touch during university. Behind the wall of glamour I was looking for that friend I'd known—searching for any parts of her new life I could recognise from our school days. And once I started, it was hard to drag myself away. Without realising it, 45 minutes would have slipped by. I'd get back to work, feeling flat and strange.
Stella has walked the runways for Marc Jacobs, Moschino, Versace, and Jeremy Scott, was number one on Maxim magazine's Hot List last year and rumours of her romances with Miley Cyrus and Kristen Stewart get splashed around the Daily Mail. Along with Kendall Jenner, Gigi Hadid and Bella Hadid, she is one of a new generation of Victoria's Secret Angels that have catapulted the Midwestern underwear label to the second most popular brand on Instagram, adored by girls and guys the world over.
Today, 2.3 million followers get daily access to Stella via Instagram. Unlike most fans across the globe, fate would have it that I befriended Stella in the days where style meant customising our navy blue ankle length uniform skirt.
Stella and I met at a strict Presbyterian all-girls high school in a leafy Wellington suburb in 2004, after she moved to New Zealand from Australia aged 14. She was sweet and likeable. She wasn't a typical 'hot' girl, hated having her photo taken, cracked goofy jokes and came on school camp to Mount Ruapehu. We'd often flick together through an air-freighted issue of Vogue in the school common room. She was naturally very petite and even back then she looked just like those girls in the magazine.
In those days all we had were Pavement, Remix and Fashion Quarterly to follow the fashion world. For the most part, models could be tucked away in bound covers at the end of the night, or limited to a dozen or so ripped pages, pasted onto our bedroom walls.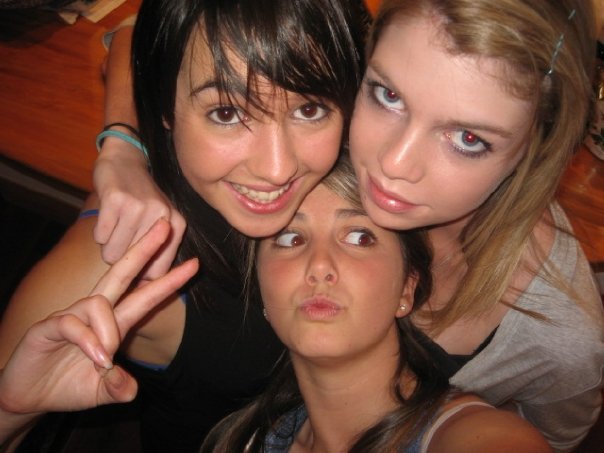 But between 2004 and 2007 the Internet changed. YouTube launched, Bebo rose and fell, closely followed by MySpace and Facebook was still just a personal networking site. Model fan sites existed, but were regarded as creepily hard-core, one step removed from porn.
While many models are at their peak between 15 and 20, by comparison Stella was relatively mature when she hit the big-time, only starting modelling in her late teens. In 2008, Stella went to study at Otago while I moved north to the University of Auckland. Everyone was impressed when she was scouted in a Dunedin street, but not surprised. Soon she was modelling for all our high school fashion heroes, from Luella to Alexander McQueen. But it wasn't until Victoria's Secret put her on their runway a couple of years ago that her fame really blew up at age 24.
Today, in the Instagram age, the cult of models is no longer driven by magazines. It is feed-scrolling, allowing for ever-refreshing content on our phones, which are always by our side. We check our phones 221 times a day. With more than 28 percent of adults online using Instagram, the show never stops. Its instantaneous and aspirational nature plus our lizard brains mean we struggle to separate whether the person is a supermodel or the girl next door, especially if she looks like she could be our bud IRL (or in my case, was). On finding myself down a rabbit hole of Stella's fan accounts and feeling increasingly moody, I wondered why this Instagram habit was so hard to kick.
Studies have shown a link between a number of strangers an Instagram user follows and the possibility that they experience depressive symptoms, such as fearfulness, loneliness or fatigue. Women experience more social media stress than men. I knew that the world of fashion was the result of many people getting paid to make a model look good. But it was still confusing. How can it be that one minute you were in the school photo standing side by side and the next she's on the cover of Vogue?
Stella represented on Instagram was not the Stella in my memory. She's a brand online, and she does it well. She's a photo, a moment. The model is a result of hairdressers, stylists, lighting professionals, makeup and Photoshop artists. It's others' hard work that gets her looking 'just so', even in our supposedly 'real' world of social media.
We haven't talked since Stella became truly well known, but I like to believe that her private side is still the same—a sweet and likeable friend, without bravado (she still stays in touch with one or two of our friends from school). But publicly, Stella is a success as a model because she is the part. Her account post-VS is as curated as those issues of Vogue we once pored over. In a way, it's no different to what we all do, showing off our highlights reel (except ours aren't photographed by Demarchelier).
Eventually I realised what I envied wasn't Stella's life or looks but the creative people she collaborated with—making me re-launch my blog The Residents as a creative outlet. I know Stella still exists, but after talking about my behaviour openly without judgement to someone I could trust (freebie work counselling can be handy), I found I suddenly stopped checking for updates on her life (well, I do check again, every now and then). And I am much happier. I could put the Angel back where she belonged in the context of my life now—far away in perfect digital heaven.