Seven years ago, when Justin Bieber still had side bangs and Bieber Fever had only just begun, the teenage pop star was performing one of his earliest shows in New York. His manager, Scooter Braun, remembers the venue being full to capacity, with packs of kids screaming from the crowd, yelling all the words to "Baby." For the most part, everything went off without a hitch.
And then, abruptly, something was not right. "All of a sudden, I see $2 bills flying through the air," Braun told me. "I look up and there was this guy on the balcony, just like, spraying Justin with $2 bills." This guy—pale and paunchy, with salt-and-pepper hair—seemed to have several decades on the rest of the audience, which was made up primarily of teenaged girls. He looked like he could've been someone's dad, if it was normal for dads to bring wads of cash to Justin Bieber shows and make it rain mid-performance.
Braun ran up to the balcony to confront him. "It's not that kind of show, buddy," he remembers saying. But a few minutes later, he saw more cash—$2 bills, specifically—floating down toward the stage. "I was like, 'Who is this guy?'" Braun remembers. After that show, Braun started noticing him everywhere—at hip hop shows, concerts, music festivals—always with a fat wad of $2 bills. If you've been to enough shows in the past decade, you've probably seen him, too. And not just in the crowd, but backstage, or even onstage. He shows up in Instagram photos with Drake and Big Sean and Meek Mill and Steve Aoki. And the $2 bills show up, too, raining down at a Jay Z concert or on Kim Kardashian's Snapchat story. Jaime Schultz, a San Francisco-based photographer, first saw him at Def Jam's 30th Anniversary Concert in 2014. "I was backstage getting my camera equipment set up and he walked by, said 'Hello, here's a $2 bill for good luck,' and walked away," Schultz told me. "I didn't find out who he was until years later when I met him again at a G-Eazy show," where he was onstage, throwing $2 bills into the crowd. The following year, photographer Allan Warren saw him backstage at PeterPalooza, the annual concert hosted by Hot 97's Peter Rosenberg. Warren described him as "this old white guy" strolling around like he owned the place, wearing a business suit with Yeezys. "I see him giving out money to Jaden Smith and A$AP Rocky and taking pictures," Warren told me. Eventually, he turned to his friend and asked, "Yo, who is that?" "Oh, that guy?" his friend replied. "That's Two Dollar Steve."
Some know Steve "Two Dollar" Reisman as a successful bankruptcy lawyer in New York, whose relationship to money revolves around rescuing clients from financial ruin. To others, he's a devoted father and husband, a patron of the arts, a Yankees fan; some know him as the guy at every Drake show, singing every word, never missing a beat. Steve Reisman is all of those things. But he is most of all an evangelist of the $2 bill, spreading the gospel of good luck by handing out the notes to almost everyone he crosses paths with.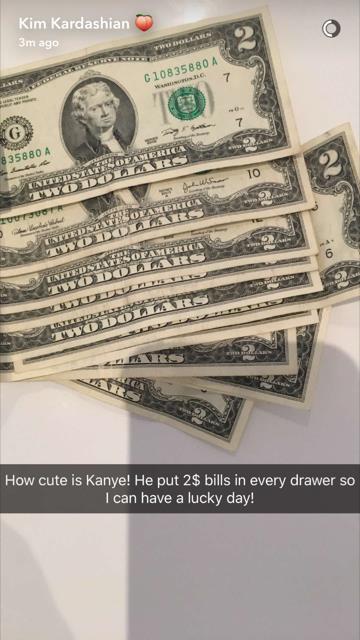 Steve Reisman grew up in Locust Valley, a sterile, WASPy section of Long Island. His parents weren't WASPs, but they were, in his words, "very wealthy" until he was 12, when his father got sick, stopped working, and was forced to declare bankruptcy. Almost instantly, they lost everything. The cars, the house, the living room furniture—the bank repossessed it all. Suddenly the poor kid on the block, Steve took his first job, frying apple pies at the local McDonald's. He resented it, but continued to hold down a job throughout high school, working in pizza places and delicatessens, until he enrolled at the State University of New York at Oneonta. He did well there, graduating magna cum laude and landing a spot in law school at St. John's University. By his third year, he'd secured a job offer from Curtis, Mallet-Prevost, Colt & Mosle LLP, a white shoe firm in New York City, where he's worked ever since. Slowly, Steve assembled the kind of life that can only be described as "the American dream": He got married, bought a house back in Long Island, had three kids. He built up his firm's burgeoning bankruptcy practice, eventually making partner and becoming co-chair of the Restructuring and Insolvency Group. When talking about this now—how he clawed his way back up the proverbial economic ladder, from working at McDonald's to making partner at the firm—he says he feels lucky, but also that "luck is the residue of hard work." Steve told me that one day, about a decade ago, he was reflecting on this in the back of a cab—thinking about "how blessed I am with life, with family and friends, with being a partner at a law firm and making good money." He wished he could pass that feeling onto someone else, to share a little piece of his good fortune. When he stepped out, the taxi driver gave him a $2 bill with his change. It felt like a sign. "I went to the bank, I took $20, and I bought ten $2 bills," he told me. "They had to find them in the back, but they gave them to me. And then the next day I gave out a $2." At first, it was an experiment. He left one behind on a subway seat one day. "When I got up, the woman next to me said, 'Oh, you dropped this,'" he remembers, "and I said, 'No, that's for you. For good luck.'" And so he started leaving them everywhere: as an extra tip for waiters and taxi drivers and bathroom attendants, on airplanes and at hockey games, even handing them to strangers he passed on the street. Every time, he says, peoples' faces lit up with some combination of surprise and delight—because finding a $1 or a $5 or even a $20 bill might be auspicious, but a $2 bill is magic. It transcends currency. It's good luck.
The funny thing about spreading good luck, Steve told me, is that it's addictive. Once you start making people feel good, it's hard to stop. And so he started bringing the $2s with him to sports games, or to music festivals, or when he took his kids to concerts. Steve told me he didn't have expectations when he started handing out the bills at shows—he did it for the same reasons he handed them to strangers on the subway. If he happened to have VIP passes and ran into an artist backstage or found himself at a cocktail party with someone famous, he'd give them one, too. That, he says, is how he managed to get $2 bills in the hands of people like Barbara Streisand and Meghan Trainor, Serena Williams and Derek Jeter, Warren Buffet and Bill Clinton.
One night, several years ago, when Steve was rapping along in the front row of a Drake concert, he found Drake staring straight back at him. "I was about to fuck the words up, and you knew them," Drake can be heard saying in a video from the concert that Steve showed me. Before he could make his way offstage, Steve says, he handed him a $2 bill.
There are around one billion $2 bills out there in the world—nearly as many as there are $50 bills. But because people believe them to be special, and maybe because the $2s strike a nostalgic nerve, reminding people of when their grandparents tucked them into birthday cards or when the Tooth Fairy left one behind in exchange for a lost tooth, people don't spend them as much. "People think they're rare so when they get one, they hoard it," said John Bennardo, a man so fascinated by $2 bills that he made a documentary about them. "By hoarding it they are not in circulation, which furthers the perception that they are rare."
Bennardo is something of an anthropologist of the $2 bill mythology. He's studied how they came to be associated with luck and good fortune, how they've acted as social glue to bring people together, and how a small number of people are fighting to reintroduce them as currency. People like Heather McCabe, who writes the Two Buckaroo blog about her attempts to "revitalize the $2 bill through everyday use" in Brooklyn, and Matthew Zaklad, who uses $2s as often as he can—including, he says, paying his entire rent in $2 bills. To Bennardo, Steve's project got right to the heart of what it means to receive a $2 bill—less like change, more a gift. "Literally, he is giving people money," Bennardo told me, "but figuratively, he's not giving anybody a dime. He's giving them a special thing that people assign some rarity to or some unique significance to, whether it's nostalgia, or even luck. I guarantee most of the people that get a $2 bill from him aren't spending it."
Steve agrees that's probably true—even Bill Clinton, he says, still keeps the $2 bills he's given him over the years. Poke around social media for long enough and you'll find a litany of celebrities who have kept their $2s, too, most of which can be traced back to Steve directly. Not that Steve gives them out hoping they'll show up on a rapper's Snapchat; he does it because he loves watching people freak out when they get the $2s, and that's true whether the recipient is famous or not.
"You give a $2 bill to a billionaire and you give a $2 bill to a president and you give a $2 bill to a famous artist and you give a $2 bill to a taxi driver—pretty much everybody has the same reaction to it," Steve told me. "They feel lucky and special."
Last October, Steve called me to ask if I'd seen a recent Instagram photo Drake posted, of him throwing up $2 bills with the caption: "Steve Reisman iconic." It's not the first time $2 bills have showed up on Drake's feed, or where you can find traces of Steve in Drake's life. In March 2016, he posted a photo from his studio, a stack of $2 bills sticking out of a brass sculpture of hands making the symbol for The Six (a gift from Steve, naturally). Three years before that, during the promotional tour for his album "Nothing Was the Same," Drake handed out $2 bills at a signing. In the photos from Drake's most recent birthday party in Los Angeles, you can see Taylor Swift posing with a crisp $2 bill tucked into her top. But the real kicker was last Halloween, when Drake posted an Instagram of himself wearing mom jeans, a suit jacket, and a grey wig, a stack of $2 bills in hand. The caption read: "2 Dollar Steve in the building."
---
When I first met Steve last year, I was charmed but suspicious. He'd told me—but asked me not to publish—the amount of $2 bills he picks up from the bank each month. The sum is more than the average monthly rent in New York City. It's enough that sometimes, his bank will call him to confirm the amount of cash he's withdrawing, just to make sure it isn't fraud. Nobody spends that kind of cash without wanting something in return—power, fame, glory.
And yet, if Steve's using the bills to get famous, he's done a terrible job. It's been more than ten years since he first started shelling out the $2s and people barely recognize him. He'll throw stacks from the stage at concerts every now and then, but when he does, people are mostly confused; the rest of the time, he hangs in the wings, where no one can see him. He doesn't have a presence on social media, despite the regular dose of $2 bill-related content that comes from his celebrity friends. And besides the length of time he spoke to me, he doesn't give interviews as a rule.
Scooter Braun, who now considers Steve a good friend, told me that in the years they've known each other Steve's always been this way. "Steve has never asked me for a backstage pass; he's never asked me for tickets. He's never asked me for a meet and greet," Braun told me. "Yet, I always get a random email from Steve when something happens in my career, when I had a child, when he sees something with my family, to say how proud he is." And that, he says, is how a middle-aged bankruptcy lawyer becomes homies with Drake. "It's easy to become friends with people when you ask nothing of them."
Steve himself has told me this—that he specifically doesn't deal with contract law or legal issues in the music industry, because he doesn't want anything from the artists other than to enjoy their music and their company. "If you represent them," he told me, "it takes away from that."
I wondered if, in spite of that, his reputation followed him to his day job. So I asked John Bringardner, who met Steve for the first time last fall at a big law firm party in Manhattan. Bringardner is an editor for Debtwire, a niche financial news service that covers bankruptcy cases, so he's hung out with plenty of corporate bankruptcy lawyers before—a group he describes as "an interchangeable cast of middle aged white men in suits." Steve, he said, is different. "I knew about his legend—my reporters and I had often discussed it—but we couldn't quite believe what we'd heard," Bringardner told me. "Corporate lawyers work around the clock. At what point does one of them, a partner at a top firm, have time to duck out for a Drake show, let alone learn all his lyrics and wander around backstage? Are $2 bills that magical?" At the firm party, when Bringardner had his fill of schmoozing middle-aged men in suits, he made his way to the coat check, where he found Steve chumming it up and handing out $2 bills to the staff—who, he says, were "eating it up."
"It was the only way I recognized him, and I told him as much," Bringardner said, referring to the $2s. "Then he looked down at his feet, pulled up his gray suit pants a few inches, and said, 'Yeah, but do you know any other lawyer here wearing Yeezys?'"
Steve's 23-year-old son, Noah, can hardly remember a time when his dad wasn't passing out the $2 bills, or hanging out with celebrities. But recently, he says it's become "a phenomenon"—which seems like an understated way of saying "Drake dressed up as my dad last Halloween." "My friends, when they hear about them, all want $2 bills," he told me. "They'll talk about, like, 'Have you gotten the $2 bill from Noah's dad? Have you met Noah's dad?' He's become this mythological figure for people who haven't met him yet." Noah told me it's given him unbelievable access to concerts and parties, where he'll often go as his dad's plus-one. But he says that Steve usually just feels like a normal dad—one who just happens to have a lot of cash, and who cares a lot about talking to strangers. A few weeks ago, Noah sent me an email with a link to this video tweet from Hugh Jackman, who ran into Steve at a Yankees game. Noah says his dad gave everyone in their section a $2 bill; you can see Steve milling around in the video, behind the bill Jackman holds up. Jackman refers to Steve in the tweet as a "stranger."
I asked Steve if it ever bothers him to know that he's given out thousands (or, in his words, "thousands upon thousands upon thousands") of $2 bills without people knowing they came from him. "Look," he told me, "everyone likes a little bit of being associated with good things and good people. But to me, I try and look at it in a bigger way that the artist is trying to have an impact on the world to make it a better place."
That's why he says he'd rather give Drake, or Jay Z, or 2 Chainz, or any other big-name artist a huge wad of $2 bills and tell them to hand them out than do it himself. "When you get a $2 bill from me, it makes you have a great day. Just imagine what your day would be like if you're walking down the street and you see Hov and Hov hands you a $2 bill," Steve told me. "Think of the day you would have if Jay Z gave you a $2 bill. It would be insane. Like, you would never spend that $2 bill. You would feel so lucky." Even Braun, for example, has started to distribute $2 bills when he's at festivals or concerts. "When [Steve] sees me, he gives me a stack of $2 bills. He's like, 'Now you need to pass them out with me and make people happy.' And I have. I've gone out, I've walked up to people, said, 'Hey, here's a $2 bill,' and they always get excited."
That alone seems like proof that Steve's philosophy works. It doesn't prove that the $2 bills have impacted humanity in any tangible way, or solved any global crises, or even that one man with cash to blow could change the world with $2 bills—but it does show that mean something to people, enough that they keep them and feel a little bit better every time they see them.
Schultz, the photographer who met Steve at the Def Jam concert, told me she will always keep the $2 bill she got from Steve, that it feels to her like a reminder of positivity in this world. Another woman, Jennifer Keene, who met Steve through Samsung's White Glove program, told me she's kept the $2 bill Steve gave to her clipped to her refrigerator for years. "I see it several times each day," she told me, "and it's a good reminder of how easy it is to make someone smile." Even Noah, Steve's son, who presumably has access to more $2 bills than almost anyone but Steve, says there's something special about keeping the ones his dad gave him. "There's certainly times where I've felt like, you know, it's going to be OK, from just having that bill with me," he said. "I know I have to work, but it reminds me of this philosophy that good luck itself is the residue of hard work."
I've kept my own $2 bill from Steve, too, since he first gave me one a year ago. Every time I open my wallet, I feel a little bit luckier.
Follow Arielle Pardes on Twitter.