This article originally appeared on VICE Indonesia.
When Rashidah was 12 years old, a mob of hardline Buddhists set fire to her Rohingya village during a wave of anti-Muslim violence. Over the next three years, the girl was sold into slavery and raped by human traffickers. Rashidah, who is now 15 and already a mother, has been the victim of an under-reported issue plaguing Malaysia's sizable Rohingya population: the sale of young girls into forced marriages.
"I never thought I would be married this way," said Rashida when we met a month ago. "But it's not like I had a choice."
Malaysia is home to an estimated 90,000 Rohingya asylum seekers, but according to experts, it's difficult to determine the true size of the population. The UN refugee agency in Kuala Lumpur has registered 53,896 Rohingya refugees, but the number of undocumented Rohingya is nearly double those who are currently enrolled in UNHCR's refugee program.
Rendered stateless by the Myanmar government, which considers them Bangladeshi migrants, and confined to squalid settlements in what is effectively an apartheid state, the Rohingya people are among the most persecuted people on Earth. In 2012, a fresh wave of anti-Muslim violence in Myanmar's Rakhine State displaced as many as 140,000 people and set into motion what would grow into a regional humanitarian crisis. During the first three months of 2015, as many as 25,000 Rohingya, as well as some Bangladeshi migrants, boarded overcrowded boats to chance the journey to Malaysia. Hundreds died on the way.
---
Related: Watch Left for Dead: Myanmar's Muslim Minority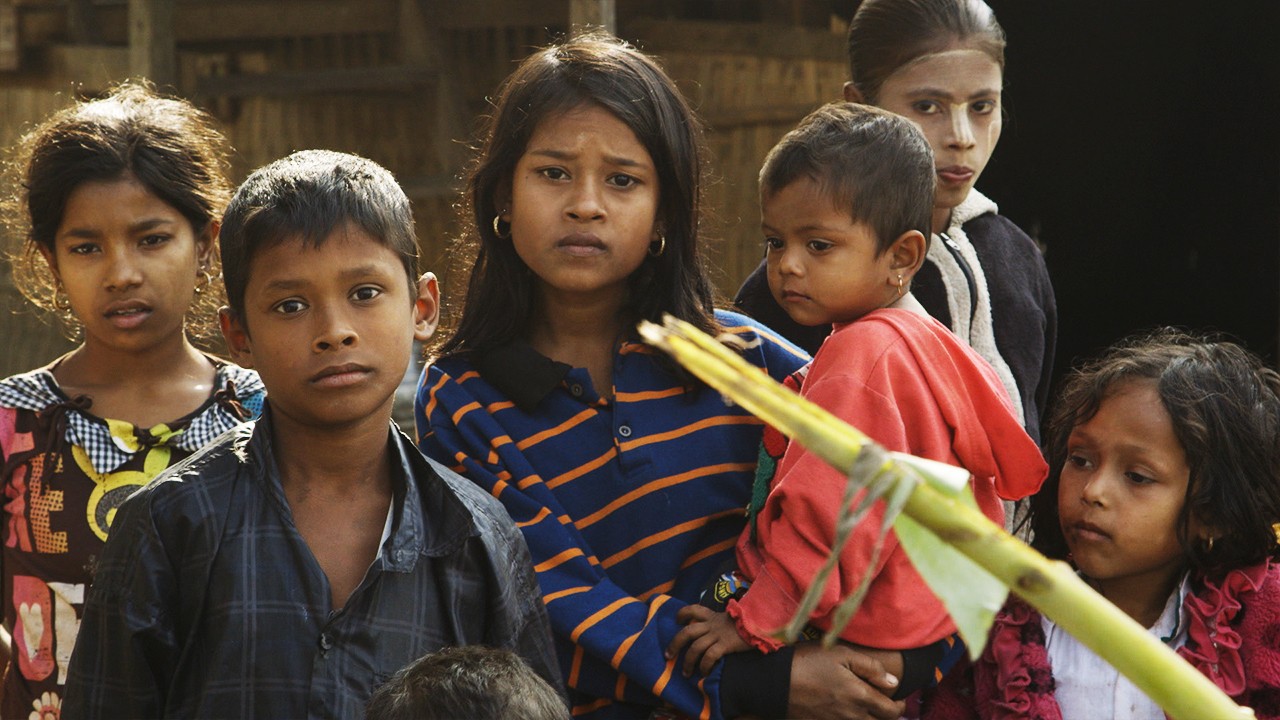 In Malaysia, the demographics of the Rohingya population skews heavily male. The situation created a troubling demand for young Rohingya women in places like Ampang—a suburban neighborhood on the edge of Kuala Lumpur, with a large population of Rohingya men. Human traffickers quickly targeted young girls in Rohingya camps in Myanmar, often offering them safe journey to Malaysia for a fraction of the normal cost. But once they set sail, the terms of the agreement would often change. Suddenly, the girls owed more than $1,000 and those who couldn't pay would be held in jungle camps. Many were raped by their traffickers. Others were sold into marriages in Malaysia.
"We know women have been recruited by brokers in Rakhine State either for free or at a very reduced cost because their traffickers were anticipating that they could charge men in Malaysia a lot higher fee," explained Amy Smith, of Fortify Rights—a nonprofit that documents human rights abuses in Southeast Asia.
"I never thought I would be married this way, but it's not like I had a choice." — Rashidah
It's difficult to determine exactly how many women have been sold into forced marriages, experts said. Arranged marriages are common in Rohingya society, and the custom of a man paying his bride's way to Malaysia is frequently practiced. It's a tradition that feels similar to a forced marriage, but while the women set up on arranged marriages have had some previous connection with their spouse and the approval of their families, the victims of forced marriages have had no prior contact with their husband and no intentions of getting married when they set out from Myanmar.
"'Forced marriage' is a slightly loaded term," said Richard Towle, the UNHCR country representative for Malaysia. "The fact that a marriage is arranged by parents doesn't make it a forced marriage. We have a lot of arranged marriages. We hear of a lot of children being sent here to marry men on an arranged basis. We sometimes hear stories where there was an element of money changing hand and coercion, so there is every case across the spectrum."
Sharifah Shakirah, a Rohingya woman who works with the victims of forced marriages in Malaysia, said the situation is the symptom of a cruel system. Human traffickers routinely demand large sums of cash for passage to Malaysia, and some men, who are willing to pay for a bride in a place where few eligible Rohingya women exist, are supporting this extortion by paying the traffickers' fees. Shakirah works with a loose coalition of Rohingya men and women to try to convince others that this practice is wrong, but it's a difficult conversation—especially among men, who recently arrived and have little education.
And for the women who refuse to accept the marriages, their future can look even worse: "There's a lot unfortunate girls here," she said. "The agents, they sell them into prostitution and then they have to work in bars and clubs. Some traffickers use these girls as beggars. They cut their hands or gouge their eyes out to incite sympathy. I've seen it happen so many times. I cannot explain to you how difficult life is for these girls," sighed Shakirah.
The arrival of new Rohingya refugees has all but dropped off after the grim discovery of more than 100 shallow graves near the Thai-Malaysian border. Efforts by Myanmar's new government, led by Aung San Suu Kyi's National League for Democracy (NLD), to address the Rohingya situation initially inspired hope among some Rohingya, and further anger from Burmese nationalists. Former United Nations head Kofi Annan is now leading an NLD-approved investigation into communal violence in Rakhine State—a development many see as a step by the new government toward ending, what one study called, a system of state-sponsored genocide.
Yet, recent violence and allegations of rape by soldiers in Rakhine State have raised fresh fears over a resurgence of the kind of brutal conditions common before Suu Kyi's NLD party won the election. A path to lasting peace still seems distant.
Today, tens of thousands of stateless Rohingya people remain trapped in limbo in Malaysia—unable to legally work or return home, while facing years-long waits for potential resettlement by UNHCR. And hidden inside the Rohingya population are women like Rashidah, teenagers who have been sold into marriages without their consent by human traffickers. These women, poor, unable to speak English or Bahasa Malay, and afraid of law enforcement, are rendered all but invisible in Malaysia.
"Some traffickers use these girls as beggars. They cut their hands or gouge their eyes out to incite sympathy. I've seen it happen so many times. I cannot explain to you how difficult life is for these girls," – Sharifah Shakirah
Rashidah, whose last name is being withheld by VICE Indonesia to protect her identity, met with me at a small Islamic boarding school on the outskirts of Kuala Lumpur. Her green, floral-patterned sari and button-down blouse were stained with specks of white paint after spending the afternoon repainting the school's walls—one of the many small jobs that keep her and her family afloat.
Her child, a chubby young boy, was resting on the floor. Her husband relaxed on the other side of the small school—a simple, but crowded space housed on a single floor of blighted low-rise shophouse. Rashida met Aziz at a local market. He was friendly and from the same region of Rakhine State. At the time, Rashidah was in the middle of one of the darkest periods of her life. She had just arrived in Kuala Lumpur after spending months imprisoned by Thai human traffickers in a jungle camp on the border of Malaysia and Thailand. She was alone, broke, and the youngest girl at the camp—a dangerous combination.
The traffickers raped her multiple times. When she fell pregnant, they contacted a man in Malaysia and sold her into debt bondage. The man, a Rohingya resident of Kuala Lumpur identified as Islam, paid the traffickers about $700 and brought Rashidah to his home. Islam told Rashidah she would have to care for his children and clean his house to pay off the debt. She was forced to live in a small shed behind his home.
When he noticed she was pregnant, he began to look for a doctor to abort the fetus, Rashidah said. But a local ustad convinced him to allow her to have the child. The man then quickly began to search for another man willing to pay off her debt to take her as a bride.
When Aziz heard of Rashidah's situation, he promised to pay off her debt if she would become his wife. It was a complex proposal for Rashidah. She admits that if things were different she wouldn't have gotten married. But at the time she was alone, trapped in debt bondage, and pregnant with the child of a human trafficker who'd raped her. Here was a man who appeared to be kind, and was willing to save her from being sold into prostitution if she refused the marriage.
"If my parents were still with me, I could have gotten married to an educated person or a person who had some money to support me," Rashidah said. "But at that moment I didn't have enough money to support myself and no one to protect me."
Rashida says her husband is very caring and that he treats her well. But if she had a chance to do it all over again, she would have never left Myanmar. "If I knew all of these things would happen, I wouldn't have come here," Rashidah said. "I think Myanmar was better for me."