On the left, CEO of Facebook Mark Zuckerberg on October 28, 2020 in Washington, DC. (Photo by MICHAEL REYNOLDS/POOL/AFP via Getty Images) On the right, a photo of the 8-foot-tall cutout of Zuckerberg in front of Congress. (SumOfUs)

Unraveling viral disinformation and explaining where it came from, the harm it's causing, and what we should do about it.
On Thursday afternoon Mark Zuckerberg will once again face questions from Congress about how his platform allegedly helped foment the Capitol insurrection on January 6 by failing to stop disinformation spread by far-right extremists.
But while Zuckerberg will be answering questions remotely from his office in Silicon Valley, a version of him will be present on Capitol Hill.
A  7-foot-tall cardboard cutout of Zuckerberg dressed as the QAnon Shaman is standing outside of Congress as part of a publicity stunt organized by consumer activist group SumOfUs, which is trying to highlight the role Facebook and other tech platforms played in the Capitol riots.
The hearing Thursday in front of the House Energy and Commerce Committee—titled "Disinformation Nation: Social Media's Role in Promoting Extremism and Misinformation"—will focus on how anti-vaxx disinformation continues to spread unchecked on these platforms and how extremist views thrive despite promises by the companies to rein in their ability to spread.
But Zuckerberg appears to want to steer the conversation away from Facebook's role in these issues and instead focus on how Washington can take on the responsibility of governing its platform. Zuckerberg will ask lawmakers to introduce regulations to force all platforms to put in place robust systems to police problematic content—and if that happens, then platforms like his get a free pass on content that slips through the cracks.
Based on prepared remarks released ahead of the hearing, Zuckerberg will try to focus attention away from the Capitol insurrection, and towards regulations, in particular Section 230 of the Communications Decency Act, which grants internet platforms immunity from prosecution for any illegal content their users post.
"Instead of being granted immunity, platforms should be required to demonstrate that they have systems in place for identifying unlawful content and removing it," Zuckerberg's statement reads.   
While this may sound like Zuckerberg wants the immunity clause of Section 230 done away with, that is absolutely not the case.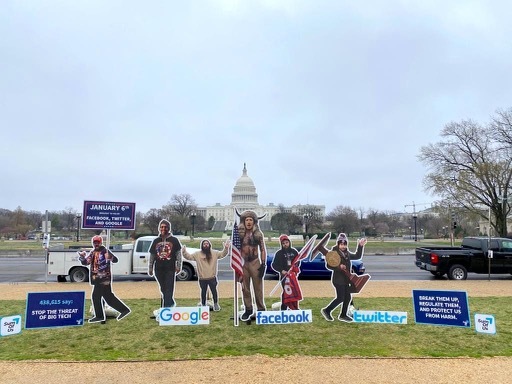 "Platforms should not be held liable if a particular piece of content evades its detection—that would be impractical for platforms with billions of posts per day—but they should be required to have adequate systems in place to address unlawful content," Zuckerberg's written testimony reads..
To an extent, Facebook already does.
The company has a complex system of checks and balances to police content, including an ever-changing and byzantine content moderation bible that tens of thousands of moderators use every day to try to decipher what Facebook allows and doesn't allow on its platform.
It has also invested huge sums in an all-star artificial intelligence team that's working to create AI to automatically detect everything from copyrighted material to hate speech to child abuse imagery, and female nipples before the posts make it into people's feeds.
But despite these efforts, Facebook has ultimately failed to police its platform, and no matter what its executives say, the site today is still filled with hate speech and disinformation used by bad actors to organize and recruit.
Facebook seems to have played a significant role in organizing the Stop the Steal rallies that led up to the Capitol riot as well as the Jan. 6 insurrection itself. Of the more than 200 charging documents the Department of Justice has filed against people involved in those events, 73 mention Facebook, more than any other social network, Forbes reported in February. And internal Facebook documents obtained by the Wall Street Journal show Facebook knew it had major issues with groups spewing hate speech five months before the Capitol riot.
Despite this, Facebook COO Sheryl Sandberg attempted to downplay Facebook's role in the days after the riots, saying, "These events were largely organized on platforms that don't have our abilities to stop hate, and don't have our standards and don't have our transparency."
For example, on Wednesday BuzzFeed revealed that far-right militias are still using the platform to recruit new members, just weeks after the Capitol riots were in part organized on Facebook.
More than 200 militia groups were still active on Facebook as of March 18, according to a new report published Wednesday by the Tech Transparency Project (TTP), a watchdog organization.
Zuckerberg will argue Thursday that some bad content will always make it past Facebook's sophisticated gatekeeper system because bad actors are always finding innovative and obscure ways to circumvent the rules.
But that argument falls apart somewhat when you realize that 140 of the pages mentioned in TTP's report had the word "militia" in their title.

And there have been other damning indictments of Facebook's recent efforts to stop the spread of disinformation.
Facebook tweaked its algorithm in October in an attempt to limit the amount of misinformation being shared before the 2020 election. But it could have prevented many billions more views if it had made that change earlier, according to a report from digital watchdog group Avaaz.
That report slams the platform for "creating the conditions that swept America down the dark path from election to insurrection."
And a report by SumOfUs, the advocacy group that put the cardboard cutout of Zuckerberg and other Tech CEOs in front of Congress on Thursday, looked at how the online platforms had failed to stem the tide of election disinformation that ultimately led to the Capitol violence.
Watchdog groups want lawmakers to launch an official investigation into the role tech companies played in aiding and abetting the January 6 insurrection. Activists specifically want Congress to look at the role Facebook's algorithmic amplification played in boosting electoral disinformation. 
"It's no shocker that Facebook failed to tell us about how its technology is being used to manipulate voters and spread harmful misinformation," Emma Ruby-Sachs, executive director of SumOf Us, said in a statement. "How many times are we going to be fooled by these profit-hungry monopolies before Congress finally acts?"