What is living in London like? Hell. Here's proof, beyond all doubt, that renting in London is a nightmare.
What is it? If you squint and look at it all in a wider context, we're doomed. In isolation, the crises are just news; pulled together, they are a pattern. 'Look to the supply chains,' an old witch once told me, 'once they crumble, all will fall'. And lo: the Ever Given wedged sideways in the Suez canal, the Brexit vote that led to the HGV driver shortage which led to a self-inflicted petrol crisis, bare shelves, slain alpacas, forest fires, dust clouds, Facebook outage, hospital overflows, the pandemic, water droplets falling from the icebergs, the imminent threat of both deserts and floods. There's no way any of us will live a full lifespan as dictated by the outer constraints of our bodies. We will all die by the many hands of man, scorched from the earth long before we are ready to leave it—
Where is it? Oh, right, sorry, yes: Cricklewood.
What is there to do locally? This is the problem, see: tectonic shifts in the landscape of the planet spell out an imminent doomsday we have barely months to avoid, but, because we are humans, because we are repelled by the sheer idea of empathy and teamwork, fundamentally we plod on with the grey little lives society has carved out for us. I never asked for society to be made in this image. If you were to build society, now, from scratch, you would not make it in this image. We have easy access to technology that would have been dizzying only 20 years ago! We have a real chance to spearhead a clean energy revolution! We are constantly plugged in to a network of all of the information currently available to mankind! And what do we do in this land of hyper-opportunity we have wrought? What do we do in the society we have decided on? We pay council tax. We commute. We do big shops at Tesco. We give Ant and Dec another National Television Award. 
Alright, how much are they asking? The only takeaway from this is we, as a species, love the sludge of misery. We crave it. We desire it. We would never let it go. There is no other explanation for choosing to live like this. And fundamentally, in amongst the panic, a beige humming constant: The London Rental Property Market. Here is a room where the sofa touches both the bed and the kitchen unit, and it costs £800-a-month. The planet is dying but you still have to pay this amount of money to live on it. Society is terminally unwell. This room in Cricklewood proves it. 
I once went to a hotel in Ibiza that was very well-designed. Well, not exactly well-designed: the balcony leaning out of the back of my room faced directly into a fairly gloomy block of residential flats, their alcoves and stairways covered in a thin veil of dirty sand that had blustered in from the beach – nearby, but not nearby enough in a way to bring joy to the surrounding postcode; picturesque, but not so picturesque as to bother to put a beach bar on it; more a sort of basin-shaped curve of beach that led to a frigid sea, nowhere within a square mile to buy a bucket or spade, no ice cream, no flying birds – and so, due to a quirk of either the equatorial line or the direction of the sun as it coasted over the horizon each afternoon or whatever who cares, both buildings endeavoured to block out each others' light. In the middle, where my balcony was, a single solid skyscraper-sized wedge of shadow fell at all hours of the day and night. That bit, I will admit, was not well-designed. But the interior of my room overcame the struggles of the architecture surrounding it: the bedroom, though small, had a single airy window that let in a cheerful amount of light; without room for a proper wardrobe, a couple of clever rails and some shelves for neatly folding t-shirts onto. The bathroom, a fully-tiled wetroom that I later puked an entire bottle of wine over, was similarly considered – it wasn't just a small ugly room installed in a cupboard as an afterthought, but a pleasant enough space I could behold myself in the mirror in while I did my hair and decided whether wearing a shirt instead of a t-shirt would be 'a bit much'. The central space, a sort of kitchen–living room hybrid, divided the small space up cleverly, and a small wall-mounted TV and a slender kitchen island to lean on finished the job.
The point about the Ibiza hotel I stayed in once – which I walked to, from the airport, for some reason, because I thought 'it would be nice' to do the two-mile stretch after an hour-and-a-half cramped up on the plane, but then ended up walking alongside a motorway in the blurry yellow light of the lamppost night, the roar of insects and continental three-doors surrounding me, until I ended up trying to take a shortcut over a hill, pitch black, and some dogs distantly started barking at me and then a man came out, shouting, before menacingly revving his engine in the vague direction of me, in loafers, trying to navigate a hill studded with spiky trees, and I suppose moral is get a taxi next time – but the point about the Ibiza hotel is: with forethought, with planning, with a slightly curious mind and a mild understanding of how humans live when they lock the doors behind them, it is technically possible to design a small space in a way that is nice to exist in. This message has never made it from the Balearics to Britain. Possibly, with the crisis looming down on us ever closer, it never will.
I mean look at this shit, for instance:
In the first: why is there a sofa in this room? What compels London landlords to cram unnecessary furniture into already small spaces? 'You know what this tiny flat that barely has any floorspace in it needs?' the London landlord thinks to themselves, the little rat that lives inside their skull working overtime to make their fingers and thumbs move enough to count their earnings every month, lips softly moving as they do, 'This little shithole little nothing flat needs a fucking one-seater sofa – a thing that exists, apparently! – and an even smaller coffee table in front of it. That is a good use of the two or three square feet that divide the kitchen and the bed area. I'll put it here, where whoever lives here can trip entirely over the fucking thing anywhere between three and four times a day. This is a useful service I am providing. The planet definitely wouldn't be better off if I was dead, and this proves it.'
But for now we need to discount the very small sofa and even smaller coffee table (have you ever tried to get a piece of unnecessary furniture removed from a flat once a landlord has left it there, by the way? It's four e-mails and two calls to a lettings agent, who after a ten-day period of phoning you three times a day every day just to make sure you were filling forms in and 'good to send the deposit, yeah?' now pretends you simply don't exist now the contract's signed, and also they don't really understand the problem – "So the little table's getting in the way? You want them to… take the little table out of the property and put it in storage or something?" – and they have e-mailed the landlord and you have e-mailed the landlord and eventually, six weeks later, a text from an unknown number arrives at 6:53AM (for some reason?) just saying 'table   stay s') but we need to discount the unnecessary furniture for now because, even without the trip hazards left in this flat, the flat is still beholden to the insane practical and aesthetic decisions made by landlords all over this city.
There is another chair and table in the wardrobe, for example (why would you need this extra chair and table? Crucially, where would you put this chair and table in the flat should you have friends over? The wardrobe cannot accommodate the other unnecessary chair and table, let alone a second one. Essentially, if someone comes to your house and wants to sit down and eat a meal, you will have to set them up with your wardrobe chair and table in your bathroom. 'That's normal' — a landlord, somewhere in Cricklewood).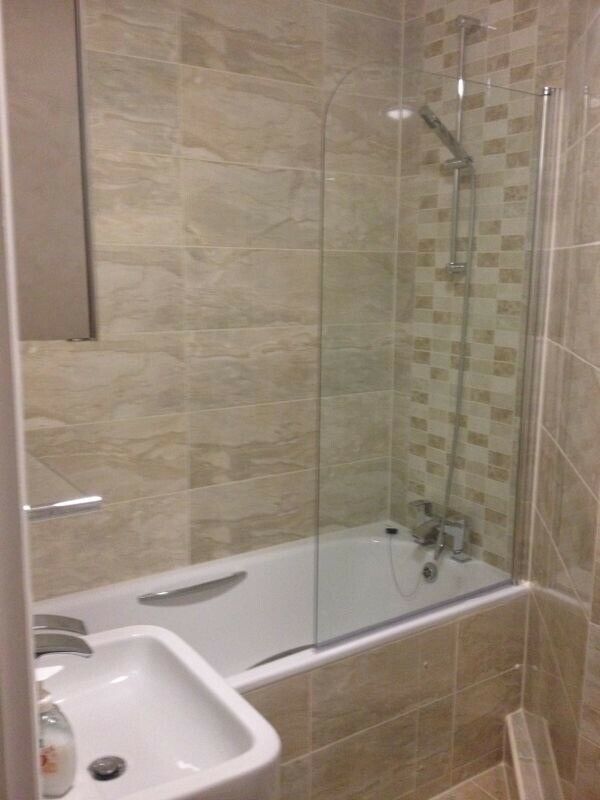 There are unnecessary doors in front of the washing machine and fridge (if you want to open the washing machine, in this flat, you have to move your sofa, move your coffee table, open a kitchen cupboard door, and then open your washing machine door. Presumably, your entire flat is in disarray now. There is no point moving it back until once the entire load of laundry is completed). There is a canvas print of a phonebox. There is an alarming half-hob installed in the kitchen. There is a microwave under the sink, which I think if you asked a ten-year-old who had just done their first 'dangers of electricity' lesson at school whether that was a good idea, they would dab hard and say "no". The bathroom might look fine enough, but it is shared with another household, and once you realise this small bathroom is actually two people's bathrooms, it becomes less alluring.
And then, outside, on a miserable piece of astroturf demarcated by a looming piece of trellis, and next to your own electricity metre, the glass table and two dirty deckchairs that make up your outdoor area, which is so depressing it would honestly be better if they pretended it wasn't there rather than pretending it is a nice feature. £800 a month, remember. In Cricklewood.
But listen, I'm being a cynic. It's all the petrol crises and empty shelves and lack of guillotines affecting my mood, and I am sorry about it. If you ever get down, here, in Cricklewood, in your bed next to your sofa next to your kitchen, if you ever get depressed just walk through the hallway that leads through one person's flat into your flat, and read the inspiring words stencilled on the neutrally-painted wall: 'WAKE UP every morning with the thought that something WONDERFUL is going to happen'. Yes, like every landlord in the city suddenly dies by means of their brains exploding. It's the only way we'll achieve parity before the shelves finally run empty and we have to kill each other with melee weapons in a bid to survive just long enough to die.