Colin Meads. Image via Wikimedia Commons.
I never met Colin Meads. The only time I saw him in person, he had his back to me at the Taupo Cobb & Co. I was no older than six or seven then, and was halfway through a bowl of Cobb Crunchies when it happened.
My mum pointed him out, as he paid for his meal. The Pinetree turned and strode towards the door. I marvelled at his sheer size, a vision now exaggerated through the fog of memory.
Physically, Sir Colin Meads—All Black legend and Kiwi cultural icon—did not die a giant of that man, real or imagined, when he passed away last Sunday. Suffering from pancreatic cancer, his last year saw him grow frail. His face thinned, and eyes seemed to hollow. Even his old bloke's beer gut had shrunk. In his last public appearance, at the dedication of a statue of him in Te Kuiti in June, the 81-year-old's suit seemed too big. We all knew the end was coming.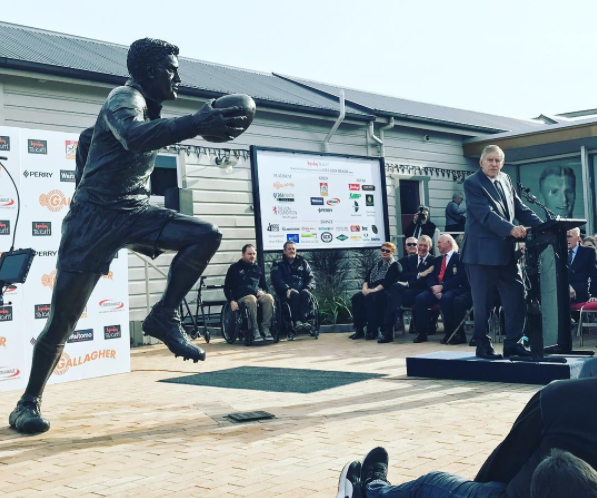 Plenty of memories of his glory days on the rugby paddock have been relived this week. Plenty of the records reconsidered. Plenty of clubroom stories of the Tree have re-emerged, too. They all felt real and warm, but remote at the same time.
I grew up in Meads' rural New Zealand. Emerging from the removal of agricultural subsidies by David Lange and the havoc of Cyclone Bola in the late 80s and early 90s, it was a place where the calendar revolved around shearing, crutching, docking, making a silage stack, feeding out, moving stock breaks—and watching the All Blacks on Saturday afternoons.
As much as I am disconnected from rugby now, I loved it back then. When Jonah Lomu died in November 2015, a wave of nostalgia swept over me, taking me back to that passion I once had.
Two years ago, Jonah's death felt different to the Pinetree's now. Jonah was a true flesh and bone childhood hero, and, in many ways, a real figure of a new New Zealand. Brown-skinned. Smiling. Grateful. Unstoppable.
Instead, Meads existed in black and white. Though I loved the stories my Dad and our old Winston McCarthy tour-commentary vinyls told about him, he was really just a ghost to me, a shadow of an old Aotearoa.
Legendary Kiwi sportswriter Ron Palenski once called Meads "Sir Ed in rugby boots". The comparison is a good one; both were laconic, uncomplaining blokes with calloused hands and an inexhaustible work ethic.
The New Zealand of Sir Ed and the Pinetree has transformed now, and some of the values they coveted, especially that no-frills stoic-ness, seem on the way out, too.
The New Zealand of Sir Ed and the Pinetree has transformed now, and some of the values they coveted, especially that no-frills stoic-ness, seem on the way out, too.
Given his incredibly charitable life and incredible worldly achievements, Sir Ed feels exempt from our judgments today. Meads' was a philanthropist, too. His involvement in the IHC Calf Scheme has helped raise around $1 million a year for Kiwis with intellectual disabilities, while he has often donated speaking fees to the same organisation.
Still, Sir Colin holds pride of place in the great Kiwi rugby monolith. Plenty of bad comes with that good.
Through Meads' actions and deeds back in the 50s, 60s, and 70s—both good and bad—he helped foster the rarefied air rugby has long been allowed to breathe in our country, as well as the entitled macho culture that its players, due to membership in that club, continue with through to today.
Just ask Aaron Smith, Losi Filipo, or the Waikato Chiefs.
Provincial Finance used Meads' stature when they got him to endorse their company in the early 2000s. His television catch-phrase was "solid as, I'd say", yet Provincial Finance collapsed in 2006, owing Kiwi investors, mostly older Kiwis, around $300 million.
Tough as an old kānuka stump, Sir Colin was of the generation that prized the tag on his clubroom handle (Waitete RFC) and didn't suffer fools or softness on the rugby paddock—or at home.
"You weren't allowed to be a softie, especially the boys," Shelley Mitchell, his daughter, told the NZ Herald this week.
For the longest time that approach was the norm in New Zealand. Even today, it holds mighty cache around our country, especially in places where communities still take their gravity from the local rugby club. But the tide is changing.
Upon his retirement last year, veteran Kiwi pro rugby player Hayden Triggs opined the loss of the rugby world that Meads inhabited. Triggs, who debuted in provincial rugby in the early 2000s, saw the fun of rugby bled out by the professional game.
"[Players today] don't know the beers after a Thursday night," he said. "They don't know the bus trips to away matches. They know none of that and I do—that's what I grew up in."
With Pinetree's death, I've been thinking of that changing of the guard this last week. For as long as I can remember, New Zealand has lived in the shadow of imposing, near-silent Pākehā men with sleeves rolled up and the rugby on the telly.
Maybe now, just maybe, there really is space for everyone to get a fair crack at things. Maybe now you don't get compared against how hard you can take the hits on a Saturday afternoon, what sort of spread the ladies make for 'the boys'—or how many handles you can knock back.
The change is a good one, for us—and yet, I still find something incredibly endearing about the Pinetree.
Right through to last season, Meads would make unobtrusive appearances at King Country provincial rugby games in Te Kuiti. His phone number remained listed in the White Pages. He would always take people's calls, his family have told us.
Sir Colin was a true Kiwi character, one whose funeral will be attended by an estimated 4000 people in Te Kuiti today. A Kiwi culture is mourning a sheep and beef farmer with big mitts that we made a national icon for all the right, and wrong, reasons.
"My memories are just of him as a farmer and as Dad—a typical dad who, after he's been out on the farm, comes home from work at the end of the day, sits with us around the table and has dinner," Mitchell told the NZ Herald.
"As far as we were concerned, Dad wasn't famous, he just played rugby."
Follow Ben on Twitter.