A police officer stands outside a nightclub where 141 men were arrested in a raid targeting Jakarta's LGBT community. Photo by Darren Whiteside/Reuters
Amahl Azwar knew all the risks. When he was was a younger man, Amahl was a fan of the Tom Hanks movie Philadelphia—a film about homosexuality and HIV. He also watched Kupu-Kupu Ungu, a local series that tried to raise HIV awareness back in the 90s. But Amahl still found himself having unprotected sex with men. He soon had contracted HIV.
"When a slightly more attractive guy wanted me, and he didn't want to use a condom, I caved in," he wrote in an essay for Magdalene. "It happened too many times I lost count. So when my health began to deteriorate late last year (I lost weights easily but not in a healthy way), I already knew what happened to my body. What my stupidity just got me into."
Amahl ins't alone. Indonesia has one of the fastest-growing HIV epidemics in Asia (The Philippines in the fastest). While the country has made strides in slowing new infections among intravenous drug users, health officials have struggled to halt new infections among the country's LGBT community.
In 2002, HIV infections among men who have sex with men ("MSM" in NGO speak) stood at 2.4 percent. By 2015, that figure was ten times higher, reaching 25.8 percent, according to data released by Indonesia's National AIDS Commission. Nationwide, as much as 26 percent of MSM are HIV positive, according to a survey by UNAIDS.
And in Jakarta, HIV infections overall are still on the rise. There were almost 600 new cases in the Indonesian capital in the last year, but, according to commission officials, it's difficult to tell if this increase is from a rise in new infections or better surveying tactics.
There are an estimated 92,920 people living with HIV in Jakarta, according to the Ministry of Health. But by 2015, ministry officials had only identified 47,440 cases, meaning that tens of thousands of HIV positive people remained underground, unaware, or without medication. The ministry expects to reach everyone by 2020, according to reports in local media.
"Until then we will encourage people to have themselves checked so we can identify those with HIV who aren't unaware of their status," Kristina Suharto, the National AIDS Commission's head of prevention for Jakarta, told local media.
But it's gotten a lot harder to find these new cases. Indonesia is in the middle of an anti-LGBT panic. Religious fundamentalists are trying to convince the courts to outlaw same-sex relationships. A top government official called the LGBT community a threat more dangerous than a nuclear bomb and a weapon in an ongoing "proxy war" with the West. Sharia Police in Aceh province recently caned two men caught by vigilantes have sex in a private home—an act that spurred such global outcry that authorities were ordered to stop caning people in public.
It's causing gay men like Paijo to think twice before publicly expressing their sexual orientation.
"I've become aware about the raids and cop crackdowns on gays, pretty recently, like 2 months ago," Paijo told VICE. "I'm not necessarily censoring myself, it's just that I've become more selective on whom I interact with, what jobs I take, and what environments I put myself in. I locked down all my social media and did a thorough cleansing of my internet presence."
On the streets, the panic is driving a series of crackdowns and arrests at gay-friendly nightclubs, hotel rooms, and private residences. Police say the men are in violation of Indonesia's anti-pornography law, a controversial law that allows officers wide latitude when staging raids on anything deemed "immoral" or "deviant."
The raids are driving the country's LGBT community further underground, making it harder for HIV prevention and testing organizations to connect with at-risk communities. Mobile testing units like those run by Yayasan Suwitno used to offer safe—and private—HIV testing and counseling at popular LGBT hangout spots in Jakarta. But the NGO parked the mobile units amid fears that its staff would be arrested in a raid.
"People are scared," Fajar Prabowo, a program officer at Yayasan Suwitno, told the South China Morning Post. "It's very hard to get people to come to the clinic. Now it's even harder to reach them."
Conventional brick-and-mortar testing facilities are facing similar threats. Warna Lentera Indonesia has, for years, advocated for the LGBT community's right to receive treatment and testing at national healthcare facilities. The NGO fights against discrimination, trying to combat the stigma of asking for an HIV test or admitting that you're gay, lesbian, or trans.
But some healthcare centers are now refusing to administer HIV tests for members of the LGBT community. Other places offer testing, but still discriminate, criticizing or shaming those who come in and request an HIV test, Slamet Raharjo, an advocate at Warna Lentera Indonesia, told VICE. This anti-LGBT sentiment is creating an environment where people are too afraid to seek medical help.
---
Watch: Sharia's Lash: Gay Men Caned Before Thousands in Aceh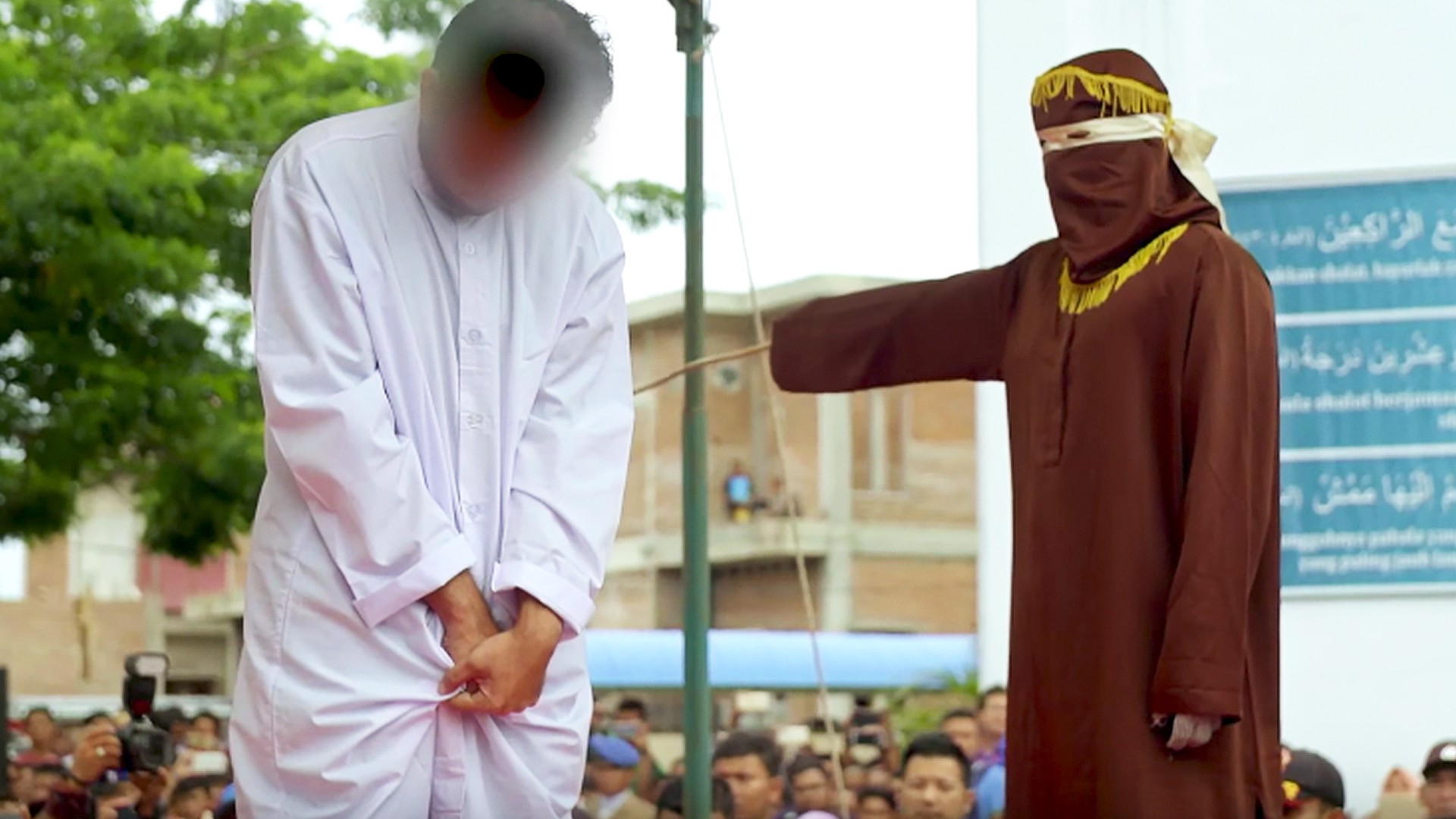 ---
"The government exaggerates," Slamet told VICE. "On one hand, the government has HIV/AIDS countermeasures for gay, trans men, and MSM communities. But on the other hand, they released all these regulations that ban the LGBT community. The two contradict each other."
The community is also getting harder to reach, Slamet said. The NGO is trying to find new ways to reach out to people, shifting its focus to smaller, more intimate and secretive gatherings that they hope can avoid the prying eyes of religious fundamentalists.
"They no longer come to places where they usually hang out or look for sexual partners because intolerant religious figures and fundamentalists tend to destroy those places," he told VICE. "So it's hard to meet them and share the necessary information and consultation. We can't make anything big. We can't publicly promote our events."
Indonesia reported its first instance of HIV in 1987. Since then, more than 13,000 people have died as the government struggled to combat what has remained a heavily stigmatized epidemic. The country was warned in a 2014 UN report that it was being "left behind" in the global fight against HIV/AIDS. Health officials rushed to intensify efforts to test, prevent, and treat new HIV infections. But now, with the LGBT crackdowns giving rise to a culture of fear, many wonder if the next national survey will be even worse.
"All those police raids—which potentially abuse human rights—have had an impact," Slamet told VICE. "Since 2016, the number of trans and gay people who get checked for HIV is on the decline."