Police protect marchers at this year's Gay Pride in Kiev, Ukraine. Photo via NurPhoto/Getty Images
This summer, Frank van Dalen celebrated Pride in Kiev, Ukraine. He did so alongside several thousand police officers in combat gear, marching down side-streets between water cannons positioned to protect drag queens from violent right-wing nationalists.
"The level of protection is something that most Americans would wonder about," recalled van Dalen, vice president of operations at the international Pride organization Interpride. "Police are marching along with Pride participants, forming a line on both sides of the parade. It's as if you're cocooned."
The march concluded in a public square that was completely sealed off with 10 foot tall fences. After the parade, marchers were ushered into a subway station and loaded onto an express train that took them out to the last stop on the line, then turned around and let them return to the city without any indication that they'd come from a Pride march.
"You also have to leave behind all your rainbow stuff," he said. "No t-shirts or buttons or colors painted on the cheeks. It's all taken off and left behind."
As dire as those conditions might sound, it's a dramatic improvement from two years ago, when marchers were attacked by nationalists throwing flares. Every year, Pride organizers in countries like Ukraine, Turkey, and Uganda risk violence and harassment to march in public, as well as police brutality and arrest. But a new tactic by queer organizers is providing those countries with newfound protection from thousands of miles away.
That protection comes in the form of delegations consisting of politicians, ambassadors, and prominent activists, traveling to hostile regions from countries like Holland, Denmark, and Sweden. The LGBTQ communities in those countries are so safe that local activism seems almost unnecessary, so Pride organizers have begun looking abroad for opportunities to quietly support their colleagues in more dangerous countries—both on the ground and in diplomatic back rooms.
"We've always seen freedom of assembly as a litmus test for democracy and broader LGBTQI human rights," said Bjorn van Roozendaal, program director at the European Region of the International Lesbian, Gay, Bisexual, Trans and Intersex Association (ILGA). Over the last decade, ILGA has lent significant support to countries hostile to queer citizens, including carefully dispatching diplomatic delegations from abroad.
It's a mirror-version of a strategy that's long been employed by a handful of American extremists on the other side.
"Especially from the United States, the evangelist movement—they've been involved heavily in drafting the harsh anti-gay laws in Uganda," said van Dalen, pointing specifically to fanatic Scott Lively, who advised the Ugandan lawmakers pushing "kill the gays" legislation. Lively also cofounded a group in Latvia called "Watchmen on the Walls" that has been known to attack queer people, according to the Southern Poverty Law Center.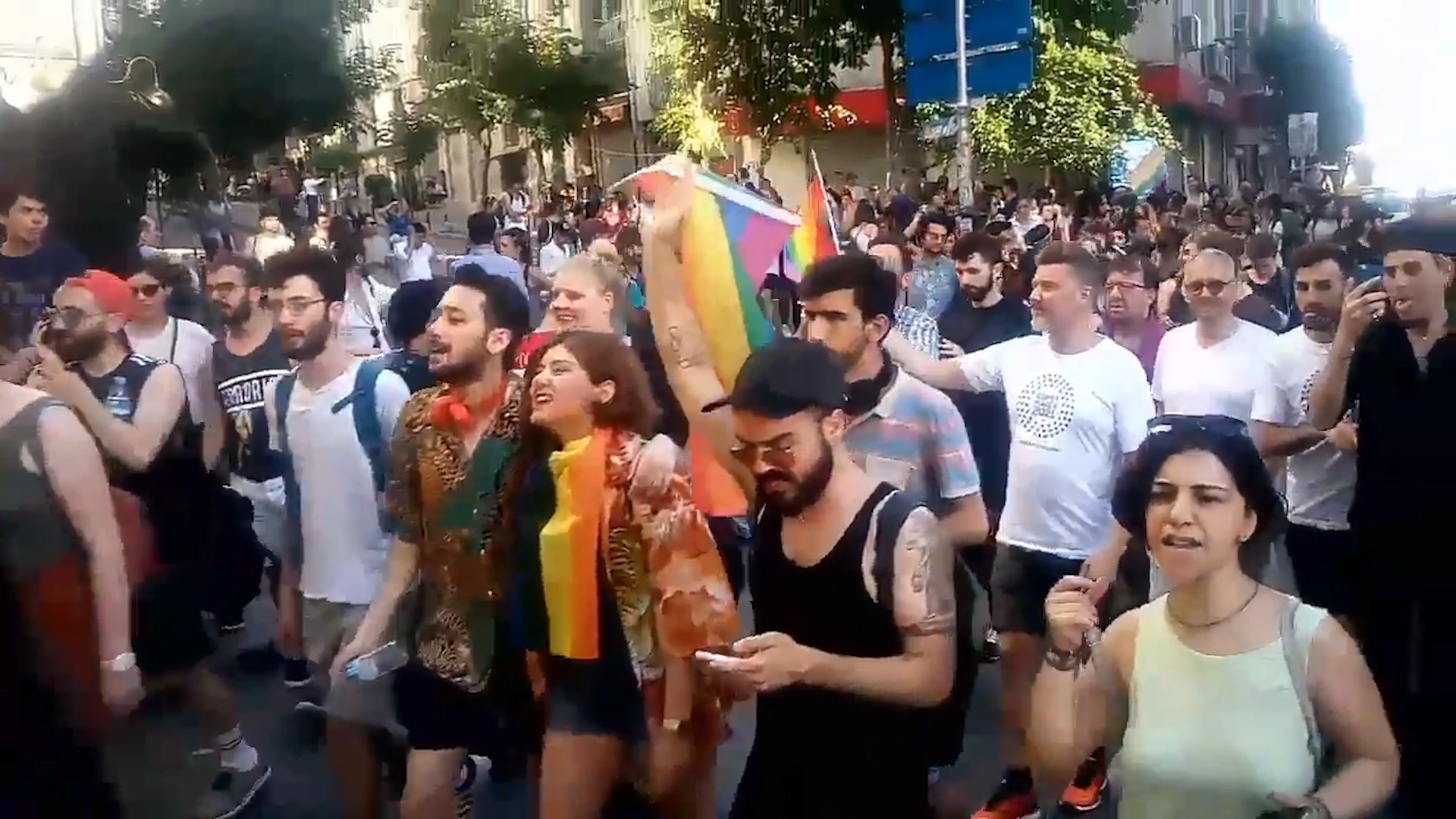 It's not hard for anti-gay zealots to find a foothold for violence in certain countries, particularly where they can find common cause with Nazi and nationalist groups.
"Every year they are making some trouble for us," said Bogna Listewnik, a board member with the Polish LGBTQ group Tolerado, describing how nationalists had physically halted marches in prior years. "The second year was the worst one. It was like two hundred nationalists, I guess they came from all over Poland," he said, alleging they had thrown stones at the marchers.
That police protection comes, in part, because officials in hostile countries have come to anticipate that there won't only be locals at the Pride events—there will also be important foreign guests.
"You cannot have the ambassador of the United States or European Commissioner attacked and hurt," said van Dalen. "So you need to create a security line. And in doing so, you also create a security line for other participants in the Pride. It's literally increasing the level of security by adding those people to Pride march."
"It's not that the government in Kiev is like, 'we love the gays,'" he added. "They want to be part of the European Union."
For example, this year the European Forum of LGBT Christian Organizations sent a delegation of priests to Pride in Gdansk, Poland. Politicians from Amsterdam and Copenhagen asserted their presence at Pride in Istanbul. And the United States hosted Pride events at various international embassies, continuing a program established by Secretary of State Hillary Clinton.
The work isn't without risk: though Kiev's Pride was free from violence this year, Istanbul police deployed tear gas, rubber bullets, and beatings. But according to organizers, it would have been far worse without Pride peacekeepers.
Local organizers often find that conditions eventually improve. "Fifteen years ago, we wanted to make our first Pride, but the mayor of the city said no," said Listewnik. "Now after three years of Prides the same mayor opened it. And he was so lovely… We asked him if he wanted to come for Pride, and he said that he already prepared a speech."
Later this fall, Gdansk officials will hold the city's first-ever forum allocating government resources to support LGBTQ citizens.
"If not for those high-situated people from abroad, maybe our president wouldn't come," said Listewnik. "He just saw the example, that it's possible that the mayor can come for Pride."
Ultimately, the goal of sending international observers and dignitaries is guiding more countries to protect queer rights. "We get on a plane back home," said van Dalen. "The locals will stay there."
"I want to make it very clear, the power comes from the people on the ground," said Kasha Nabagesera, an organizer in Uganda. "At the end of the day we have to remember that. … We need to live another day to fight. We have a long, long way forward."
Follow Matt Baume on Twitter.