This article was originally published on nitv.org.au (National Indigenous Television, Channel 34)
1. You should know about… the original lyrics
Most Australians know the two verses of the current version of the song, Advance Australia Fair, or at the very least know that they have the word 'girt' in them. However, the original 1879 lyrics didn't mention having boundless plains to share, but instead had a verse about going to war against 'foreign invaders' and another about Captain Cook.
Verse 2
When gallant Cook from Albion sailed,
To trace wide oceans o'er,
True British courage bore him on,
Til he landed on our shore.
Then here he raised Old England's flag,
The standard of the brave;
"With all her faults we love her still"
"Britannia rules the wave."
In joyful strains then let us sing
Advance Australia fair.
2. You should know… the other songs that could have been our anthem
In more recent times there have been calls for everything from Cold Chisel's Khe Sanh to the Warumpi Band's My Island Home to become our new national anthem, but in the 1974 Australian Bureau of Statistics public poll there were four songs put forward for the nation to choose between: God Save The Queen, Advance Australia Fair, Waltzing Matilda and The Song Of Australia.
Most of us are familiar with the first three, but The Song Of Australia is a bit more obscure as it was penned in 1859. Among other points of interest, it is the only thing many have seen that mentions the phrase 'grassy knoll' outside of a reference to JFK. It also includes lines like, "There is a land where honey flows, where laughing corn luxuriant grows," and "There is a land where, floating free, From mountain-top to girdling sea".
It's nice to know that there was always high chance in the original vote that we could be making jokes about archaic synonyms for 'surrounded' in our national song.
Using the poll result of 51.4 per cent in favour of Advance Australia Fair, the then Prime Minister Gough Whitlam announced in April 1974 that this would be the country's national anthem, with God Save the Queen still be retained for all regal occasions. However, in 1976, the Fraser Government reinstated God Save the Queen as the official 'national anthem'.
In 1977, fuelled by debate over which song would represent Australia at the Montreal Olympic Games, the Fraser government requested the Australian Electoral Office to hold a plebiscite to select a national song. Over 7 million of the 8.4 million people on the electoral roll chose to vote. Again, Advance Australia Fair was the preferred song, followed by Waltzing Matilda, God Save the Queen and Song of Australia.
3. You should know about… the word 'Girt'
If there were any word vaguely more Australian-y than the 'mateship', it would have to be 'girt'.
No single word has done more to unite us all than this in-joke identifier of Australian identity. Whether it's Seinfeld style rants, "What is the deal with the word 'girt'?!" to imagining police informing criminals through a megaphone, "Come out with your hands up. We have you completely girted!" it is a word guaranteed to always be good for a laugh, even at its mere mention… hehe, 'girt'.
'Girt' comes from the verb gird (meaning 'to surround, encircle') is from Old English, meaning to surround or encircle. One might be familiar with the biblical phrase, 'to gird one's loins' which is directly translated as "tighten your pants", meaning to 'get ready for a dangerous situation/action'.
It is also the name of David Hunt's highly-recommended obscure Australian history books series Girt: The Unauthorised History of Australia and True Girt which recounts bizarre and often long forgotten pieces of Australian history.
4. You should know that… Anthony Mundine is not the first person to criticise the anthem
While US athletes made headlines last year refusing to stand for their national athem and instead, kneeling in down in protest of racism and police brutality, Australia too has used its national song for activist purposes. Last year professional boxer Anthony Mundine created controversy by branding the anthem as "racist" and refusing to stand when it is sung. "It's a racist anthem and doesn't represent our people," Mundine told News Corp.
Wiradjuri man, Joe Williams, made headlines this time two years ago for refusing to stand for the national anthem after he was named 2016 Wagga Wagga Citizen of the Year on the January 26th celebrations, saying, he does not believe the current anthem represents this country's First Nations people.
In a less politically charged protest, others have simply disliked it as a song. In 2001then Nationals Senator, Sandy McDonald, called the song 'boring' and said it should be scrapped "before we all go to sleep singing it".
5. You should know that… Advance Australia Fair has only been our national anthem since 1984
Despite national competitions, polls, and an eventual plebiscite in 1977 to find a new national song to replace 'God Save the Queen', it wasn't until 7 years later that Advance Australia Fair became our official National Anthem.
6. You should know that… it isn't protocol to stand for the anthem… if it isn't sung in English
Given all the controversy that happens whenever a prominent Aboriginal person refuses to stand for the national anthem, it is well worth noting that according to the Department of Prime Minister and Cabinet, "Individuals or organisations can perform Advance Australia Fair in a language other than English, but this should not be represented as a version of the Australian National Anthem. As a result, protocols do not apply to its use e.g. it is not necessary to stand when the song is played."
7. You should know about… NITV's anthem sessions
In the lead up to 26 January 2017, NITV collaborated with some of our nation's most prominent singers and songwriters to perform their own unofficial anthems in pop up sessions around the country. Musicians included Christine Anu, Dan Sultan, Bunna Lawrie, Archie Roach and more.
8. You should know that… there is a debate about what is meant by 'fair'
In the self-proclaimed 'land of the fair-go' most probably don't think twice about the use of the word 'fair' in our national anthem. However, since we are also a country who made The White Australia Policy our very first piece of legislation after Federation in 1901, it is probably not an unreasonable question to ask.
In his paper How Fair is Fair: The Colour of Justice in Australia's official anthem, writer and academic, Christopher Kelen argues that the kind of 'fairness' being repeated with every redition of the chorus is specifically about the civilising process of the white man. Kelen suggests that either use of the word 'fair'; beautiful, just or white, the main point the song makes by 'rejoicing' the advancement of Australia is one of the Terra Nullius myth, where we don't want to acknowledge a time before our European coming.
9. You should know about… the time Deborah Cheetham sang Advance Australia Fair at the 2015 AFL Grand Final
Renowned opera singer Deborah Cheetham explained why she could no longer sing the national anthem in an article for The Conversation; "It's every performer's dream. To stand in front of the largest live audience you are ever likely to see and perform the national anthem. Last month I was invited by the AFL to sing Advance Australia Fair at the 2015 Grand Final. I knew it was honour to be asked but I simply can no longer sing the words "for we are young and free"."
She also suggested some new lyrics in this article; 'lyrics penned by Australian legend Judith Durham in consultation with Muti Muti singer songwriter Kutcha Edwards'.
Australia, celebrate as one, with peace and harmony.
Our precious water, soil and sun, grant life for you and me.
Our land abounds in nature's gifts to love, respect and share,
And honouring the Dreaming, advance Australia fair.
With joyful hearts then let us sing, advance Australia fair.
Australia, let us stand as one, upon this sacred land.
A new day dawns, we're moving on to trust and understand.
Combine our ancient history and cultures everywhere,
To bond together for all time, advance Australia fair.
With joyful hearts then let us sing, advance Australia fair.
Australia, let us strive as one, to work with willing hands.
Our Southern Cross will guide us on, as friends with other lands.
While we embrace tomorrow's world with courage, truth and care,
And all our actions prove the words, advance Australia fair.
With joyful hearts then let us sing, advance Australia fair.
And when this special land of ours is in our children's care,
From shore to shore forever more, advance Australia fair.
With joyful hearts then let us sing, advance … Australia … fair.
10. You should know that… it could've been worse!
Even if you are not a fan of the current national anthem, I hope we can all agree that it is still probably for the best that this song never took off.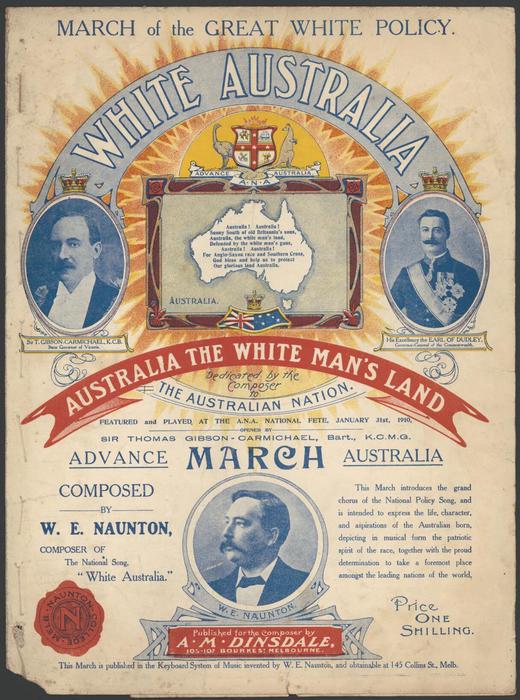 Follow Luke on Twitter.