Lia Kantrowitz
As I sat in traffic for two hours commuting to the Pacific Palisades, I wondered how humans can build a decentralized internet using blockchain technology but they still can't solve an LA gridlock. A day prior, a friend jokingly invited me to a Crypto Hike meetup on Facebook, where regular people like me could learn more from experts in the field. At seven in the morning on a Wednesday, I was running late to join a bunch of bitcoin nerds—and four-time Grammy Award–winning recording artist Seal—for a mountain hike. (I'll get to the Seal part later.)
The hike was organized by James Glasscock, who described himself to me as a "warrior of how, reborn welcomer of why." His instructions were strict on arrival time and included reminders that I bring "a water bottle and sun protection," both of which I forgot. But these bitcoin ballers seemed nice enough. "Industry veterans, noobs and curious" were welcome, and seeing how I consider myself as someone who falls between the latter two categories, I was looking forward to it.
Glasscock was an investor who was with Machinima for their Warner Bros. acquisition, and he started his own cryptocurrency journey back in 2013. Nearly five years later, his cryptocurrency advisory, Distributed Network Advisors (DNA), helps startups structure their ICOs (initial coin offerings, the crypto equivalent of a stock going public). Only a few years into the game, he seemed young to be the hike's veteran organizer, but he quickly reminded me that, "If you got in today, you'd still be in the top .0001 percent [of people in the world who use cryptocurrencies]. It's so early."
Somewhat unsurprisingly, he found that the cryptocurrency community and the Burning Man community had a lot of crossover. "The Ten Principles of Burning Man are right in line with the cryptocurrency community," he explained. "It's about openness, collision, and the magic that happens when people start having conversations about how to improve the world."
In true LA fashion, these nerds were also into fitness, so the group of mostly white, mostly male crypto enthusiasts and the genius singer-songwriter behind "Kiss from a Rose" had already taken off, while I had to haul ass up the mountain in pursuit of an "improve the world" kind of talk.
But it was fine, I'm a bit of an OG myself. On my 25th birthday, a friend of mine sent me $10 worth of bitcoin via Twitter, with the note, "Buy one of those fancy green juices you like." Today, two years later, that $10 is worth 140 times more on a good day. So, yes, I was curious enough to sprint up a hill, even when I arrived way too late, from all the way across town, only to discover that most of the 30 or so hikers were even more clueless than me.
Amber J, a crypto-noob with pink-streaked hair, wiped the sweat from her face before remembering she was wearing makeup. "I have money in the stock market and mutual funds, but I don't believe in it," she said in between panting as we walked uphill. "I want to invest in things I believe in, not, like, oil crap."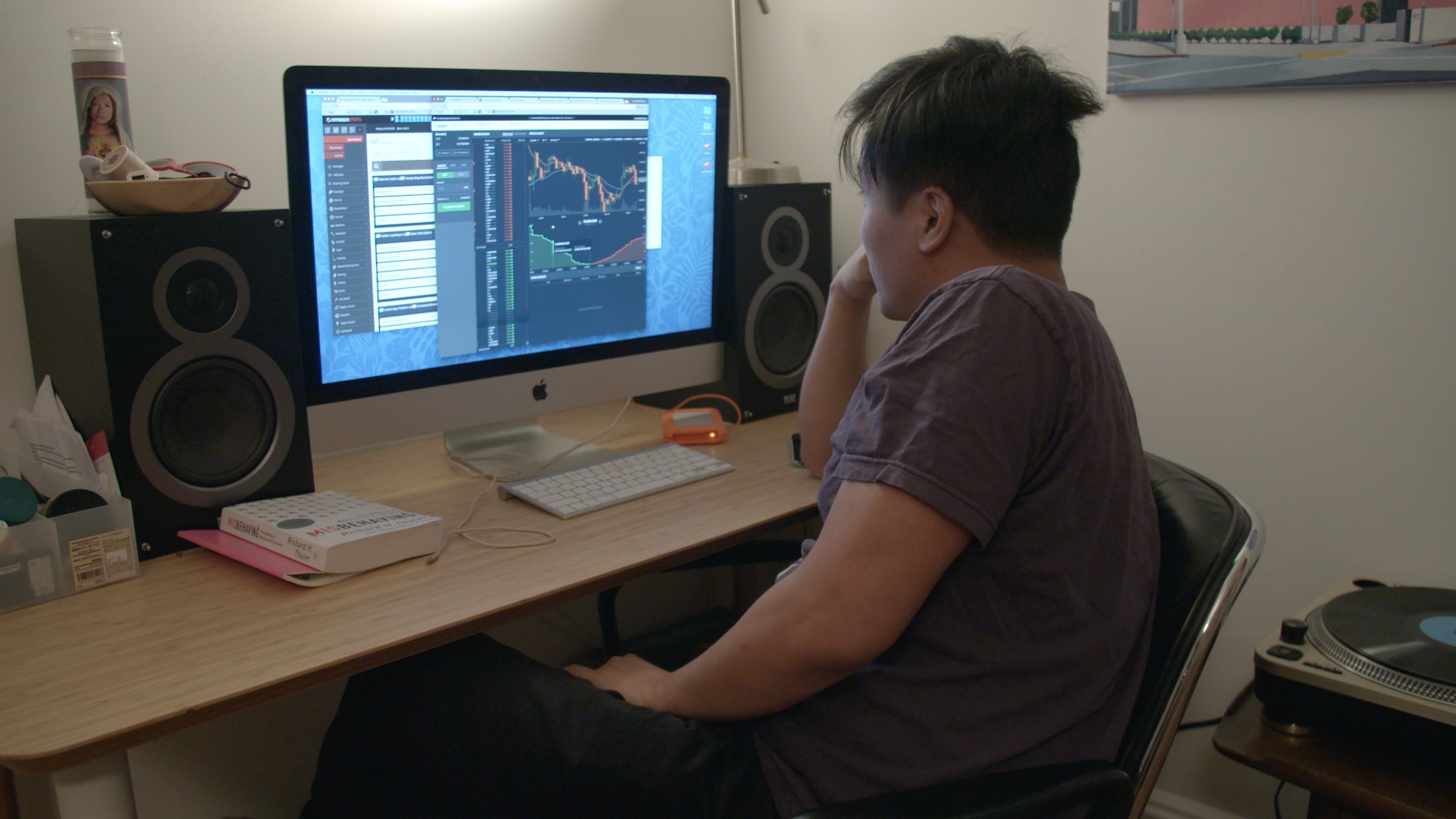 Fair enough. But did anyone on the hike even understand the actual technology, beyond the idea that it might make make them money? "I'm looking to these sensei guys for direction," J echoed. But where were they? Too high on the blockchain, too far into the journey, for me to ever catch up to?
As I finally made it to the top of the vista, I lingered my way into a conversation with three guys and Seal about the recently viral CryptoKitties, a Neopets-style web game where users can buy and sell virtual cats for real cryptocurrency. Seal told us he was most interested in using blockchain technology to reward his fans for attending a concert, to track song sales, and for distributing music. But how?
"Do you fully understand how the internet works?" an ICO consultant asked me. "No. But you use it anyways." This was what I was here for: not the insider trading tips, or anything to make me less paranoid about the fact that I once invested my roommate's security deposit into bitcoin. I wanted to know how the tech could be used beyond personal investment.
"Porn and cats are always first," explained Clayton Blaha, an entrepreneur with his roots in the music industry, of the industries best known to for jumping into new technology first. "I think the future of the music industry is going to be totally decentralized, enabling labels and publishers to create ecosystems around each artist so participants and fans are incentivized to buy merch, buy tickets first, support and share on socials… All of that can be within these organized ecosystems on the blockchain," he explained. "We're in the Pets.com era of this—90 percent of these things are going to fail. But the things that hold on and are able to scale, they're going to kill it. They're going to be Amazon." Or, maybe in this case, an even bigger Seal.
One thing all the older hikers had in common was the feeling that crypto today has an early-90s internet vibe—except where it comes to inclusivity. "Anyone who is hungry enough can be pretty smart and savvy about it within six months," Glasscock said. "There is no glass ceiling—it hasn't been built yet." He told me that involving more women in the conversation is a huge priority for his company, and includes community events like the hike I attended.
For someone who had just been hit with a ticket by the park ranger for bringing his adorable dogs along for the ride, Kipp Stroden, a slightly sunburnt 40-something, was overwhelmingly positive. "I'm changing my whole life," he said, explaining that he recently used crypto to leave his desk job of 12 years and is currently in the middle of a divorce. He told me he invested a few thousand dollars in some of the cryptocurrencies supported on Coinbase, and has since doubled the value of his assets.
When I relayed Stroden's story to Blaha, I mentioned that I was also in the midst of a major lifestyle shift. Maybe Seal was, too. We were silent for a second, before Blaha admitted, "I think everyone here is."