Tony Robbins at SXSW in 2016. Photo by Mike Windle/Getty Images for SXSW
Last Thursday, March 15, during the first leg of one of his popular three-and-a-half-day seminars, motivational speaker Tony Robbins earned heckles from a crowd typically composed of agreeable devotees after making comments some interpreted as critical of the #MeToo movement. Speaking in San Jose to a packed stadium of around 12,000, many of whom paid between $650 and $2,995 to attend his Unleash the Power Within (UPW) event, Robbins, a world-renowned life coach known for his profanity-laden approach to self-help, characterized #MeToo as a negative example of people attempting to gain "significance," according to multiple audience members.
"A couple hours after Tony Robbins hit the stage we began an exercise to identify motivating factors in our lives," UPW San Jose attendee Adisa Ramla told VICE over Facebook Messenger. "One of them was 'Significance.' It is one of the 6 basic human needs (according to Mr Robbins) and 90% of the audience agreed that it was a need and motivating factor for them. In this same vein, Tony went on to say, in a nutshell, that women in the #metoo movement were motivated by this same factor (to be significant)."
First-time seminar attendee Yifeng Tong agreed Robbins was critical of #MeToo. "He then mentioned the movement as a movement of attack and of victimhood," he told VICE. "I think he focused on victimhood first, arguing specifically that a significant portion of the people who use the hashtag or participate in the movement are victimizing themselves." Tiffany Auman, another UPW attendee, added in an email that Robbins "sounded very unsupportive" of the movement.
The 58-year-old Robbins has built a fortune and a self-help empire thanks in part to his confrontational, aggressive style. But his remarks last week in San Jose crossed a line even for some of his fans. One of the audience members, a woman from New Orleans named Nanine McCool, stood up and was given a microphone. The subsequent exchange was captured on video by an attendee who posted it to Facebook Tuesday afternoon. [Update 3/26: The video has been removed.]
"If you use the #MeToo movement to try to get significance and certainty by attacking and destroying someone else… all you've done is basically use a drug called significance to make yourself feel good."—Tony Robbins
McCool told VICE over the phone that she felt compelled to speak up after hearing Robbins's remarks. McCool, who said she was a survivor of childhood sexual abuse and physical violence herself, recalled what angered her: "What I heard him say was #MeToo is great and all, but it's being used by all these women who don't want to deal with their own problems and they think being a victim is a way to work out their pain by making their perpetrators suffer and that doesn't help them. It happened years ago and they need to let it go."
This brought out something in her. "I was horrified in a sense that, 'Oh My God, Tony Robbins, this great guy, just has it all wrong.' I stood up and started yelling, 'You've got it all wrong!'"
As seen in the video, Robbins told her, "I'm not knocking the #MeToo movement, I'm knocking victimhood," and asked the audience to "consider what its impact is." He went on to say that "anger is not empowerment," adding, "Who should throw the stone? You shouldn't throw that stone if you live in a fucking glass house. Is there any one of us that hasn't done something that we prefer we'd not or that we're embarrassed by or that was hurtful even if we didn't intend it to?"
He continued: "If you use the #MeToo movement to try to get significance and certainty by attacking and destroying someone else… all you've done is basically use a drug called significance to make yourself feel good."
McCool replied, "I hear you mischaracterizing the #MeToo movement. Certainly there are people who are using it for their own personal devices, but there are also a significant number of people who are using it not to relive whatever may have happened to them, but to make it safe for the young women… so that they don't have to feel unsafe." After a round of applause, she continued: "And I think you do the whole movement a disservice by characterizing it the way you have. I just want to say, Tony, I love you."
The two then went back and forth in an exchange where Robbins said, "I don't feel attacked" and that she was "using it differently than some other people." He then did an exercise where he told her to hold out her fist, then pushed her fist with his own to make the point that "when you push someone else it doesn't make you more safe, it just makes them angry."
Of the pushing, McCool said, "I thought, 'OK, we're going to fist bump.' Then he started pushing me. I thought he wanted me to show how strong I could be and push back, but that's not what he wanted. He wanted me to move backward." She went on: "[I was] thinking he's going to transform it into some kind of awareness. I don't know, it's Tony Robbins, there's going to be some lesson here that's gonna be useful to me. I initially started pushing back but he immediately pushed back harder. There was no way. He was going to knock me on my ass if I didn't step backward so I quit pushing against him, I just started walking backward. As long as he was pushing me, I was moving."
Nine of the 11 attendees VICE spoke to brought up how Robbins's larger size and his physical contact with her seemed almost intimidating. "He's a very large man so she looks tiny next to him, and then he starts pushing her, not to be abusive but pushing her as an interaction," recalled Logan Wick of Austin, who has been a follower of Robbins for eight years and has gone to four of his seminars. "In that moment, when you're talking about #MeToo and you're telling a woman and you're pushing against her and you're very large—no matter what size man you are, you shouldn't be doing that in this context."
---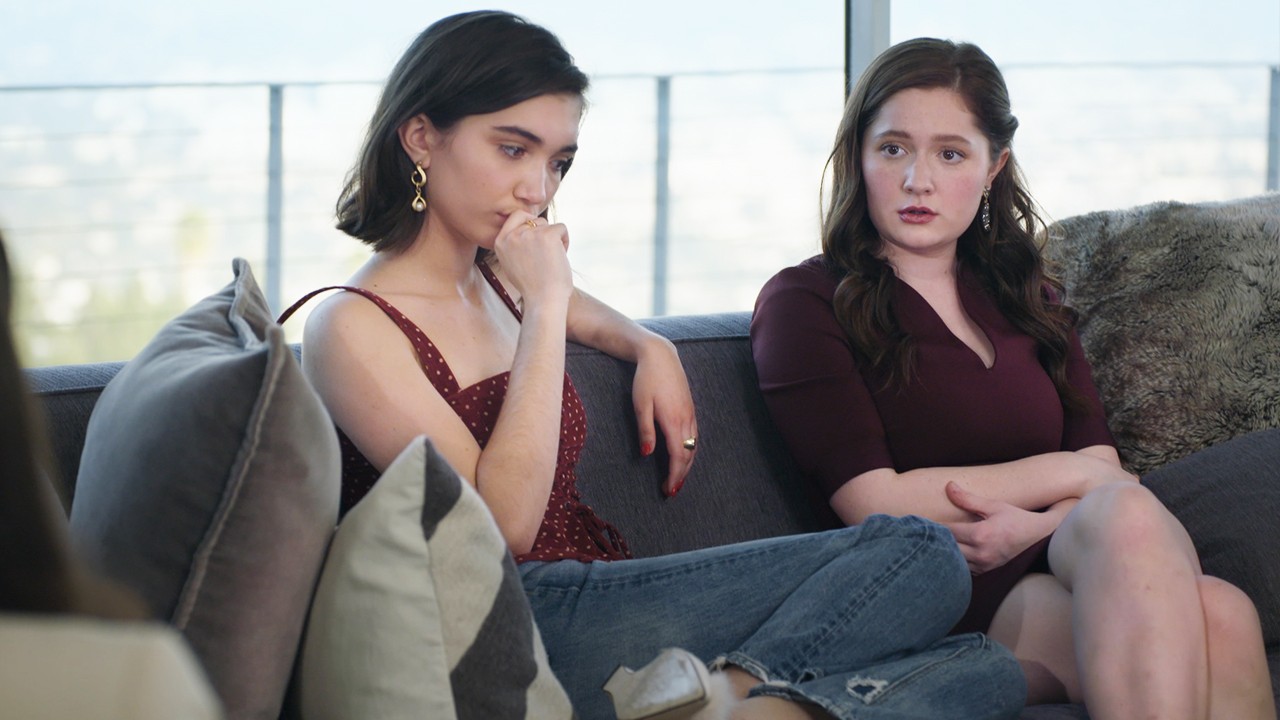 ---
At another point in his conversation with McCool, captured in the video posted to Facebook, Robbins said, "It breaks my heart—for women, not for men" before sharing an anecdote about a "very famous man, very powerful man" he had spoken with who felt unable to hire a woman because she was too attractive.
"He interviewed three people that day," Robbins told the audience. "One was a woman, two were men. The woman was better qualified but she was very attractive and he knew, 'I can't have her around because it's too big a risk' and he hired somebody else. I've had a dozen men tell me this."
When McCool called this "a lame excuse," Robbins countered that she was, in fact, the one making excuses. "You're giving an excuse. You're telling me that the more I push, the more I'm going to be safe. Is it true? It's not. Listen to me. There're plenty of women in this room and plenty of other points of view… I'm not asking you to take my point of view. I'm asking you to consider how you use anything—technology, #MeToo, anything." He went on to say "freedom doesn't come from more anger" and that "I think anyone who's been hurt should be able to express it, they should be able to go get restitutions […] what I'm not supportive of is victimhood." He then asked the audience to consider that technology stressed people out while making them more productive, as an example of a double-edged sword.
In response to Robbins going on about this for a moment, McCool said, "You are a leader and an influential man, and you are doing a disservice in my opinion to the #MeToo movement," a statement that was greeted with applause from the audience.
Eventually, McCool admitted that she "misunderstood" Robbins, and the life coach said, "I'm not saying the movement's wrong. I'm saying everything has a consequence. Raise your hand if you heard me. And you want to use things in a way that doesn't addict you to your problems and you don't want to be a victim." He then said he wanted women to be treated fairly and noted that his company is "70 percent women." He went on: "I'm not criticizing any woman. I'm saying man or woman, if you get into a pattern of victimization, who's it gonna hurt? Nice and loud, whose it gonna hurt?" The audience responded with "yourself" and Robbins said, "That's right."
When someone in the audience yelled what sounded like, "Say you're sorry," Robbins laughed and said "I'm not gonna be inauthentic and say I'm sorry about something I'm not sorry about." Then Katy Perry's "Roar" blasted through the sound system.
Jennifer Connelly, a spokeswoman for Robbins, told VICE that in the full context of his speech, Robbins's remarks about the #MeToo movement were not derogatory and offered the following statement:
"Tony Robbins is and always has been supportive of the #MeToo movement. He has devoted his life's work, over 40 years, to help people end their pain and suffering and most importantly improve the quality of their lives. Tony is against abuse of any kind, to anyone, period."
Robbins's team also offered to send further video of the seminar on the condition that VICE sign a confidentiality agreement and not report on the contents of the video, which we declined. They also declined to answer follow-up questions about the content of his remarks.
Not all the attendees were upset by the remarks.
"I have a pretty similar opinion as Tony," second-time seminar attendee Elise told VICE. "What I took away from it is that the movement itself is a great thing—and Tony said that too, it's a fantastic thing—but if people use it the wrong way then it could potentially do a lot more harm than good." Elise did feel that he could have handled the situation better: "He wasn't clear enough about what his message was and I don't think that it was the right example of people using something good to unintentionally create more conflict."
First-time seminar goer Ryan Mutti recounted that many in the room did not seem to take offense to Robbins's remarks. "People had reactions you'd expect, like, 'Oh that's fucked up. You're taking away the substance of the issue by rendering it as playing the victim.' But it was way more accepted than I thought. For example I looked around and there were a lot of women vibing, who didn't flinch… I think at the end of the day everyone got that it was him bringing up the victim thing and being like, 'Playing the victim no matter what isn't going to get you anywhere.'"
But others came away with a different take. "The me too movement is not about women falsely accusing men of sexual advances, but instead bringing to light the massive problem that we have in our society of the type of behavior men deem appropriate," said Tiffany Auman in her email. "He refused to acknowledge this and just went on and on about how he will be authentic and will not support anything he doesn't agree with." She added, "I almost didn't come back for day two…"
Wick said in an email that after he witnessed the "apparent sexism" of that dialogue, "the spell [had] been broken" and that he won't be spending more of his money "on anything Tony Robbins until he makes changes to *actually* empower women."
Following the Thursday seminar, a number of attendees took to social media and online forums to voice their displeasure at Robbins's comments.
A closed Facebook group established for UPW San Jose participants by Tony Robbins's team spent the following days in a civil debate about what had transpired and the #MeToo movement as a whole, with some praising McCool for her bravery in standing up to Robbins, while others felt the spirit of his words had been misinterpreted. That thread has been deleted. Robbins's team did not respond when asked if they had deleted the thread.
"It was a wonderful conversation," said McCool about the discussion thread. But when asked about her feelings about its deletion, her tone changed. "For the first time, I was angry. I had not been angry to that point. I was disappointed, you know, a little emotional letdown, concerned maybe about #MeToo and how Tony Robbins could really help it or hurt it. Optimistic even! Like, If we can get Robbins to see how he could have gotten it right maybe he could be a more powerful voice for the #MeToo movement, get behind some of the female leaders and lend his support, that could be awesome."
Despite her personal feelings on the exchange, McCool stayed for most of the three-and-a-half day seminar. "I still wanted to like him and I think I still do like him at some level," she told VICE. "He just had an off day, I touched a nerve." On Saturday, McCool posted a personal message to Robbins on YouTube, urging him to reach out and reiterating her respect for him as a person. She also wrote an email to Tony's team, and says they have yet to respond.
When asked what Robbins could do to make the situation better, McCool replied, "He could say, 'Let's talk about it.' I get it: He's an intelligent man and he has a strong opinion. I don't have a problem with strong opinions but if it's an opinion that he's so devoted to that he's not willing to hear a different view, that's when I lose respect for that opinion and the person who holds it. I was willing to let him push me around in a stadium of however many people because I was willing to be uncomfortable to learn perhaps something greater about myself. Is Tony Robbins willing to do that? I'd like to see that."
Follow Justin Caffier on Twitter.