Diana Green says she has never fished with another woman. Photos courtesy of Diana Green
On a lobster boat, bologna was bad luck. So was wearing corduroy, or failing to wear a lucky fishing hat. So was renaming a boat, or whistling.
So were women.
For centuries, Grand Manan Island, baubled in a string of small islands off the coast of New Brunswick, has been forged by the fishing industry. Birch trunks of herring weirs spearing through the Atlantic and new trucks roar on the coastal roads sprouting with new homes, financed by the recent lobster boom. Lobster fishing, the main season which spans from November to June, is lucrative, now especially so—a really good year on the sea can yield over $120,000 for some.
But it's a payoff for a dangerous game: A Globe and Mail investigation found that fishing has the single highest fatality rate of any sector in the country. In the past 20 years, there have been around 200 reported deaths in the industry.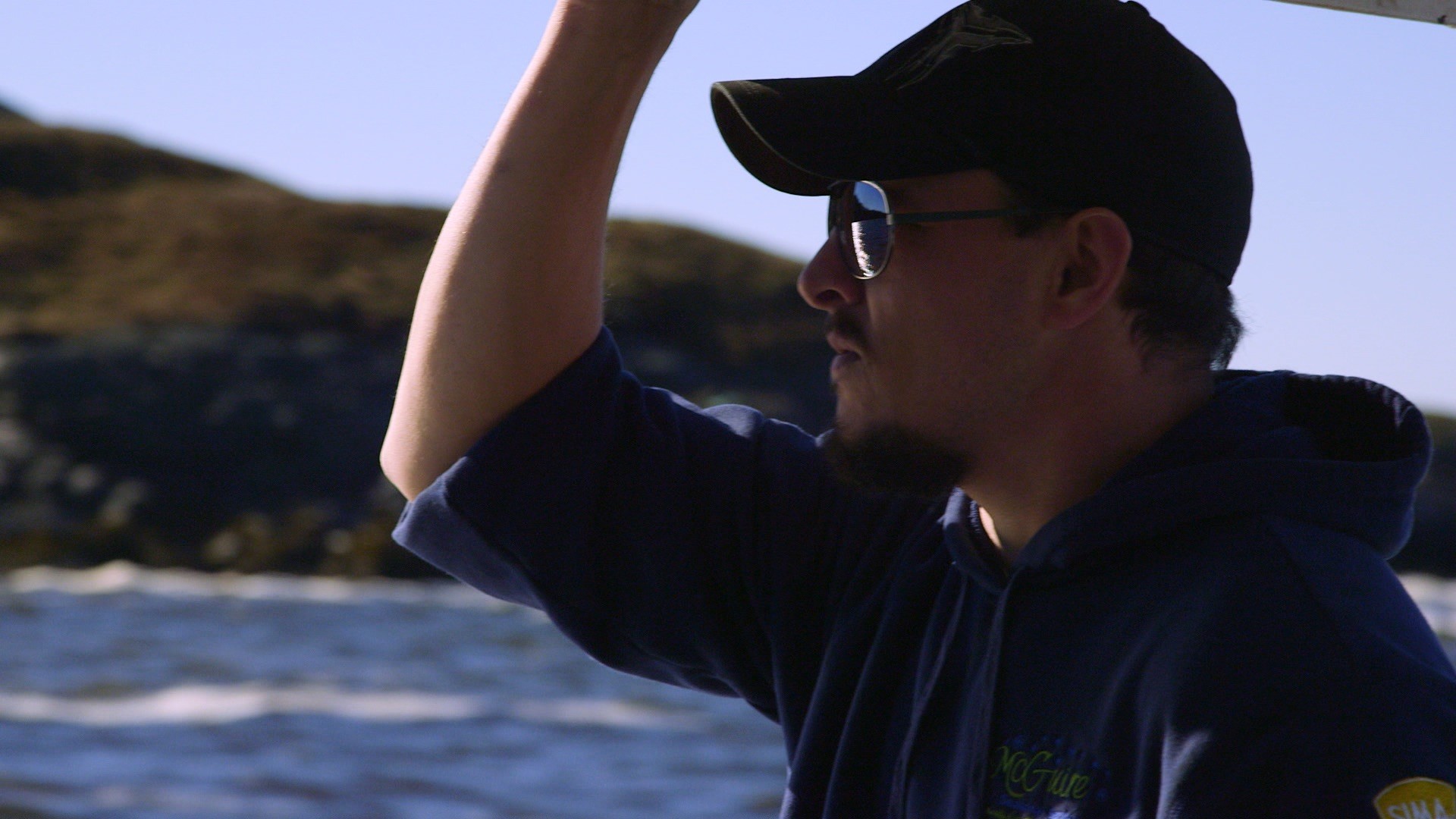 "There's a need for explanation of misfortune," Carly Fleet, part-time Grand Manan resident and fisherwomen, said. "You hear about accidents every season. Someone gets hit in the head, breaks an arm or a leg, loses a finger, or at very worst, loses their life."
Though women as bad luck has faded into superstition, when Fleet returned to Grand Manan in 2006, it would have been difficult to tell.
She was back on Grand Manan after a year abroad, looking for a job to carry her to Europe. She'd worked on the sea before, but nothing pays like lobster fishing—she would be earning upwards of $150 a day, about twice as much as the $10 an hour she'd make feeding fish at the salmon cages, where work opportunities were few in the fall and winter. There's gold in the depth—in 2018, the Nova Scotian catch was more than $750 million, about double the $382 million brought in for 2012— if you can get someone to take you on.
"The first two captains I asked for employment—one was a family friend and the other my uncle—told me no when I asked for a job," Fleet said. "As I'd never done it before, I didn't exactly know what the risks and dangers were."
At the time, Fleet knew of only one woman who worked on a lobster boat, out of an estimated 1,500 Grand Manan residents in the industry. The only position she found was available because few others wanted to take it. Notorious for being reckless and hard to work with, the captain had lost two of his crewmen overboard the previous spring, though he was able to retrieve them safely.
When she heard Fleet would be working with him, Fleet's mother cried.
Blown engines at sea. 26-hour days. Crew members doubtful of her being on the boat at all. A volatile, drug-addled captain who tried to go out in storms the boat wouldn't have been able to handle, physically threatening his crew when they resisted. Fleet developed a nervous response to her phone ringing, her captain calling her at odd hours to go fishing.
But Fleet stuck it out: partly for the money, and partly to show that she could. By the next season, her reputation eclipsed anything else: she had her pick of boats.
Like Fleet, Lindsay Greenlaw grew up on Grand Manan, and after a string of jobs on the water, lobster fishing, and its payoff, was irresistible. She didn't mind the danger. "It's a minor deal for a digit to be severed because that means you can still keep working. You're lucky," she said. When she began lobster fishing around 2005, she didn't mind that as one of about four women she knew of on the boats, she had to work harder at the same jobs, or had to weather old school jokes.
But soon it became about more than money: it was a day brimming with a sense of accomplishment, a body fatigued by work well done. And, now, as a mother, it also gives her the opportunity to be around for her children while earning an income.
"It's been a very positive experience," Greenlaw said. "When I started, I was teased and looked at funny, but I felt confident and never took offence to it. I laughed and said, 'They don't know what I can do. I can do better than them.'"
Over a decade later, Greenlaw and Fleet's grit did more than build a reputation for themselves: it helped establish that women deserved to be on the boats. As they've worked, they've overseen a transition—older captains, closer to years governed by superstitions, were being replaced by younger men who grew up seeing women as part of the crew, capable of handling the physical and mental toll of long hours at sea.
"I've had women working on the boats I've been on for probably 10 years now, and it's all about attitude," said Grand Manan fisherman Jeremy Bedford. "If you can handle the hours, do your part and not complain, you will probably have a job."
Bedford, who has been lobster fishing for 18 years, also believes that the recent lobster boom is one of the factors behind the shifting gender demographics on the boats. "The catch has been on a steady increase for the last six or seven years," he said. "The extra hands are needed."
Today, there are between five and 10 full-time fisherwomen, with upwards of 30 working part-time when the lobster fishing begins. Every second Tuesday in November, the water is glutted with boats, docks made labyrinthine by lobster traps, and crews fleshed out by female chefs, storeowners, paramedics, and mothers on leave from their jobs for the lucrative first few weeks of the season—this alone can net around $20,000.
Four years ago, Diana Green found herself back on Grand Manan after years away studying accounting and waitressing, when a male friend invited her to try lobster fishing. Though she never imagined she could handle the physical demands, her decision was simple. "My father fished his whole life, and my grandfather, and my uncles, and my brothers. I'm just one of the brothers," said Green, who is now 28. "It's more of a calling. It's just part of who we are here."
For the past two years, she has worked full time and has never fished with another woman. But her crew, composed of relatives and high school friends, is her family. "I think our boat is special because we do all get along. We're all out there doing the same thing," she said. "They just treat me like one of them, which I am. I'm one of the boys."
Green credits her feeling of safety on the boat to that sense of community—although she admits it's not found on every boat. When out at sea, with your life at the mercy of a rope or a lobster trap or bad weather, isolating a member of the crew is to endanger the others.
"A lot of it is crazy intense labour," Green said. "I know I physically cannot do some things, but you bring different things to the team. I truly enjoy it. I don't think I can imagine doing anything else for a while."
But there are certain things the team can't share. On her boat, no one else has to worry about getting a period in the middle of an 18-hour day on the ocean. All fishing gear is made for men. They know what to eat to last out the day, what to do, and how to prepare for long shifts because they have centuries of experience and knowledge to fall back on.
So Green and other young female fishers have formed a different kind of support system, even if they aren't working beside each other every day. Each fall, a text chain develops with that season's female fishers: they talk about the catch of the day, who's hauling, who isn't. Gone are the days when Fleet and Greenlaw first boarded their boats, alone, their work signifying little more than a paycheque. In text bubbles, years of wisdom, bruises, long nights, frozen fingers, triumphs, trials, and support are passed down to the incoming class of fisherwomen.
"If it wasn't for knowing other women who had done it, I never would have done it," Green said. "We have a community. We keep an eye out for each other."
Clarification, Oct. 2, 2019: We've updated the story to make clear that wages in the lobster industry vary widely per year.