Want the best of VICE News straight to your inbox? [](http://Perez said he watched the election results roll in from Prince William County, Va., where the county board of supervisors chaired by Trump supporter and one-time senate candidate Corey Stewart flipped into Democratic hands for the first time since 1999. He called it )Sign up here.
All told, Democrats won just about everything they could've hoped for on Tuesday.
They took complete control of the Virginia Legislature. They eked out a win in the Kentucky gubernatorial race. And they made gains in perhaps the most important area for the 2020 presidential election: the suburbs.
Trump to Bevin: New phone, who this?
Incumbent Kentucky Gov. Matt Bevin, a Republican, trailed by just a few thousand votes and has refused to concede, even as his opponent, Democrat Andy Beshear, claimed victory.
Bevin, a Trump ally, cited "more than a few irregularities" in the voting while offering no actual evidence of fraud. He also neglected to mention that Republicans coasted to wins in every other statewide race.
Bevin, who was a deeply unpopular governor, campaigned on social issues like abortion and gun control, and his support of Trump. He leaned heavily on Trump's popularity in the state: The president won Kentucky by nearly 30 points in 2016.
The GOP pulled out the big guns to back Bevin, sending Trump and Sen. Rand Paul to a rally in Lexington on Monday.
"If you lose, they're going to say, 'Trump suffered the greatest defeat in the history of the world,'" Trump said to Bevin at the rally. "You can't let that happen to me!"
He did let that happen to him. And as the election results came in Tuesday, the White House distanced itself from Bevin, claiming, without evidence, that the rally boosted the candidate by "at least 15 points."
"The president just about dragged Gov. Matt Bevin across the finish line, helping him run stronger than expected in what turned into a very close race at the end," said Brad Parscale Trump's 2020 campaign manager in a statement.
Democratic National Committee Chairman Tom Perez told reporters Wednesday morning that he does not believe the president boosted Bevin's numbers at all.
"The most telling statement that he made there was, 'You gotta do this for me,' he said. "Mr President, it isn't about you. It's about people in coal country — you said that you would never forget them and you've forgotten them — about people who were working within a healthcare exchange that was one of the most effective healthcare exchanges in the country, and Matt Bevin undermined it."
Virginia completed its blueward shift on Tuesday: Democrats took complete control of the state's government as the party captured both chambers of the legislature.
Those results clear the way for Democrats to ratify the Equal Rights Amendment — which bans discrimination based on sex — and will allow the party to redraw legislative boundaries after next year's census.
A few wins in the state were especially notable.
Danica Roem made a second round of history by becoming the first out transgender politician to win reelection to a state legislature.
And remember that cyclist who was fired after a photo of her flipping off Trump's motorcade went viral? Her name is Juli Briskman, and she just got a new gig: supervisor for the Algonkian District in Loudoun County, Virginia.
READ: These Virginia elections could be a wake-up call for the GOP on gun control
Democratic Socialists scored big wins, too
Progressives to the left of Democrats had good night as well on Tuesday. Three candidates backed by the Democratic Socialists of America scored victories, including a historic win in Philadelphia.
Working Families Party member Kendra Brooks, backed by the DSA, won a Philly City Council seat and flipped a slot held by Republicans for generations. She ran on progressive ideas like rent control and affordable housing.
"We just made history," Brooks said Tuesday night. "We broke the GOP."
Michael Payne, a longtime Charlottesville DSA member, also won a seat on the Virginia city's council. Payne helped organize counterprotests against the racist 2017 rally in Charlottesville that left one dead. Payne called for major change in a newly blue Virginia in a post-victory statement.
"We're now in a position to demand the General Assembly increase the minimum wage statewide, invest more in affordable housing, implement a Virginia Green New Deal, legalize marijuana, pass campaign finance & electoral reform, and more," he wrote on Twitter.
DSA-endorsed candidate Jivan Sobrinho-Wheeler also won a city council seat. He pulled out a victory in the progressive stronghold of Cambridge, Massachusetts.
A bright spot for the GOP
It wasn't all doom and gloom for Republicans.
Mississippi Lt. Gov. Tate Reeves won the state's gubernatorial election against Mississippi Attorney General Jim Hood, a Democrat. Polls had long shown a close race, but Hood faded at the end, and Reeves won by 5.8 percentage points.
Trump, naturally, took credit for the win.
"Our big Rally on Friday night moved the numbers from a tie to a big WIN," he tweeted. "Great reaction under pressure Tate!"
While it's a long way until the 2020 election, there are some worrying signs for Republicans in the suburbs.
In Pennsylvania's Delaware County, for instance, Democrats took control of every seat on the county council, a Republican stronghold since the Civil War.
Three Democrats claimed victory in Hamilton County, Indiana, historically a deeply red suburban area. And the Democratic successes in Virginia and Kentucky were fueled by gains in the suburbs as well.
Perez said he watched the election results roll in from Prince William County, Virginia, where the county board of supervisors chaired by Trump supporter and one-time senate candidate Corey Stewart flipped into Democratic hands for the first time since 1999. He called it "the quintessential suburb that Democrats continue to win across the country" and a bellwether for future gains locally and nationally.
"Prince William County embodies the challenges that Donald Trump and his politics of the division are confronting in today's world," he said. "When you continue to divide America, that is not only un-American, that is going to prove to be terrible politics for you."
If Democrats take back the White House, their path to victory may have to be through the suburbs. Tuesday was an encouraging sign for the party and a troublesome one for the GOP.
"Republican support in the suburbs has basically collapsed under Trump," Republican strategist Alex Conant told the AP. "Somehow, we need to find a way to regain our suburban support over the next year."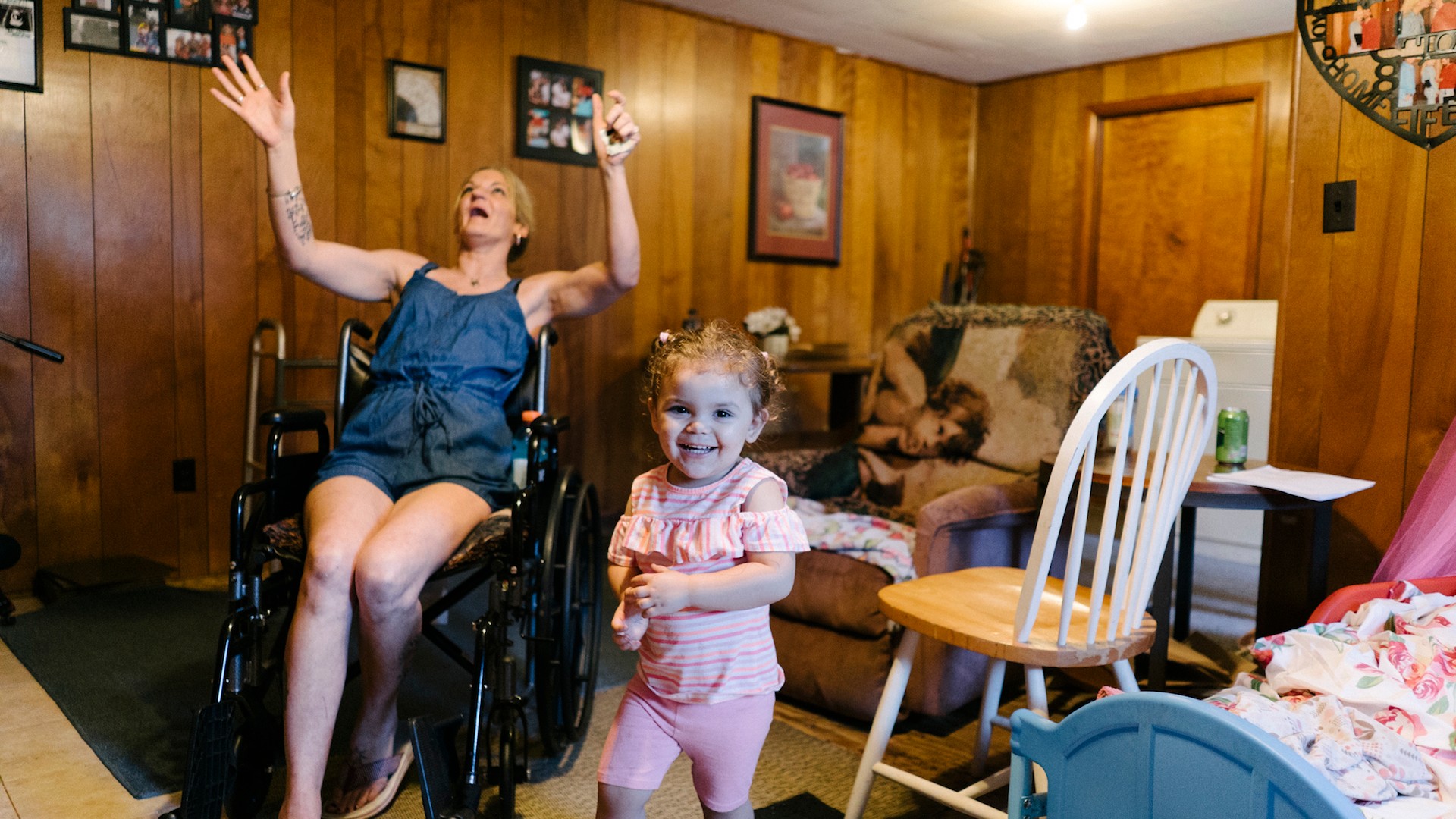 Daniel Newhauser contributed to this report.
Cover: Candidate for the 94th District, Shelly Simonds, celebrates with supporters as election results begin to come in on Tuesday, Nov. 5, 2019, at the Marriott in Newport News, Va. (Rob Ostermaier/The Virginian-Pilot via AP)