Still from "Swalla"
Okay, so buckle up. Some British college students at Keele University are having a go at Jason Derulo on Twitter for not performing at their student union last January, saying he pocketed the $26,000 fee anyway. This all really kicked off last weekend, when the students/alumni used the BBC Sounds Like Friday Night (#SLFN, baby) hashtag as a way to get people to realize their absolutely dire plight. Derulo co-hosted the show's first episode last Friday, with DJ Greg James, and so the full squad of sabbatical officers—one of whom is holding a bunch of daffodils, for some reason—shared a video wishing him luck on "finding the stage" and asking for their 20 grand fee back. The no-show has been described as "a big deal on campus."
Tom Snape, the union's development and democracy officer, told BuzzFeed News that Derulo did show up to Keele University on the day he was set to perform but, for reasons unknown, didn't appear at the show. "Our contract wasn't directly with him but through a chain of several agents. The contract that we had was with a particular agent," he said, adding that he'd received legal advice that it would be difficult to get the money back. Tickets were sold at £22 for the public and $26 for students, and were fully refunded when people were reasonably disappointed that they didn't get to hear Jason Derulo say "Jay-son Deruuuulo" over such bangers as "Whacha Say" and "In My Head."
Obviously, this is sad for everyone involved, even if it did spawn some 6/10 memes. "We want Jason Derulo to acknowledge [what happened]," Snape said, "In an ideal world, we would get that money back." Quite. But how likely is it for that ideal world to become an existent world?
Let's take a look at the event poster: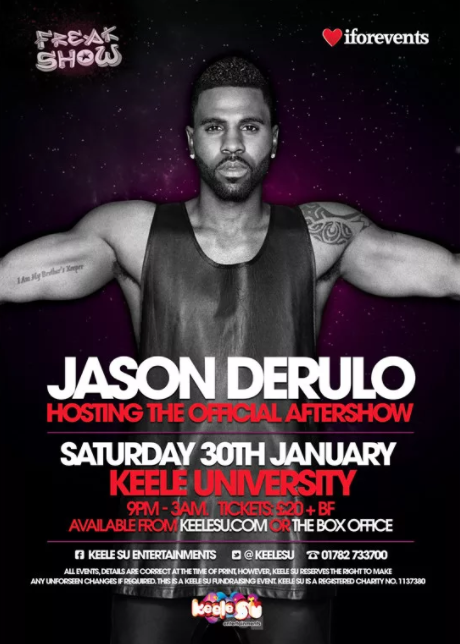 Considering this advertisement is literally one enormous image of Jason Derulo lording Christ-like over his own name and a series of booking details, one would reasonably assume that there would be a musical performance involved. However, the poster itself says just "hosting the official aftershow," which could mean anything, really, couldn't it? By all accounts Jason Derulo did show up on campus. He even responded to criticism on Twitter at the time by clarifying that "I don't perform @ clubs while on arena tour. If I come 2da club right now it's 2turn up wit u," which prompted even more criticism, to Jason Derulo said, "shut ur bitch ass up."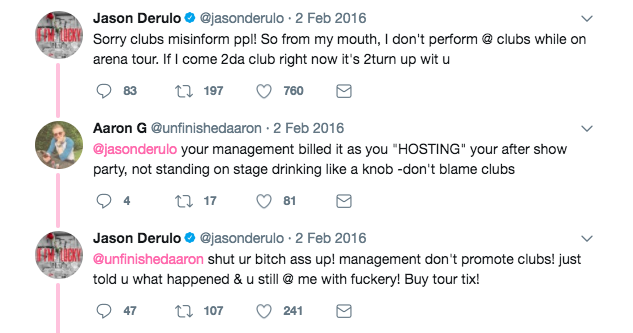 As a "host" it's possible that he fulfilled his contractual obligation just by showing up, sinking a complimentary bottle of Moët & Chandon and fucking off. Perhaps there are serious mitigating circumstances for Derulo's disappearance that we're not aware of. Perhaps he thought Keele's turn-up game was shit. Either way, my man earned $26K for allegedly drinking champagne in the green room and has managed to curve any financial responsibility for almost two years. Sabbatical officers have already sought legal advice—which is presumably why they've now taken to hijacking BBC hashtags to #raise #awareness—but we asked a contract lawyer just to objectively confirm exactly how much shit Jason Derulo could be in.
"It really depends on the communications between the two parties to determine what the reasonable expectations of each would be. Ideally, they would have emailed, explaining what they wanted from him and what they agreed to pay him," says an associate at an international law firm. "If Keele have any written evidence confirming his agreement to perform, then he can be sued. Otherwise, sounds like someone fucked up." A final note: "Realistically public shame is likely their only course of action".
Well, damn. There you go. Should probably just give it back though, shouldn't he.
Follow Noisey on Twitter.