Phooto by Charles LeClaire-USA TODAY Sports
Game 1 of the 2017 Stanley Cup Final was one of the weirdest games in the history of hockey. The Pittsburgh Penguins went nearly 40 minutes without a shot on goal, and then Jake Guentzel ended the drought with a shot and a goal late in the third period to give Pittsburgh a 5-3 win and 1-0 series lead.
Instead of breaking down the dominant defensive performance that allowed the Nashville Predators to overcome a 3-0 deficit, or critiquing the officiating that led to a Penguins five-on-three power play in the first period, or wondering if Pekka Rinne will be the player that submarines Nashville's hopes, let's do the thing everyone cares about: let's wonder how Game 1 would have unfolded if P.K. Subban's first-period goal that would have given the Predators a 1-0 lead hadn't been wiped out by an offside review.
How would Game 1 have gone in this alternate universe? Is everyone correct? Would this have changed the outcome? Let's imagine.
8:37 PM Subban fires a shot that beats a screened Matt Murray to the stick side—but hold on! Penguins coach Mike Sullivan is challenging the goal, because his staff believes that Filip Forsberg was offside when the Predators entered the zone.
8:39 PM The review is still going.
8:41 PM NBC's cameras pan to the crowd to show a belligerent Ben Roethlisberger being led away in handcuffs by six cops. He is covered in vomit. Pierre McGuire hypothesizes that the vomit is Roethlisberger's, because in college he heard a story about him vomiting at a party under the tutelage of a teammate. As Roethlisberger is leaving the section, a man hits him in the face with a catfish, then throws the fish on the ice. The crowd rejoices. The cops high-five the catfish guy and let him sit in Roethlisberger's seat.
8:42 PM After review, the call on the ice stands. It is ruled a good goal. The Predators lead 1-0.
8:44 PM James Neal makes it 2-0.
8:49 PM Neal makes it 3-0.
8:55 PM Neal gets the hat trick. It's 4-0 Predators late in the first period and Marc-André Fleury has taken over for Murray. Fans are throwing garbage at Murray, who begins to openly sob on the bench, for all he wants is the love of the city and now he knows in his heart that will never be possible while he plays in the shadow of Fleury, the nicest man alive.
8:59 PM Batman apprehends Bane before he can blow up the ice. Most of the crowd seems to be booing this. Batman is baffled as he flies away with Bane.
9:04 PM The period ends. Shots are 15-5 in favor of the Predators.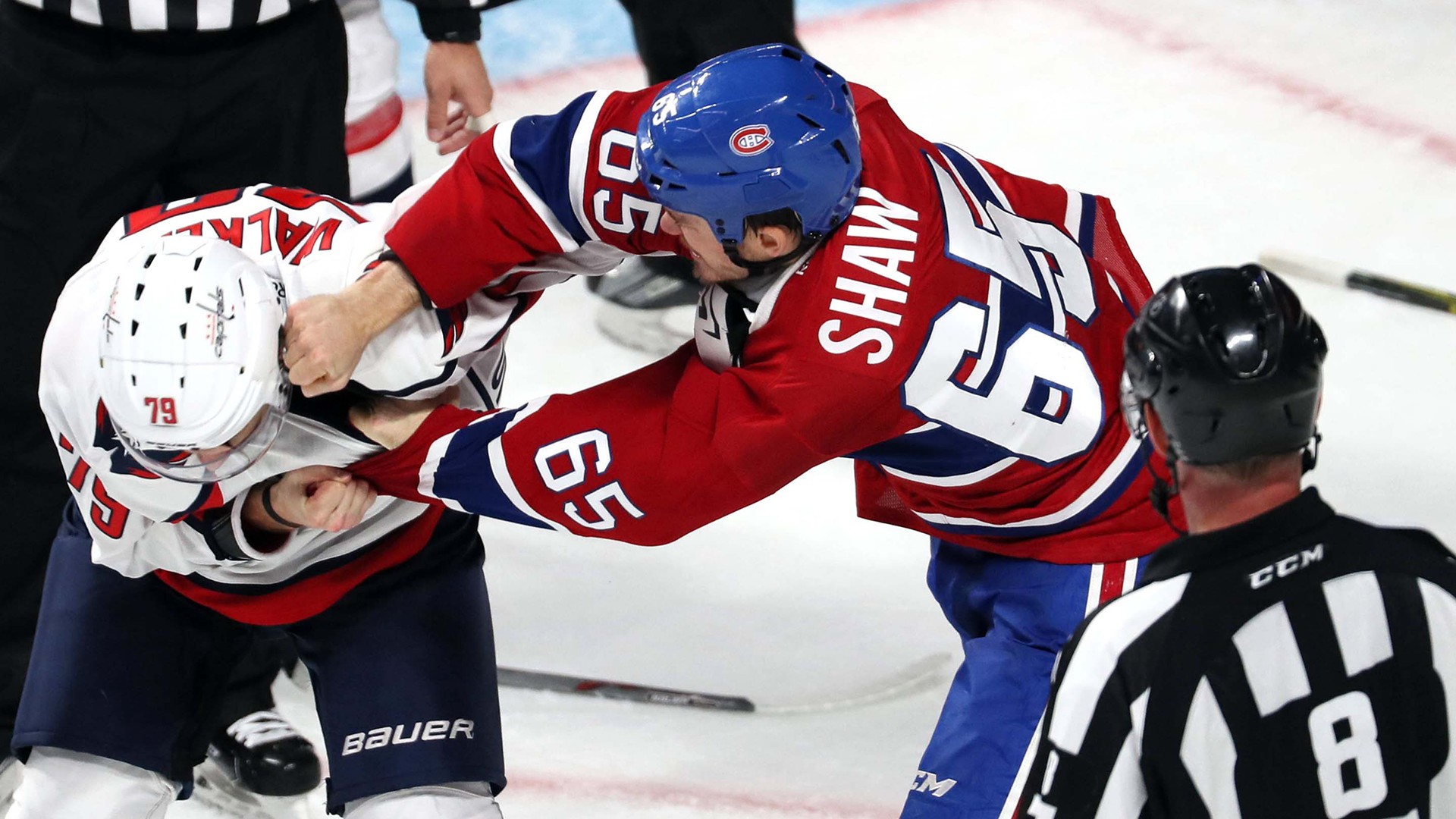 9:06 PM Mike Milbury delivers a 90-second monologue on how the Penguins' 4-0 deficit is entirely Evgeni Malkin's fault. It includes the phrases "Russian," "lazy," "not as good as Colton Sissons," "Jared Kushner," "back channels," "Alex Ovechkin," and ends with security people dragging away Milbury just as he finishes stripping down and getting completely nude except for one dress shoe on his left foot. Liam McHugh, never one to miss an opportunity, remarks that this is now the most offensive thing Milbury has ever done involving attacking someone with one shoe.
9:12 PM Keith Jones casually mentions that Malkin wasn't on the ice for any of the Predators' four goals and he had three shots in the first period.
9:22 PM The second period begins. The Penguins mascot can't find his horn. The horn is not heard for the rest of the game. This is later deemed a miracle by the Vatican.
9:25 PM Subban increases the lead to 5-0.
9:26 PM It's now 6-0 and, you guessed it, Subban had the goal.
9:29 PM The Montreal Canadiens send out a press release that says general manager Marc Bergevin has stepped down and promises to never take another front office position in hockey.
9:31 PM Roman Josi delivers a hard, clean check to Sidney Crosby. Josi is ejected from the game and the Penguins are awarded a five-minute power play.
9:32 PM On the ensuing faceoff, Mike Fisher is given the first-ever major penalty for a face-off violation, which gives the Penguins a two-man advantage for 4:59. Eddie Olczyk deems this a great call. Many people wonder if this is referees giving the Penguins preferential treatment, but many reporters—all of them working for NHL rights holders—say they have sources that consider the Fisher penalty "good."
9:38 PM The Penguins don't register a shot on net for the duration of the two-man advantage.
9:39 PM Fisher steps out of the penalty box and scores to make it 7-0.
9:40 PM The game is stopped and no one is sure why. The Penguins are huddled at their bench. Officials come over to Sullivan, who is speechless. Announcers believe that Sullivan is thinking of challenging the Fisher goal for offside, but that's not it. Eventually, the officials skate away. Nothing is happening. Confusion reigns in the arena.
9:41 PM Arena staff members roll out a red carpet. Are we getting a song? Do we need to sing the Canadian anthem? What's happening? Why are they setting up a podium?
9:42 PM Crosby skates to the podium and announces his retirement. He cites the NHL not caring about brain injuries and mean jokes about his facial hair in the 45-second speech. The crowd applauds. He skates off with 8:46 to play in the second period. The game resumes.
9:43 PM Malkin makes it 7-1.
9:43 PM Malkin makes it 7-2.
9:44 PM Malkin makes it 7-3.
9:45 PM Malkin makes it 7-4.
9:46 PM As Malkin is celebrating his fourth goal, the Predators' Cody McLeod removes his skate and slices open Malkin's neck. Pittsburgh's medical staff saves Malkin but he is done for the game and the series. Referees and linesmen gather but decide against a penalty. The following morning, Player Safety lets the news leak that McLeod will not be suspended because the contact to Malkin's neck wasn't severe and it was the skate blade being too sharp that resulted in the injury. "It's not like it killed Malkin," a source says.
9:57 PM Neal makes it 8-4 by banking a puck off Patric Hornqvist's face with 2.3 seconds remaining in the period. Jim Rutherford rips off his shirt and runs into David Poile's suite and screams into his face, "I won the trade, bitch!"
10:01 PM A handcuffed Milbury blames Malkin for the McLeod attack, saying Malkin put himself in a position to be sliced by a skate blade with his selfish celebration. No one on the NBCSN panel challenges him on this. Milbury is read his rights on live TV. Milbury pees on the floor.
10:03 PM Donald Trump tweets that Milbury is a great American and he should be able to pee where he wants.
10:16 PM Carrie Underwood takes the ice for the third period in a Predators jersey and full equipment.
10:17 PM Sullivan objects to this, but Peter Laviolette cites a little-known clause in the CBA that allows for spouses to replace husbands in NHL games that have four-goal differentials entering the third period. The league decides to allow this, mainly for the publicity.
10:20 PM Underwood beats Fleury with a slap shot from center ice to make it 9-4.
10:25 PM Underwood on a breakaway. Backhand, forehand, backhand. It's 10-4.
10:28 PM During a TV timeout, Underwood and Subban combine on a duet of "Before He Cheats" while glaring at the officials.
10:35 PM Jake Guentzel scores a soft goal on Rinne, because some things don't change no matter what.
10:58 PM The horn sounds. The Predators win 10-5 and take a 1-0 series lead.
11:14 PM After the game, Subban is asked at the podium by a reporter, "If that first goal of the game was overturned because of offside, do you think you still would have won the game?"
Without hesitation, Subban replies, "Of course. It's not like the referees would have given the Penguins a two-minute five-on-three power play thanks to a penalty that is never called in the postseason. And even if we fell behind 3-0, we would have come back to tie it, and you're out of your mind if you think at that point we would have lost on a soft goal from Pekka Rinne after holding the Penguins without a shot for 37 minutes."
"That," Subban says while looking directly into the camera, "would be ridiculous."
Want to read more stories like this from VICE Sports? Subscribe to our daily newsletter.