Malaysia's Sunda pangolin, a critically endangered species. Image:
IUCN
Thirty tons of pangolin parts were seized by Malaysian authorities on Thursday, becoming the largest pangolin trafficking bust the country has ever witnessed.
Police in the Malaysian state of Sabah were tipped off to facilities in the capital of Kota Kinabalu and the nearby town of Tamparuli, according to the wildlife trade monitoring network Traffic.
Both of the sites were raided on Thursday, revealing an astounding volume and variety of pangolin products being processed and stored—a cache worth an estimated 8.4 million ringgit or $2 million on the black market.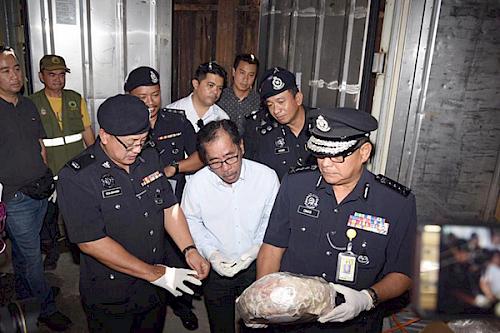 According to Traffic, the haul contained: 1,800 boxes full of frozen pangolins; 572 individual frozen pangolins; 61 live pangolins in cages and a car trunk; and nearly 800 pounds of pangolin scales.
Two paws from an unnamed bear species and the carcasses of four flying foxes were also seized.
Pangolins are the most trafficked mammal in the world, according to an oft-cited metric, and it's believed they account for 20 percent of the entire illegal wildlife trade. A 2014 estimate from the International Union for Conservation of Nature (IUCN) claimed at least one million individuals had been poached this century, and that number is likely to be much higher.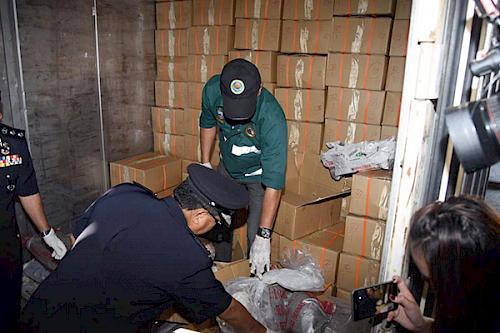 Technically a scaly anteater, pangolin species are found across Asia and Africa; some classified by the IUCN as endangered and critically endangered, in the case of Malaysia's Sunda pangolin.
Their keratin scales are used in traditional medicine, while their meat is consumed "to demonstrate status," according to the Environmental Investigation Agency.
A 35-year-old Malaysian man has been detained and is believed to a factory manager, the Associated Press reported on Monday. Sabah police chief Omar Mammah said the man illegally bought pangolins from local hunters which he turned for a profit in Sabah and the neighboring state of Sarawak.
"Detecting large volumes of pangolin smuggling is no easy feat and Sabah authorities are congratulated for pursuing and taking down this smuggling operation," Traffic's Southeast Asia director Kanitha Krishnasamy said in a Monday statement.
Malaysia is no stranger to wildlife crime. In 2009, Sabah police discovered records belonging to a different pangolin trafficking ring. They revealed that "about 22,200 pangolins were killed and [1,839 pounds] of pangolin scales sourced throughout the state and supplied to the syndicate over 13 months," reported the Associated Press.
In 2011, the Sabah Customs Marine Division recovered five tons of frozen pangolin from local waters, Traffic wrote. Last year, a pangolin scale shipping scheme from Sabah and Sarawak was intercepted at Kuala Lumpur International Airport.
Traffic noted that Sabah's "emerging role" as a transit hub for trafficked wildlife is only one part of an international criminal universe.
However, Sabah authorities have disputed claims that the state is a trafficking transit hub. Last year, Sabah Wildlife Department director Augustine Tuuga told Free Malaysia Today that the series of high-profile busts "proves our enforcement agencies here are much more efficient [than in other countries]."
Rampant poaching continues despite many countries enacting laws that protect pangolins. "The criminal networks are running circles around everybody," Chris Shepherd, regional director of Traffic Southeast Asia, told National Geographic in 2016. "It's a joke."
Traffic hopes that Thursday's bust will draw attention to Malaysia's local pangolin poaching sphere. ""It is hoped that comprehensive investigations can lead to unmasking the syndicate and networks operating from the state and beyond," Krishnasamy said.
According to Sabah's wildlife laws, under which pangolins are a "totally protected" species, illegal possession holds the threat of $12,500 to $60,000 in fines, and up to five years in prison.