UPDATE: Due to "excessive" wind shear, the launch has been pushed back to 3:45 p.m. ET
Elon Musk and his company SpaceX will launch their new rocket, the Falcon Heavy, on Tuesday afternoon, potentially crowning a new most powerful rocket on Earth.
The launch, which you can watch at the link below, has a window of 1:30 to 4:00 p.m. Eastern, and will move to the same time slot Wednesday if problems occur.
If it's successful, the Heavy would be the most powerful rocket currently operating on the planet, more than twice as strong as its nearest competitor, according to SpaceX. It uses 27 separate engines to deliver 5 million pounds of thrust at liftoff — approximately the force of 18 airliners — and it can haul 141,000 pounds into space. (That said, it's still not as strong as the legendary Saturn V, the rocket NASA used to put astronauts, a lander, and a buggy on the moon decades ago.)
But the launch has significance that goes beyond just the record books. Musk eventually hopes for humans to reach Mars, and this could be a key step to proving his company will get us there. They claim the Heavy, which has reusable boosters, costs a third of its competitors, and SpaceX, which already delivers cargo to the International Space Station, developed it without government funding.
Never one to miss a marketing opportunity, Musk's spaceship will carry a roadster from Tesla, his electric car company, into space, where it will orbit the sun for millions of years. The rocket's three boosters will then drift back to Earth, two landing at Cape Canaveral in Florida, and one coasting down to the Atlantic Ocean to meet a waiting drone ship.
That's if things go well. "This is a test mission," Musk said at a news conference Monday. "There is so much that can go wrong."
A previous SpaceX launch ended in explosions on the launch pad, but Musk is confident this one will work out.
"I'd say tune in," Musk said. "It's going to be worth your time."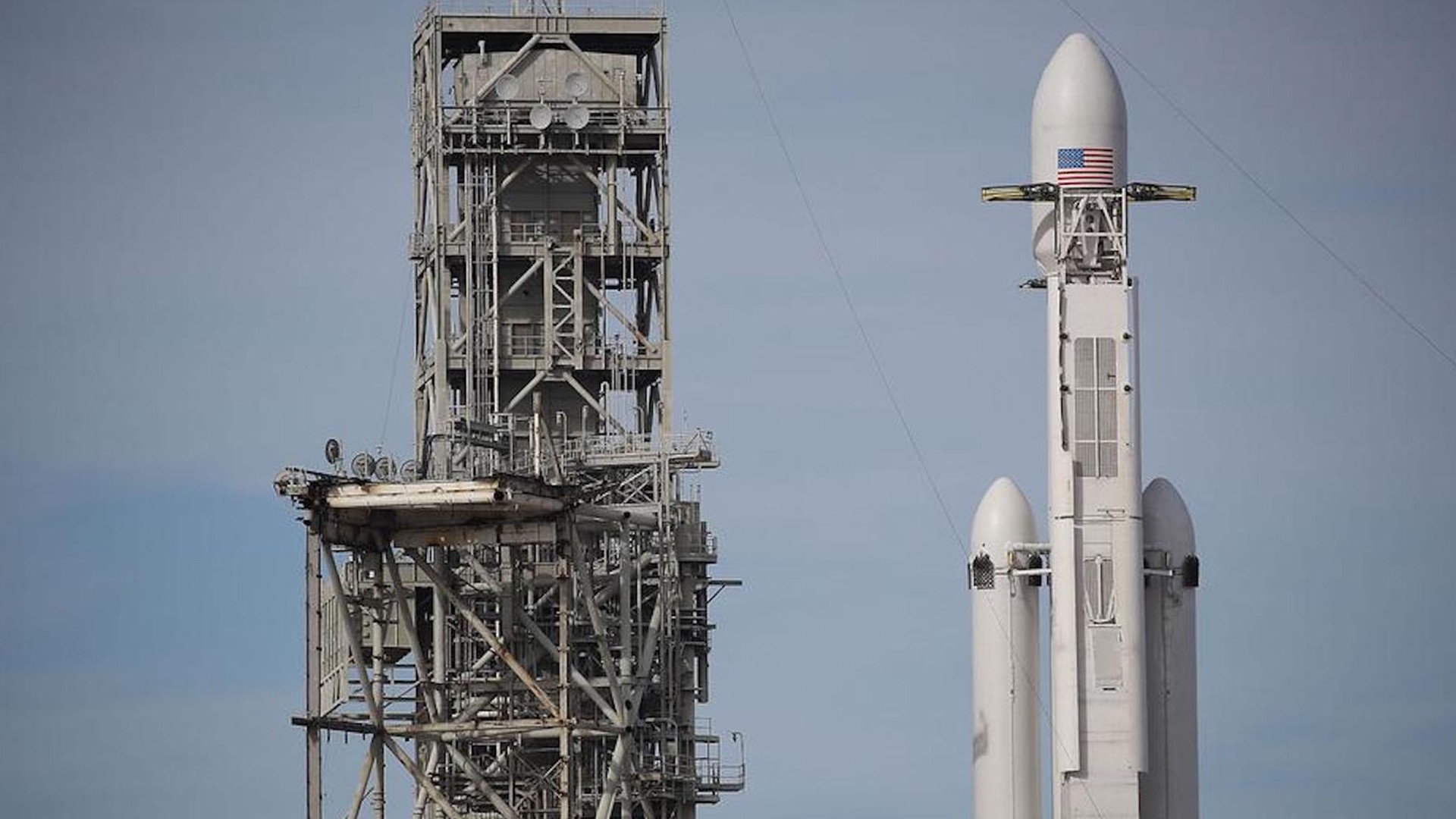 Cover: The SpaceX Falcon Heavy rocket sits on launch pad 39A at Kennedy Space Center as it is prepared for liftoff on February 6, 2018 in Cape Canaveral, Florida. The rocket, which is the most powerful rocket in the world, is scheduled to make its maiden flight between 1:30 and 4:30 p.m. Tuesday. (Photo by Joe Raedle/Getty Images)