Donald Trump may be a world of chaos all by himself, but the world beyond Trump is changing in dramatic ways, often with little notice. We'd like to tell you about it and we're keeping track of these global changes, from the incremental to the monumental, so that you don't have to.
Sign up for our weekly newsletter of the biggest news in the world delivered to your inbox every Sunday.
North Korea — September 01, 2017
North Korea celebrates ICBM launch with some commemorative stamps
North Korea is so excited about its intercontinental ballistic missile that it's released a new set of commemorative stamps to mark the occasion.
The Hermit Kingdom's new postage features the Hwasong-14 rocket, famously tested for the first time on July 4, blasting off in the woods while a superimposed Kim Jong Un applauds.
Another stamp shows the missile over a world map, with a line stretching up from North Korea indicating its maximum altitude of 3,724.9 kilometers.
Some experts have suggested that the second test of the Hwasong-14 indicated the missile could hit the mainland United States.
Since the ICBM's entrance onto the world stage, Pyongyang has continued to up the ante, firing an intermediate-range missile over northern Japan in a move the United Nations Security Council blasted as "outrageous" and Pyongyang called "just the first step" of heightened military activity in the Pacific.
Another set of stamps issued in late June featured a massive fist crushing an American missile, and a bevy of warheads targeting Capitol Hill.
— Greg Walters 
Read More: Trump doesn't have enough diplomats to deal with North Korea
Kenya — September 01, 2017
Kenya's presidential election was just overturned in historic ruling
In a historic decision Friday, Kenya's Supreme Court annulled last month's election result, citing irregularities in the way the vote was run and calling for a new election in the next 60 days.
"This is a historic day for the people of Kenya and by extension for the people of the continent of Africa," opposition leader Raila Odinga said after the ruling.
Following a vote on August 8, the election commission declared incumbent President Uhuru Kenyatta the winner by a margin of 1.4m votes. But opposition candidate Raila Odinga quickly filed a complaint, challenging the validity of the vote and alleging that the commission's IT system had been hacked to change the outcome.
The court seemingly agreed. Delivering the ruling, Chief Justice David Maraga said: "Elections are not an event but a process. After considering the totality of the entire evidence, we are satisfied that the elections were not conducted in accordance to the dictates of the Constitution and the applicable principles." Justice Maraga called for a new election in the next 60 days.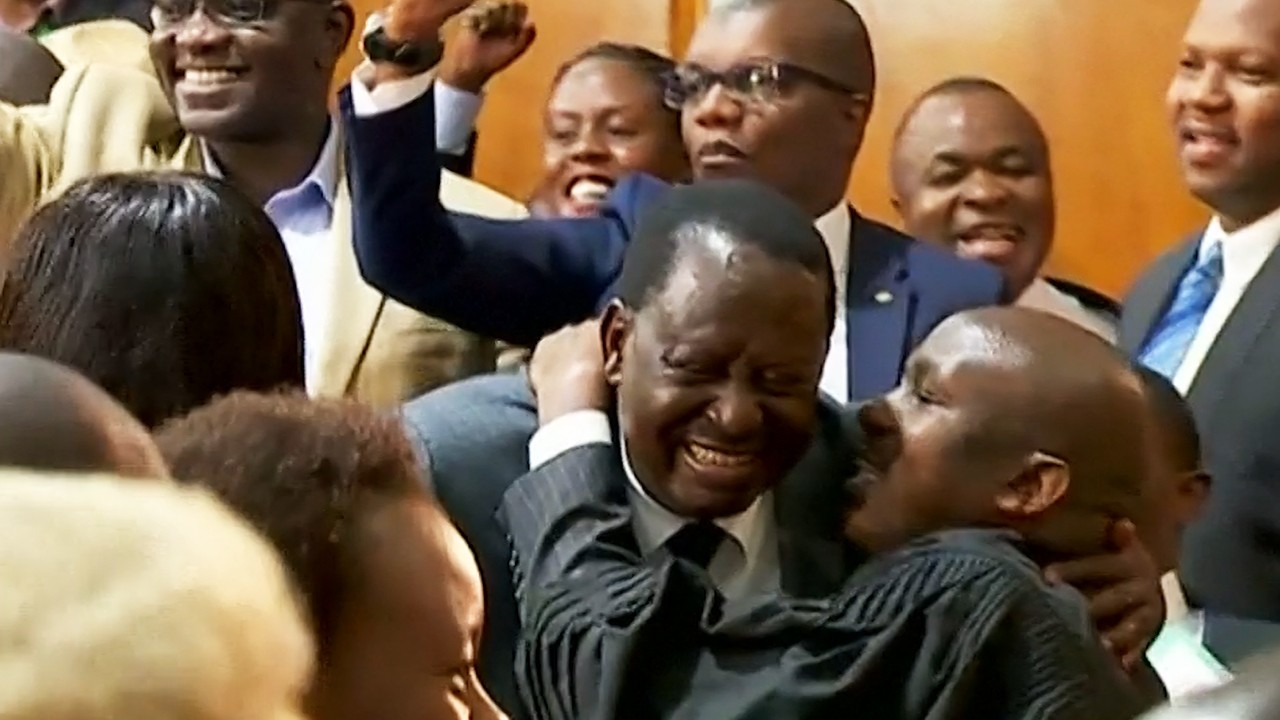 Lawyers representing incumbent president Kenyatta called the ruling a "very political decision."
The court's ruling is a major victory for Odinga and his supporters, who many feared would turn to violence in the wake of last month's dubious vote count. And on Friday, his supporters took to the streets to celebrate the court's decision.
Though the election itself was conducted relatively peacefully, violence broke out after Kenyatta was named the winner, with police cracking down on protesters who disputed the election outcome.
On August 12, the Kenya National Commission on Human Rights reported that Kenya's police force had killed at least 24 people nationwide, and last week Human Rights Watch called on the government to investigate the violence and bring those found guilty of using excessive force to justice
There was heightened security in the Kenyan capital Nairobi Friday as authorities feared for another escalation of violence following the court's ruling, with some businesses remaining closed for what some local newspapers called the country's "date with destiny."
— David Gilbert
Vatican City — September 01, 2017
The Jung Pope: Even Pope Francis went to therapy
Sigmund Freud, the father of psychoanalysis, believed religion was an illusion based on an infantile need for a father figure. Apparently the head of the Catholic Church doesn't take the slight personally.
In a startling admission for a sitting pontiff, Pope Francis acknowledged to a biographer that he used to visit a psychoanalyst every week when he was 42.
"I consulted with a Jewish psychoanalyst," the head of the Catholic church told French sociologist Dominique Wolton, according to excerpts from her new book published in the independent Catholic news portal Crux. "For months I went to her house once a week to clear up some things."
It's not clear what "things" the future Pope needed to work on.
At the time, Francis was the leader of the Jesuit order in Argentina during the country's bloody military dictatorship, when thousands of people were being gruesomely killed. Two of his own priests had blamed him after they were kidnapped and tortured for months by the military.
He may have needed to talk to someone about that.
Francis' admission is just the latest example of how he's shaken up the papacy, following his push for action on climate change, his criticism of the "cult of money" in global finance, and his call for the church to be more accepting of gays and divorced Catholics. The Pope's progressive streak has delighted his fans and dismayed traditionalists, and occasionally drawn the ire of U.S. President Donald Trump.
— Greg Walters  
Colombia — September 01, 2017
Colombia's FARC rebels swap guns for roses in political relaunch
Colombia's former armed rebel group FARC won't need to order new stationery following its relaunch as a civilian political party.
The group voted Thursday to keep its infamous acronym in its new incarnation as a political party, as the Marxist-Leninist rebel army transitions into mainstream politics following a historic peace deal made with the Colombian government last year.
The group, which waged an armed struggle against the Colombian state for more than 50 years under the name the Revolutionary Armed Forces of Colombia, will still be known as FARC. But now the initials stand for Revolutionary Alternative Common Force, the group's leader Rodrigo Londono, known as Timochenko, said on Twitter Thursday.
The name was voted on at the new party's first political conference, which will close Friday with a concert and speeches in central Bogota.
The 1,200-odd delegates attending also chose a new logo — a red rose with a red star in the middle — and announced their policy priorities, including tackling corruption and promoting the arts. A party graphic circulated online pledged to stand up for marginalized groups including "youth, women, indigenous people, rural farmers, Afro-Colombians, artists, the LGBTI population, housewives, students, workers and the unemployed."
Founded in 1964 as the armed wing of the Colombian Communist Party, the rural-based guerrilla group waged the longest-running armed insurgency in the Western Hemisphere. The conflict claimed more than 220,000 lives before a peace deal was reached with the government, under which most of the militants were given amnesty and allowed to enter politics.
Under the deal, FARC was required to disarm, a process it completed last month. In return, FARC's new political party will be guaranteed 10 seats in the next Congress, to be elected next year, until 2026.
— Tim Hume
Japan wants $1.6B in new weapons to shoot down North Korea's missiles
Japan is loading up its missile defense systems days after North Korea lobbed an intermediate-range rocket over one of its islands.
The defense ministry proposed record military spending on Thursday that included $1.6 billion for high-tech radar and weapons to shoot missiles out of the sky.
The request follows the launch of a North Korean missile over the northern Japanese island of Hokkaido Tuesday, which prompted Japanese authorities to send an emergency text to civilians under the projectile's path advising them to seek cover.
Pyongyang's latest provocation didn't sit well with Japanese Prime Minister Shinzo Abe, who called the test "utterly intolerable," and promised to "protect the lives of the people."
The proposed 2.5 percent increase for Japan's defense budget would bring overall military spending to a record 5.26 trillion yen ($48 billion). If approved, the budget would represent the sixth straight annual increase under Prime Minister Shinzo Abe, who has reversed years of cuts to the military.
Defense spending, and the military in general, remain controversial in Japan, where many still support the country's pacifist constitution imposed by the United States after WW2. The text specifies that "land, sea and air forces, as well as other war potential will never be maintained."
Yet since coming to power, Abe has regularly evoked Japan's military strength, pouring billions into new jets and missile systems and proposing that the pacifist language in the constitution be repealed by 2020.
On Wednesday, North Korean state media called the missile over Japan the "the first step" in new military operations in the Pacific, and renewed threats against the U.S. territory of Guam, calling the Pacific island "an advanced base of invasion."
— Greg Walters 
Deadly flooding could make Yemen's cholera epidemic even worse
That's the number of people who have died in flash flooding in southern Yemen, the government-run Saba news agency reported Wednesday, as unusually heavy summer rains add to the miseries of a country devastated by a two-year civil war and a spiraling humanitarian crisis.
Now there are fears that the flooding could aggravate the country's cholera epidemic, which has already killed nearly 2,000 people and infected more than half a million. Flooding can increase the spread of waterborne diseases such as cholera, and Yemen is already experiencing the biggest cholera outbreak on record.
Floodwaters up to 11-feet deep destroyed homes near the city of Ibb, and flooded an area southwest of the war-ravaged city of Taiz Tuesday night, sweeping dozens of vehicles away, according to reports. Thirty-two people remain unaccounted for, officials told the Associated Press, and local authorities have appealed for international help with the rescue and recovery efforts.
"We haven't seen rainfall like this in 20 years," Ali el-Kubati, a resident of al-Maqatira, an affected area near Taiz, told Anadolu news agency.
Yemen has rainy summers, with flash flooding sometimes occurring where torrential rains hit areas with poor drainage. Much of the country's infrastructure has been reduced to rubble by the ongoing civil war that began in March 2015, resulting in more than 10,000 deaths, displacing 2 million people and sparking outbreaks of famine and illness.
The Saudi-led coalition's crushing campaign of airstrikes on civilianinfrastructure, and its blockade on imports, has exacerbated an historically bad outbreak of cholera that experts say was entirely preventable.
The outbreak, which began in May, is expected to reach 600,000 cases by the end of the year. Spread through contaminated water or food, cholera has travelled rapidly in a country where war has shattered basic sanitation infrastructure, leaving nearly 15 million people without regular access to clean water.
The near-collapse of the country's healthcare system has made the outbreak even deadlier. Cholera is easily treatable through rehydration in environments with adequate medical support. But in Yemen, where less than half the hospitals are operational and only a third of the necessary medical supplies making it in, nearly 2,000 people have succumbed, nearly a quarter of them children.
— Tim Hume 
Read More: Yemen's crisis is already a forgotten catastrophe that stands to get worse
381 new species just discovered in Amazon could soon be extinct
Three hundred and 81 new species of plants and animals were recently were recently discovered in the Amazon — and they're all located in habitats now under threat from human activity.
Finding new species, while exciting, is hardly a novel experience in the world's largest rainforest. Researchers uncover some new shrub or critter literally every other day just by looking in places under assault from farming, logging and other types of environmentally destructive human behavior.
That's according to a study released Thursday by WWF Brazil covering 2014-2015, years that saw the discovery of a pink river dolphin and the western puffbird, along with 93 types of fish and 216 plants.
"Our economic activities are causing species to go extinct before we even know about them," Ricardo Mello, co-ordinator of the WWF Brazil Amazon program, told the BBC.
On Wednesday a judge temporarily blocked Brazilian President Michel Temer's bid to open up an Amazon nature preserve bigger than Denmark to gold mining interests.
That sets the stage for a legal battle between a deeply unpopular president seeking economic growth and opponents fighting to stop "the biggest attack on the Amazon in 50 years," in the words of one opposition lawmaker.
Brazil's attorney general has already appealed the decision.
— Greg Walters 
Venezuela — August 30, 2017
Venezuela approves treason trials for opposition leaders
Venezuela's embattled government lurched closer toward dictatorship Tuesday as the country's new national assembly voted to hold trials of opposition leaders for treason.
Hours after the vote, the United Nations issued a report condemning President Nicolas Maduro's use of violence and torture against his opponents.
Venezuela's national assembly, stacked with allies of President Nicolas Maduro, unanimously approved a decree instructing the country's chief prosecutor's office to immediately begin investigating "traitors" from the opposition accused of supporting U.S. sanctions against Venezuela.
The head of the opposition-controlled parliament, Julio Borges, was singled out during the debate in the new Constituent Assembly for asking U.S. bank Goldman Sachs to stop buying Venezuelan bonds.
"Those who call for treason leave us no option but to treat them as enemies of their own country," said Diosdado Cabello, a national assembly delegate from the ruling socialist party.
On Friday, U.S. President Donald Trump signed an executive order that slapped fresh sanctions on Maduro's "dictatorship," prohibiting investors from dealing in new debt and equity issued by the government of Venezuela or by state oil company, PDVSA.
The UN report released Wednesday accused government forces of a deliberate, widespread campaign of violence and intimidation aimed at quelling months of anti-government demonstrations that have left at least 124 dead.
Security forces shot protesters with firearms loaded with buckshot, marbles and metal rod pieces, the report said. Many of the thousands detained by authorities have been tortured, with some "severely beaten, including with sticks, metal bars, pliers, helmets, baseball bats and weapons, all over their bodies," according to the report.
"The guards would regularly throw tear gas grenades inside the cell, and blocked the doors' bars with a mattress to prevent the gas from dispersing," the report quoted one unnamed detainee as saying.
"We have seen an erosion of democratic life in Venezuela," UN High Commissioner for Human Rights Zeid Ra'ad al-Hussein told reporters in Geneva. "It must be barely alive, if still alive."
— Greg Walters
Monsoon floods kill 1,200 and leave millions homeless in South Asia
Heavy flooding and landslides from punishing monsoon rains in South Asia this summer have left 1,200 dead, millions homeless, and thousands of villages isolated. Tens of thousands of homes, hospitals, and schools have been destroyed, and farming has been devastated. The United Nations estimates that 41 million people in India, Bangladesh, and Nepal have been affected by this year's unusually strong monsoon season.
South Asia suffers from frequent flooding during the June-to-September monsoon season each year. But this year, authorities say, the torrential monsoon rains have been heavier than usual, resulting in the worst floods in years. The downpours haven't stopped either, upping the risk of waterborne diseases and raising fears that things may get worse.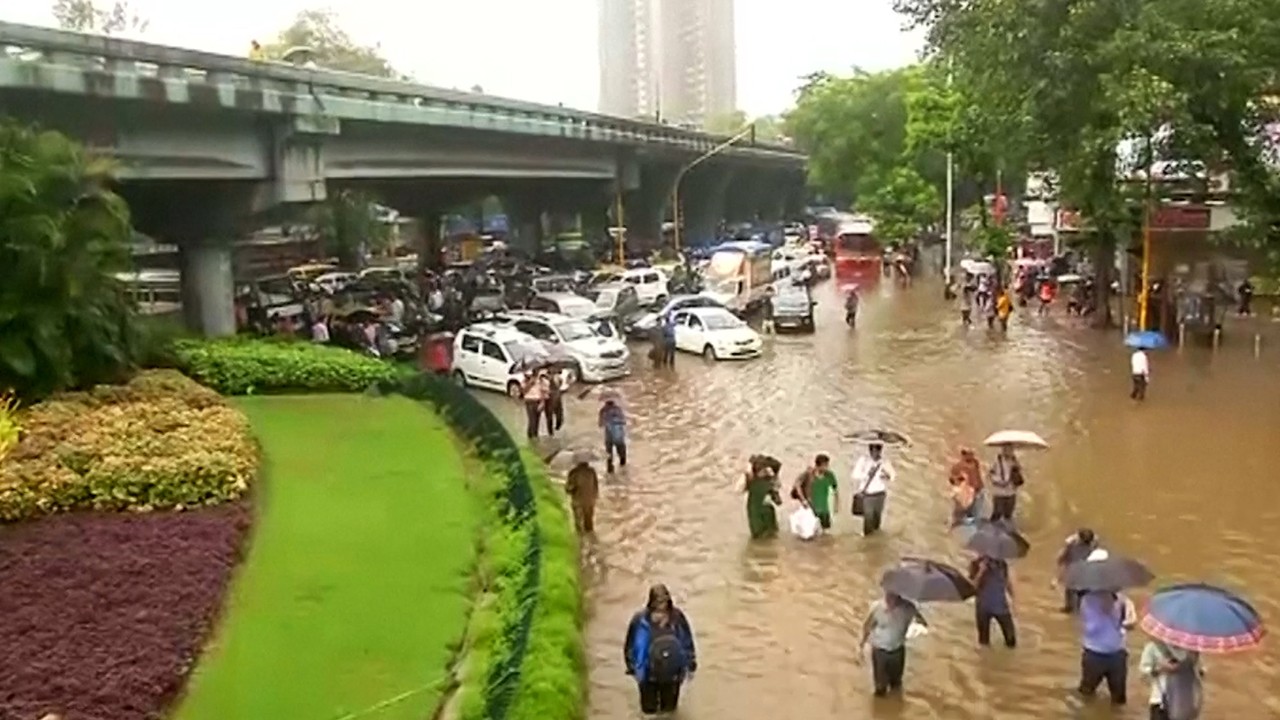 The disaster has been compounded by a lack of infrastructure, like levees, to prevent flooding, and other factors such as deforestation, which contributes to landslides. While the flooding is indiscriminate in who it affects — India's financial capital, Mumbai, has been seriously hit — it's the poor who are typically worst affected, as they often live on cheap, overcrowded land prone to flooding or landslides.
In Bangladesh, a densely populated and low-lying country with a quarter of its territory less than a meter above sea level, about a third of the country is reportedly underwater. In the Indian state of Uttar Pradesh, about half of the territory of the state of 220 million people has been flooded.
Aid workers are now concerned about secondary waves of suffering, in the form of waterborne diseases such as diarrhea and malaria, and are prioritizing securing clean water and sanitation facilities for the millions affected. There are also concerns about the vulnerability women and children, who are at increased risk for abuse or exploitation in the midst of the emergency.
The disaster will also have a huge impact on farming, and employment in areas heavily dependent on agriculture, with huge swathes of farmland destroyed and valuable crops swept away.
Indian Prime Minister Narendra Modi has cited climate change as playing a big role in this year's severe flooding, saying that the altered weather cycles were having a "big negative impact."
— Tim Hume
Erdoğan's security guards were just indicted for D.C. melee.
Nineteen people — including 15 Turkish security officials — were indicted Tuesday on a variety of charges for their role in a violent clash outside the Turkish embassy in D.C. in May.
The defendants were charged with conspiracy to commit violence, assault with a dangerous weapon, assault with dangerous weapon of a senior citizen, aggravated assault, assault with significant bodily injury, and simple assault. The charges were all supplemented with a "bias-related hate crime" enhancement, which, under D.C.'s hate crime laws, could increase jail time if the defendants are found guilty.
The charges were welcome news to U.S. officials and diplomats on both sides of the aisle who expressed outrage over the violent clash in May, when members of Turkish president Recep Tayyip Erdoğan security detail attacked peaceful protesters outside the Turkish Embassy. According to prosecutors and video of the incident, the security officials attacked a group of protesters who were waving the flag of the Syrian Kurdish PYD party, which Turkey considers a terrorist group. Nine people were injured in the melee.
The video footage, which showed Erdoğan's security detail ignoring D.C. metro police and brawling with protesters, caused an international sensation and brought controversy to Trump's fledgling presidency.
The indictments are likely to put added pressure on already strained U.S.-Turkish relations.
— Gabrielle Bluestone
Burger King Russia created a cryptocurrency for some reason
Burger King has launched a new customer rewards program in the form of a cryptocurrency called the "Whoppercoin," which diners will be able to collect in digital wallets, trade with each other and use to purchase burgers.
But the King's new customer rewards program will likely double as handy vehicle for laundering illicit earnings from activities like drug smuggling and arms trafficking if it proves popular enough, cybercrime experts told VICE News Tuesday.
Burger King unveiled the new digital currency exclusively for customers in Russia on Friday, saying clients will be able to scan receipts with a smartphone to redeem one "Whoppercoin" for every ruble spent, and buy a burger for 1,700 Whoppercoins.
"Now, the Whopper isn't just a burger loved by people in 90 different countries, it's also an investment tool," said Ivan Shestov, head of external relations for Burger King Russia in a statement.
It's only a matter of time before criminals start using Whoppercoins to launder ill-gotten earnings, said Professor Emin Gun Sirer of Cornell University, director of the Initiative for Cryptocurrencies and Contracts.
"What people will do is convert [illicit] earnings to a cryptocurrency, and then cycle through multiple cryptocurrencies. You might go from bitcoin to Whoppercoin, and so on," Sirer said. "You could use it to hide the source of cash flow from drug dealing, arms dealing, gambling, whatever you want."
Whoppercoin will be traded on a platform provided by the startup Waves and backed by blockchain, the same distributed ledger software used for digital currencies bitcoin and ethereum. A supply of 1 billion Whoppercoins has already been issued. (Right now a dollar equals 59 rubles.)
Sirer said other corporations are likely to follow Burger King's example in issuing their own bespoke forms of cryptocurrency as customer loyalty programs, potentially providing money launderers with a rich variety of options for creating complicated transactions to hide their sources of income.
Professor Nicolas Christin, an online crime expert at Carnegie Mellon University, said the attractiveness of Whoppercoin for cyber criminals would depend on how widespread the program becomes.
"If it ends up being a wild success and everybody's using it, then it will definitely be used" for money laundering, he told VICE News. "It depends on the market traction that this thing gets."
— Greg Walters 
Colombia — August 29, 2017
Colombia says Venezuela's military crossed the border, stole from people
Colombia has lodged a diplomatic complaint against Venezuela after its military allegedly crossed the border and stole money and cellphones from locals, in the latest flare up between the neighboring countries.
Colombia sent a letter of protest to the Venezuelan embassy in Bogota after Venezuelan security forces crossed into Paraguachon, La Guajira province over the weekend, Reuters reported Monday. Venezuelan President Nicolas Maduro has denied the incident.
Tensions between the neighboring countries have soared during a months-long political and economic crisis that has crippled Venezuela and sparked a migrant crisis at Colombia's border, as impoverished Venezuelans attempt to flee.
Colombian President Juan Manuel Santos has been one of Maduro's most vocal critics in the region. Last month Santos criticized Maduro's legislative power grab as a dip toward dictatorship, saying he would refuse to recognize a Venezuelan vote to install an all-powerful new legislature stacked with pro-government figures. A defiant Maduro has personally attacked Santos in kind, calling him a "failure," a "hypocrite," and a "slave of the North American empire."
The relationship reached new lows when Venezuela's former top prosecutor turned dissident, Luisa Ortega Diaz, arrived in Colombia this month via Aruba, having fled Venezuela in a dramatic speedboat escape in fear for her life. While Maduro sought an international arrest warrant for her return, Santos said he would grant her asylum if she sought it. Ortega later reportedly left for Brazil, and on Monday appeared in Costa Rica to file a complaint with a regional human rights commission against Maduro's government.
Venezuela responded to Santos' hospitality toward Ortega by blocking the signals of two Colombian television networks on Thursday.  The director of one of the networks, Noticias Caracol, said he believed their coverage of the Ortega case may have prompted the censorship. Santos slammed the banning of the networks as another blow to Venezuela's democracy.
"It's another demonstration of a regime that does not like freedoms," he said.
The crisis in Venezuela — a once affluent, oil-rich nation now suffering from hyperinflation, acute shortages of food and medicine, and worsening crime and political violence — is also making its impact felt across the border. The country's spiraling political and economic woes have triggered an exodus of Venezuelans seeking a better life across the 2,218-mile-long border, with up to 25,000 crossing the border each day, placing a strain on Colombia's services.
— Tim Hume
Read more: Venezuelans are flooding into Colombia — and it's starting to feel like a refugee crisis
North Korea's latest missile just flew over Japan
North Korea launched a ballistic missile that flew over Japan in the early hours of Tuesday morning, the Pentagon confirmed, adding that it is still assessing the launch.
Though Japan didn't attempt to shoot down Kim Jong Un's latest provocation, the missile's trajectory still spooked its government: It sent an alert early Tuesday morning urging citizens in the country's north to head to a sturdy building or underground area to prepare for a possible missile strike from Pyongyang.
Japan's Chief Cabinet Secretary Yoshihide Suga called the missile a "a grave threat," and Prime Minister Shinzo Abe vowed to "firmly protect the lives of the people," Reuters reported.
The missile, which was launched nearby Pyongyang's international airport, broke into three pieces before crashing into the Pacific Ocean off the coast of the island of Hokkaido in northern Japan, South Korean and Japanese media reported. The North American Aerospace Defense Command determined that the missile was not a threat to North America.
Pyongyang's Tuesday morning missile test comes less than 72 hours after North Korea launched three short-range missiles into the East Sea, and just 24 hours after U.S. Secretary of State Rex Tillerson said the U.S. would continue to apply "peaceful pressure" with the aim of bringing "Pyongyang to the negotiating table."
While this is the first time since 2009 that a North Korean missile has overflown Japan, the launch didn't exactly occur out of the blue: Earlier this month, a statement from North Korea's state-run Korean Central News Agency provided unusual detail about potential missile trajectories, hinting that the Hermit Kingdom would attempt to overfly Japan.
Both Japanese and South Korean governments convened emergency meetings of their national security councils in response to the missile. The U.S. government confirmed the missile's flight, and is in communication with the Japanese and South Korean governments.
— Carter Sherman 
A previous version of this piece incorrectly identified 1998 as the last time a North Korean missile overflew Japan. It happened again in 2009.
Read more: Trump doesn't have enough diplomats to deal with North Korea
South Africa — August 28, 2017
Cannibal ring busted after member hands cops a bag of body parts
A self-described traditional healer touched off a firestorm of controversy over cannibalism and witchcraft in a small northeastern town in South Africa after marching into local police headquarters a week ago and announcing he was "tired of eating human flesh," according to a local official.
"He opened up the bag he'd brought with him [to the police station], and inside there was a leg and an arm from a human being," Colonel Thembeka Mbhele, spokesperson for the regional KwaZulu-Natal police department, told VICE News Monday.
An investigation of the man's home later turned up more bodily remains, including eight human ears in a cooking pot, according to local press reports. Mbhele declined to confirm which body parts were found in the home, saying only that that genetic tests are being performed to establish their identity.
Now, five South African men are facing murder charges amid accusations they killed and ritualistically ate other people in the name of traditional medicine. The case has turned out hundreds of angry protesters into the streets against the accused and prompted strenuous denials from the country's traditional medicine community that it condones cannibalism.
The suspects from the rural northeastern town of Estcourt have been charged with murder, conspiracy to commit murder and possession of human body parts, Mbhele said.
Two of the accused claim to be local traditional healers, Mbhele said.
On Monday, hundreds of protesters demonstrated outside the Estcourt Magistrate's Court against giving the men bail. Inside, the five men covered their faces with their clothes while appearing before a judge, and rescinded their bail request, local media reported.
S'phiwe Manana, an Estcourt organizer with South Africa's Traditional Healers Organization, which claims to have 100,000 members, said human bodies aren't used in healing practices, which he said can cover a wide range of conditions from cancer or stroke to mental illness.
"They may use animal skins, but not body parts," Manana told VICE News. "These two people are not traditional healers. They are pretending to be traditional healers. Real traditional healers don't mix human body parts with traditional medicine. We are trying to clear our name."
Colonel Mbhele denied a local media report that claimed 300 local residents had admitted to eating human flesh given to them by one of the now-arrested traditional healers.
"That is a lie," Mbhele said.
The next trial date has been set for September 28th, Mbhele said.
— Greg Walters
Singapore — August 28, 2017
U.S. Navy recovers remains of all sailors from USS John S. McCain
The U.S. Navy has now recovered the remains of all 10 sailors who went missing after the American warship USS John S. McCain collided with an oil tanker near Singapore last week. The discovery officially ends recovery efforts from the crash, the Navy said in a statement Sunday.
Two bodies were discovered and identified last week in a multinational search and rescue effort spanning 5,524 m, according to the Maritime and Port Authority of Singapore. Though search and rescue efforts were suspended Thursday, U.S Navy and Marine Corps divers continued searching flooded compartments of the ship for a week and found the remains of the other eight.
The fallen sailors were all young. Five of them had yet to celebrate their 26th birthday. The youngest of them, John Henry Hoagland III — an electronics technician from Texas — was just 20 years old.
The U.S. Navy said that the incident, not the first of its kind this year, is under investigation. Though few questions have been answered so far surrounding the nature of the collision, Chief of Naval Operations Adm. John Richardson said there was "no indication" that it was deliberate. The Navy dismissed the commander of the U.S. Pacific Fleet, Vice Adm. Joseph Aucoin, from his position last week "due to a loss of confidence in his ability to command." And Richardson ordered a monthslong review, according to the New York Times.
The collision of the John S. McCain was the fourth incident to happen with the U.S. Navy in the Asia region this year and the second deadly incident in the last three months. In June, guided-missile destroyer USS Fitzgerald collided with a container ship off the coast of Japan, killing seven U.S. Navy sailors.
— Alexa Liatuad
Read earlier updates: Week of August 01, Week of August 07, August 14, and week of August 21.