Donald Trump may be a world of chaos all by himself, but the world beyond Trump is changing in dramatic ways, often with little notice. We'd like to tell you about it and we're keeping track of these global changes, from the incremental to the monumental, so that you don't have to.
Sign up for our weekly newsletter of the biggest news in the world delivered to your inbox every Sunday.
North Korea — August 25, 2017
North Korea launches 3 short-range ballistic missiles
North Korea launched three short-range ballistic missiles Friday morning, U.S. Pacific Command confirmed. Of the three missiles, two failed in flight, and a third blew up almost immediately.
Pacific Command did not say how far the missiles flew, though South Korea's local Yonhap news agency, citing South Korea's military, reported that they travelled just over 150 miles. The North American Aerospace Defense Command determined that none of the missiles were a threat to the United States, or to Guam, which North Korea has threatened in the past.
The latest display from Pyongyang's military follows a week of diplomatic overtures from the United States, and Secretary of State Rex Tillerson complimented the country Tuesday, telling reporters that North Korea reacted to recent UN sanctions with "some level of restraint that we've not seen in the past." The test also comes amid the twice-yearly joint military games between tU.S. and South Korean forces, which North Korea views as practice for an invasion of its country. On Wednesday, a North Korean state-run media outlet reported that North Korean dictator Kim Jong Un had ordered the country's weapons program to manufacture more rocket engines and warhead tips.
This is the 15th time that North Korea has attempted to test its missile arsenal so far this year; last month, the Hermit Kingdom tested out two intercontinental ballistic missiles.
Deadly riots rock India over guru's rape conviction
At least 30 people have been killed during violent protests in India over the rape conviction of controversial religious leader Gurmeet Ram Rahim Singh. The guru's spiritual devotees clashed with police Friday in the northern city of Panchkula, where the verdict was handed down.
Singh, who was convicted of raping two of his followers, sits at the head of Dera Sacha Sauda, a spiritual organization with dozens of outposts across India. The group also has a handful of international locations and a cult of loyal followers, more than 200,000 of whom had descended upon the region ahead of Friday's ruling, according to the BBC.
Singh is also at the center of a murder investigation tied to Friday's rape conviction. Rape in India carries a sentence of at least seven years.
The U.S. Embassy in India issued a safety advisory for travelers in the region ahead of the ruling.
"We know that all the cases against him are fake," a follower told the Hindustan Times. "But if they hold him guilty, it will turn into a do-or-die situation."
Singh's adherents followed through on their promise of a riotous rampage, throwing stones and setting fire to buildings, cars, and trains as the unrest spread throughout neighboring states and even down to the capital, New Delhi.
Thousands of security forces deployed to the area responded with tear gas, water cannons, and bullets. Most of the deaths are said to be from bullet injuries sustained by protesters, according to a regional official.
Singh, sometimes dubbed the "guru of bling," is also a popular singer who has sold millions of albums. He was listed as one of India's most powerful people in 2015.
— Isabella McKinley Corbo
Myanmar — August 25, 2017
Rebels in Myanmar launch deadly wave of surprise attacks
Seventy-one people were killed in at least 25 coordinated surprise attacks on police and military outposts in western Myanmar Thursday night by militants aligned with the country's minority Muslim Rohingya ethnic group.
The assault came hours after former UN Secretary General Kofi Annan, head of a commission aimed at easing tensions between the state and the Rohingya, warned that radicalization in the Rakhine region could soon spiral out of control.
A militant group called the Arakan Rohingya Salvation Army, or ARSA, took responsibility for the attacks via Twitter, calling the move a response to recent "Burmese government sponsored atrocities" in the region. The government said 59 of the dead were rebels and 12 were state security officials.
The fighting marks a significant escalation of fighting that began last October, when nine border police were killed in another series of coordinated assaults.
The Rohingya have been called possibly "the most persecuted people on earth" by The Economist magazine amid religious tensions and a brutal military crackdown that the United Nations says has included extrajudicial killings, house burnings, and the shooting of children by security forces.
An open letter signed by more than a dozen Nobel laureates warned of "ethnic cleansing" and criticized the government for the deaths of hundreds in the offensive in December.
"It would be one thing to round up suspects, interrogate them and put them on trial," the letter said. "It is quite another to unleash helicopter gunships on thousands of ordinary civilians and to rape women and throw babies into a fire."
Thousands of Rohingya have fled in recent months from Myanmar, the country formerly known as Burma, for neighboring Bangladesh. The government has called claims of abuse "distorted."
"Tensions remain high and they risk becoming worse," Annan said in a statement Thursday. "There is no time to lose. The situation in Rakhine State is becoming more precarious."
— Greg Walters
Read More: Myanmar's brutal treatment of Rohingya Muslims back in spotlight after damning new reports
U.N. calls for pause in Raqqa offensive to allow civilians to flee
The United Nations has called on the U.S.-led coalition forces to pause their blitz on Raqqa to allow the estimated 20,000 trapped civilians there to escape, amid reports of mounting civilian casualties and growing fears for those stuck inside the city.
U.N. Special Adviser Jan Egeland told reporters Thursday it was time to consider a humanitarian pause in fighting, as the civilians stuck in the five neighborhoods still held by ISIS were in extreme peril.
"I cannot think of a worse place on earth now than in these five neighborhoods and for these 20,000 people," Egeland said.
Those trapped in the city are being used as human shields by ISIS, as their neighborhoods come under heavy shelling from the surrounding Syrian Democratic Forces – the Kurdish and Arab forces being used on the ground – and a ferocious aerial assault from the coalition, which has conducted 250 strikes in the past week alone.
"Now is the time to think of possibilities, pauses or otherwise that might facilitate the escape of civilians, knowing that Islamic State fighters are doing their absolute best to use them as human shields," Egeland said. "The civilian casualties are large and there seems to be no real escape."
Monitoring groups claim the civilian death toll in Raqqa has been mounting swiftly, with 42 killed Monday in the deadliest day since the offensive began in June, according to the Syrian Observatory for Human Rights.
In a report released Thursday, Amnesty International said hundreds of civilians had been killed since the campaign began, and that those still in the city faced an even greater risk as the conflict entered its last stages. The report included testimony from survivors claiming coalition forces have targeted boats of civilians fleeing across the Euphrates River, one of the few ways out of the city.
For its part, the coalition says it takes all precautions to avoid civilian casualties. Lt.-Gen. Stephen Townsend, commander of the coalition, said Tuesday that he had not seen "hard information" showing a significant increase in civilian casualties, but that some increase was "probably logical to assume," given that the coalition's operations had intensified in the latter stages of the conflict.
Civilians in trapped in Raqqa would still face major threats from ISIS even if the coalition paused its operations. According to Amnesty, the terror group has laid landmines along exit routes, set up checkpoints, and posted snipers to prevent people leaving its remaining territory.
Humanitarian pauses were negotiated with rebel groups to allow civilians to flee besieged rebel-held areas of Aleppo in 2016. Egeland said any potential pause in the fighting in Raqqa would not involve dealings with ISIS, which the U.N. had no contact with.
– Tim Hume
Thailand — August 25, 2017
Thai leader ousted by coup flees the country to avoid prison
Thailand's former Prime Minister Yingluck Shinawatra has fled the country ahead of a judgement on criminal charges brought against her by the ruling military regime. Yingluck was ousted by a coup three years ago.
The ex-leader, who ran the country for nearly three years before being overthrown in May 2014, failed to appear before the Supreme Court Friday where she had been due to hear the verdict over her alleged role in a controversial rice subsidy scheme which cost the country billions of dollars. The 50-year-old, who has denied any wrongdoing and dismissed the charges as politically motivated, faced up to 10 years in prison if found guilty.
When she failed to show, Yingluck's legal team told the court she was unwell, prompting authorities to issue an arrest warrant for her and sparking speculation about her whereabouts. While immigration authorities said they have no record of her leaving the country through proper channels, reports soon emerged from sources close to her family and her Pheu Thai Party that she had skipped the country – in breach of the travel ban that had been placed on her since the trial began in 2015.
One party source told AFP the former PM was "likely in Singapore."
If Yingluck has fled Thailand, she follows in the footsteps of her older brother Thaksin Shinawatra, a telecommunications billionaire who became prime minister in 2001 before being overthrown in a military coup five years later. Thaksin subsequently fled Thailand to escape a corruption conviction and has lived in exile, mainly in Dubai, ever since.
Friday marks the latest twist in an ongoing struggle between the populist political movement founded by Thaksin and inherited by Yingluck, which draws its support largely from the rural poor, and the country's urban pro-military, royalist elite, which has its base in the capital and loathes the Shinawatra clan.
While various incarnations of the Shinawatra's political party have won every election in Thailand since 2001, they have twice been deposed in military coups, the second coming in 2014 after months of protests that sought to remove Thaksin's influence from the country's politics, leaving the country deeply divided.
Yingluck, Thailand's first female prime minister, faced charges of criminal negligence over her involvement in a rice subsidy scheme, introduced in 2011, in which farmers were paid up to twice the market rate for the crop. Critics alleged the scheme, which cost the country $8 billion in losses and left it with vast stockpiles of unsold rice, was a wasteful attempt to curry favour with rural voters.
Yingluck's former commerce minister, Boonsong Teriyapirom, was sentenced to 42 years jail Friday after a court found him guilty of falsifying rice deals with China.
– Tim Hume
Brazil just handed over a massive Amazon reserve to gold miners
Brazil lifted restrictions on mining for gold in an Amazon nature reserve bigger than the size of Switzerland on Wednesday as embattled President Michel Temer, reeling from a bribery scandal, desperately reaches for new ways to kick-start his country's struggling economy.
The move comes amid signs that deforestation in the Amazon, the world's largest rainforest and home to one-in-ten of Earth's species, has accelerated.
Temer signed a decree abolishing protection for a 17,800-square mile area in the country's north known as the National Reserve of Copper and Associates (Renca), thought to contain rich veins of gold, iron, manganese and other minerals.
Environmentalists blasted the move.
"Opening up these areas for mining without discussing environmental safeguards is a social and environmental international affront," World Wildlife Federation Brazil's executive director, Mauricio Voivodic, wrote in an email to VICE News. "A gold rush in the region will create irreversible damage to local cultures as well."
Despite the dire warnings, ordinary Brazilians are more concerned about the country's ongoing economic and political turmoil, said Chayenne Polimedio, an analyst focusing on Brazilian affairs at the New America think tank in Washington DC.
"The police aren't getting paid. Teachers aren't getting paid. People are upset," Polimedio said. "And there's a new political scandal every week. People just aren't paying attention to this."
A report by Brazil's space agency published in late 2016 said satellite monitoring revealed the pace of deforestation in the Amazon sped up by 29 percent over the previous year.
— Greg Walters 
Privacy is now a fundamental right for all Indians
India's Supreme Court unanimously ruled Thursday that privacy is a fundamental right for its citizens in a landmark decision likely to throw a wrench in the country's ambitious bid to have every citizen upload personal data and biometric scans to a massive database.
This historic ruling stems from challenges to India's controversial Aadhaar scheme — a government database that assigns a unique identification number to every Indian. The controversial database stores retina and fingerprint scans that can ultimately be used to track an individual's interactions with the state, from voting to cell phone bills. The government claims the database is necessary to modernize India, but critics argue it encourages countrywide spying and is a major privacy violation.
The court's decision is a "crucial affirmation of civil rights and the distinction between public power and personal liberty," said Madhav Khosla, an Indian constitutional scholar.
During the hearing, the Indian central government argued that individual freedom must come second to development concerns. "The claim to liberty has to subordinate itself to the right of life of others," said Attorney General KK Venugopal.
The Indian government's ambitious scheme will face more upheaval in the months to come, as multiple pending challenges to the Aadhaar database will be heard in light of Thursday's unanimous decision.
The question of privacy as an intrinsic right has been alluded to in a series of contradictory judgements throughout India's legislative history, but Thursday's 547-page ruling settles the issue, establishing a strong constitutional precedent.
India's top court convenes benches of various sizes to hear cases, depending on the importance of the case. The average panel holds two or three judges, but a rare nine-member bench heard this case. "It's hugely important that this case was heard by enough judges to settle the place of privacy under India's constitution," Khosla said. "It sets a strong precedent and means that future judgements will likely follow this path."
Thursday's landmark ruling is also likely to impact other statutes concerning personal autonomy, most notably Section 377, which criminalizes homosexuality. The Court specifically included sexual orientation as an individual liberty, writing that India's democracy "must protect the family, marriage, procreation, and sexual orientation… all important aspects of dignity."
— Isabella McKinley Corbo
Russia's ambassador to Sudan found dead in swimming pool
"Preliminary investigation shows that his death was natural."
— Sudanese police spokesman.
Russia's ambassador to Sudan was found drowned in his home swimming pool in Khartoum, Wednesday evening, Sudanese police said. The Russian Foreign Ministry confirmed Ambassador Mirgayas Shirinskiy's death, with local media reporting the 62-year-old diplomat showed symptoms of a heart attack.
It's not yet clear why he drowned but a police spokesman said they had ruled out foul play. "Preliminary investigation shows that his death was natural," the spokesman told the AFP.
Ambassador Shirinskiy is the sixth Russian diplomat to die in the past 10 months:
Some of these deaths are still under investigation, but authorities say they all appear natural and they do not suspect foul play. A few other Russian officials, however, recently died of decidedly unnatural causes.
Andrey Karlov, Russia's ambassador to Turkey, was assassinated by a Turkish police officer in December.
Petr Polshikov, a senior Russian diplomat, was found shot to death in his Moscow home that same day. (A Russian Foreign Ministry spokesperson said it was likely an accident.)
— Carter Sherman
Venezuela — August 23, 2017
Venezuela's rebel prosecutor flees to Brazil amid death threats
Venezuela's former chief prosecutor, Luisa Ortega Diaz, who claims to have evidence implicating the highest levels of her country's government in corruption, landed in Brazil Tuesday evening as Venezuelan President Nicolas Maduro launched an international campaign to have her arrested.
A former ally of Maduro, Ortega Diaz on Tuesday said "the rule of law has died" under his leadership, and that his regime should be held accountable if death threats she claims to have received are fulfilled.
Ortega Diaz and her husband have fled through Aruba, Colombia, and Panama since their dramatic escape Friday from the spiraling chaos in Venezuela, where months of violent anti-government protests have killed over 100 people.
"I have evidence that links Maduro to cases of corruption with Odebrecht," Ortega Diaz told a press conference in Brasilia, referring to the Brazilian construction company that's been active in Venezuela.
Ortega Diaz was fired in early August over allegations of committing "immoral acts" by the country's new national assembly, which is dominated by allies of the president. Maduro announced Tuesday he would seek an international arrest warrant for Ortega Diaz and her husband, left-wing lawmaker German Ferrer, saying they'd been involved in serious crimes and accusing Ortega Diaz of being a pawn for the United States.
"[She] wanted to hide behind the mask of being a leftist and a [socialist]," Maduro said. "But for some time, the ex-prosecutor has been working for the United States in hopes of damaging Venezuela."
Venezuela political crisis has been accompanied by a spiraling economic collapse that has led the country to seek cash and credit from Russia in exchange for access to Venezuelan oil. Maduro announced Tuesday he would soon travel to Russia to meet with Russian President Vladimir Putin for talks on energy, defense and food issues.
— Greg Walters 
Raqqa's deadliest day yet for civilians: 42 killed by U.S.-led airstrikes
That's the number of civilians who were killed Monday in U.S.-led airstrikes on the ISIS stronghold of Raqqa, according to a monitoring group, which says it was the deadliest day for civilians since the Raqqa offensive began.
The Syrian Observatory for Human Rights, a U.K.-based group that tracks the Syrian conflict through its networks in the country, said Tuesday that 19 children and 12 women were among those killed Monday in strikes on areas of the city under ISIS control.
The latest reports come amid a recent surge of civilian deaths in Raqqa, as coalition jets mount a furious air campaign on the remaining ISIS-held portion of the city in support of their partners on the ground, the Syrian Democratic Forces. The Syrian Observatory for Human Rights says that 167 civilians have been killed by coalition strikes since 14 August.
"The tolls are high because the air strikes are hitting neighbourhoods in the city center that are densely packed with civilians," the observatory's director, Rami Abdul Rahman, told AFP.
The U.S.-led coalition against Islamic State said it took all precautions to avoid civilian casualties, and it was assessing the claims of civilian deaths, Reuters reported. But monitoring group Airwars reports that the coalition's air campaigns in Syria and Iraq have become substantially more lethal for civilians, and suspect civilian protections have been weakened since President Donald Trump took office.
Coalition officials have blamed the rise in civilian deaths on the bloody nature of the latter stages of the campaigns in Raqqa and Mosul, where heavily-populated urban areas are coming under fierce assault, rather than on a change of strategy.
According to the United Nations, at least 200,000 people have fled Raqqa to avoid the assault on the city that began in June, but an estimated 25,000 remain trapped there, stuck between ISIS and the advancing forces. Those still in the city also face a dire humanitarian situation, with severe shortages of food and water, the U.N. says.
— Tim Hume 
North Korea — August 22, 2017
North Korea is reportedly supplying chemical weapons to Syria
A confidential U.N. report has claimed that North Korea is supplying chemical weapons to the Syrian government. The memo, seen by Reuters Monday, alleges that two shipments from the hermit kingdom headed to a Syrian government agency were intercepted in the last six months.
The 37-page report, submitted to the UN Security Council this month, does not to give specific details about when the shipments were intercepted or where, and contains no information about what exactly was being transported. The UN did not immediately respond to a request to confirm the contents of the report.
The shipments were apparently destined for Syria's Scientific Studies and Research Centre (SSRC), an entity which has overseen the country's chemical weapons program since the 1970s. The supplies came from the Korea Mining Development Trading Corporation, described as Pyongyang's key arms dealer when it was blacklisted in 2009 by the UN Security Council. Just last year, two of the organization's representatives in Syria were also blacklisted.
The confidential report also mentions an ongoing investigation into the use of a nerve agent called VX — classified by the United Nations as a weapon of mass destruction — in the death of Kim Jong Un's estranged half brother Kim Jong Nam in February.
— David Gilbert
Read more: North Korea is reportedly supplying chemical weapons to Syria
Earthquake kills two as "miracle" brothers are rescued from the rubble
Three young brothers, including a seven-month-old baby, have been pulled alive from the rubble of their family home hours after an earthquake struck the Italian island of Ischia, in an outcome rescuers hailed as a "miracle."
The children were trapped beneath the debris of their home when the 4.0-magnitude quake hit the island, a popular holiday destination in the Bay of Naples, just before 9 p.m. local time Monday. Rescue workers toiled throughout the night to free them, maintaining voice contact with the children, eventually rescuing seven-month-old Pasquale after seven hours, to cheers from onlookers.
The rescue teams then managed to free Mattias, 8, to further applause, after 12 hours trapped in the rubble, before finally rescuing eldest brother Ciro, 11, more than 17 hours after the quake hit. Authorities said that the two older boys had taken cover under a bed when they felt the first tremble, and confirmed that their parents were safe.
At least two people were killed and 39 injured in the quake, while an estimated 1,500 others have been displaced. One of the victims was crushed when her home collapsed in the town of Casamicciola, just north of the epicenter, and the other was struck by debris falling from a church.
Italy is no stranger to earthquakes; the latest came just days before the first anniversary of deadly quake in central Italy that killed nearly 300 people, most in the town of Amatrice. The deadliest to have struck Ischia happened in 1883, when 2,300 were killed.
Additional ferries were put on throughout the night to bring in extra emergency workers and ship out displaced tourists, who flock to the island in droves in the summer months. The volcanic island, off the coast of Naples, is known for its thermal springs, ruins and scenery, and features prominently in the popular books of Italian novelist Elena Ferrante.
— Tim Hume
Chile's total ban on abortion is finally set to end
A Chilean court ruled Monday in favor of approving a law that overturns the country's total abortion ban. Chilean women will soon be able to seek abortions when their lives are endangered, if their fetus faces fatal abnormalities, or if they've been raped.
President Michelle Bachelet first introduced legislation to ease the abortion ban back in January 2015, and Chile's Congress and Senate passed that law in August of this year. But anti-abortion groups immediately challenged the law as unconstitutional, sending the battle over abortion rights to Chile's Constitutional Tribunal and casting the future of the legislation into doubt.
"Extreme abortion bans rob women of their ability to make their own decisions and force countless women into the shadows when they need to end a pregnancy, risking imprisonment and even their lives," said Nancy Northup, president and CEO of the Center for Reproductive Rights, in a statement following the court's ruling. (The Center testified against the ban in court.) "We commend the government of Chile for their commitment to this critical legislation and now await its swift enactment."
Abortion was completely criminalized in Chile in 1989, just before dictator Augusto Pinochet left office.
More than 4,000 people in Chile faced prosecutions for abortion-related crimes between 2003 and 2013, according to the Guttmacher Institute.
Chile can now remove its name from the dwindling list of countries that effectively ban abortion in any circumstance.
— Carter Sherman
Barcelona suspect shot and killed while wearing fake explosive vest
Spanish authorities confirmed Monday evening that the key suspect in last week's gruesome Barcelona terror attack was shot and killed by police in the Subirats suburbs of Barcelona.
Younes Abouyaaqoub, a 22-year-old Moroccan national, was wearing a fake explosive suicide vest when he was shot dead by police in the city's suburbs Monday evening. Police were called to the scene after locals in the Subirats, a suburb 30 miles west of Barcelona, said they had spotted Europe's most-wanted man.
Abouyaaqoub was the last identified suspect of the terror cell behind last week's vehicle-based terror attack.
Authorities believe Abouyaaqoub was the driver responsible for killing 13 people, and injuring 100 more in the deadly van attack in Barcelona last week. Authorities also suspect Abouyaaqoub of stabbing a Spanish man to death and stealing his car as he made his getaway. New CCTV footage shows Abouyaaqoub fleeing the scene on foot through the famous Boqueria market in Barcelona.
Two hours after the attack, police found a 34-year-old man dead in his vehicle in Sant Just Desvern, a small town just 25 km from Barcelona. He has been confirmed as the 15th victim of the attacks.
Authorities at one point believed Abouyaaquob may have crossed the border into France. "This person is no longer just being sought in Catalonia but in all European countries. This is an effort by European police," Joaquim Forn, the Catalan interior minister, told a local radio station Monday.
— David Gilbert
South Korea — August 21, 2017
North Korea propaganda video shows Rex Tillerson engulfed in flames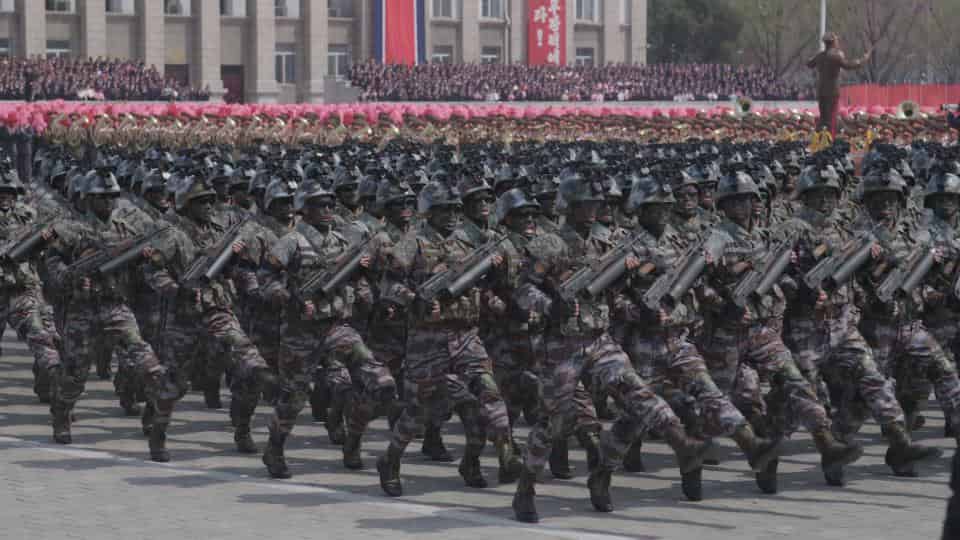 North Korea released a fresh propaganda video featuring Donald Trump staring at soldiers' graves, Rex Tillerson engulfed in flames and a missile hurtling towards the island of Guam just hours before the U.S. and South Korea kicked off long-planned war games on the Korean Peninsula Monday.
North Korea has railed against the annual Ulchi Freedom Guardian exercise, which this year brings together 17,500 U.S. troops and 50,000 South Korean soldiers through August 31. Even though the drill largely relies on computer simulations, North Korea has blasted the games as preparation for an invasion.
South Korean President Moon Jae-in said the North shouldn't view the exercise as a provocation, calling the maneuvers purely "defensive."
Earlier this month Pyongyang walked back a threat to launch missiles in the direction of the U.S. territory of Guam, though the country's state-run media said leader Kim Jong Un might change his mind "if the Yankees persist in their extremely dangerous reckless actions."
The video released hours before the joint military exercises began, however, showed an intercontinental ballistic missile zero-ing in on Guam, seen from the perspective of the tip of the descending missile. Then flames engulf U.S. Vice President Michael Pence, Chairman of the Joint Chiefs of Staff General Joseph F. Dunford Jr., CIA director Mike Pompeo, Secretary of Defense Jim Mattis and Secretary of State Rex Tillerson.
"If a single bullet lands in the territory of Guam, the United States' bluffing will be revealed to the entire world as fake," reads a caption in the video. The latest bit of Pyongyang propaganda was published by the Uriminzokkiri outlet, a conduit  for the North Korean Central News Agency.
Trump has threatened North Korea with "fire and fury," but departing senior White House advisor Steve Bannon told the American Prospect in a candid interview this month that the U.S. has "no military option" to resolve the dispute over North Korea's nuclear program.
During the U.S.-South Korean training last year, North Korea signaled its displeasure by successfully test-firing a ballistic missile from a submarine for the first time.
— Greg Walters
See earlier updates: Week of August 01, Week of August 07, and week of August 14.