All photos by Heather Sten
In the two and a half months Fleur Pierets and Julian P. Boom have lived in New York, they've moved nine times. Their turbulent traveling around the city, however, is nothing compared to what they have planned next. Over the next 18 months, the couple will be getting married in every country where same-sex marriage is legal for their collaborative performance art debut: a project named 22 for the 22 countries where they could legally wed when they began planning the endeavor.
Since then, Malta and Germany have made that list and have been added to the couple's itinerary. They've decided not to change the name of their project as a way to measure the progress of LGBT marriage laws around the world, and hope to film their experiences along the way for a documentary.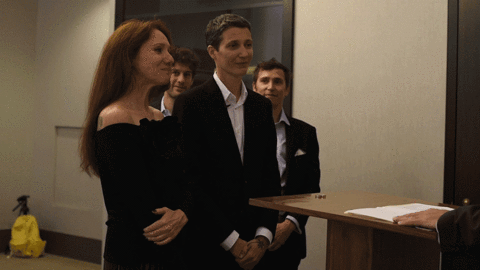 The two met the way you might imagine cool couples do: at a talk by a pregnant porn actress in Amsterdam seven years ago. Julian says meeting Fleur felt like love at first sight, despite the hangover she was recovering from at the time. Immediately afterward, the two artists started working together and began a series of art projects under the shared name JF. Pierets. "Our work is about the questions we ask ourselves on a daily basis as a gay couple," Fleur explains. "We try to conceptualize them in video and pictures and collage and everything like that as positive as possible."
At a burger joint/cafe in SoHo, the two explain that they've come to New York for the city's "good vibes and spirit" to carry out the bulk of their pre-production and launch the project (the first wedding of 22 took place at New York's Marriage Bureau earlier this week). "People are still very excited here about same sex marriage," says Julian. In Holland and Belgium, where the two are from, they say people are more "blasé" about their project.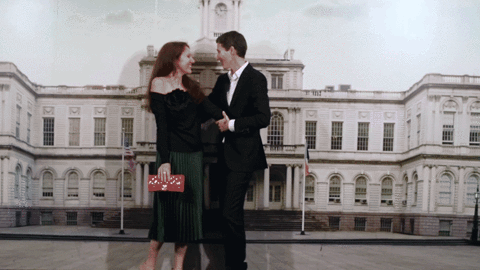 The couple originally conceptualized the project last year, but postponed it after Julian got sick. "[The project] was a kind of driving force to get better," she says. "We said, if I get better, we sell everything, we'll just go—we'll do this." A year later, the couple has followed through with that promise. Fleur says that they really did sell everything—even her shoes—and still only have enough money for four weddings. But neither of them seem worried. They're embarking on a packed press schedule over the next few weeks in hopes that a partner or sponsor may come to their financial rescue.
The couple are adamant that their performance piece isn't an activist project, but rather, a celebration of the countries that have legalized same-sex marriage. Their ceremonies will be held in city halls across the world, as there are still many countries where the public isn't as progressive as the law, like France, they say.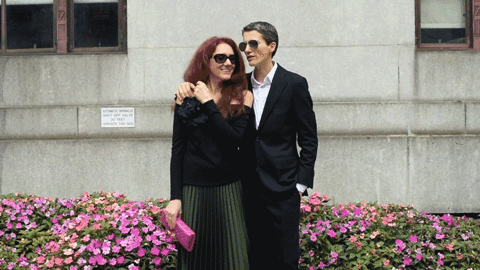 "The most important thing is that people know that there are only 24 countries [with legal same-sex marriage]," says Fleur, adding that public opinion only comes "after that" fact. With the first wedding behind them, Fleur and Julian are preparing for their ceremony in the Netherlands next month. The two will continue living as nomads for the foreseeable future. But they're hoping that by the end of the project, after they've seen "all of the places where we can be gay," they'll have decided on a country to call home.