Cameron Esposito and Rhea Butcher create a new definition of "work wives," as they're actual wives who work together. Not exclusively—as comics, actors, and writers, they each have their own enviable bodies of work—though their frequent collaborations are part of their appeal. Solo, Esposito has popped up on IFC's Maron, Garry Marshall's Mother's Day (as Sarah Chalke's better half), and the Sundance flicks First Girl I Loved and Sleight. Butcher played herself on several episodes of TruTV's Adam Ruins Everything and, like her wife, has made several appearances on late night shows. Both have also released live albums within the last few years and named in Variety's "10 Comics to Watch For."
The Los Angeles-based couple co-host a weekly stand-up show at UCB called "Put Your Hands Together," and are also the creators and stars of Take My Wife, a digital series that premiered on NBC's comedy streaming site Seeso last year. (Though they've shot and edited the entire second season, Seeso's recent shuttering has currently left new episodes without a home, spawning a fan-driven effort to find a new one.) Esposito and Butcher are now going on a 20-show tour titled "Back to Back" across America, kicking off today in Seattle at the Neptune Theater.
The couple have toured together before, but this time will be different, as they're going for an extended period of time and traveling by bus. Along with their tour manager and extremely Instagrammable pup Murph the Derph, Esposito and Butcher joke they were "already rock stars, and now we have the bus to match it."
"We have a bus driver," Butcher told Broadly. "I wasn't able to secure my CDL fast enough so unfortunately I cannot drive the bus."
---
Watch: British Comedy's Rising Star Michaela Coel on Swapping God for Filthy Jokes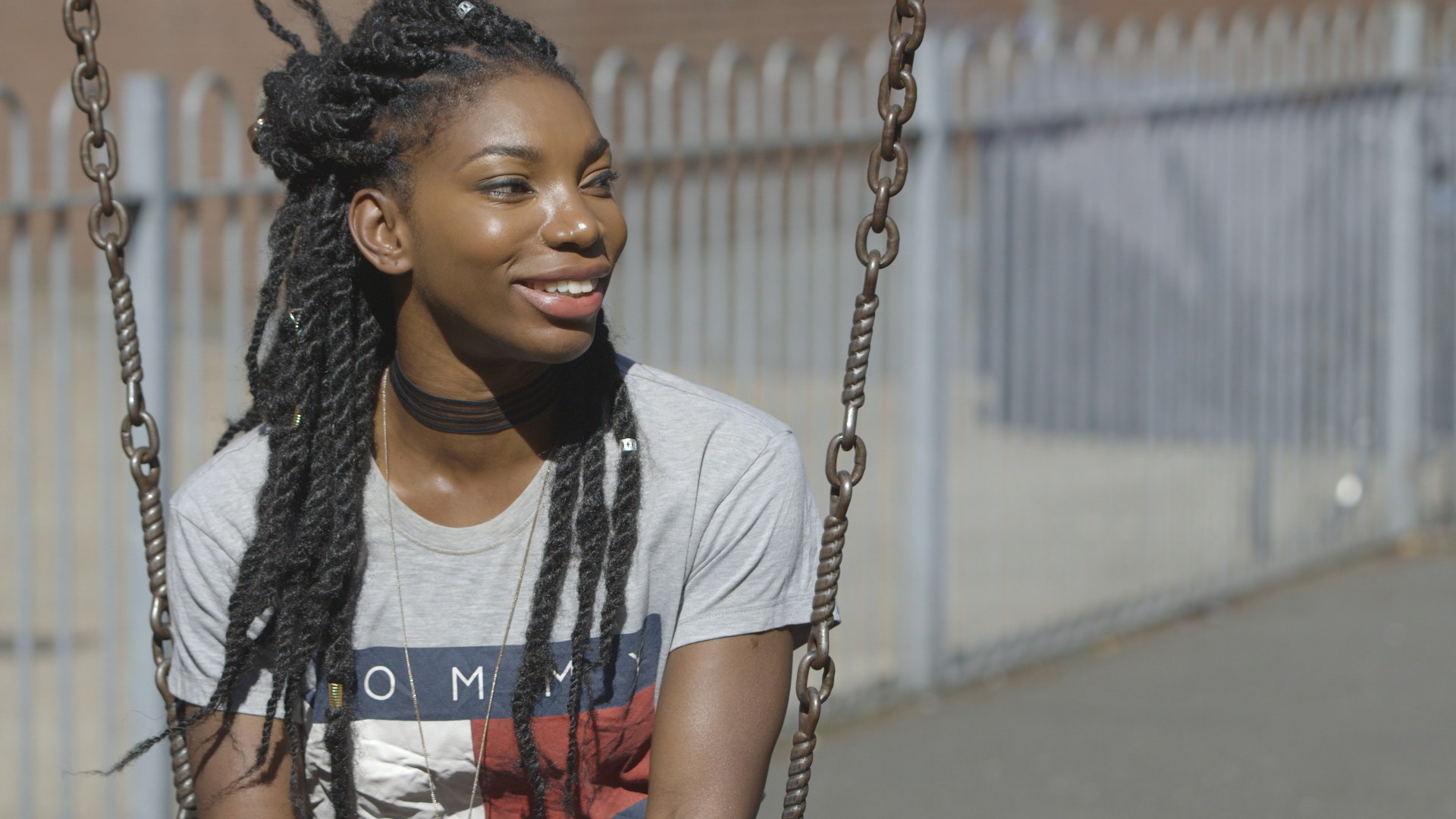 ---
The couple both note it will be a "challenge" (mostly because they'll be "seeing each other's faces all the time," according to Esposito), but for a couple who already works so closely, it doesn't seem like too much of a concern. In fact, this tour will be different for them as they will take the stage together for a half hour—something they've done at UCB but never for audiences outside of LA.
"We perform as a duo act," Esposito explained. "It's super fun because Rhea actually makes me laugh on stage. I will say that as a comic, your worst nightmare is that somebody else will get on stage with you and steal your spotlight and it has been great working with Rhea. It's super fun. It's not something I ever thought would be part of my life."
Both onstage and in their digital series, Esposito and Butcher aren't afraid of touching third-rail topics. Take My Wife had an entire episode dedicated to rape jokes in stand-up, with Butcher coming out as a survivor of sexual assault. They are both visibly queer by conventional standards, and accompany that with unabashed, unapologetic progressive commentary. That kind of thing is expected in liberal Los Angeles, but the same can't be said for some cities where "Back to Back" is headed.
Read more: How Tig Notaro and Her All-Women Writers Room Are Tackling Sexual Assault
"Is it possible to be apolitical right now and be a responsible person—especially as an artist?" Esposito posits. "Even if you're not saying his name—I don't even want to say his name—it's in the water. He's in the water. He's the atmosphere that's around us. And so what I'm looking forward to is cutting through a little bit of that and trying to connect with an audience in a bunch of different cities. We've been in LA for two years making Take My Wife and I don't even know how people are. I know how they are because of social media, but I don't know how people actually are doing. So yeah, we're gonna get through some stuff together."
Butcher said that having grown up in Ohio, more conservative and smaller cities actually feel more like "home" to her, and feels she can relate to middle Americans coming to see her stand-up. "I feel like I'm talking to more of the people that I grew up with, or that was around when I was younger," she said. "I know what it was like to be in the middle of Ohio as a queer kid, and so I feel very understood."
Having only lived in Los Angeles for five years, Butcher jokes that people see the city as providing false sense of safety—a "liberal bubble." Esposito argues that cities outside of these bubbles are where she and Butcher are needed most, and that smaller and more rural regions of the country benefit more from seeing two out and proud lesbian wives offering hilarious, poignant witticisms about living as queer people in today's homophobic, racist, and all-around hostile world.
"Is it possible to be apolitical right now and be a responsible person—especially as an artist?"
"There are certain cities that we think of being conservative or having a restrictive or super-religious bent—those always seem to have like a really strong alternative scene or art culture because those things have to exist in opposition to each other," Esposito said. "So like New York is a super fun place to play because it's fun to be in New York, but I don't feel as needed in New York always as when you go to North Carolina and the people there line up and tell you how long they drove to get there and how they're like jazzed that you're in their town because they have a heartier need for art."
Butcher credits the internet for providing comics like her the opportunity to share their perspectives, ones that were often left out of the conversation back when there were "five famous comedians at a time."
"That was the capacity we had [in] the culture because we didn't have the internet," she said. "The internet came along and it allowed more people to do comedy in different capacities and I think that is amazing because I can do comedy. Like I definitely think I benefitted from the internet and so for that reason, we're just more specific."
Esposito and Butcher have worked hard to create and hone their audiences and voices, and much of what they care about (and subsequently share on social media and their sets alike) has to do with their queer views. Esposito recently launched a new podcast, Queery, where she has conversations with other LGBTQ performers and creators about labels, identities, and other issues related to the community. (Guests have included Evan Rachel Wood, Jill Soloway, and a forthcoming episode with Emmy-winner Lena Waithe.)
"I'm so passionate about inward conversation and about feeling like we are in control of something at this moment," Esposito said. "And that's why I wanted to start the show so it's not just constantly answering questions about whether it's OK to feel scared or like 'Oh, these words are so silly!' just talking about it past all of that. Queer people really connecting and speaking to each other as opposed to always answering questions as outsiders in our own lives."
It wasn't so long ago that out comics were few and far between. Even after Ellen DeGeneres came out in 1997, stand-ups were either "gay comics" performing exclusively for LGBT crowds (at bars, festivals, or on cruises) or comics who were gay but didn't talk about their sexuality on stage or in interviews. But Esposito and Butcher, who lament being frequently asked if anyone besides gay people come to their shows (they do—in droves), aren't interested in being any less queer—especially now.
"For me, I started out doing jokes about, essentially, coming out," Butcher explained. "When I started doing stand-up at Cameron's open mic, I was taking up space on a stage and being honest with a group of strangers. [Before that] I wasn't necessarily fully in the closet and lying about being gay, but I was in the closet by omission because I just didn't talk about it. So it was a big moment for me just being on stage and calling myself specifically a lesbian—because so often we internalize homophobia and misogyny in our lives and we're like, 'Oh, I'm gay. I don't like to use the word lesbian.' And so it was really important to me to use both words because I am gay and I am a lesbian."
"I think something we used to really look for from gay comics was like a release," Esposito said. "It's essentially the West Hollywood of it all, where it's like, I go to a certain place so I can relax and feel safe … I always have been super gay. I feel like that is all to say I have enormous gratitude for Wanda and Rosie and Ellen and everybody—Lily Tomlin. They literally gave me my career and my life."
Much like their predecessors, Esposito and Butcher aren't doing "gay" comedy—they're just delivering their comedy through the queer lens in which they see the world, a perspective that should not be shoved into a box for only one kind of person to enjoy. Now in a world often referred to as "post-gay," where there are all kinds of LGBTQ comics—including those who bring up their orientation as fodder for jokes and others who tend to do more slice-of-life riffs that have less to do with anything sex or gender-related—Esposito and Butcher find that there are comics for everyone.
"For me right now, my 'gay stuff' is very queer and more about a collection of an identity and my own exploration of my gender identity on top of that," Butcher said. "And for me, the challenge is making sure that everybody in the audience knows I'm talking about my experience. Hopefully, they can relate and maybe somebody will feel offended or miffed that I'm saying something that isn't true for them, and that's totally OK, but we have to be able to talk about our experiences and hear each other and figure ourselves out with each other. That's a goal that I'm going for."
Cameron Esposito and Rhea Butcher are on tour now .