Illustration by Lia Kantrowitz
It seemed pretty intimidating for a guy like me to meet my new girlfriend's entire extended family. Two months in, I was just beginning to fall for Therese, and, looking back, just beginning to fall into the person I am today. Most would think that being viewed as the not-quite man I was then—a pre-T transguy with a high-and-tight haircut, trapped in a feminine body with a woman's voice—would be my biggest fear. But that day, my gender insecurities didn't bother me. My biggest concern with meeting her family was cooking them dinner.
When most people hear that I went to culinary school, they automatically assume that I cook five-star food; I just whip up amazing things like it's no big deal. But that's all wrong.
I was trained to put food under a microscope, and now, to say the least, am anal in the kitchen. When people ask me to make something for them for the first time, I can't just cook a meal, and that's why I don't often do it for people. It's a whole thing, where the sauce has to be reduced to the right consistency. If it breaks, I'll have an actual heart attack. I'll know if meat is slightly dry or rosemary has sat in acid for too long, that this is under-seasoned, or that is overcooked. It's stressful, but it's just how my brain works.
When I told Therese that I'd cook her family a nice dinner, it hadn't occurred to me that most of them were strangers—some, she mentioned, with their own food preferences, some with allergies, and on top of that, Therese: a vegetarian.
Here was a challenge. I had to uphold an image that felt much bigger than my gender identity. Now, I was both the new boyfriend and the accommodating, improvisational, five-star chef, serving ten people, on an island, in a kitchen I had never stepped foot in. I had to prepare something ballsy, something to make up for the fact that I didn't exactly resemble the stereotypical image of a "boyfriend" that immediately came to mind. No cheap shot pastas or baked casseroles. No minimal-effort marinated grilled meats. Not some half-assed home cook's Pinterest recipe. Something unpredictable, maybe something new to them. And it needed multiple components; it needed to be something that the boy in me could show off with in front of my girl and her people. As old-school and really primal as it seems, I saw it as an opportunity to tackle something bigger than I normally would, to wow her family and win the girl. I started brainstorming.
---
WATCH: Chef's Night Out: Girls Night out in LA with Helen's Wine Shop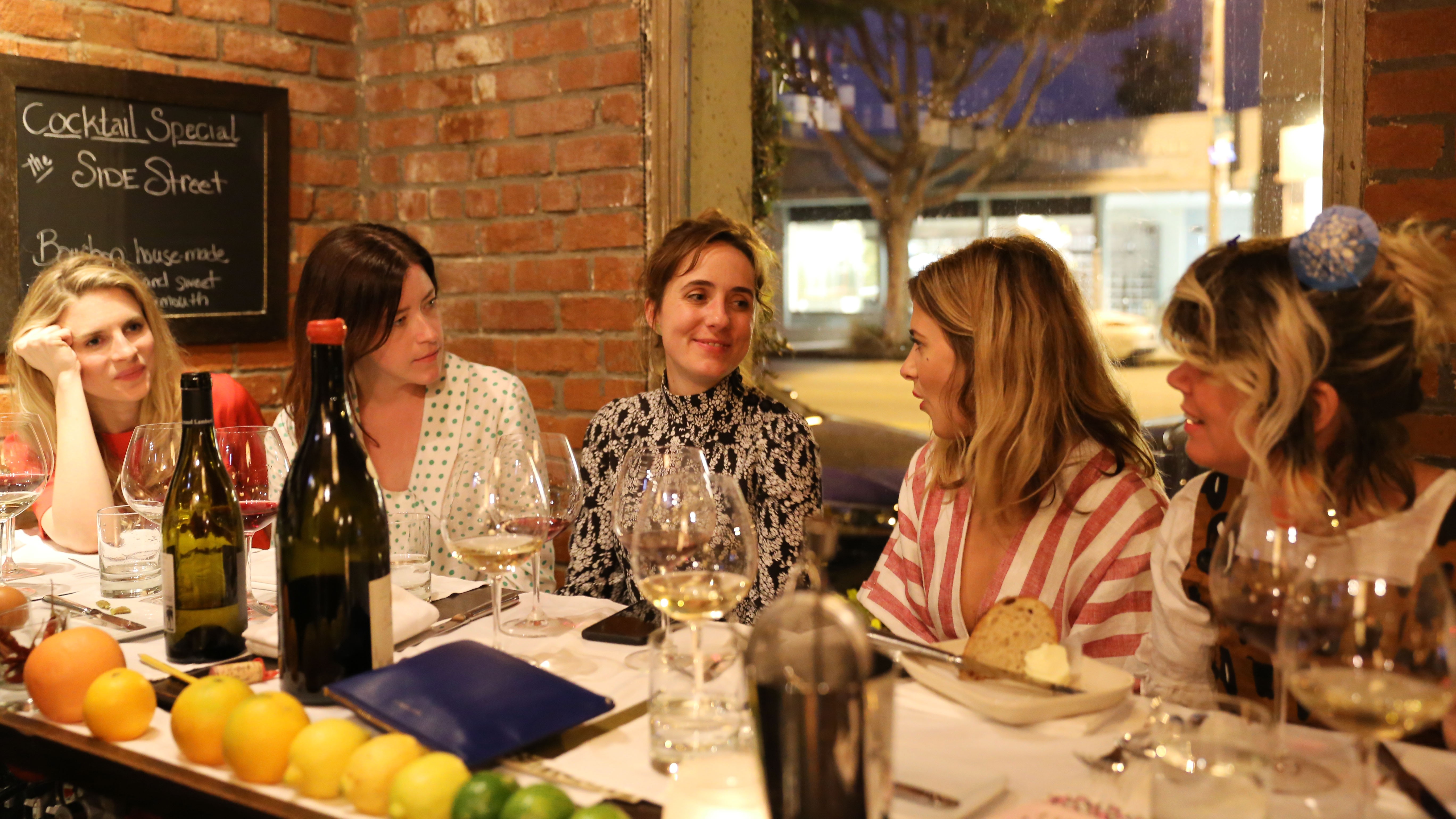 ---
Earlier that summer at a food scholars' retreat, I adopted a recipe for arepas from a lovely Venezuelan friend of mine. They were simple, only requiring three ingredients: white cornmeal, salt, and water. And they'd make for a communal kind of meal, where I could just scatter a few jazzed-up sides on the table for people to fill their arepas as they wanted. It was conversational. It was interactive. It was perfect.
So I—being the perfectionist of a cook that I am—drove twenty minutes to a Latino grocery store and found the precise white cornmeal that would give everyone's arepas a nice, crisp crust and fluffy interior. The day before I left, I packed a little cooler with baggies of shredded cheddar cheese and sour cream. I took my time julienning and sautéing peppers and onions, deglazing them with white wine to lift up their flavors from the bottom of the pan. I asked Therese's mom to pick up chicken and guacamole stuff for me. I pulsed together my own rosemary-sundried tomato spread, tweaking the flavor and asking my mom to taste-test it on sliced bread.
Just before bed, I called Therese from my home in Connecticut.
"Hey, I need you to do me a favor," I tried to say in the most charming way possible.
Then, I asked her my big, unanswered questions:
"Is there a cast iron pan or a long, flat griddle? Cool, and do we have a half sheet pan? Yes; like a cookie sheet, Therese. No, there's gotta be one. Check in the metal drawer under the stove if there is one. Is there a grill? Okay, so charcoal or gas? Well, is it round or is it rectangular? Does the grill have a side burner, or no? Do we have tongs? What about Cajun seasoning? Just double-checking, do we have salt and black pepper?"
All of this went on for maybe, give or take, a solid half-hour.
I honestly didn't care, though. I needed to arm myself with all of the tools and weapons required to nail this dinner. She found this to be hysterical.
On the top deck seat of the Jessica W, New London's high-speed catamaran ferry, I hugged the cooler between my furry man ankles, worrying about how my dinner prep strategy would pan out, and paying no attention to how odd an almost-boy may look to a bunch of cisgender people. But hey, Block Island was my happy place, where I had spent many summers having drinks on the beach with my own family, strolling the main strip of shops and savoring dinners on warm summer nights. I took a deep breath as the breeze ruffled around my ears. We hummed past driftwood-fenced dunes and headed for the docks.
"Ladies and gentlemen, welcome to Block Island," said Jessica W enthusiastically and pre-recordedly. Here we go.
At the pier, Bryan, Therese's smart-ass, ball-breaking big brother, shook my hand. He ran a successful Brooklyn dive bar and had a baby boy who dressed better than me and was the star of any get-together. Bryan was the kind of guy who could make small talk with anyone he met. I could get along with him, I thought. Just as long as I delivered him the food I had been promising.
It was a perfectly good day at the state beach. There were maybe thirty of Therese's extended relatives and family friends sprawled out on towels and chairs, introducing themselves sporadically to me, mentioning how they had heard I was cooking later. News travels fast.
Therese lay on her stomach, her olive eyes fixed on a book she was reading. She was in her one-piece hot pink suit, a petite girl with a beautiful complexion, her short auburn hair pulled back from her freckled face. After a while, the two of us headed into the water for a swim, giggling and flirting, my chest tightly bound beneath my blue surf shirt. It was not unlike the one Therese's brother-in-law Dean was wearing. He was a tall, burly guy with admirably-groomed facial hair. Strangely enough, I was so lost in my head, on guard about wrestling that night's dinner, that I didn't realize how big of a deal it was for me to have been on top of my gender insecurities, and to have felt like just another cisgender guy. I felt like a bro, man, and that was invigorating for a transguy from a small, relatively conservative Connecticut town.
It wasn't too long after we got back from the beach that people started getting hungry. I tried to soothe my nerves as best as I could, cracking open a double IPA from the community cooler before heading to the kitchen.
It didn't help much. My stomach was turning and flipping and dropping like the tide's swells.
"We're not shy around here, Fen," Therese's mom peeked in and announced. "Just let me know what you want me to do and I'll help," she added. Next to Therese, she was the person I knew best out of the crowd. She was a boisterous mama of four grown kids, with kind blue-green eyes and an impressive maternal instinct. I wasn't concerned if her mind at that point identified me as a boy, a girl, a rabbit. I knew she could see my stress levels rising with the thought of cooking.
"No worries. I got it," I said stubbornly, obvious hesitation in my voice. I'm not always the most outspoken individual when it comes to needing help.
Tick. Tock.
I put my head down and started silently chopping and mixing things together. Therese walked over to the counter, sipping a fruity beer, just watching me work intensely in silence, following my inner game plan.
But when I felt her around me in the kitchen, watching patiently with calmness in her eyes, it wasn't so bad. She had no expectations. She was just waiting for me to come down from my line cook high—the kind of high where I typically shut people out until I've completed the task at hand. I stopped prepping for a second, looked down at my feet, bare and out of my standard uniform's chef shoes, planted on the kitchen's linoleum floor. I listened to the howls and laughter coming from the living room and glanced over at Therese, smiling and sipping her beer in the cute way that she does.
Maybe I was overthinking this a little bit. Maybe this wasn't the make-or-break. Maybe I didn't have to make this into a Tarzan-fights-through-the-jungle-to-get-Jane kind of thing.
I was feeding a family of ten, and families of ten don't normally make an arepa dinner with sixteen components to it in their rental vacation home. It's more of a "get it while it's hot," "serve yourself," or "make a sandwich" kind of thing. I was just another member of the crew, volunteering to put some sort of supper on the table. This wasn't to prove manliness or that I was a trophy boyfriend; whatever was served would be eaten happily. Just like my gender identity, cooking a flawless meal didn't matter. We were all on Block Island for the same reasons: to kick back and hang out. If I was down with that, I was all right in their book.
I stepped down from the line cook high, and let my girlfriend—still focused on me with her gentle kindness—in.
And I did something that I normally never do.
"You want to learn how to make an arepa?" I asked.
"Sure." Therese, the non-cook, said.
And just like that, I found my way into a groove, where I could plant my feet and roll the grainy dough into a little white ball. Where I could pass it from hand to hand, and mold it into a disk. Where the dough could get a little sticky in my palms, and I'd fold a little more cornmeal in there. Where I could occasionally do the twist to a happy-go-lucky oldies Pandora playlist. Where I could let go, and allow myself to fall into that moment with Therese next to me. I could just be Fen: This goofy little food nerd, eternally in oversized hipster plaids, with a tendency to forget things. I ate grilled cheese on my days off from the restaurant. My idea of fun was making a slip-n-slide with my cousins out of a tarp, dish soap, and a hose (and it still is). I wasn't the pre-T trans guy. I wasn't even the chef. I was just Fen.
And as I taught Therese to smack arepas around and tattoo their skin on the grill, Therese taught me to kick back with my cooking and—as her family calls it—"get twisted" with a few beers. Gender and culinary skills aside, we were a team: two people just putting supper on the table for other people.
"Do you need any help?" Super-Mom asked again.
"If you want to mash up some guac…" I looked up, smiling a bit.
Someone set the table. Everyone pulled up a chair. On went the spread: Therese's mom's guac, a bowl of shredded Irish cheddar cheese, fancy sour cream and the sautéed veggies, my sundried tomato spread, and several pounds of adobo-seasoned chicken. Finally, I put down the centerpiece: the charred arepas, steaming from their shelled crusts on a ceramic platters. It was time for us all to eat.