(U.S. Air Force photo/Airman 1st Class Kristan Campbell)
Images taken at a drone crash site near the city of Ma'rib, Yemen, on February 14 appear to show secretive cell-tracking equipment used by the National Security Agency amidst the wreckage.
Photographs posted to Twitter by Yemen news outlet AdenNowNews [later deleted, see below for screenshot] and witnesses, purportedly from the crash location in central Yemen, show a piece of equipment from the drone labelled 'GILGAMESH'—the codename for simulated cell site technology, first reported by The Intercept as NSA technology used to track down targets of drone strikes.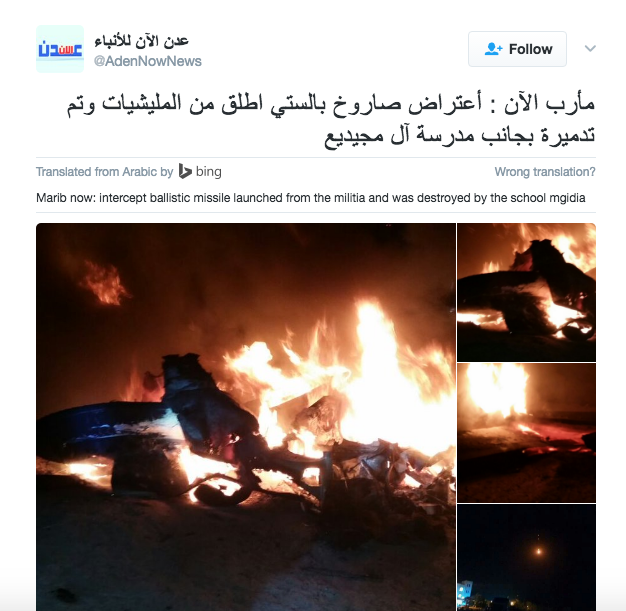 Details about the crash are still unclear. Reports from Yemeni news service Saba cites a military source claiming the drone of "Saudi American aggression" was shot down by Houthi air defenses. Another report from the Turkish Anadolu Agency repeats these claims. Other reports seem to suggest Saudi-backed forces shot down the drone. Motherboard has contacted the United States Air Force twice by email, and further spoke to a press representative on the phone, but is yet to receive an answer on whether it was a US drone downed. Yemeni lawyer Haykal Bafana, who had been following the event, told Motherboard in an email, "I do not [exclude] the possibility that 2 drones were shot down that night in Marib province: One over Marib city itself, and the other over Sirwah district, about 15km [west] of Marib city. Who did which…that's anybody's guess for now."
GILGAMESH equipment acts in a similar way to Stingray devices commonly used by police forces around the world to track targets by latching on to their cell phones. Attached to the underside of a drone's wing, the GILGAMESH simulated cell tower forces cell phones to connect to it, subsequently allowing GILGAMESH to geolocate the targets via SIM card (IMSI) or device (IMEI).
A former drone operator for the US Military's Joint Special Operations Command, acting under anonymity, originally revealed to The Intercept in February 2014 that the NSA uses electronic surveillance, such as cell-tracking, to locate targets for lethal drone strikes in areas such as Yemen, Somalia, and Afghanistan. Their information was strengthened by NSA documents leaked by Edward Snowden.
A quick search for GILGAMESH on ICWatch—the searchable database of NSA contractors—shows that GILGAMESH operation is a common speciality for those who have worked with drones in intelligence, surveillance, and reconnaissance roles.
Motherboard has yet to determine the veracity of the GILGAMESH image, but a conflict analyst told Motherboard that such blatant markings on equipment like this are not uncommon, adding credence to the photographs.
READ MORE: The Islamic State Is Pioneering a New Type of Drone Warfare
Further images from the crash site show a piece of equipment labelled Force 524D, made by a US company called Trimble. As described on the Trimble website, the device is used for GPS-based positioning. More images from the alleged crash site, taken by Al Jazeera Media Network and shown to Motherboard by Yemeni journalist Hussain Albukhaiti, also show US-made components such as a Honeywell TPE331 Turboprop Engine found at the crash site, the same type of engine fitted to MQ-9 Reaper drones These images, along with images of what appears to be an AGM-114 Hellfire missile, all point to the drone being a MQ-9 Reaper (Predator B).
"It's a rather bizarre event. I'm waiting for the US forces to announce the loss. However, I presume they are now quietly trying to get the wreckage back from Yemen," Bafana told Motherboard.