Day 121: "Scream and Shout (Remix)" feat. Britney Spears, Hit Boy, Waka Flocka Flame, Lil Wayne, and Diddy – will.i.am, willpower , 2013
Tomorrow, Donald Trump will be inaugurated as president. Today, it would make sense to dwell on the legacy of outgoing president Barack Obama, but that seems too sad, and Lil Wayne doesn't have much to say on the subject anyway. So let's focus on owning Trump. Fuck that guy.
As I was trying to come up with something to write about today, I realized I'd never looked into whether Lil Wayne and Trump had interacted, which is a decent question given that the only thing Donald Trump loves more than overcooked steak and tacky gold leaf is hobnobbing with celebrities (who don't like him back because he's an enormous loser). So I googled and found this gem of a story from 2013: via Mediaite, "Trump Twitter Hacked? The Donald Quotes Lil Wayne Lyric About 'Hoes' Before Quickly Deleting It." Yes, Trump, who spends a lot of time bragging about his team's cybersecurity capabilities despite the fact that he personally does not know how to use a computer, was hacked like a fucking n00b. Laugh at him!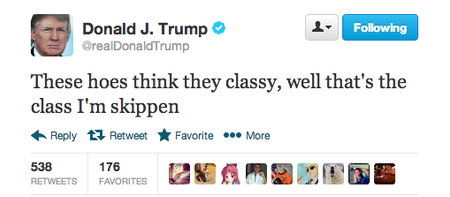 Photo via Mediaite
The story is particularly good because the quote in question is "These hoes think they classy, well that's the class I'm skippen," which is a line from a Lil Wayne verse in a remix to a will.i.am song from 2013. I'll be honest: Although this song has 46 million plays on YouTube, I've never heard it or even heard of it. Surprisingly, given the general misery this song seems engineered to induce and the fact that it came at the low point of his career, Lil Wayne's verse is not terrible. He jokes about having more girls than a Drake show, and he makes fun of will.i.am's name. But that's really neither here nor there. He rapped a line about hoes, and then it was tweeted from Donald Trump's account. Four more years of this, am I right? I mean, not only did someone decide to hack Trump (to be fair this is pre-presidential run), but they used their hard-won hack to do nothing but tweet a Lil Wayne lyric. And one from a will.i.am song no less. Did they have an end game? Other than pure chaos and owning The Donald? "My Twitter has been seriously hacked--- and we are looking for the perpetrators," Trump responded, like a total goober.
Here are other some questions I have: Does Donald Trump know who Lil Wayne is? What about will.i.am? I bet he hates the Black Eyed Peas. How does he feel about this song's featured guest, Britney Spears? I bet he's said some creepy shit about her! More terrifying, I suppose, would be if Donald Trump actually listened to the Black Eyed Peas. Or worst of all, Wayne himself. The thing is, all I can imagine Trump listening to is, like, elevator music or audiobooks of his own voice. Has Donald Trump ever enjoyed anything good? It's doubtful.
Anyway, today, the eve of the inauguration, I encourage you to remember this time that Donald Trump got owned. Here's to four more years of that.
Photo: Screenshot from "Scream and Shout (Remix)" video on YouTube
Follow Kyle Kramer on Twitter.