Seven AM on an industrial estate in East London and the capital's latest independent brewery is rolling up its shutters.
It's a big day, Nirvana Brewing Co. is making its first beer: a 1,800-litre batch of India pale ale made with "ultra aromatic New World hops" that are "brimming with super punchy tropical flavours."
I know, you've heard the craft beer spiel all before.
But Nirvana isn't your average craft brewery. At a time when it can be hard to find a pale ale below a slur-inducing six percent, it's the first in the UK to focus entirely on low and non-alcoholic beer, with its most potent brew barely breaching the 0.5 percent mark.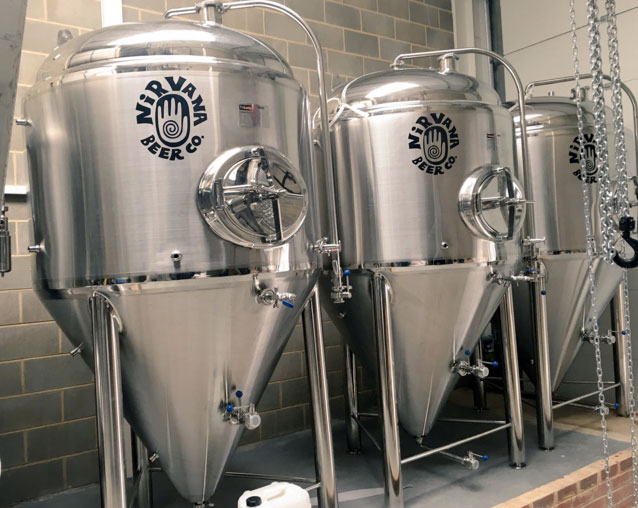 As if that weren't hippy enough, Nirvana is also launching an on-site taproom that doubles as a yoga studio. Onlookers will be invited to sip on a range of beers named after the seven chakras of spiritual power, including a "Kosmic" stout, "Mantra" IPA, and "Karma" lager.
It's an audacious and somewhat risky business strategy, admits co-founder Steve Dass.
"Alcohol is primarily responsible for two things in beer: body and flavour," he says. "So when you take this away, you have to use a lot of skill to ensure you end up with something that tastes delicious and retains great mouth-feel, which is a lot easier said than done."
Dass has a good point. Though there are hundreds of high-profile non-alcohol beers on the market, they account for less than 1 percent of total worldwide beer sales, with the vast majority boasting about as much flavour as a frosty cobweb. It doesn't help that nearly all are produced by mega multinational breweries that arguably see non-alcoholic beer as little more than a necessary way of upping their corporate responsibility credentials.
But this could be how Nirvana Brewing Co. finds its niche.
"We've managed to overcome some of the problems associated with low-alcohol beer by using high amounts of extremely aromatic hops and lots of speciality malts," says Dass. "The result, we think, is beer that doesn't compromise on quality or flavour. But our biggest strength is that we care. This isn't a passing fad for us, it's something we really believe in. And we think that the kind of beer we are brewing will help to transform British drinking culture."
If recent reports are anything to go by, Dass might be onto something. Spurred on by health and income concerns, 5 million Brits reportedly signed up to this year's Dry January campaign, which sees participants shun alcohol for a month. Meanwhile, a fifth of British adults under 25 now consider themselves teetotal, according to the Office for National Statistics. The trend has fuelled the growth of bars specialising in non-alcoholic alternatives to beer, wine, and cocktails, including Redemption in London, The Brink in Liverpool, and Sobar in Nottingham.
If that wasn't enough to fire up your inner teetotaller, then consider that Lloyd's bank recently took the unprecedented step of banning all its employees from daytime drinking, while the world's biggest drinks company, Diageo, has bought a stake in Seedlip, a non-alcoholic spirit. Finally, an increasing number of breweries have begun to align themselves with healthy living, most notably the Copenhagen-based brewer Mikkeller, which has established a running club that boasts over 100 chapters globally.
"These days, the kind of people that buy non-alcoholic drinks are a real hotchpotch group," says Dass. "We expect to attract everyone from people who hate the idea of drink driving to those who are on a health kick. I think we'll also appeal to professionals who love a good weekday beer but don't want to go to meeting the next morning with a stinking hangover—it's just not worth it once you reach your 40s."
Nirvana hopes to sell itsfirst beer in just under a month, the time it takes to ferment, bottle, and condition each batch. However, the fledgling brewery is already attracting interest from a number of national distributors, as well as some well established specialist pubs and bottle shops.
Could Britain's reputation as a nation of lager louts soon be consigned to the doldrums?
"It's not a matter of soon," says Dass. "It already has."