Courtesy George Gadbois
As a kid in St. Louis, Moses Hart had always wanted to be a Boy Scout. His father worked nights, however, and couldn't take him to the meetings. So years later, when Moses had a son of his own, he introduced him to the Scouts at age five. To Moses, getting Josh involved in Scouts was the next best thing to being in the troop himself. They bonded over their shared passion for hiking and camping and outdoor activities. Moses also loved the life lessons and leadership qualities the Scouts instilled in his son.
As Josh got older, he also developed into a talented basketball player. Today, he's a six-foot-five senior guard, an All-American, and the best player on a Villanova team that enters the 2017 NCAA tournament as the top overall seed. He is also the rare elite athlete who can call himself an Eagle Scout, something he attributes to his father's influence.
"I promised him that I would finish it, and he held me to that promise," Hart told VICE Sports. "He made sure I was gonna be a man of my word."
Read More: How Butler Basketball Moved Beyond Plucky Underdog Status
It almost didn't happen. When Hart was 15 years old, he took a hiatus from the Scouts to concentrate on basketball and his academics after nearly getting kicked out of his elite private high school, Sidwell Friends. By his senior year, he had turned things around and was on track to graduate with a scholarship to play basketball at Villanova. His future was pretty much set.
Still, Hart had told his father that he would eventually become an Eagle Scout, the highest rank in Scouting and a distinction that only about 5 percent of all Boy Scouts achieve.
And so, that's how Hart came to be working outside in the February cold in northern Virginia four years ago, a month before his 18th birthday and the cutoff for earning the prestigious Eagle Scout honor. He had returned to the troop several months earlier and completed most of the requirements, but he still needed to recruit volunteers and manage a community service project, the mandatory capstone that all Eagle Scouts must finish. For several days, Hart, his family and friends painted a church that he attended, which was located at the site of the old Washington Redskins' training facility. They got everything done in time.
Moses Hart has always played a major role in his son's life. Recently, he had a conversation with his wife and told her he noticed some parents were pushing their kids a bit too hard.
"I said, 'Honey, I wasn't that bad, was I?,'" Moses told VICE Sports. "Some of these people are just really insane. She says, 'No, no, but you were a little over the top.' She says, 'You weren't a maniac, but you were a little over the top.'"
Moses Hart passed along his love of Scouts and sports, especially baseball, which Moses played growing up. Moses's uncle, former New York Yankees catcher and left fielder Elston Howard, was the first black player to win the American League MVP award in 1963. Josh Hart played baseball until his freshman year of high school, but he preferred basketball. Still, he was never a naturally gifted player and as a young kid had trouble keeping up with his older brother and sister.
"He had these short legs," Moses said, laughing. "He didn't have any legs. It was like all chest. It looked really weird sometimes when he was running because he didn't have any legs."
Hart worked on his game with his father, and by his freshman year at Wheaton High School in Silver Spring, Maryland, he was playing on the varsity team, which was a rarity for the public school. But no one considered him among the elite players his age in the greater Washington, D.C., area. Most of the top kids went to private schools, and none of the premier programs showed interest in Hart, who was a skinny six-foot-one and just learning how to play point guard.
Sharief Hashim, Hart's coach at Wheaton, remembers Hart as the team's best perimeter defender and the one who gave the most consistent effort on both ends of the court. But Hart came off the bench in most games, and he didn't start dunking consistently in practice until late in his freshman season.
"I've got video of his ninth grade year," Hashim said. "You won't believe it. It's not the same kid… Everyone's so proud of him because we know how much he's worked. The average person is going to flip on the television and see a 6-5, 6-6 kid with great ball handling, great basketball IQ. This kid has had to work to develop. He wasn't a naturally gifted athlete."
Entering his sophomore year, Hart played for Wheaton's team in a summer league and for the Mid-Atlantic Select AAU team. Shortly before the school year began, Hart was recruited by the basketball coach at Sidwell Friends, an elite private high school in Washington, D.C., whose alumni include the daughters of former Presidents Richard Nixon, Bill Clinton, and Barack Obama when those men were in office.
Hart, who had received mostly A's and B's in the public school system, didn't know much about Sidwell's academic reputation. He was just excited to have a chance to play basketball there and compete against higher-caliber teams.
"When he first went to Sidwell, it was all about basketball," Moses said. "He had no clue the work he was gonna have to put in. If he had realized it then, he probably would've said, 'You know what? I'll just be patient. I'll wait for somebody else.' I am convinced he would've done that."
The adjustment was a challenge for Hart. That year, Hashim heard rumors that Hart had spoken with an assistant coach about returning to Wheaton.
"I told my assistant, 'I'm not gonna talk to Josh about leaving Sidwell Friends. That makes no sense,'" said Hashim, who went to Sidwell Friends in middle school before graduating from Wheaton. "He won the lottery. That's the type of school that that is."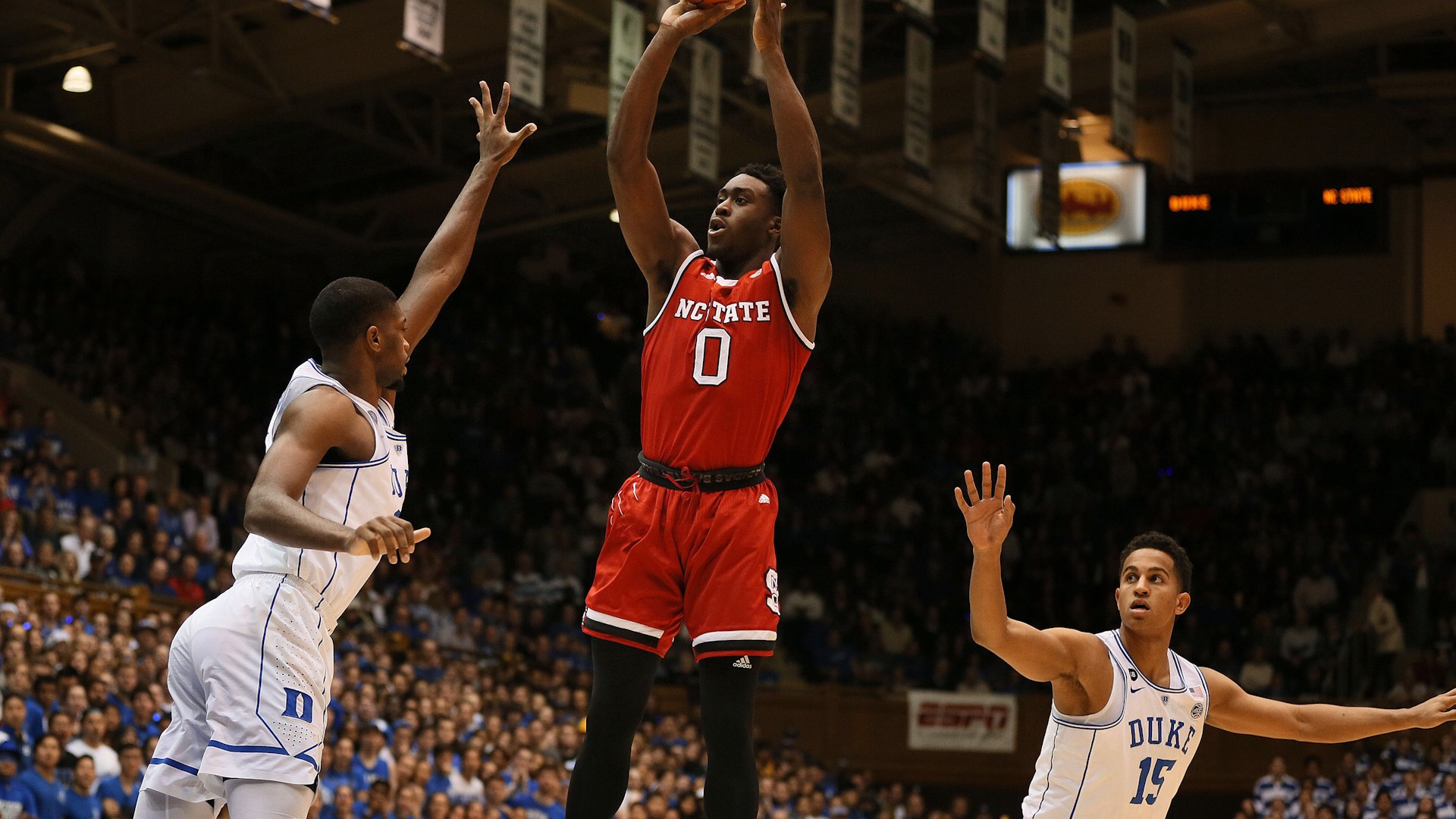 Still, Hart continued to struggle with the academics. When Moses found out about his son's poor grades, he drove him to a nearby park where they had a difficult conversation.
"I got on him real hard about school," Moses said. "He told me he was doing the best he could. I grabbed him, and I think I shook him. It got a little emotional. He said, 'I can't do it, Dad. I can't do it. I can't do it.'… I said, 'Don't worry. We'll get you help.' To be honest with you, I didn't know where I was gonna help from because I didn't have the money."
Around that time, some parents volunteered to help Hart, who began improving his study habits. But toward the end of the year, he received a dismissal letter from the headmaster because of his academic issues. Hart discussed his options with his father.
"After the whole dismissal thing, he let me decide what I wanted to do," Hart said. "He said I could go other places, but I didn't want to leave Sidwell, just because of the support that I had there. I didn't want to give up."
After students and parents protested Hart's dismissal, the headmaster allowed him to return. He continued to receive tutoring, took his studies more seriously, and adapted better to the grueling classes.
"The support system was just unreal, unbelievable," Moses said.
By then, Hart had emerged as a major Division 1 college recruit, thanks to his play for Sidwell and for Team Takeover, arguably the best AAU program in the Washington, D.C. area. With school and basketball taking up so much of Hart's time, he had decided to step away from the Boy Scouts, which he used to enjoy so much.
"I always tell the Scouts, 'You don't always have to put Scouts first, but don't always put us last,'" said Dave Talbott, the scoutmaster of Hart's troop in Rockville, Maryland. "For a while, he put us last, but then when it came time to finish up his Eagle, he certainly put Scouts first."
When Hart returned to Boy Scouts late in his junior year, he had already earned several merit badges from his younger days. Still, he had a lot of work to do to become an Eagle Scout by his 18th birthday. He was required to complete a minimum of 21 merit badges, lead a community service project, attend a Scoutmaster conference, and appear before a board that reviewed his qualifications and determined whether he met their criteria. With limited time remaining, Hart turned to the troop's leaders for guidance.
"We knew that he was in a little bit of a predicament and was enthusiastic about wanting to finish it off," said George Gadbois, the assistant scoutmaster whose son is good friends with Hart. "He took care of those opportunities. It was basically, 'Josh, we'll help you get there, but we're not gonna do it for you.'"
Moses Hart had always preached to his son the importance of the Scout Law, the notion that a Scout is trustworthy, loyal, helpful, friendly, courteous, kind, obedient, cheerful, thrifty, brave, clean, and reverent. When Hart finished the Eagle Scout requirements, his father couldn't have been more proud.
"It's not just acquiring badges," Moses said. "It's about developing character. It's about being a good person."
Hart hasn't forgotten his Boy Scouts roots, either. When Villanova played Georgetown earlier this month in Washington, DC, a few of Hart's friends from his Boy Scouts days and their families sat in a luxury box with Hart's parents. Afterward, they spoke with Hart and reminisced about their past.
"It's always nice talking to him," said Greg Gadbois, who has known Hart since they joined the Cub Scouts together. "I always tell people, he's never changed. He's just the same guy, same jokes all the time. Some kids you might see the fame goes to their head. It's pretty cool to see that Josh is still the same guy that we always know and loved ever since we met him."
Hart's character was on fully display last Friday night in the Big East tournament semifinals. With less than 10 seconds left, Hart grabbed an offensive rebound, scored on a layup, got fouled, and converted a free throw, giving Villanova a 55-53 lead over Seton Hall. After Seton Hall forward Angel Delgado missed a short shot with one second remaining, he fell to the floor in anguish. Hart then walked over to Delgado and gave him a hug.
"I told him, 'You have this feeling, don't feel it again,'" Hart said. "That's what I felt last year."
Last year, with Villanova leading by one point in the Big East final and 28 seconds remaining, three Seton Hall defenders trapped Hart. Instead of calling timeout, he panicked and was whistled for a five-second violation. Seton Hall ended up winning by two points.
This year was different. Hart scored 29 points in Villanova's victory over Creighton in Saturday night's final and joined former Georgetown center Patrick Ewing and Louisville guard Peyton Siva as the only two-time Big East tournament MVPs. Hart won his first MVP two years ago, when he was Villanova's sixth man and a shell of the player he's become today.
"He's better in every aspect of the game," Villanova coach Jay Wright said. "I think he's the best, most complete player in the country."
Since Hart arrived, Villanova has gone 128-16 and won four regular-season Big East titles, two conference tournament championships, and the 2016 NCAA tournament championship. Now the Wildcats have a legitimate shot at becoming the first program to win consecutive national titles since Florida in 2006 and 2007. Hart, who declared for last year's NBA draft before pulling out in late May, has been better than ever this year. He is averaging 18.9 points and 6.5 rebounds per game and is the Big East Player of the Year and co-Defensive Player of the Year.
"My development and everything has been just amazing," Hart said last Thursday. "I envisioned having a good career. I didn't envision having this good of a career."
Moses Hart, who has been with his son every step of the way, is now a semi-retired chef and has attended all but two games this season. He said that he was scheduled to work a catering event this week, but he plans on being in Buffalo on Thursday for Villanova's first-round game against Mount St. Mary's. He'll be at all of the other NCAA tournament games, too. He's going to savor the final month of his son's senior season.
Recalling when college coaches first began showing interest in his son as a sophomore at Sidwell Friends, Moses said, "The biggest thing was if the kid can have a good college career and get a degree, that would be great.
"His achievements and his accomplishments, at this point, have kind of blown me away."
Want to read more stories like this from VICE Sports? Subscribe to our daily newsletter.