Credit: Spencer Platt / Staff via Getty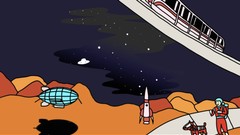 Moveable explores the future of transportation, infrastructure, energy, and cities.
In an attempt to do something about the horrific increase in battery fires from two-wheeled electric devices this year, the New York City Council has proposed a slate of legislation that would have the unintended consequence of hamstringing the right-to-repair industry for electronic devices, experts and advocates warn. 
One bill in particular is causing angst within the right-to-repair industry because it would ban the sale of all used lithium-ion batteries that have been assembled or reconditioned from cells removed from other batteries for any type of electronic device, not just two-wheeled vehicles.
"Ugh," said Gay Gordon-Byrne, executive director of The Repair Association, when asked about the bill via email. "I think you see the danger of banning trade in used or refurbished products which happen to include batteries."
The right-to-repair movement is based on the idea that once you buy something you have the right to fix it yourself. For consumer electronics specifically, the right to repair and repurpose devices is a key component of a more sustainable and environmentally-friendly ecosystem. The New York state legislature recognized this and passed the nation's first electronics right-to-repair law in June, although Governor Hochul, who just won re-election, has yet to sign it into law.
This broadly popular idea that people have the right to fix their own stuff is coming into conflict with the emerging two-wheeled vehicle fire issue. There have been more than 200 fires in New York City this year from lithium ion batteries in two-wheeled mobility devices. For simplicity's sake, these devices are often described as "e-bikes," but they are rarely e-bikes. Far more commonly, they appear to be modified, souped-up scooters or moped-like ride-alongs. In this way, the DIY culture of two-wheeled device repair for purely mechanical bikes is conflicting with the very real safety risk of attempting to repair electronic devices with relatively large batteries that consist of highly flammable chemicals. These fires are incredibly dangerous because they quickly engulf, create toxic smoke, and cannot be easily extinguished. Six people have died in such fires so far this year.
The problem is nobody knows exactly what is causing these fires. Lithium ion battery fires can happen from poor manufacturing practices, damaged batteries, improper charging, or aftermarket modifications. Each of these causes requires different solutions. For example, poor charging practices might require information campaigns and the rollout of more safe charging stations around the city. Poor manufacturing practices might require new regulations. And it's not always aftermarket or modified devices that cause problems. Famously, Samsung had to recall the Galaxy Note 7 after a rash of battery fires and ultimately had to stop production of the device.
Identifying the exact cause of a lithium ion battery fire can be very difficult. For example, a recent battery fire in a Manhattan high–rise that left dozens injured was reportedly in the apartment of someone running a repair shop for electric mobility devices that neighbors had complained about for months. The fire could have been caused by overcharging a specific device, modifying the voltage delivered to the motor so a device could go faster which is a huge fire risk, or a bad battery (either new or reused). It is unclear which, if any, applies to this or any other battery fire in the city this year.
As a result, the City Council is going for an all-of-the-above approach by introducing five new bills. Three have to do with information campaigns and reporting requirements for the fire department. A fourth requires mobility devices to have certified batteries. But the fifth bans "the sale and assembly" of all "second-use lithium-ion batteries" in any product. A spokesperson for Councilperson Gale Brewer's office, who is the lead sponsor on the bill, did not respond to a Motherboard request for comment.
This broad proposal has right-to-repair experts concerned. "I view battery reuse as an essential part to a more sustainable transition to more electric vehicles," said Nathan Proctor, senior director for the U.S. Public Interest Research Group who heads a right-to-repair campaign. "I have not seen the evidence that these batteries are more dangerous, but if they were, I would pass safety regulations but not just jettison an important part of a more circular economy." 
Proctor said the legislation could have a particularly profound impact on the electric car industry, because the battery packs are made up of many different cells. It is common in the auto industry, especially among hobbyists and reuse specialists, to repair damaged, aging, or malfunctioning batteries by combining cells from several batteries. This bill, although it would only be in effect in New York City, would complicate that landscape.
Although the letter of the bill itself, if it became law, would likely not impact phones or laptops which now have custom pack batteries rather than a collection of cells, this technical difference will likely be lost not only on authorized repair professionals but the city bureaucrats tasked with enforcing it who can rarely even make such basic distinctions between an e-bike and an e-moped, one of which is currently illegal and the other is not. "The used market for products such as cell phones, tablets, Chromebooks, laptops, cameras, and anything with a battery will collapse," Gordon-Byrne said.
Kyle Wiens, CEO of iFixit, pointed out that even a scientist for Underwriters Laboratories (UL), a major battery certification firm that stands to benefit from this slate of legislation, told The Guardian that a blanket ban on battery reuse would probably be overkill. In his reaction to the bill, Weins said he has never heard of repurposed batteries as posing any kind of safety risk. "When I'm at recycling conferences they have workshops talking about fires. I don't know any evidence that reused, repurposed batteries have a higher risk factor than new batteries." 
"This bill is absolutely crazy and they shouldn't do it," Wiens said.