Michael Regan, Biden's pick to head the EPA, has his work cut out for him getting undoing Trump's disastrous rollbacks. Left photo by N.C. Department of Environmental Quality, right by Philip Pacheco/Bloomberg via Getty Images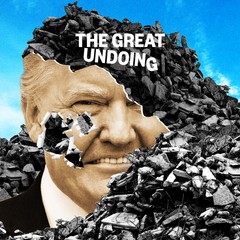 A series that explores what parts of Trump's legacy will be lasting, and what parts can be quickly undone by a new administration.
Climate groups were thrilled this week when Joe Biden named Michael Regan as his pick to head the Environmental Protection Agency. "We need leaders in government who aren't afraid to call out oil and gas corporations for the unjust impacts of their pollution," Greenpeace senior climate campaigner Lisa Ramsden said in a statement following the news. 
But the former North Carolina Department of Environmental Quality Secretary has his work cut out for him undoing the disastrous cuts and rollbacks brought in under U.S. President Donald Trump. The latest: an end of the year decision to let fossil fuel companies keep polluting deadly particulate matter.
The Environmental Protection Network, an advocacy and research group composed of hundreds of former EPA career staff, called it "a powerful example" of everything that's gone wrong with the agency during the past four years. 
"You see studies coming out showing that communities that have had historically high levels of particulate matter in the air have an increased chance of death from COVID-19, and you see this within the context of a national reckoning on racial injustices, and yet this administration did not move forward to strengthen those standards," said Michelle Roos, EPN's executive director.
The attorney generals of New York, California, Illinois, and more than a dozen other states had warned that if the EPA declines to tighten standards limiting particulate matter from power stations that burn coal and gas, petrochemical refineries, and other industrial polluters, then it was likely 45,000 people would die prematurely in 2021.
That is the number of estimated fatalities each year from people breathing in fine inhalable particles that lodge in the lungs and bloodstream and cause dementia, kidney disease, and hypertension. The attorney generals told the EPA that "Blacks, Latinxs, and Asian Americans are exposed to particulate matter exposures at levels significantly greater than average in the northeast and mid-Atlantic regions, and that the relative health risk to Blacks from fine particulate matter is three times the overall average for the entire population."
Yet despite this warning, EPA administrator Andrew Wheeler, a former coal lobbyist that Trump appointed as head of the agency in 2018, announced in early December that the fine particulate matter standards wouldn't be strengthened.
The fossil fuel industry rejoiced. It "represents a big win for West Virginia coal," the state's deputy attorney general Douglas Buffington told the New York Times. "If they had been tightening it could have been a huge blow to the coal industry." The American Petroleum Institute, the largest oil and gas lobby group in the U.S., released a statement in support of the decision. 
Whether Trump's EPA was undoing rules limiting brain-damaging mercury pollution from coal plants, failing to strengthen standards for lung-harming ozone from industrial facilities, or weakening restrictions on premature birth-causing methane from oil and gas operations—all of which fall the hardest on non-white communities—the agency was "codifying a pattern of ignoring the racial implications of environmental policy," Molly Rauch, Public Health Policy Director at the group Moms Clean Air Force, told VICE News.
Experts said the most urgent task for the new EPA leader should be upending the priorities established under Trump. Regan needs to protect the health of communities exposed to air and water pollution, not the business model of fossil fuel companies. But that won't happen overnight. 
"The Trump administration has done a lot of damage," Rauch said. "It's going to take a lot of time and energy to roll that back."
The life and death decisions that the EPA makes are the reason that over 70 groups advocating on behalf of polluted communities wrote to Biden this month—and successfully pressured him not to appoint Mary D. Nichols as head of the agency. 
Despite Nichols' long history of pushing tough regulations on industrial polluters, organizations such as the National Black Environmental Justice Network made the case that as head of the California Air Resources Board she "repeatedly disregarded" the concerns of low-income communities of color in the most polluted areas of the state. 
Though separate studies this year have debated whether Nichols' support for cap-and-trade hurt disadvantaged communities—by allowing companies to meet greenhouse gas targets by buying carbon offsets instead of reducing their pollution—the impression Nichols wouldn't be an aggressive advocate for communities of color seemed to sink her nomination. 
Regan, by contrast, would be the first Black man to ever lead the agency, an air quality specialist who in North Carolina negotiated a multibillion dollar deal requiring Duke Energy to clean up toxic coal ash. This summer he blocked an extension of the Mountain Valley gas pipeline and has made addressing racial injustice central to his work, including funding to clean up asbestos, mold, and other health hazards in low-income communities. 
"The reputation of the agency has a lot to do with its effectiveness," Joel Mintz, a former EPA official who is now a law professor at Nova Southeastern University, told VICE News. 
Under the Trump administration, the EPA's punishment of companies that break the law fell drastically, resulting in polluters paying less than $4 billion in fines and corrective actions in 2018, compared to $20.6 billion in 2017. If companies feel that the EPA is relatively toothless, then are more likely to think they can get away with violating regulations, Mintz said.
That's why he believes one of the EPA's first actions under Regan should be to "demonstrate their willingness to take enforcement action" through lawsuits and investigations—potentially against oil refiners or fossil fuel utilities. "A couple high-profile cases can have an impact because companies watch what's going on and make decisions in part based on those calculations," he said. 
In the meantime, the agency can attempt to recover from years of harsh budget cuts under Trump. Federal EPA spending fell from an average of $10.3 billion during the 2010s to about $8.1 billion in 2019. But reversing this won't be simple. The agency's budget has been falling for decades—adjusted for inflation, it's declined 50 percent since the Reagan administration. 
Biden's ability to restore the EPA's spending to its previous inflation-adjusted high of $12.9 billion in the 1980s—along with replacing the thousands of staff it lost during the Trump years due to layoffs, resignations, and attrition—will require support from Congress. 
"A lot will depend on these special elections in Georgia," Mintz explained, referring to the January runoff vote that will decide if Democrats add control of the Senate to their majority in the House. "The Senate can block any major increases in EPA's staff and budget."  
Regardless of how that plays out, Regan's ability to protect communities from deadly pollution will require him to place science back at the center of EPA decision-making. But this won't necessarily be easy, either.  
One of the reasons why Wheeler's EPA was able to prevent particulate matter standards from strengthening this month is because it didn't incorporate new science on the pollution's deadliness into its decision. In 2018, Wheeler disbanded a 20-member Particulate Matter Review Panel set up to assess the latest science. Instead, the standards were evaluated by a seven-member committee, with an industry consultant as its chair.   
"The bottom line is the standards should have been tightened," John Bachmann, a 33-year veteran of the EPA's Air Programs who is now the principal of Vision Air Consulting, told VICE News. Under Regan, he said, the EPA has "to go back to a process that's far more balanced and includes much more scientific expertise."
But in September, the EPA finalized a rule making that task harder. The "Transparency Rule" mandates that all the raw data in a study has to be made public before the EPA can consider the study in its decisions. But because this is not possible for many studies, such as those that use confidential data about people's health, the rule's effect is "undermining the ability of the EPA to use the best available science in setting policies and regulations," several dozen scientific associations argued this year. 
The risk now, Bachmann said, is that as Regan attempts to restore, strengthen, and introduce life-saving environmental rules, he could potentially face legal challenges from conservative organizations such as the Heritage Foundation or fossil fuel companies if the EPA violates the Transparency Rule. "It could in fact make it harder," he said.
But dedicating staff and resources to undo rules like that leaves less time and resources for bringing back the stringent regulations on power plant emissions that Trump eviscerated, restoring the vehicle fuel efficiency standards he demolished, cracking down on the methane emissions he allowed to soar, or any other number of rollbacks that have landed hardest on Black, brown, and low-income people. 
"It's going to be really important for the incoming administration to prioritize what to take on, what's going to have the most impact," Rauch said. "I don't think they're going to be able to do everything. There's going to be a lot of hard choices."
Follow Geoff Dembicki on Twitter.