ASTYPALEA, Greece – On a small island in the middle of the Aegean Sea, there's an unfamiliar but distinctive sound behind the bleating of goats and sheep, and the clanging of their bells: the faint hum of electric cars.
The hills of Astypalea, which has a population of just 1,300 and where goats and sheep outnumber people 10 to 1, now thrum to the sound of electric vehicles (EVs) from Volkswagen.
Astypalea's hills are dotted with old windmills and marshmallow-white houses, and life on the island is quiet, save for the tourist rush every summer. There are fears, and hopes, that life could change because of the new scheme, which is being used to attract more tourists.
But the EVs are just one stage of a push by the right-wing Greek government to open up the country for business with large corporations, a move that has been met with wariness by civil society groups and privacy campaigners.
Throughout the town's bougainvillaea-clad streets, the dull vibration of the new electric bus can be heard from hotel rooms and cafes where groups of old men mull over their morning coffees. Electric taxis and electric rental cars cruise by, all Volkswagen.
The tiny Greek island, 18km long and 13km at its widest, is a guinea pig for a decarbonisation project between Volkswagen and the Greek government, which hopes this pilot project could be replicated in other places.
In a country where around one in five jobs is dependent on tourism, almost everyone VICE World News spoke to hoped the publicity would lure visitors after the difficult pandemic years. "At the moment it's good for Astypalea because we have a lot of advertisement," said a local car renter who wished to remain anonymous, saying he did not wish to attract negative attention for the community. "We don't know what it will be in the future," he said, noting that there were fears of pushing the island, with its small streets, to its limit.
"[They worry] it will change the character of the island and that more people will come. Astypalea is a very small island, normal and quiet and suddenly it's a very big advertisement," he said.
In marketing materials, Volkswagen says Astypalea could be "the first region in the world to achieve completely emission-free traffic," but some fear that it's being used as part of a "greenwashing" project devised as part of an opaque deal between the state and a large multinational corporation.
For Volkswagen, Astypalea provides a picturesque backdrop for its new "green" image. Fresh after a few years of difficult press in the wake of the emissions scandal in 2015, where it admitted around 11 million vehicles worldwide were fitted with a device concealing their true pollution emissions, Volkswagen now aims to turn at least half of its car sales electric by 2030.
For the Greek government, the exact benefits of the Volkswagen partnership remain less clear. At the announcement of the project in 2020, a Greek government representative said that it represented a chance to showcase how an "investment-friendly government, and a world-class corporation can work together towards the same vision."
The exact details of this vision, however, have not been disclosed. VICE World News requested details of the financial arrangement between Volkswagen and the Hellenic Republic but was told that "both parties have agreed not to disclose any information on terms of their agreement as well as on the key financial parameters of the project," by a representative from the Greek Foreign Ministry.
Greece is also on a green-energy PR campaign after being criticised for its high dependence on coal. Its parliament passed its first national climate law in May to wean itself off fossil fuel reliance by 2028, and Prime Minister Kyriakos Mitsotakis has been pushing the country as an emerging "leader in renewables."
The 6-year Volkswagen deal, signed in 2020 under Mitsotakis' "pro-business" premiership, is just one made under his administration. The Mitsotakis government has been criticised by some for opaque agreements with large multinationals while human rights are increasingly under focus in the country. Reports have found that asylum seekers are routinely brutally pushed back from its borders – which the Greek government strongly denies – while journalists have pointed to a stifling atmosphere as Greece fell to the last place in the EU on this year's Reporters Without Borders press freedom index. Mitsotakis has himself been under pressure after it emerged Greek security services had wiretapped a leading member of the opposition and a journalist, and he was forced to sack his chief of staff (who is also his nephew) over the affair.
As Athens is being roiled by government surveillance, a different kind of surveillance is taking place in the Aegean with Astypalea not the only petri dish for large corporate interests: Amazon has its eyes on the Greek island of Naxos, which has a population of 22,000. Naxos is billed as a "smart hub," for Amazon Web Services, which plans to upgrade much of the island's services. The project is reportedly the product of a star-studded dinner in the summer of 2021 between Jeff Bezos and Mitsotakis, with actor Tom Hanks and fashion designer Diane von Furstenberg also in attendance.
Announced to much fanfare in October, the overall "smart hub" concept has the support of numerous international and national companies as well as the US Embassy. Drones are a key component of the project, and will reportedly not only be used to drop medicines to remote areas but also be military-grade and could aid coast-guards in "vessel monitoring." Amazon plans to upgrade the island's internet as well as facilitate remote medical consultations, introduce "smart taxi payments, smart parking sensors and electric vehicle chargers." The company also plans to "smarten" the waste and water management but has not specified how.
For the inhabitants on these islands, however, there is a mixture of enthusiasm and apprehension around the large corporations circling.
A reported €10 million (£8.7m, $10.4m) has been invested in Astypalea's infrastructure because of the deal with Volkswagen, which includes upgrading all the island's roads, some of which in more remote areas are dirt tracks, and two universities have been enlisted to study how locals react to the switch until 2026. Locals have been offered incentives to buy electric vehicles (although they don't necessarily have to be Volkswagen) at subsidised rates by the government.
The subsidies go up to €15,000 depending on the electric vehicle and up to €3,000 for scrapping their old vehicle. Those buying a car, however, are not permitted to take it off the island on a permanent basis, and will be subject to inspections to make sure this does not happen.
There is also now a ride-sharing service called the "Astybus," for both tourists and residents, which can be ordered through a smartphone app, "Astymove."
Tourism can be a double-edged sword in Greece. The economy depends on it heavily but the industry can come at the cost of Greece's beautiful and fragile natural environment.
Astypalea's mayor, Nikos Komineas, is enthusiastically promoting the scheme with Volkswagen locally and abroad as a model of green energy and encouraging a new influx of eco-tourists. In a country where a fifth of the economy is dependent on tourism, any kind of edge to plug the island as a destination is seen as a win.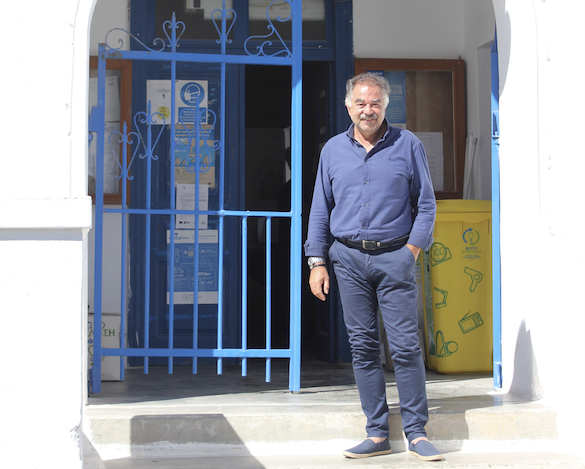 Astypalea had one of its busiest summers on record this year. Nobody is sure if the EVs were responsible for any of this, as Greece overall had a very good year after people started travelling more as COVID restrictions were loosened. VICE World News met a few tourists who said they had used the EVs and enjoyed it, but nobody cited the scheme as the reason for visiting the beautiful, secluded Dodecanese island.
Lefteris Angelis, 69, born and raised on Astypalea, sat on his old moped in the shadow of the main town's old windmills, said he liked the project but admitted not everyone did. "I would buy an electric bike," he said tapping his moped, "but I'm not so rich."
Angelis, like many islanders, keeps a small herd of goats and says he would consider upgrading to an electric truck, but that one is not yet available through VW. He hadn't used the Astybus service yet, but he has his moped to get around but doesn't have a smartphone to download the "Astymove" app, a common issue among some of the island's older population, some of whom now get their grandchildren to order rides for them through their smartphones.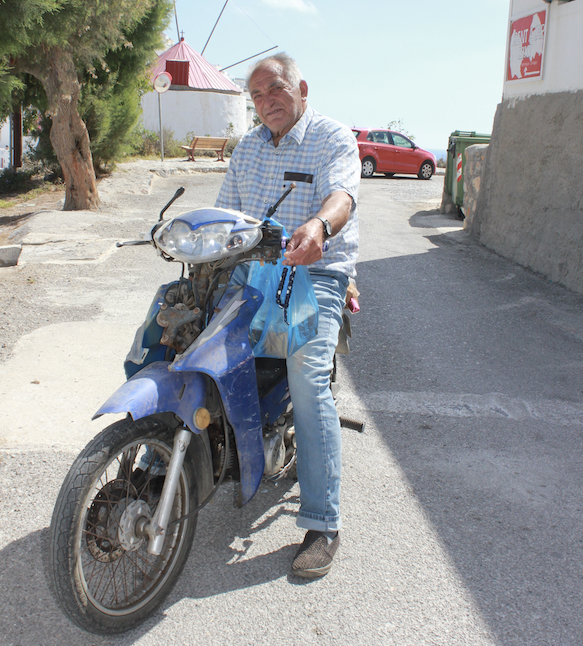 "I think it's a very good project but the programme is not very good for people who don't know how to use a smartphone," one driver of the Astybus service told VICE World News, withholding his name because the island community is so small and he fears creating problems for his employer.
"In Astypalea the old people don't have a smartphone," he said "[but] we've told the people who run the application about this problem and we are waiting [for a response]."
According to a 2015 survey of the island, 20 percent of the population is over 65. Greece in general lags behind the EU in terms of internet use, with 70 percent of the adult population between 16-74 using it daily, 10 percent behind the EU average.
In the main port on the island, electric charging points line the roadside as tourists lie out on the small sandy beach in the autumn sunshine. Vlassis Lapatas, a beekeeper, sat cheerfully smoking in a pet store near the waterfront with a friend. He, like many Astypaleans, lauds the bus service for connecting more remote parts of the island and offering people who don't have a car a better connection to the main town, but similarly had not bought an EV. "We have another car for work," he says. If they made an electric truck, he would contemplate switching but currently has no plans. Lapatas relies on his truck to work with around 200 hives on the island.
Marta, who works at one of the local bakeries and does not want to be identified, sold her car some time ago as it was too expensive to replace the parts. She says she would buy a new electric VW but doesn't have the money, despite the subsidy. "I know it's a good solution. If I could, I would get one," she says. "The project is good, not for my pocket," she jokes, "but for the environment."
It's also been good for local employment, specifically with the Astybus services which has employed 16 drivers for the summer months. The island's police force has benefited from two free electric cars.
Stories about the origin of the project are unclear, some said it was after the mayor, Komineas, approached the central government with the idea of an electric bus service, who in turn approached Volkswagen with the idea of turning an island electric.
When asked by VICE World News about clarification on how the project originated a spokesperson from the Foreign Ministry said "the idea and the wish to enter a long-term cooperation with the Hellenic Republic came during a meeting between Volkswagen Group board of Management and the Hellenic Republic. Volkswagen Group as well as the Hellenic Republic are fully committed to the Paris Climate Agreement."
Komineas says proudly that this summer at its peak, the Astybus had 350 ride requests through the app a day and there is a new solar park, which powers the EVs. "The island is a pioneer of how we are going to pass to the green way," he says, "the whole idea of that is how to combine a traditional island with traditional living but giving people the opportunity to have a life which is going to be easier."
He says that it would be a more environmentally friendly way of living, "taking care of the ecosystem," he added, "that's why there has been a big publicity, it gives an example of how we can manage things so the planet can be liveable." For now though, the island is still largely dependent on its four diesel generators whilst the one solar panel field will currently cover charging the EVs. The plan is to make the island completely reliant on renewables by 2026 which will likely involve the building of a wind turbine on or near the island.
Angelidis Ioannis, the manager of an Astypalean travel agency, says he has seen the benefits of the deal with Volkswagen, particularly the Astybus. Some islanders, he says, want to see how the scheme progresses and the durability of the EV's expensive electric batteries. Ioannis hasn't bought an EV yet either, but he sees the potential pull for tourists.
Sandy Fameliari, climate and energy campaigner with Greenpeace Greece told VICE World News that there were still significant hurdles to overcome in the country's green transition. Fameliari pointed to, for example, "open" support to hydrocarbon drilling in the seas around Greece. Environmental campaigners have been calling for a ban on drilling for hydrocarbons in the sea, which they say could have a severe impact on the Greek marine ecosystem. Companies such as Hellenic Petroleum, still hold a licence for gas exploration in the Ionian Sea and off the coast of Corfu as well as off Crete, it is estimated that Greek gas reserves may be worth €250 billion (£218 bn, $261 bn).
In the wake of soaring energy prices, it was also announced that coal-fired power plants would remain open until 2028 instead of being shut down by 2023 as previously planned, termed as a "temporary measure" by Mitsotakis back in April.
"A few dozen electric cars in Astypalea cannot compensate for that," Familiari said. She added that the project could be considered greenwashing – a tactic used by big carbon emitters, who tout pollution-reduction efforts while still being responsible for large-scale fossil fuel emissions. Turning vehicles electric is also not necessarily a silver bullet to climate change. While virtually all scientists also agree that EVs significantly contribute to a reduction in global fossil fuel emissions, emitting no carbon themselves, the materials used to make the car batteries, such as lithium and cobalt, are taken from mines which often have a large environmental impact such as chemical contamination and massive water consumption.
A spokesperson for the Volkswagen Group told VICE World News that the Astypalea project had already been a success and that it is committed to helping the environment. "The project aims to promote the people's willingness to switch to e-mobility and so far the feedback from both the people on Astypalea and the local businesses has been positive and created some spillover effects on other regions already," they said.
They added: "Volkswagen was the first car company to commit to the Paris Agreement. Our strategies and targets are designed to ensure that the entire Group becomes net carbon neutral by 2050 at the latest... As an interim goal, the Volkswagen Group wants to reduce CO2 emissions from production by 50 percent in absolute terms between 2018 and 2030. This goal has been certified by the independent 'Science based target initiative' as consistent with the claim to limit global warming to 1.5C."
Volkswagen is also not the only carmaker incubating EVs on small localised populations. In Japan, Toyota began work in 2021 on its own purpose-built smart city, "Woven City," a 175 acre development at the base of Mount Fuji billed as a "living laboratory," where people can test drive autonomous vehicles as well as its smart homes.
Mitsotakis, the Greek Prime Minister, has faced criticism for his deals with big business and tech companies. One was with Palantir, the American technology company co-founded by controversial businessman Peter Thiel, which has been criticised for its often opaque work with governments on software and healthcare. The zero-cost agreement with Palantir developed at the beginning of the pandemic gave the company wide-ranging access to Greek citizens' personal data. It was terminated in the wake of intense scrutiny by Greek parliamentarians and media. Privacy campaigners were concerned at what reach the company might have had into personal data, particularly medical information, and why it offered its services for free. Palantir has rejected claims that it is a surveillance company and says it does not collect, mine or sell personal data from its customers. "We do not provide data collection services, including tools that enable surveillance of individual citizens or consumers," it said in a statement at the time to the UK's Guardian newspaper.
The Greek government denied sharing personal details with the firm, and said the deal was intended only to give the Prime Minister a summary of key information during the pandemic.
"All the big tech companies are looking at Greece now," Mitsotakis noted in a recent interview with the Washington Post, whose informal meetings with American billionaires have real world consequences for small islanders, such as those on Naxos who are nervously awaiting the new Amazon scheme.
Stratis T, who was born and raised on Naxos, said there could be benefits but that there were still "basic" problems to fix on Naxos. Stratis, who withheld his full name citing the pressures of living in a small community, said: "We don't have a proper hospital, we don't have [good] roads, many houses are on Airbnb and people can't find places to rent cheaply, the basic salary is €750 a month and you can't find anywhere to rent under €400-500." Reports in local media recently noted how doctors and teachers were being priced out of being able to work on the islands due to rents pushed up by tourism.
"I think it's like an experiment, but I don't think it will solve the problems… we don't really know what Amazon will do here."
Petra Molnar, a lawyer specialising in technology and human rights and a fellow at Harvard's Berkman Klein Center said that the plans also raised concerns over surveillance. "Greece has become a technological laboratory," she said. "The use of high-risk border technologies like drone surveillance, various data gathering schemes, and opportunities for companies like Amazon… is concerning. Particularly because very little regulation and oversight exists around the use of these technologies and corporate interests seem to take precedence over everything else," she said. "The rampant digitisation of public life so often does not take local context into consideration."
Volkswagen is not the only brand marketing itself in Astypalea: Red Bull held a freerunning event there this summer, which was formerly held in Santorini. Tobacco giant Philip Morris International (PMI) also has a partnership with the municipality to turn the island "smoke free," and appears keen to push its IQOS, a heated tobacco product that's a bit like a vape. In spite of the initiative, there are still cigarette butts in ashtrays in many of the island's cafes. Greece is still a country wedded to smoking, in 2021 data showed that Greece had the second highest rate of daily smokers in the EU.
Recent media reporting highlighted how such a partnership with a large tobacco company could be a potential violation of the World Health Organisation's anti-smoking treaty, which forbids cooperation between states and the tobacco industry. Although it is unclear what the terms of this deal are, PMI sponsored the Astypalea Cycling Festival in 2018 and a media investigation noted that it gave €15,000 to the city council for a conference on green energy.
A spokesperson for PMI told VICE World News that the scheme was to support people who want to stop smoking. "The involvement of PMI's Greek affiliate Papastratos in the initiative was to proudly support the certification, to partner with local private businesses, to encourage its implementation and to provide materials to inform locals and visitors about the initiative," they said.
They added that the WHO rule "does not prevent discussions with government, rather it specifies that there must be transparency in interactions between the industry and government, a principle PMI fully supports."
For the islanders living in the new Aegean "laboratories," life continues with an electric fused twist on reality. On Astypalea, as winter approaches, it will just be the goats, the locals and the vibrations of the electric vehicles, a testbed for branded green living, which may be replicated across Europe in the years to come.