Near the bottom of the venture firm Sequoia Capital's glowing and now deleted profile of former crypto "white knight" and FTX CEO Sam Bankman-Fried, writer Adam Fisher makes mention of the person who arguably "knows SBF the best": Psychiatrist George Lerner, described in the profile as "the FTX company therapist." In the article, Lerner tries to help unpack Bankman-Fried's "seeming rejection of earthly pleasures," something Lerner tells the writer he had spoken to Bankman-Fried about "at length." 
At FTX, "Lerner's psychological services" were "available to everyone in the company," and he was "on speed dial for more than a few," according to the September piece, which Sequoia scrubbed from its site after FTX collapsed and the venture firm came to the realization that its $200 million-plus investment was now all but worthless. Fisher, for his part, said Lerner seemed like an "excellent shrink."
But Lerner's role at FTX and relationship with Bankman-Fried was more complicated than the Sequoia profile made it seem—at least according to Lerner himself.  
In his telling, Lerner worked for FTX not exactly as a therapist and certainly not as a doctor, but as a coach, even as he maintained independent doctor-patient relationships with about 20 employees and prescribed medication to at least some of them. In this capacity, Lerner said, he was focused on the well-being of the company's employees, not only concerning himself with their careers, but their personal (and even dating) lives, at times searching out potential "dating options" for company employees in the Bahamas in order to keep them at the company without relying on in-office romance.
Over email, Lerner told Motherboard that he was not actually employed as a physician at FTX, and that the Sequoia profile incorrectly described his responsibilities. (The company did not immediately return a request for comment.) Officially, Lerner said, he served as an "in-residence coach," helping FTX employees work through career decisions and trying to reduce the amount of drama at the office, filled as it was with 20-somethings, through "conflict resolution," at times providing people with books to read on the matter. 
Some likened Lerner's role at the company to the fictional therapist Wendy Rhoades' position on the Showtime series Billions. ("Others would say it to me. I did not disagree. I have not seen Billions btw," he wrote to Motherboard.)
At times, though, Lerner's job at FTX went beyond the duties of a traditional career coach. The company was based in the Bahamas, and though the country had a tropical climate and "amazing people," according to Lerner, the 20-something FTX employees struggled with permanent island life and pined for a return to a major city. "THE biggest career discussion issue was not being in a big city," he told Motherboard. 
"When you're in a big city, you know that there are options, even if you don't seek them out," Lerner told Motherboard. "The island has limited entertainment and social choices compared to Miami, NY, or SF."
"A lot of people left relationships back home to move to the Bahamas," he continued. "I knew a time would come when they would want to find someone to start dating. Also note that it's not about sex. People can visit big cities and get that. It's not what they were looking for. It's about relationships."
He became "very concerned that either they would leave the company due to lack of romantic relationships available (and some had) or would date within the company (not a great idea)." As the crypto news site CoinDesk reported last week, top FTX employees in fact had the sort of baroque interpersonal relationships that would be discouraged if not forbidden at most companies: In the Bahamas, Bankman-Fried lived for a time in a "luxury penthouse" with nine other members of his "inner circle," all of whom had at one point "paired up in romantic relationships with each other" according to CoinDesk.
Have you worked for or do you know Sam Bankman-Fried? We want to hear from you. From a non-work device, contact our reporter at maxwell.strachan@vice.com or via Signal at 310-614-3752 for extra security.
To make life in the Bahamas appealing without office entanglements, Lerner was "always looking for dating options for FTX people," he told crypto-focused comedian and entrepreneur Margaux Avedisian in a message reviewed by Motherboard. Avedisian said she had met Lerner at a party at the home of FTX chief operating officer Constance Wang in April during the Crypto Bahamas conference put on by FTX and SALT, Anthony Scaramucci's "global thought leadership" group. Avedisian was there to serve as master of ceremonies at an event put on by Deltec Bank, another Bahamas-based financial firm. 
Later, he suggested Bankman-Fried to Avedisian, who said she was looking for a partner with "model good looks"—jokingly, he insists.
"He was really trying to find women to set up with the FTX workers so that they'd want to stay in the Bahamas," Avedisian said. Asked about the comments, Lerner said: "Dating options. Not women. We had both, male and female employees." He added that considering many of the employees' young ages, he was "hoping to have mixers with other companies on the island," which he said proved unsuccessful. 
In all, Lerner estimated that he coached about 100 employees, including 20 to 40 on a semi-regular basis. Not everyone used Lerner as a coach, however. He didn't see the top executives like Gary Wang, the chief technology officer, or Nishad Singh, the director of engineering, he said.
Neither did he coach Bankman-Fried, he said. But the exact nature of the relationship is slightly difficult to parse. Lerner suggested he did not know Bankman-Fried as well as the Sequoia profile implied, but that he "got to know him some" before joining FTX when Bankman-Fried "still had time to talk." Back then, Lerner said, Bankman-Fried had "suggested it would be beneficial to have a coach in-house."
At FTX, Lerner said, his interactions with Bankman-Fried "focused on employee happiness and retention and organizational structure." But they also had something of a personal relationship, once even going to dinner with Bankman-Fried's parents and Moneyball author Michael Lewis, who is writing a book about Bankman-Fried.
Lerner's LinkedIn page lists no affiliation with FTX, only stating that he works as a consultant and self-employed psychiatrist and briefly served as an adviser for a San Francisco-based health care startup. Neither does his private practice's website. 
Asked why the Sequoia profile had referred to him as the "company therapist" and not a career coach, Lerner said it was possibly because "lay-people" saw the terms therapist and coach as "fairly interchangeable" terms. 
Another potential reason is that Lerner did, he said, provide psychiatric services to about 20 FTX employees on the side through his private practice.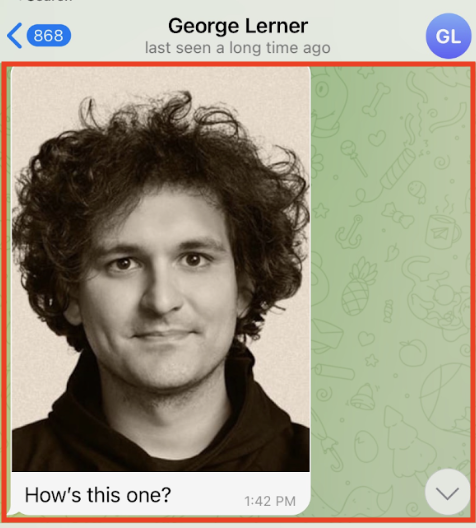 A "majority" of them—though not all—had begun to see Lerner prior to his joining the company "by chance," he said, when he had been working in the Bay Area as a psychiatrist, therapist, and coach. "[T]hat's how I ended up at FTX -- was already seeing some of the employees who were SF bay area based," he wrote. 
Explaining this unique arrangement, Lerner said that FTX paid him for 32 hours of coaching a week and that he dedicated an additional 12 hours to maintaining his private practice through "telemedicine/telepsychiatry" and that the 20 FTX employees "were part of that." The employees Lerner saw were California residents and he would see them in that capacity when they would leave the Bahamas and "go back home" to California. In order to see Lerner for psychiatric services, FTX employees had to "sign a document that specifically explained that I was only a coach at FTX and not a psychiatrist," he said. 
When asked if he prescribed medicine to FTX employees while he was working for FTX himself, he replied, "Only through my private practice."
The arrangement showed just some of what made FTX idiosyncratic. For a time, a group of young Americans had set up shop in the Bahamas, nabbed a $32 billion valuation, signed some of the top celebrities in the world, and tried to figure out a way to make it all work. When it collapsed suddenly and epically earlier this month, employees like Lerner were left struggling to figure out what just happened. 
Lerner, for his part, said the entire FTX collapse has been "devastating" and "so so sad for employees." Then, he added, "It felt like a family."
This post has been updated to include an additional message that George Lerner sent referencing Sam Bankman-Fried.