Ed Mulholland-USA TODAY Sports
Welcome to the NFL Underground Mailbag. Ask Chris Harris your question about the NFL, general sports or cultural minutiae at HeyHarris@HarrisFootball.com . Follow him @HarrisFootball .
There seems to be one thing on the mind of Underground readers at the moment. A sampling:
Sam P.: Based on their off-season moves, do you think the Jets are tanking?
Diego L.: If you were a commish in a fantasy league with Woody Johnson as an owner, would you kick him out and look for a replacement?
Ben F.: Will the Jets win another game ever again?
I assume what set everyone off is David Harris's heartless June 6 release, as well as word that Eric Decker will either be traded or released (in other words: released). Or maybe you heard about Christian Hackenberg's recent showing at OTAs.
Of course, I've said for months now that Woody Johnson is a dope and the New York Jets are tanking and I told you last week that Todd Bowles is a dead man walking, but hey, at least we get a whole summer of people telling us how underrated Quincy Enunwa is!
Here, probably, is a more important question:
Christian N.: Is it worth it to tank for the #1 pick, since college QBs aren't as pro-ready anymore?
This is the crux of the matter. The Cleveland Browns had a master plan in 2016 to divest themselves of every free agent, start hilariously inadequate personnel on defense and most of their offensive line, suck like nobody's business, and, having passed on Carson Wentz, finally get the quarterback who'll lead them to glory.
Whoops.
By the time spring rolled around, the QB prospects who had been drawing raves from everyone a year ago—hi, Deshaun Watson, Brad Kaaya, Chad Kelly, and Mason Rudolph!—showed their warts on the collegiate field, and the Browns decided to take a defensive end No. 1 overall.
Spin it forward to the 0-16 Jets and sure, folks are revved up about the Class of '18 QBs. Let's preview:
Sam Darnold, USC: He's started ten games. Only 45 of his 366 attempts traveled more than 20 yards downfield, and he completed 42 percent of them for seven TDs with four picks. Also, the last preseason Heisman favorite to actually win the trophy was Reggie Bush in '05, and oh wait, he didn't actually win.
Josh Rosen, UCLA: Rosen grew up a rich kid in Manhattan Beach, put a hot tub in his freshman dorm room, and once told reporters, "I want ultimately to own the world." He also pretty much stunk this year before suffering a shoulder nerve injury on a 4-8 team.
Josh Allen, Wyoming: I haven't seen a lot of Wyoming Cowboys football, but shouldn't a kid with a massive arm who's supposed to be a pro prospect be able to complete more than 56 percent of his throws against UNLV and Eastern Michigan?
I'm not saying these QBs won't be good, because I don't know enough about them yet to make that judgment, but you can't promise me that they will be good. These are the QBs you're tanking to get, and there's a nonzero chance they all turn out to be Ryan Nassib.
For me, it's not really even a question of pro-readiness. None of these prospects play in a dumb air-raid spread. It's just really hard to project most young adults this far in advance. Just ask Shia LaBeouf.
But you know what? My answer is yes. Tanking is still worth it. I completely agree that even at 0-16, the Jets have a strong chance to blow their QB pick (or decide not to even make one), but what's the alternative? Go 7-9, pick 14th, and get your fan base revved up about a new strong safety? The chance of an Andrew Luck–esque harmonic convergence is worth at least a year of misery.
Chris D.: Who's the most exciting offensive NFL player of your time?
I thought for a while about how to answer this. I was headed down the path of explaining how different things are exciting to different people, and I found myself linking to a picture of a really good veggie burger. I was overthinking it.
So I'll keep it simple: let's come up with the guy who caused the most involuntary reactions. Like Blair Walsh—he probably won't win this title, but when he missed his kick to lose the Vikings a Wild Card game, I yelped so audibly a neighbor phoned. Or when Emmitt Smith made this run on a Monday night 26 years ago and I stood up so fast that I broke my parents' coffee table.
Honorable mentions include Barry Sanders ("But he's so overrated!" scream the counter-takers), Adrian Peterson (that run against the Browns!), Jamaal Charles (did you just speak his name? Boom, your ankles are broken), Antonio Brown (look at this shit), Odell Beckham (I mean…), DeSean Jackson (often for the other team), and Rob Gronkowski (I know you hate the Patriots, but when he did this on a fourth down in the AFC title game, tell me you didn't pee a little).
But my pick for the most exciting offensive player is Randy Moss. Because this. And this. And this. And this.
Matt F.: In the past few years, men's shorts and bathing suits have gotten surprisingly short. What is the appropriate length of men's shorts?
Fashion expert (in his own mind) and guest Undergrounder Josh Fischberg, a.k.a. Cousin Josh from my podcast, has got this one. Josh?
"Topical question, Matt! All shorts and swim trunks—we don't refer to them as 'bathing suits' anymore—should stop at the top of your kneecap. If you own anything longer, I've got two words for you: E-Bay. Typically you're looking for a five-inch or six-inch inseam.
"Just be aware, now that you've graduated to dressing like an adult: lotion up those quads with a little SPF 30. Your significant other isn't interested in a farmer's tan anywhere near your groin."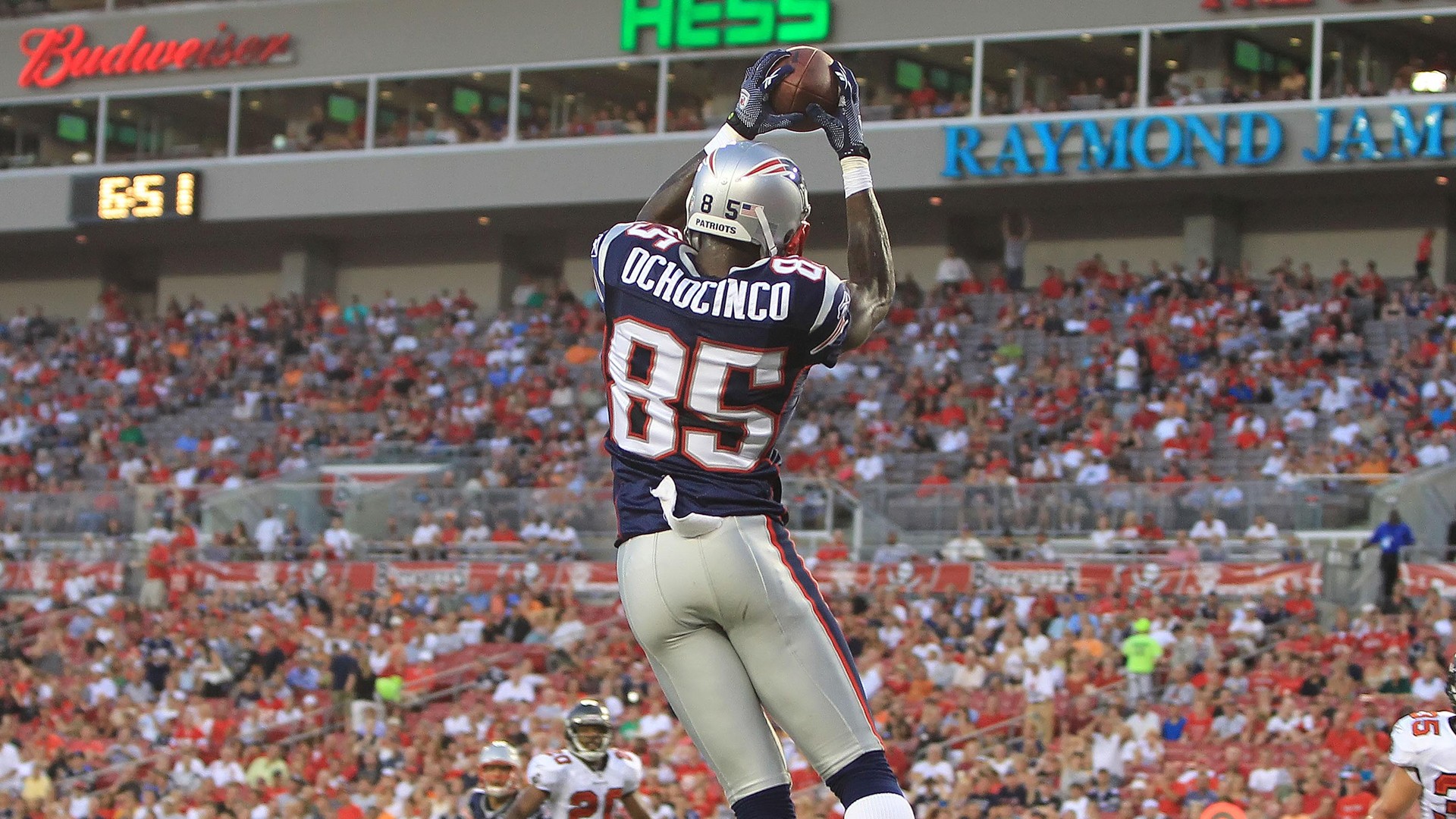 Ethan T.: NBA draft talk: Lonzo or Fultz?
I'm no expert, but I think I'd take Markelle Fultz. It's the temptation of a bigger Kyrie Irving. That kind of ceiling is awesome.
Let's take a moment, though, to say something about LaVar Ball. Want to become a smarter sports fan? Stop paying attention to hot takers who want to make Lavar Ball an issue. Do I want to be stuck next to Ball père on an airplane? I dunno, maybe? But the pearl-clutching that voices of the establishment perform shouldn't be how you spend your emotional or intellectual energy.
Name me one sports dad who ruined his offspring's career. It doesn't happen. It's the definition of nonsense. It's an excuse for the worse and dumbest elements in our sports media to do a little kabuki. When you find yourself on the same side of an issue as these clowns, time to reassess.
Brian W.: Who is the single best complete athlete in the NFL today, i.e., the best combo of speed, strength, agility, etc.?
This week's questions were either quite Jets-focused or quite philosophical! This is another tough one, because being the best athlete doesn't necessarily mean the best player. I think Tom Brady is probably the best player, and as an athlete by NFL standards he's this guy:
So to answer your question, I'll say J.J. Watt. He's 6'5" and 290 pounds, which makes what he does basically impossible. At his size you expect him to be strong enough to bench-press offensive tackles, but you don't expect his feet to be so quick. He's a 3-4 end who eats double-teams, and sometimes those double-teams come from the tackle and the guard!
Now, Watt didn't play much last year, so maybe you want to discount him until you see his return from back surgery? If that's the case, I'll go with Khalil Mack. It's worth watching Mack's entire 2016 highlight reel, but I started this video at my favorite play of his from last year, Week 9 against the Broncos. That's just impossible. Granted, Donald Stephenson isn't a good right tackle, but Mack's punch to shove Stephenson off balance and then the flat-out acceleration from zero to sixty, the blink-of-an-eye it takes him to reach the quarterback. Unbelievable.
Sean M.: When was the last time you asked someone for absolute loyalty ? Was it Cousin Josh?
Yes, and like the Cheeto Benito, I was thwarted. My reward? Dammit, Josh, screw these crotch-hugging shorts you got me!